MINNEAPOLIS — This is part two of our KARE 11 Investigation. Watch part one below or click here.
Internal school district records obtained by KARE 11 show that allegations of financial irregularities prompted the mysterious firing of Minneapolis North High School Athletic Director Leo Lewis last year.
But the records also reveal what one school district insider called a "complete breakdown of checks and balances" in the Minneapolis school system.
In an exclusive interview with KARE 11, Lewis claimed he was a scapegoat for broader problems in the district.
"I didn't deserve to lose my job," the former star wide receiver for the Minnesota Vikings told KARE 11 in his first public comment since his firing. "I really didn't."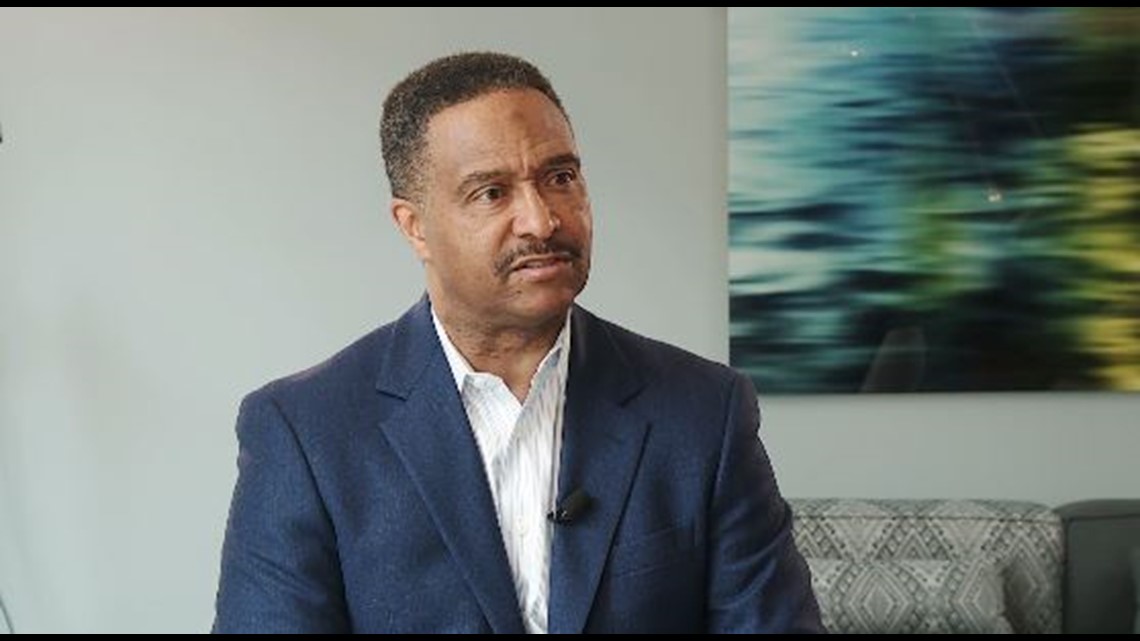 Minneapolis School Superintendent Ed Graff declined KARE 11's repeated requests for an interview to discuss serious problems the Lewis investigation identified about financial oversight at the district.
Internal records document shoddy bookkeeping, thousands of dollars in missing money, repeated violations of purchasing policies and the district's failure to follow state law that requires thefts of public funds be reported to the State Auditor.
Football star turned educator
Dr. Leo Lewis is best known for his years as a speedy wide receiver for the Minnesota Vikings. He played for the team between 1981 and 1991, with part of one year spent with the Cleveland Browns.
Since then Lewis earned a Ph.D. in Kinesiology, conducted youth sports camps in the Twin Cities area, established his own charitable foundation, and taught at the University of Minnesota.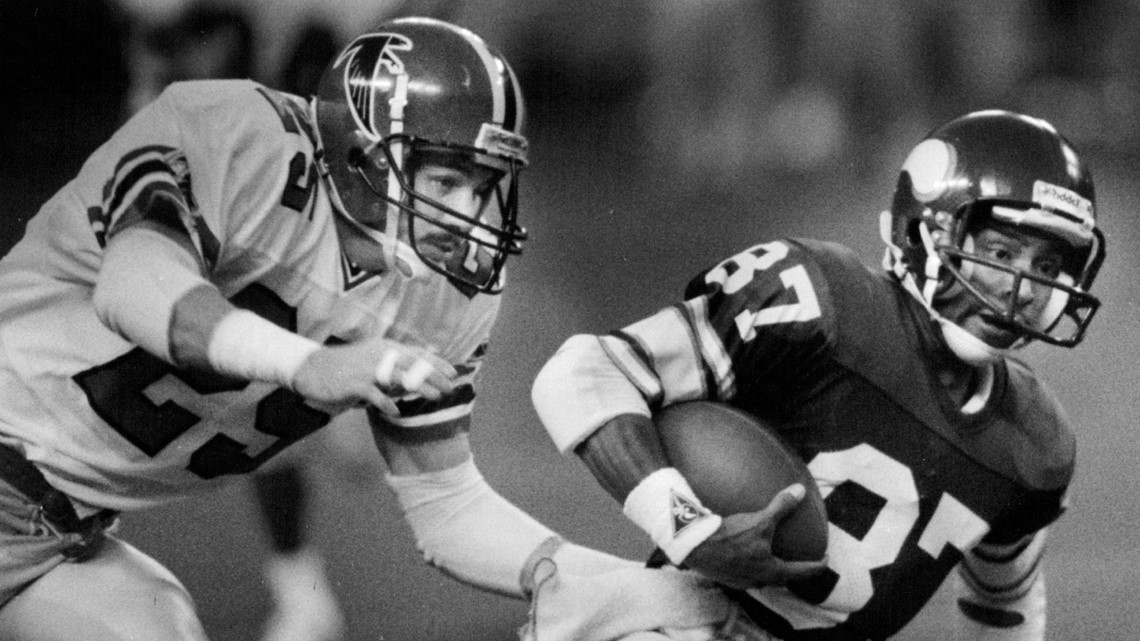 He was named Athletic Director at Minneapolis North High School in 2014 and was widely praised for turning around the school's struggling athletics programs. North's basketball and football teams both won state championships after Lewis took over.
But Lewis was escorted off school property and placed on paid administrative leave in December 2017 under a shroud of secrecy. He was officially fired eight months later in August 2018.
KARE 11 fought for months to force the district to release records related to the firing under Minnesota's Data Practices Act.
Now public for the first time, the internal records paint a picture of dysfunction that raises questions about how well Minneapolis schools have been protecting money meant to benefit kids.
District records reveal Lewis had a deteriorating relationship with some of the parents of students at North High.
In November 2017, members of the North High Polar Parents organization sent a letter to Superintendent Ed Graff and other district officials.
It outlined "major concerns" including the rumor that $8,000 was missing from athletic department funds. It also questioned where money from ticket sales, concessions, fundraisers and donations was going.
Read the letter below or click here (some parts redacted by the district):
Sharon El-Amin, the president of the parent group, later ran for school board and described the controversy in a public Facebook Live video during her unsuccessful campaign.
"We don't know where the money went," El-Amin said in the video. "We don't know how much was collected, we don't know how much was spent. None of that was being documented."
One month after district leaders received the parents' letter, Lewis was placed on paid administrative leave.
But the internal records reveal there were plenty of prior warning signs about financial irregularities at North High.
"There were a lot of red flags available," said former State Auditor Rebecca Otto after reviewing the records KARE 11 uncovered.
Lewis' troubles began in April 2017, seven months before the parents sent their complaint letter.
In a document labeled "North High Theft Report" Lewis reported discovering $8,000 in cash raised from basketball and wrestling ticket proceeds was missing from an unlocked file cabinet in North High's main office.
Read the theft report below or click here (some parts redacted by the district):
When the district conducted an internal investigation of the theft, auditor Josiah Nebo made a shocking discovery.
"Essentially everyone in the school has access to where the cash is stored," he wrote.
Nebo found there were two safes at North, one in the athletics office and another in the main school office. But he wrote they are "not being utilized."
Why? Because Nebo discovered "no one knows the combination."
Read the internal audit report below or click here (some parts redacted by the district)
"Does that set off alarm bells?" KARE 11 investigative reporter A.J. Lagoe asked the former state auditor.
"Of course. Absolutely!" Otto replied.
"A working safe seems pretty basic?" Lagoe said. "Yeah, it does," she said.

Minnesota law requires school districts to file a report with the state auditor whenever there's a theft of this sort. Otto said she was surprised to learn of the theft because she was the auditor at the time and to her knowledge her office was never notified about the stolen money.
"So, what's supposed to happen by law is when the $8,000 was reported missing, the district should have contacted the Office of the State Auditor and reported it in writing," she said.
The school district failed to comply with the law for nearly two years. Officials did not file the required report until after KARE 11 began asking about the issue in March 2019.
Read the district's 2019 report to the state below or click here:
During the original investigation, the school district's own auditor uncovered problems that went well beyond unused safes.
Cash from ticket sales and concessions was supposed to be picked up regularly by Dunbar Security. Prior to those pickups, however, Nebo discovered that Leo Lewis had been personally taking thousands of dollars to a local bank to change the small bills into $100 bills.
At the time, Lewis explained he wanted to make it easier for the office staff to count the money. The auditor wrote: "His rationale for doing so is not justifiable."
What's more, the auditor discovered that during the height of the basketball season there had not been a Dunbar pickup for more than two months. "At a bare minimum," Nebo wrote, "pickups at the sites should be done at least once every week."
Otto described the long gap in cash pickups in two words: "Red flag!"
All of that was known before the Polar Parents group raised additional financial concerns in their November letter. The ensuing investigation seemed to open Pandora's box.
One of the district's key allegations was that that Lewis violated district policy by paying an unapproved vendor in cash. In a summary of the investigation, Employee Relations Director Candra Bennett alleged that "the vendor was not set up in the system for payment."
Bennett also wrote that some legitimate bills were unpaid and that ticket sales sheets "did not align" with money in the cash box.
Among other allegations, the district questioned a celebrity golf tournament the Leo Lewis Sports Foundation held in the summer of 2017. Lewis had advertised that proceeds would support North High Athletics. But Bennett wrote that the district found "no money from the fundraiser was ever received."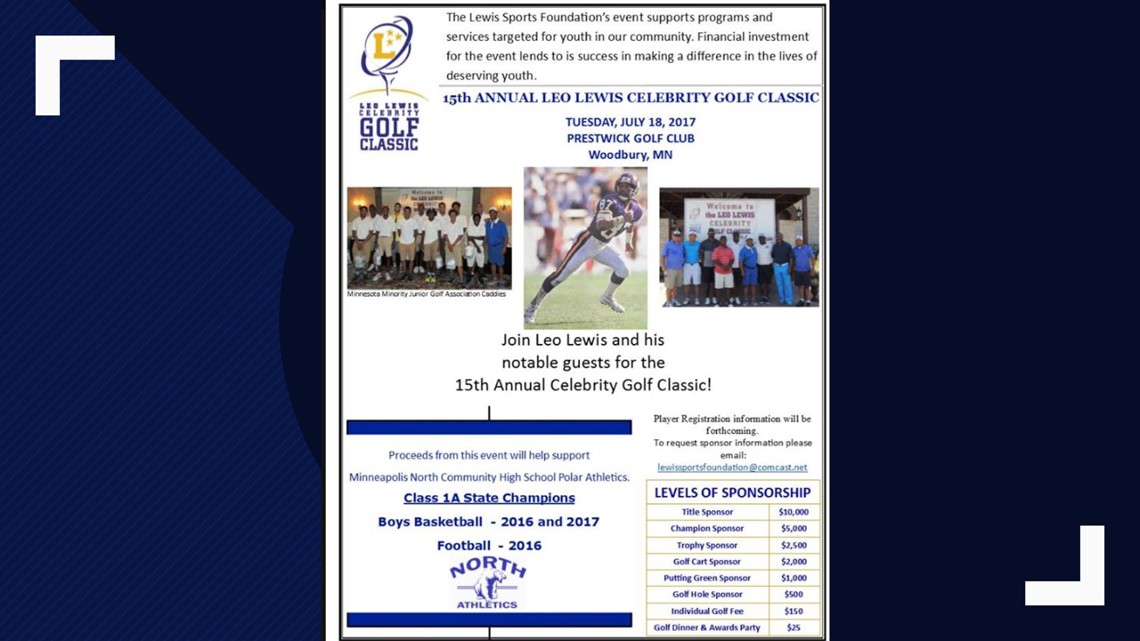 By the time district officials held a so-called "due process meeting" to discuss the issues with Lewis on March 28, 2018, Bennett claimed that North's athletics budget "was $20,000 or more in the red."
When Lewis was questioned about those and other issues, the investigation summary says his responses "lacked common sense," "were riddled with excuses," "could not be explained" and were "plainly untruthful."
After obtaining the internal district records, KARE 11 reached out to Leo Lewis.
"I didn't steal any funds, I didn't misappropriate any funds," Lewis said as he sat down with KARE 11's A.J. Lagoe.
"I think that some of these allegations certainly were not true," he said. "They were baseless."
Lewis not only denied key allegations against him, he followed up by providing documents which seem to undercut district findings.
One of the most serious allegations concerned that celebrity golf tournament his foundation sponsored promising proceeds would help support North High's athletic programs.
"The district says there's no record of any money being donated. What happened to that money?" Lagoe asked.
"We raised about $4,900 bucks," Lewis said. "We purchased equipment, apparel, supplies for the school and thought we served that purpose very well."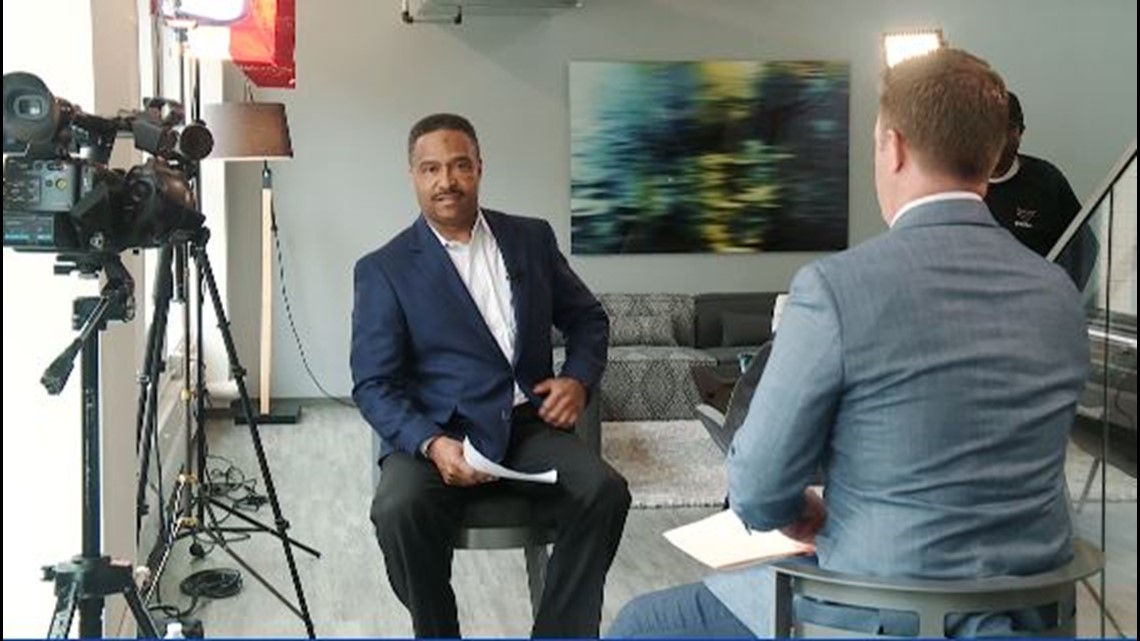 Lewis provided evidence including copies of invoices for thousands of dollars of equipment for girls athletics at North High and check receipts showing the Lewis Sports Foundation had paid for them.
That's just one of the findings Lewis says the district got wrong.
"Some of them are really false statements," Lewis said.
When KARE 11 asked the district to provide records showing that North's athletics budget was $20,000 in the red when Lewis was dismissed, officials failed to provide them. The district said its end-of-year accounting did not show North was in the red. A spokesman added, "It doesn't look from those records as if they were in the red at the time he was placed on leave, either, but it's difficult to say for sure and anecdotally they were."
The district's summary claimed Lewis was "plainly untruthful" when he denied dealing with what the district said was an unapproved vendor.
"I wasn't aware that the vendor wasn't approved," Lewis told KARE 11.
When asked to identify the vendor referred to in the investigation, a district spokesman named St. Mane Sporting Goods of Minneapolis.
"I was dumbfounded by hearing that," said store owner Bob St. Mane when KARE 11 told him about the district's claim.
"We've been an approved vendor for years and years," he said.
When KARE 11 investigated, the school district admitted St. Mane Sporting Goods has been approved to do business with Minneapolis schools since at least 2005 – long before Lewis was hired.
The district's report is what was plainly untrue.
Furthermore, both St. Mane and Lewis denied he ever made payments for purchase orders for North High in cash.
"100 percent no!" exclaimed the owner. "Never did he pay us in cash."
St. Mane did describe what he called a longstanding practice that predated Lewis. Without requiring purchase orders, he said his "Mom and Pop" shop would provide North High – and other Metro area schools – with spirit wear such as caps and printed sweatshirts at no cost upfront. The schools would sell the items at events, collect the cash, and return any unsold inventory to the store.
St. Mane would pay the schools a 20 percent commission on the sales. He labeled it a win-win.
"We've done things like that for years," he explained. "We let them sell it, they bring it back, we invoice them, they pay us out of the money that they sold, and we cut them a check for a commission."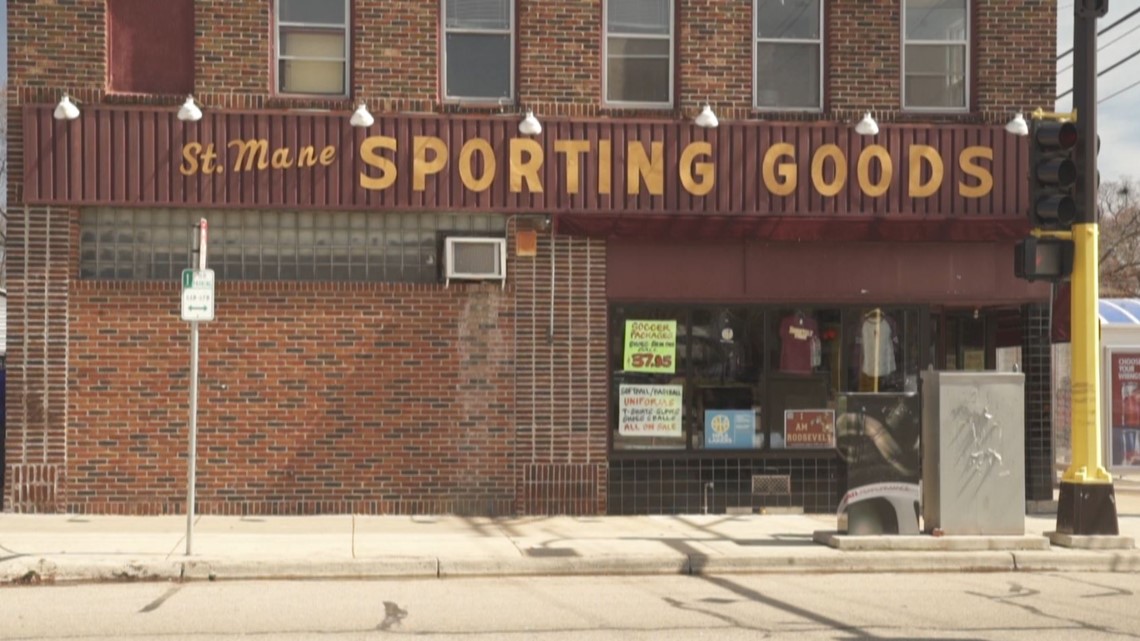 Lewis admits he took money from athletic events to the bank to change small bills into $100 bills before turning it in to the district. He says he was simply responding to a request from one of the assistants in the school's main office.
"She made it known that it would be much easier for her to count the money to be deposited if they were in larger bills," he said.
Although district officials ordered him to stop the practice, they did not accuse him of stealing money.
Lewis was also criticized for poor record keeping involving ticket sales and concessions and for a series of purchasing "policy violations." In his interview with KARE 11, Lewis blamed that on poor training.
Lewis: "It is due to a lack of training and at the same time this was pervasive, and this occurred throughout the district."
Lagoe: "Their own policies weren't consistently enforced?"
Lewis: "I don't believe they were."
He's right again. In a recent report to the state, the district admitted that "purchasing policies were not consistently enforced" in athletics.
Remember, Lewis's troubles began after he reported $8,000 had been stolen from an unlocked file cabinet in April 2017.
"Why weren't those funds locked up?" KARE 11 asked.
"That's a good question," Lewis replied. "I'm not responsible for locking the funds up."
Lewis explained that he had already taken that money to the school's main office where Dunbar armored cars were supposed to pick it up. And that's where it went missing.
"Once the funds were out of my hands, they were not my responsibility," he said.
The district's internal investigation found the cash wasn't locked up because "no one knows the combination" to the safe in the main office at North High.
But even after discovering that thousands of dollars were missing, Lewis says the district failed to replace the safe.
Months later, when the district put Lewis on administrative leave, he says the school still wasn't storing money safely.
"The assistant said that she didn't have anywhere to store the money," Lewis told KARE 11. "There still were dilemmas in how we could safeguard our funds."
In an email, the district confirmed a working safe was not installed at North High until Dec. 14, 2017.
That's eight months after the original theft. Four days after Leo Lewis was put on leave.
When KARE 11 began asking questions about the Lewis firing, the district failed to turn over records.
KARE 11 cited state law requiring the district to release records concerning "the final disposition of any disciplinary action together with the specific reasons for the action and data documenting the basis of the action."
Even though Lewis had already been fired, the district claimed there was "No final disciplinary action."
KARE 11 fought for months before finally receiving the records.
When those internal records also raised serious questions about financial oversight by the district, KARE 11 requested an interview with Superintendent Ed Graff, who recommended that Lewis be fired.
Over and over we were denied. "We will not be doing an on-camera interview," a district spokesman said in an email.
So, last week we approached Graff before a public meeting.
"Superintendent, A.J. Lagoe with KARE 11. We have some questions we need to ask you about the situation over at North High."
He walked away, ignoring every question.
"Can you answer any of our questions, sir?" Lagoe asked as he followed Graff into the meeting room.
Without addressing direct questions, Graff invited Lagoe and a KARE 11 photographer out into a hallway.
"You're welcome to join me," he said.
But once our camera was in the hallway, the district's top man turned around and closed the door on further questions.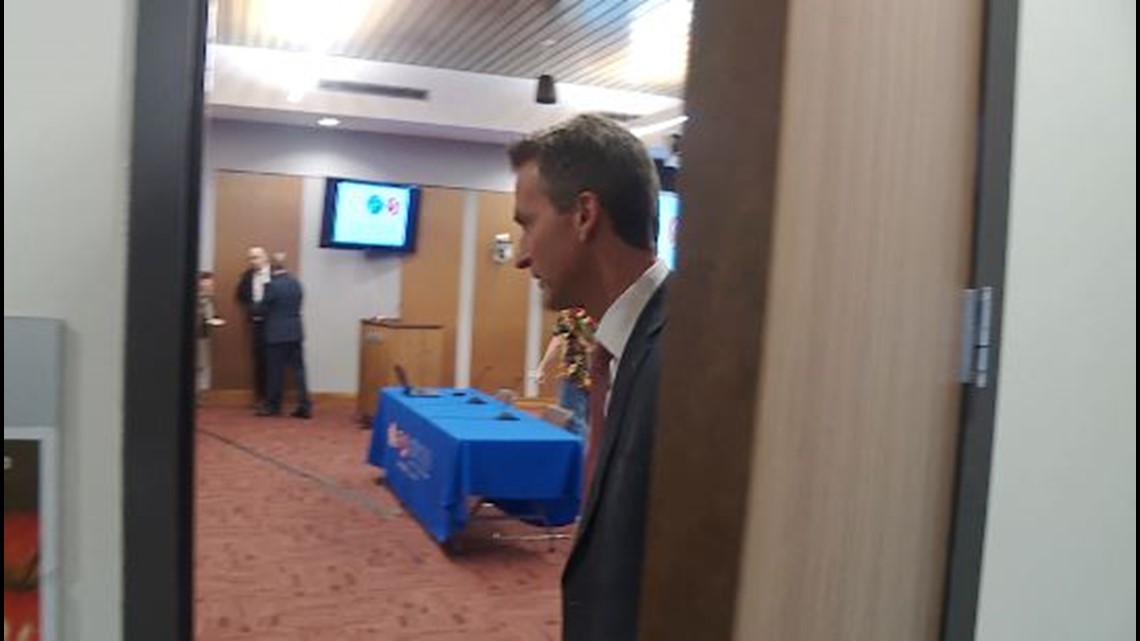 "Did he just usher us out?" Lagoe wondered out loud. "I thought he was joining us."
In a report to the state, the district said that in the wake of the Lewis investigation a "series of District-wide controls have been implemented across the Athletics Department."
What did all of this mean for local taxpayers?
Records show the Minneapolis School District paid Leo Lewis $51,489 to stay away for six months on administrative leave while they did the flawed investigation.
After that, the district paid Lewis another $65,000 as part of a severance agreement to stop appealing his dismissal.
"I'm holding my head high," Lewis told KARE 11. "Our foundation is going to be doing very well in the community. We have for 30 years, and I'm going to continue to do good work.
If you have a suggestion for an investigation, or want to blow the whistle on fraud or government waste, email us at: investigations@kare11.com