ST PAUL, Minn. — Downtown business leaders and workers are questioning why drug dealers appear to be operating with impunity in St. Paul skyways and on city streets.
A KARE 11 hidden camera investigation documented what appears to be the unchecked free flow of drugs and cash changing hands in broad daylight.
Much of the drug activity takes place in the downtown business district near the Metro Transit hub at 5th and Minnesota streets.
Bryan Larson is with Madison Equities, one of the largest real estate developers in downtown St. Paul.
"This central station has been a problem in St. Paul," he said, "And it has progressively gotten worse especially within the last few months."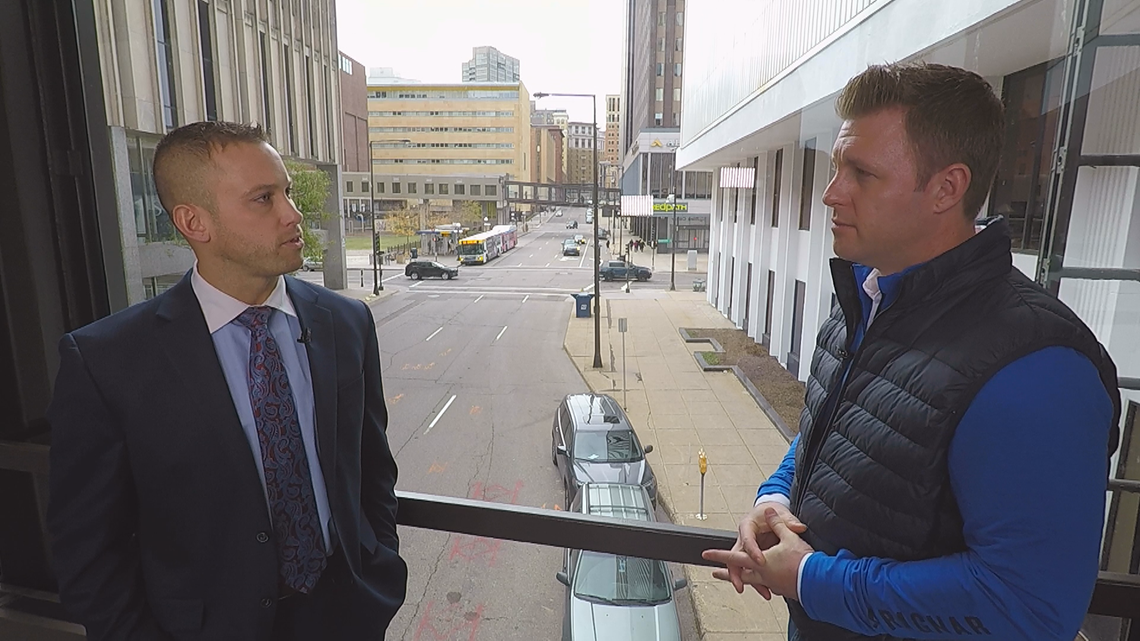 Police agree there's a problem. But they say a recent policy announced by the Ramsey County Attorney's Office makes it difficult for them to crack down on low level drug sales.
Critics worry the unchecked drug deals are fueling other problems – ranging from gambling, fights, intimidation and even shootings. All of this at a time when St. Paul is reeling from a near record-breaking year of murders.
Everyone is running for their life
A recent Friday afternoon shooting sent passersby on a busy downtown street scrambling for cover during the thick of rush hour.
"Male shot at somebody three times after a fight," a police dispatcher said on the radio.
Cody Thurman was walking to his truck nearby. "Everyone's literally running for their life," the contractor recalled.
Thurman says he saw a fight break out on the sidewalk just before 4:20 PM between a group of young men. The violence escalated in a heartbeat when one of the fighters reached into his waist band.
"The next thing I knew there was a gentleman that pulled a gun out of his waist band and just started recklessly shooting into the crowd," he said.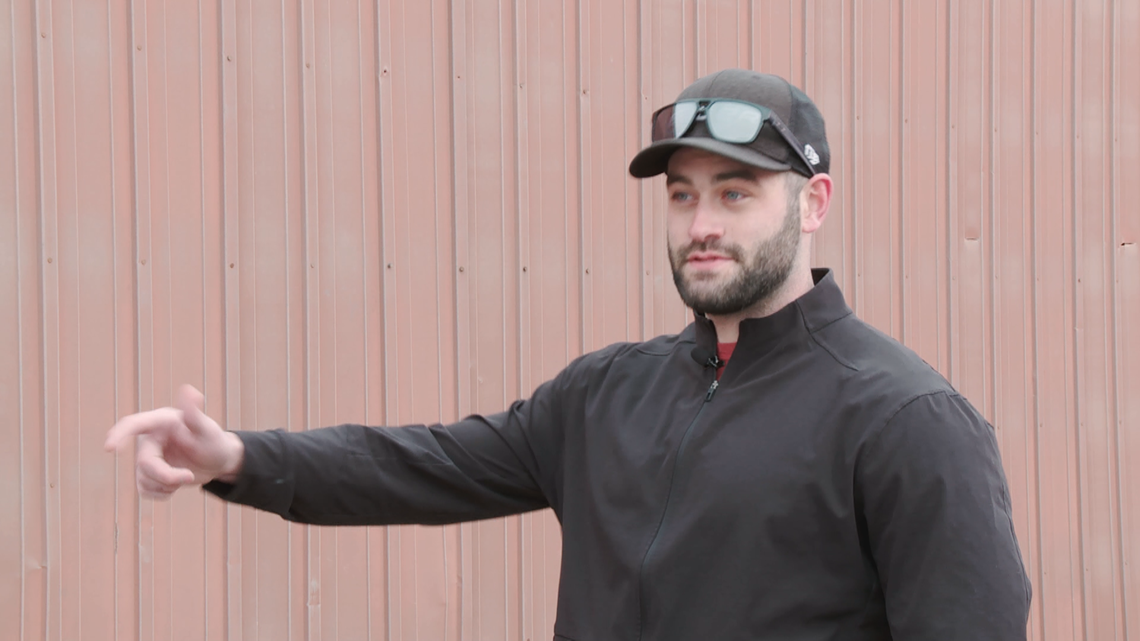 Police reports show one victim was "shot in the leg."
Thurman escaped unharmed, but says he keeps reliving that moment when he saw the gun get pulled.
"There was probably 30 people on the street, there were people across the street, there's people driving by, people going in and out of work, businesses around there," he said.
What sparked the violence is not known – but minutes earlier KARE 11's hidden cameras had captured what appeared to be drug deals going on just feet away from the fight and shooting.
The video shows large wads of cash changing hands in exchange for what appeared to be narcotics.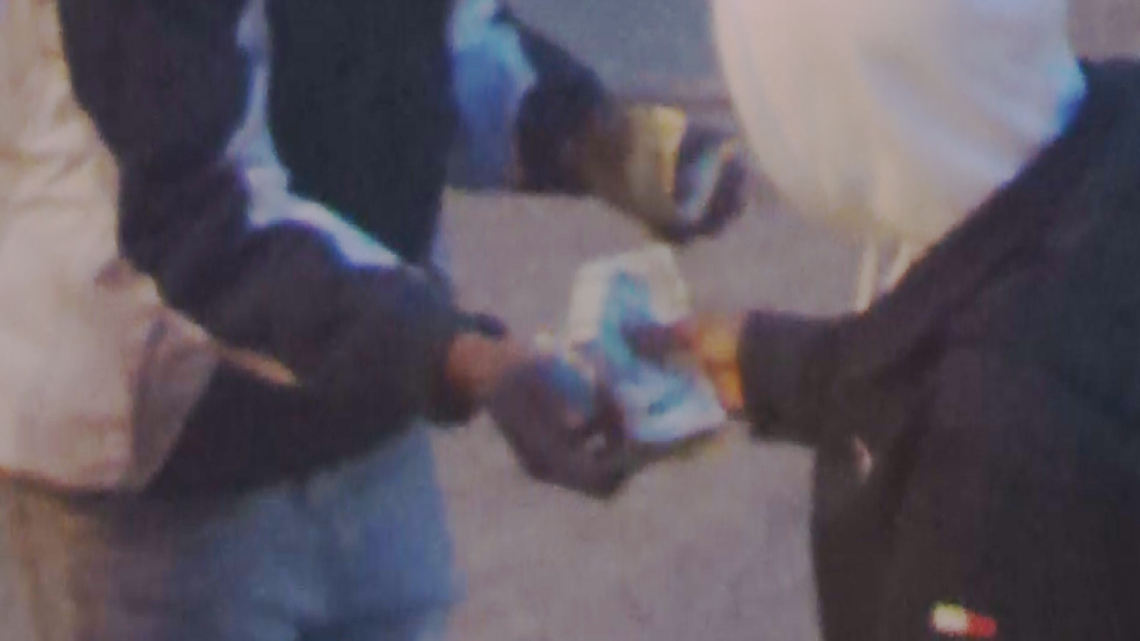 "I think it's a problem that hasn't officially been acknowledged or addressed," said Larson. His company owns the buildings on both sides of the street where the shooting took place.
KARE 11 launched its hidden camera investigation after hearing complaints about the drug dealing.
Over the course of several weeks, we witnessed what looked to be a free flow of drugs and cash by a semi-organized group of young men who appear to range in age from teens to late twenties.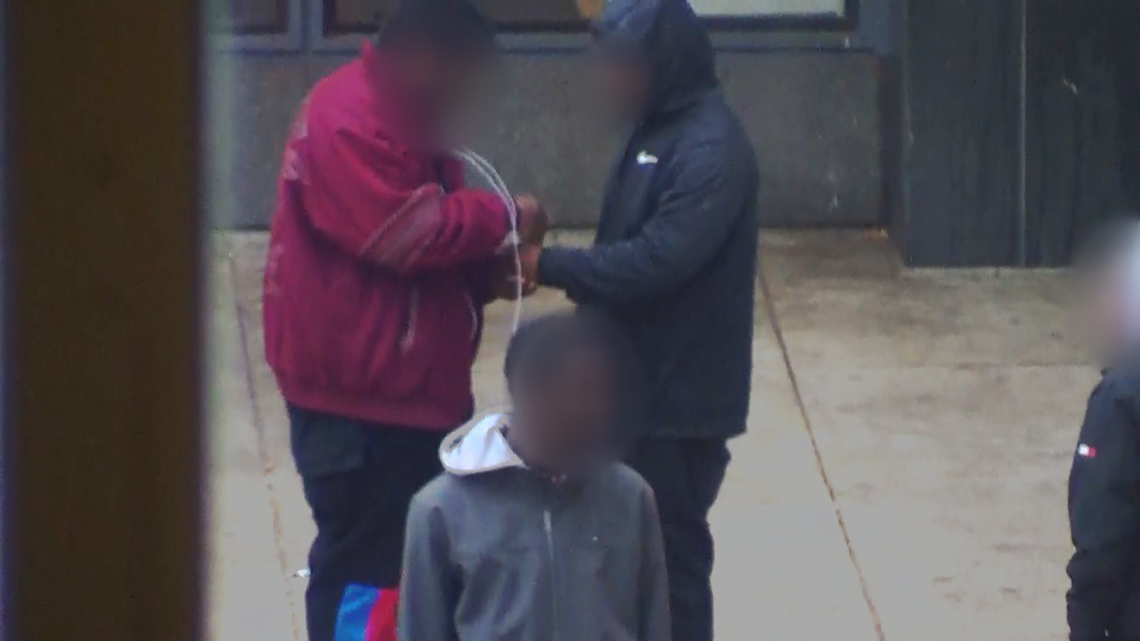 While the transit hub is at the center of the activity, it did not appear that the drug dealers were using the transit system. Instead, they arrived and left most days in vehicles which would pull up to the 5th and Minnesota corner for pickups and drop-offs.
Business owners and people living and working in the area say fights and intimidation are common. Most wouldn't speak on camera, citing a fear of putting a target on their back.
The question many in the area kept asking is, "Why don't police make arrests when the drug dealing is out in the open and plain to see?"
KARE 11 took the question to St. Paul police.
"I want to show you a video and just have you tell me what you see," investigative reporter A.J. Lagoe said, handing an iPad to St. Paul Assistant Police Chief Robert Thomasser.
"It's clearly an open-air drug market," Thomasser said as he watched some of the scenes KARE 11's cameras had captured.
So, why haven't St. Paul police been making arrests?
"The open-air drug dealing that's going on downtown is something that we're not able to prioritize," Thomasser explained. He said most of what was being sold is likely marijuana – and he said small marijuana sales are not crimes local prosecutors are willing to charge.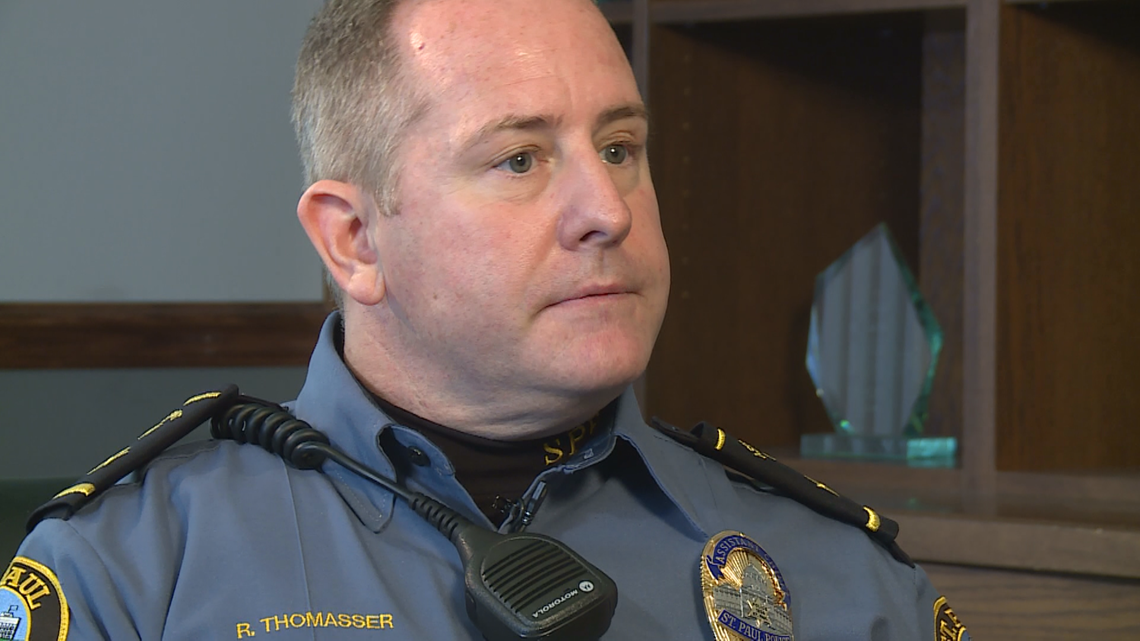 "We at this point can't present those cases for charging," Thomasser said. "We have to make priority decisions of what crimes we're going to spend our time on. We can't present those cases; therefore, we don't spend time on them."
Street level officers for both St Paul and Metro Transit police not authorized to speak on the record describe the situation around 5th and Minnesota as "absolutely bonkers," "nuts," and "totally out of control."
Part of the problem, they claim, is a policy change about marijuana sales announced earlier this year by the county's chief prosecutor.
Ramsey County Attorney John Choi bristled at the suggestion that his policy is allowing the open-air drug dealing to take place.
"That's not true," he said. "That's not true, the policy doesn't say that."
Choi issued a charging policy in February 2019. Citing mass incarceration and how it disproportionately impacted minority communities, the policy states: "Effective immediately, our office will not charge cases involving the sale of a small amount of marijuana unless there is a clear and compelling public safety need to do so."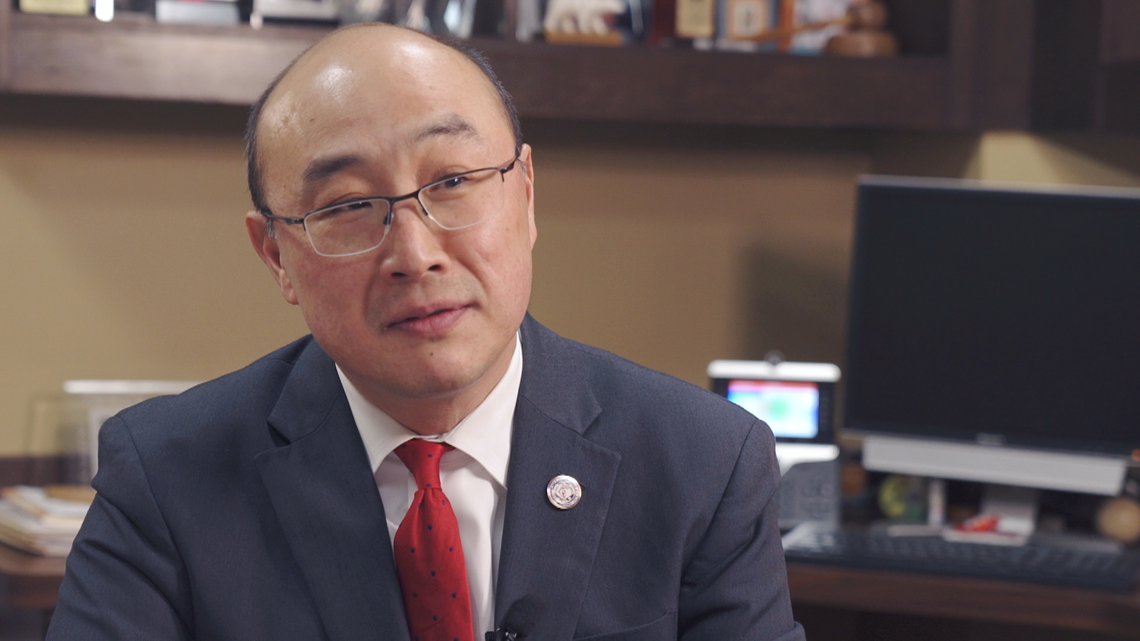 The key, Choi said, is establishing a public safety need.
"So, one example would be when there is an open-air drug market," Choi said. "I would say when you have open air drug dealing it's a big problem."
After seeing KARE 11's video of what is taking place downtown, he claimed his policy had apparently been misconstrued.
"If they're interpreting the policy (that charges cannot be brought), then that really needs to be clarified," he said.
Choi explained he instituted the policy in the wake of a headline news incident in Minneapolis last summer. Dozens of marijuana sales charges were dismissed after concerns that a series of police undercover sting operations had disproportionately targeted African Americans.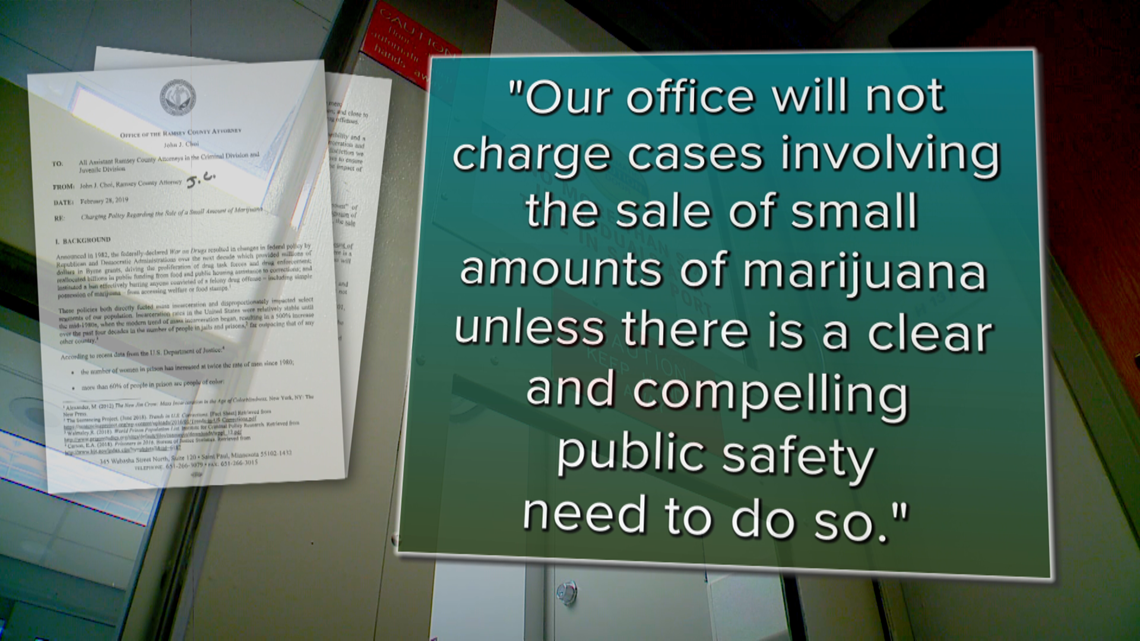 In a June 2018 press conference, Minneapolis police chief Medaria Arradondo apologized for what took place.
"We took a look back and we analyzed, and we saw that while we were making the arrests and we were keeping guns off the streets down there, we were seeing a segment of the population that was being disproportionately impacted," he said.
Choi says his goal was to ensure a conversation between his office and local police departments about whether there's a real safety issue before bringing felony marijuana sale charges.
"We're not really interested in small-amount marijuana cases," he explained. "However, if there's a public safety reason we'll charge those cases."
According to charging data provided by Choi's office, charges for the sale of marijuana have dropped nearly 50% from the last two years, however the numbers are extremely small to begin with.
In 2017, 20 adults were charged with selling marijuana. In 2018, there were 22 cases. Through October 31st of this year, nine cases have been charged – six of them after the new charging policy was put in place in February.
Even when they make arrests, police may not be recommending drug charges to the County Attorney's office over concerns they won't be filed.
A recent citation issued by Metro Transit police illustrates that point.
"OFFICERS OBSERVED KNOWN MALE LOITERING IN THE AREA OF THE ST. PAUL VERTICAL BUILDING. MALE WAS OBSERVED SELLING BAGGIE OF SUSPECTED NARCOTICS TO ANOTHER MALE FOR CASH IN THE STAIRWELL. OFFICERS OBSERVED BAGGIE DIRECTLY EXCHANGED FOR CASH."
The man – who also appeared to be involved in some of the suspected drug dealing KARE 11 watched – was only cited for misdemeanor loitering. The possible drug case was not pursued.
"It's good that this is coming to a head," Choi said. "But again, we can't be doing the same thing over and over again and the only tool that you have in your tool box is the hammer."
Meanwhile, police say if prosecutors are willing to file charges, they'll gear up to make arrests.
"If the public said and the prosecutor said, 'enough is enough' – we're ready," Assistant Chief Thomasser told KARE 11. "I can guaranty you that we could clean that up in a very short period of time."
Back at the corner of 5th and Minnesota, cold weather is driving many of the drug sales into the skyways connected to the transit station tower.
While the County Attorney's office and the police department are at odds over if and how charges will be filed, folks living and working in the area say something has to be done to crack down on the open-air drug market.
One businessman, who asked not to be identified, said he is preparing to leave St. Paul because his employees and clients don't feel safe. He said he'd taken his concerns to city leaders, but they seem to be turning a blind eye.
"Something needs to change for St Paul, because it still is a great city," said Cody Thurman, who nearly stepped into a rush hour shooting as he walked down the sidewalk.
If you have a suggestion for an investigation, or want to blow the whistle on government fraud, waste, or corruption, email us at:
investigations@kare11.com