WASHINGTON — Whistleblowers who exposed how disabled veterans were overcharged hundreds of millions of dollars won praise today on Capitol Hill.
"I am grateful for the whistleblowers who spoke up about this negligence," wrote U.S. Senator John Boozman (R-AR) in a column celebrating National Whistleblower Appreciation Day.
Multiple VA insiders, speaking on the condition of anonymity to protect their jobs, told KARE 11 that high-ranking officials at Department of Veterans Affairs headquarters in Washington, D.C., were warned years ago that disabled veterans were being overcharged on their VA-backed home loans.
Despite that warning, KARE 11 reported that top VA officials repeatedly failed to ensure that veterans got the refunds they deserved.
What's more, since officials didn't act when they were alerted about the problem in 2014, the overcharges continued.
"This disclosure highlights the importance of men and women who expose wrongdoing within the federal government and calls attention to actions Congress can take to prevent such misconduct from happening the future," Boozman wrote.
130,000 veterans overcharged
In May, a whistleblower who asked to remain anonymous, provided KARE 11 with internal VA records that revealed a bombshell. Veterans across the county who were owed home loan refunds weren't always getting them.
Between 2006 and 2014 "VA inappropriately collected approximately $150,901,534 on 47,588 loans," according to an analysis of funding fees done at the time by employees at the VA's St. Paul Regional Loan Center.
The overcharges involved disabled veterans who were supposed to have "funding fees" associated with the VA's Guaranteed Home Loan Program waived.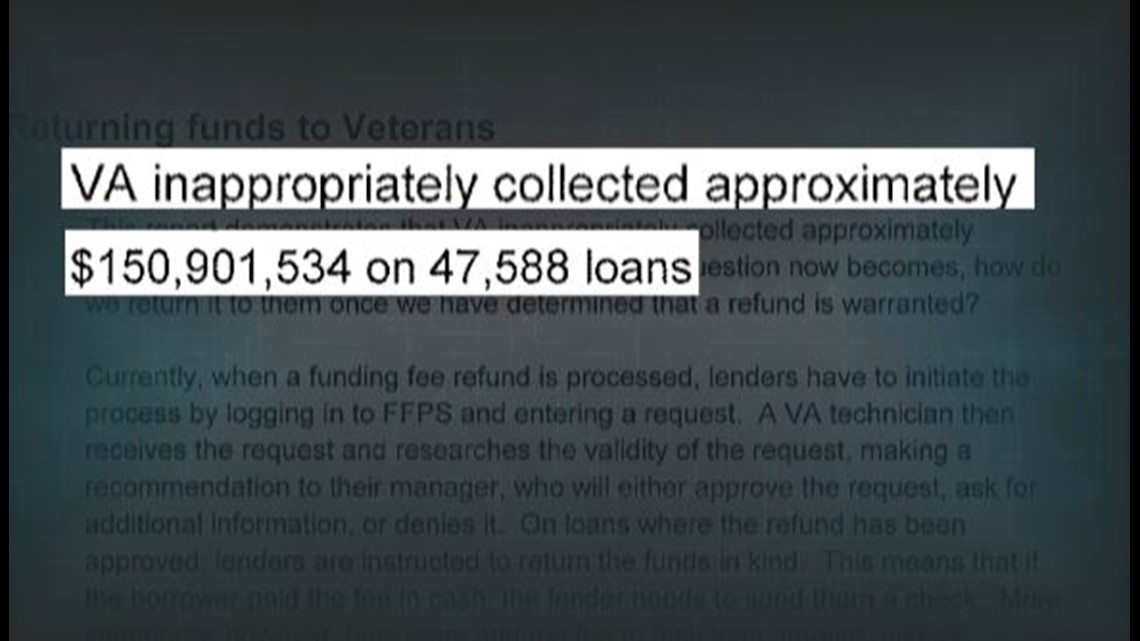 Records show that Mike Frueh, then Director of the VA Loan Guaranty Program, and Deputy Director Jeffrey London were made aware in 2014 that some veterans were being inappropriately charged and not being given refunds.
Frueh was later promoted to Chief of Staff for Veterans Benefits and Jeffrey London took over from his old boss and is now Executive Director of the Loan Guaranty Service. But neither man took action to fix the problem.
In June, the VA's Office of Inspector General (OIG) issued a report confirming KARE 11's findings that the managers had been warned, but did nothing to rectify the overcharges.
The report labeled what took place "troubling."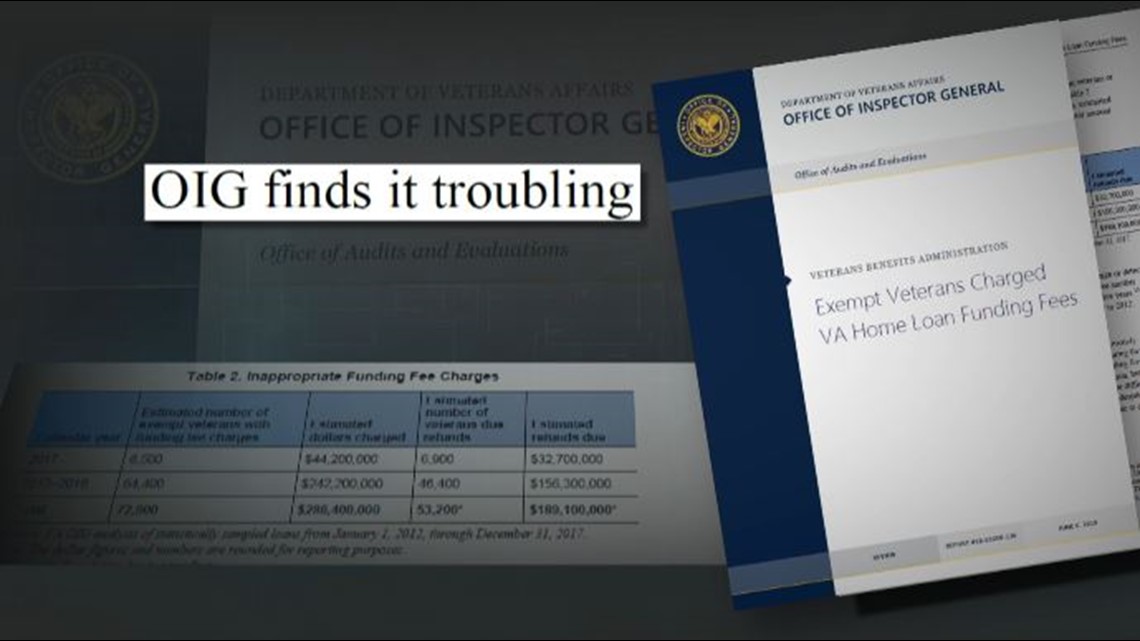 "OIG finds it troubling that senior VBA management was aware that thousands of veterans were potentially owed more than $150 million yet did not take adequate actions to ensure refunds were issued," wrote VA Assistant Inspector General for Audits and Evaluations Larry Reinkeymer.
To date, VA officials have refused to answer KARE 11's questions about why they failed – year after year – to notify veterans due refunds.
But in a webinar last week, Jeff London released a new estimate the of number of veterans still owed money.
"We are aware that approximately 130,000 veterans are due a refund," London said. "We have an aggressive plan in place to complete our effort to refund all veterans who are owed money by September 30."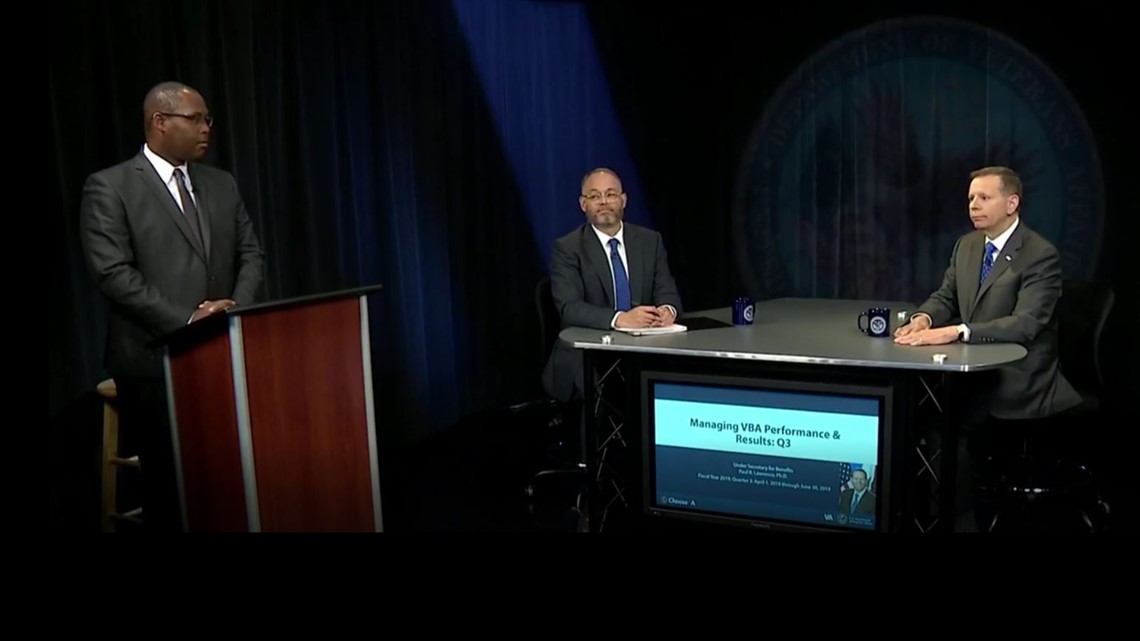 Congressional staffers briefed on the VA's plan to repay veterans tell KARE 11 that as of July 22, VA had identified $242 million that they need to repay to veterans like Andrew Ganfield of Prior Lake, MN.
Ganfield says he didn't know he was owed money until his wife saw KARE 11's investigation detailing the funding fee problem.
"Had you not made this report," Ganfield told KARE 11 investigative reporter A.J. Lagoe, "we would have never been none the wiser and it would have just been money gone."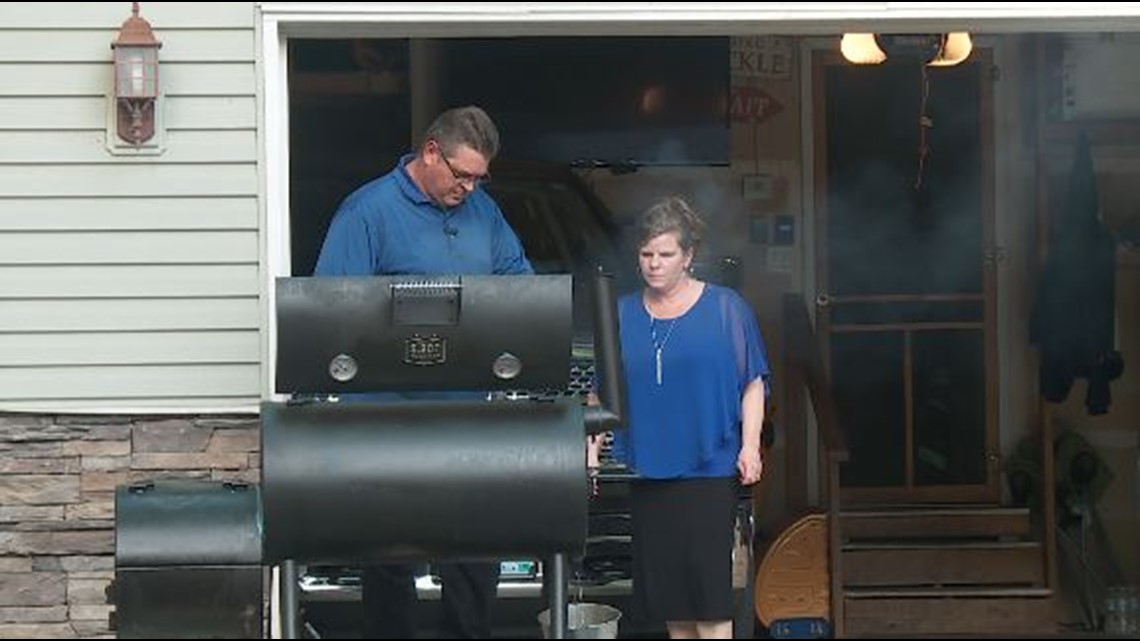 The VA recently put a refund totaling $10,197 on Ganfield's mortgage account.
Listen to the voicemail Andrew received from the VA below or click here:
VA insiders tell KARE 11 that the $242 million refund figure given to Congress earlier this month may grow as other cases are identified.
Senators Boozman and Jon Tester (D-MT) have introduced bipartisan legislation to ensure veterans are properly reimbursed.
In his column, Boozman thanked the anonymous whistleblowers who brought the home loan overcharges to light.
"Their brave efforts to call attention to fraud, waste and abuse was recently recognized by the Senate in a unanimously-passed resolution marking July 30 as National Whistleblower Protection Day," Boozman wrote.
If you think you may be entitled to a refund of the funding fee, contact the VA Loan Center at 1-877-827-3702.
If you have a suggestion for an investigation, or want to blow the whistle on fraud or government waste, email us at: investigations@kare11.com