ARDEN HILLS, Minn. — KARE 11 has obtained new internal documents showing leaders at Driver and Vehicle Services (DVS) were sounding an alarm last year about a little-known practice that gives some driving schools a leg up when trying to book appointments for a road test.
But as wait times stretched to four months in the metro, they dragged their feet on a recommendation to put an end to the practice of giving some driving schools reserved appointments for driving tests.
KARE 11 first told you about these standing appointments in September.
Certain driving schools have privileges at the Arden Hills, Eagan and Plymouth DVS locations. Those driving schools have "standing appointments" – an unregulated practice that's administered by the managers at those facilities.
Since scheduling an online appointment for a driving test in the Twin Cities area can take months, driving schools with reserved slots can charge their customers an extra fee to skip the line and take their test.
Internal emails written by Department of Vehicle Services managers show last fall "DVS sent a recommendation to the Commissioner's Office to end the practice of standing appointments." The email refers to the Commissioner of the Department of Public Safety, which oversees DVS.
An 'unequitable practice'
In the email sent in May, Deputy Director Jeffrey Schmitz calls the appointments "a growing problem." In later emails, the manager in charge of driving tests describes the system as an "unequitable practice."
Yet one year after the emails say DVS officials recommended ending standing appointments, more than two dozen driving schools still have the weekly slots, which they can sell to customers for an extra fee, reducing spots available for the general public.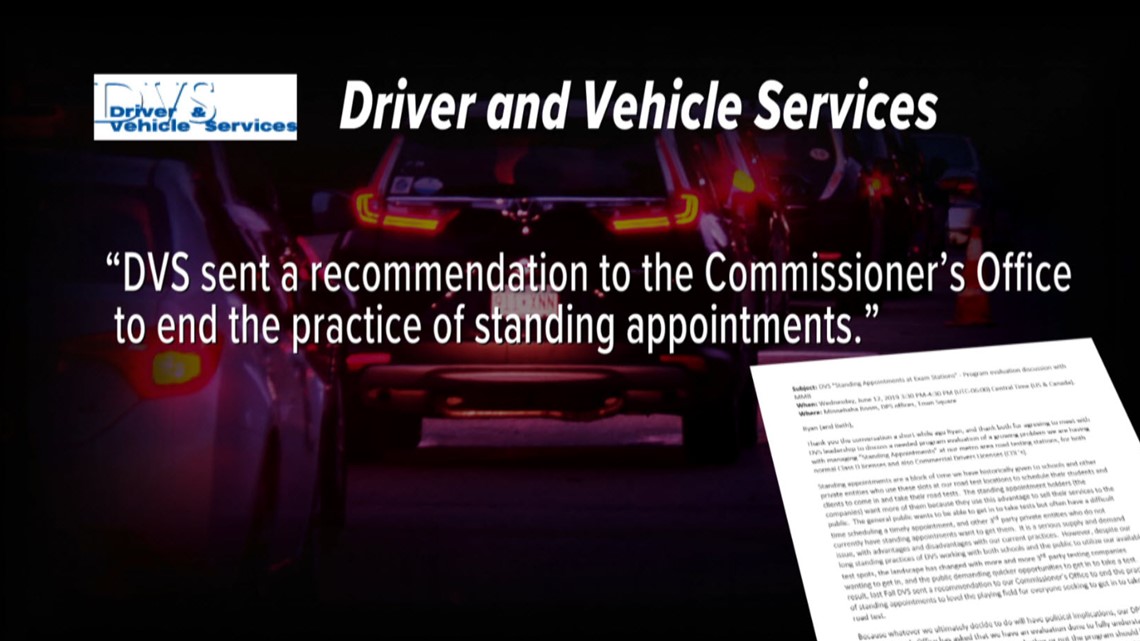 Concerns internally appeared to grow as the drivers test backlog increased. KARE 11 watched one morning as the line outside of the Arden Hills DMV winded outside the gates before dawn. Some had arrived at 9 p.m. the night before to try to get a walk-in spot.
Among those waiting were several parents taking their teenage kids for a test and adults who said they needed a license to get a job.
Some would-be drivers said they couldn't even make an appointment on the website. Others said the online system said the first openings available were four months into the future.
By the time the DMV location officially opened at 8 a.m., the manager turned away people who had been there before dawn, saying all of the daily slots had already been taken.
"I've been trying to get in here, make an appointment, you got to wait three months," said a frustrated Tiffeny Barba. She resigned herself to coming back yet another day – this time even earlier.
But KARE 11 watched as marked driving school cars drove right up into the three spots reserved for appointments.
Other driving schools shut out
The standing appointments are not officially laid out anywhere in state law and a number of driving schools, including the state's largest, didn't even know they were available.
Linda Awalt of Buckle Up Driving School in Oakdale learned of the secretive practice from a potential client who called and said another school could get him in for a test right away.
"They have special arrangements with the DMV at Arden Hills," she said he told her.
Linda tried to get a special arrangement for her customers and went to the manager at Arden Hills.
"He said unfortunately it's not open to me," she said. "I think it's wrong."
She complained to the Department of Public Safety. Little did she know she wasn't the only one shut out.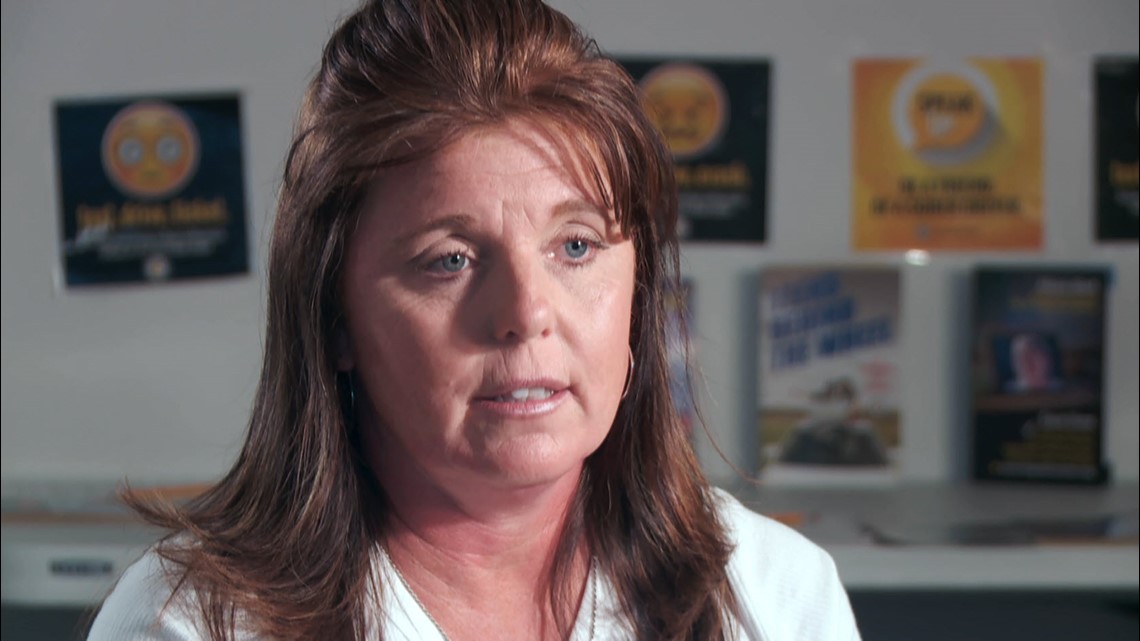 The internal emails show the owner of Safeway – the largest driving school in the state – complained that the special appointments "are doled under the table" by local DMV managers "with no guidelines or rules."
Despite having more students than any other school, he had never heard of the practice of standing appointments until late last year.
"The cronyism and favoritism is indefensible," wrote Safeway owner Chip Haysen.
KARE 11 reviewed state data showing some driving schools have more standing appointments every year than students. We discovered some schools will sell access to those reserved slots for an extra fee.
When KARE 11 first exposed the system, Rep. Linda Runbeck was outraged, calling the system "absolutely unfair."
The internal emails reveal the head of the state's driver exam program is against it, too.
Back in May, Driver Exam Program Manager Deb Carlson wrote: "Driving schools making money off our customers desire for a road test appointment has got to be the last straw…"
She recommended stopping all standing appointments, saying it would open up 190 testing slots every week for the public.
But the standing appointment system didn't stop, even as customers continued to sleep in their cars outside Arden Hills, Plymouth and Eagan and the online appointment system backed up into late January.
The internal emails reveal that politics may be part of the reason the standing appointment system is still in place. In May, Deputy Director Schmitz wrote in an email that the Commissioner's Office wants an evaluation done "because of the political and operational implications."
For months, DVS officials tried to get state agencies to do a full review. Finally in July, Department of Public Safety Assistant Commissioner Tim Lynaugh wrote that the department were in the "preliminary phases" of engaging Minnesota Management Analysis and Development to do a study. The agreement was completed in late July.
A DPS spokesman has declined repeated requests for interviews with the leaders of DPS and DVS, but said in a previous statement that they hoped to have the review done by November.
Meanwhile, customers wait and driving schools like Linda's are left out of the special arrangement – while others are allowed to charge extra money to let people skip the line.
KARE 11 obtained 125 pages of emails from the Department of Public Safety through a MN Data Practices Act request. We have redacted personal information such as email addresses and phone numbers. They are not in chronological order as that is how DPS provided them to KARE.
If you have a suggestion for an investigation, or want to blow the whistle on fraud or government waste, email us at: investigations@kare11.com