APPLE VALLEY, Minn. — Fingers crossed, Maria Jewell walked into the Dakota County courthouse in Apple Valley hoping a sympathetic judge would understand her situation and wipe clean eviction proceedings from her record.
"So that I can move on," she said, "and be able to rent in the future."
A KARE 11 investigation discovered she was being evicted from her Lakeville apartment and facing homelessness all because the Department of Veterans Affairs kept sending her mail to the wrong address, even though records show they had her correct address in their system all along.
A 15-year Marine Corps veteran, Maria Jewell's VA records show she was listed as 100% disabled because of post-traumatic stress due to military sexual trauma.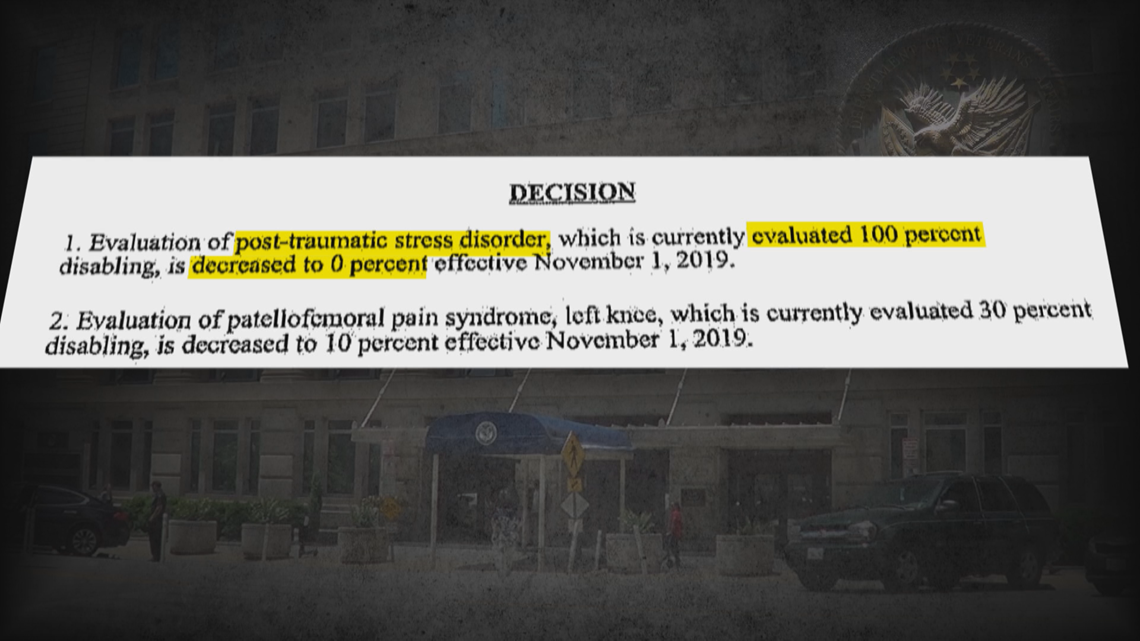 That disability, along with injuries to her knees from her time in the service, means Jewell is supposed to get a benefit check every month from the VA for about $3,500. That money is what Jewell and her teenage daughter live off while Jewell attends college in Mankato.
But two days before Thanksgiving, Jewell looked at her bank account and noticed a huge decrease in her monthly VA check.
Without warning, her benefits were reduced to just $600.
Suddenly, without the monthly check she was counting on, her life was thrown into chaos. Unable to pay her rent, Jewell panicked. She and her daughter were on the brink of homelessness.
"As a single parent there is no cushion," she said. "There is no extras, you just live paycheck by paycheck and just make ends meet."
When she called the VA, she learned her PTSD benefits had been reduced from 100% to zero. And benefits for her other injuries had also been cut by varying amounts.
She says the VA claimed they had been trying to contact her for more than a year – saying they had mailed her repeated warnings that her benefits would be reduced if she didn't show up for a medical revaluation of her disabilities.
"I never received the mail," Jewell said. "So how can I respond to mailing that I never received?"
Jewell's VA file shows the agency was mailing the important notices to an address she had not lived at in five years. The mistake continued even though her records clearly showed the VA had her correct address in its system.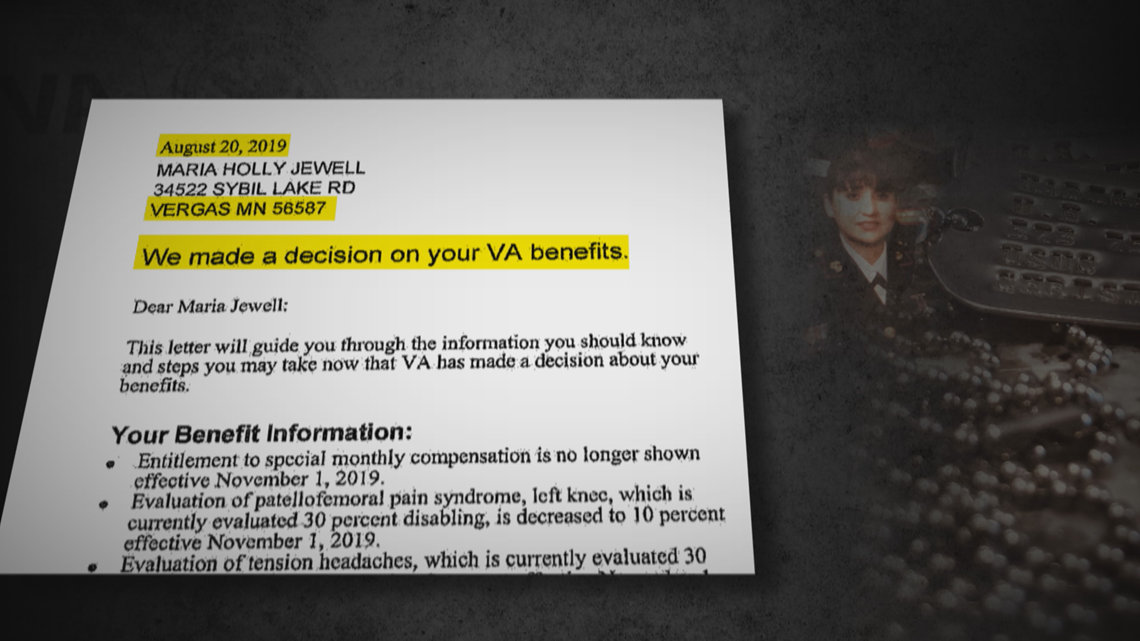 With her benefits suddenly slashed, Jewell was unable to pay her rent and her landlord filed an eviction notice in Dakota County court.
In a last-ditch attempt to find someone to help her, Jewell went to a veteran's legal clinic. That's where she met attorney Brian Lewis, who took her case pro bono.
"This case with Maria is a stunning example of VA's classic ineptitude at processing claims," said Lewis. "Her address was always, always, always correct in the VA's system," he added.
Jewell's Minneapolis VA doctors back that up. In a letter, a member of her treatment team wrote: "Ms. Jewell's contact information (i.e., mailing address and phone number) have been consistently up-to-date in her VA medical records since she has been in our care."
However, VA leadership continued to blame Jewell and denied the agency made any mistake.
When questioned by KARE 11 about Jewell's case, Susan Carter, VA's Director of Media Relations, sent an email stating, "The allegations you are citing are misleading to the point where repeating them for your viewers would be highly irresponsible."
Despite the documents KARE 11 obtained from Jewell's VA file, Carter claimed it's "false" to say Jewell's PTSD rating was dropped to zero. She writes, "There was absolutely no point in time where her PTSD rating dropped to zero."
Carter also said it's "false" to say VA had Jewell's correct Lakeville address in their system. She writes, "VA did not receive correspondence from Ms. Jewell regarding her current address in Lakeville, MN, until November 25, 2019."
Finally, Carter maintains, "VA took the appropriate steps to make Ms. Jewell aware of the changes."
Attorney Brian Lewis said the VA's statement is without merit. Here's the politest way he said he could describe it: Something that "Helps make my flowers grow."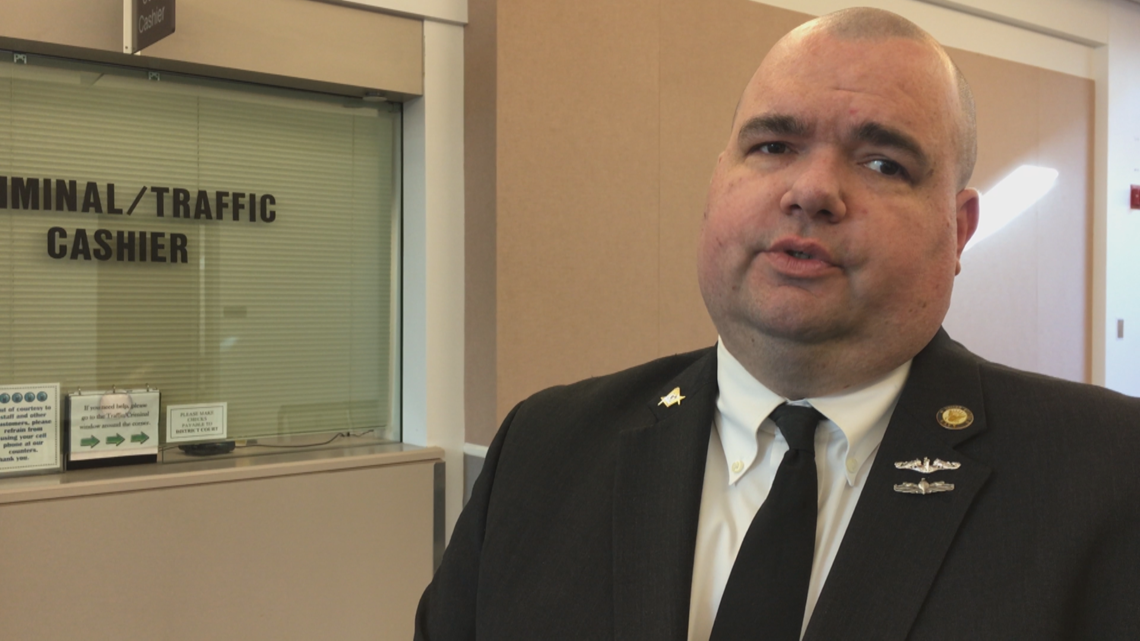 After Lewis got involved the VA reinstated Jewell's benefits and paid her the money it had withheld for two months.
Just days away from being forced out of her home, Lewis also convinced Jewell's landlord to stop the eviction process.
However, the eviction remained on her court record and could be a red flag for future landlords. That could make it more difficult for her to find housing.
That brings us back to the court proceedings in Dakota County as Lewis prepared to argue before a judge that Jewell's eviction proceedings should be expunged.
Jewell nervously played with her dog tags as the attorney explained he was hopeful, but there was no guarantee the judge would agree to get rid of the eviction filings from her record.
In court, Lewis told the judge, "It is unjust for her (Jewell) to be left with a bad housing record because the VA unlawfully reduced her benefits."
Much to Jewell's relief, the judge agreed to wipe away all court record of the eviction.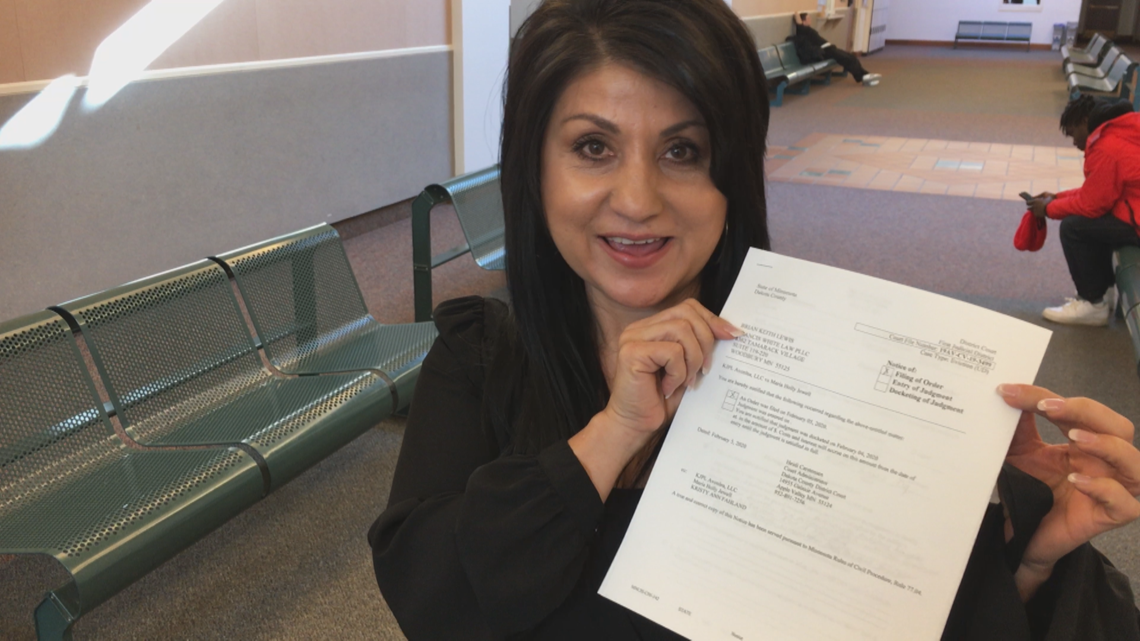 "I have the expungement from eviction!" Jewell exclaimed as she walked out of the courtroom clutching the expungement record to her chest.
"It's a huge relief," she said. "I can breathe a little easier. So, this is so good, good day, a good day."
If you're one of the veterans who may be impacted by VA mail mistakes or had issues rescheduling a benefits re-examination, contact the team working on this investigation at: investigations@kare11.com