This is the behind-the-scenes story of a year-long investigation that already has prompted criminal charges. Follow along as we expose a massive taxpayer rip-off.
Hundreds of Minnesota police agencies – overcharged.
A whistleblower's warnings – ignored.
What officials call a swindle – exposed.
KARE 11 Investigates what state leaders are now calling a systematic scheme to cheat taxpayers.
Hunt under the hood
In April 2017, the hunt under the hood was on.
"It should be in the car, right?" a Maplewood city mechanic asked. "I'm not seeing one."
"We didn't (see it) either," said Maplewood Police Chief Paul Schnell. "It's not on the car."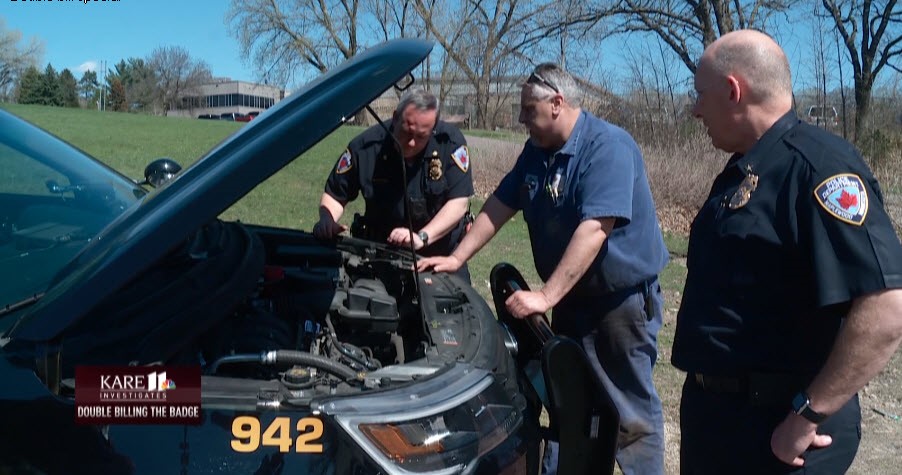 What couldn't be located was an engine block heater - even though records show his department paid for it.
That's just one example of what a year-long KARE 11 investigation uncovered. Minnesota taxpayers were being charged hundreds of thousands of dollars for features on police vehicles that are not there – or were paid for twice.
The master state contract for police SUV's spells out what must be included in the standard base package at the contracted price, including spotlights, engine block heaters, and heated mirrors – important features during long Minnesota winters.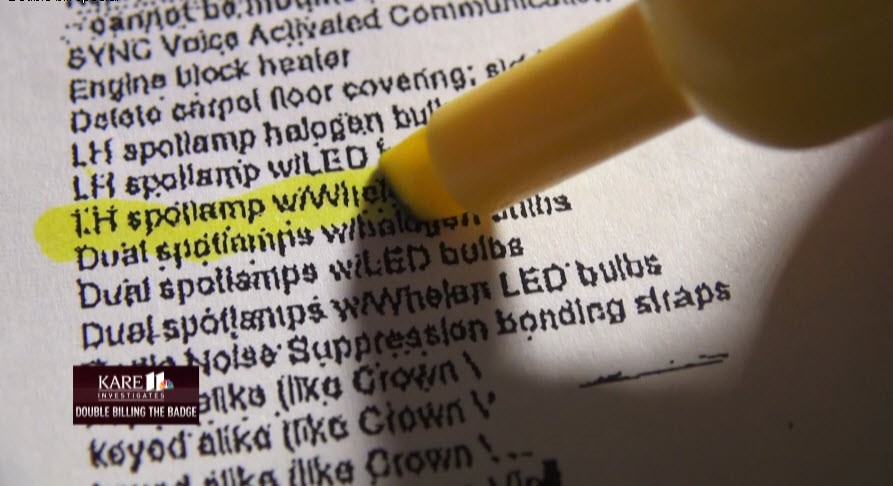 But when KARE 11 went line-by-line over invoices for Maplewood's police vehicle purchases, we found they were charged extra for items that should have been included in the base price.
$79 for engine block heaters,
$187 for the spotlights,
$53 for heated mirrors,
$30 to make the rear windows inoperative.
"Based on the findings that you've uncovered here, we've paid for items as add-ons that were, or should have been included in the base price of the car," Schnell said.
"Double billed?" KARE 11 asked.
"Double billed," Schnell replied.
A whistleblower's tip
To understand how KARE 11 exposed this double billing scheme, we'll need to take you behind the scenes of our investigation.
In early March 2017, we met with Steve Kleiber. He's a private citizen with both a law enforcement and vehicle purchasing background.
Kleiber claimed that back in 2015 he discovered the St. Paul Police Department had been overcharged for spotlights and heated mirrors on some of their squad cars. They had been purchased using the state's master contract with Nelson Auto Center of Fergus Falls.
"It's pretty simple. They were supposed to provide it in black and white. This is what we provide. Here's the price," Kleiber explained. "And they weren't doing it."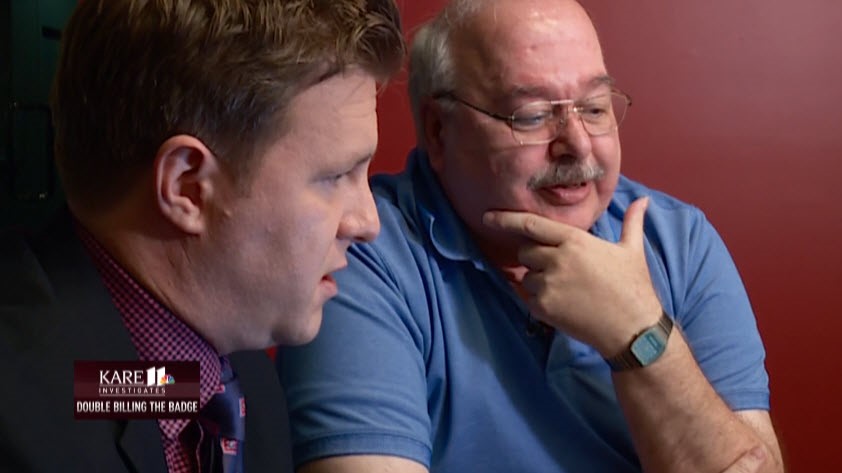 St. Paul officials took what he discovered and demanded a refund. As a result, Nelson Auto cut a check paying back more than $13,000.
Suspecting the same thing might be happening at other police departments. Kleiber says he took what he'd found to State Patrol's Vehicle Crimes Taskforce and to the Department of Administration, the state agency which oversees the contract.
But Kleiber says he was largely ignored.
"My frustration level was pretty high because I took it to the people who I thought should deal with it and address the problem. And basicallly nothing has happened," he said.
So, Kleiber reached out to KARE 11 Investigates. And we were about to uncover a scheme that authorities now say overcharged taxpayers all across the state.
Before we finished, the overbilling would add up to hundreds of thousands of dollars.
Researching the records
Using public records requests, KARE 11 started by auditing the SUV purchase records from 20 different police and sheriff's departments.
We discovered every one of them was double billed.
For example, South St. Paul Police paid $392 for upgraded LED spotlights on its SUV patrol vehicles.
"We found the LED's draw less on the batteries," Chief William Messerich explained.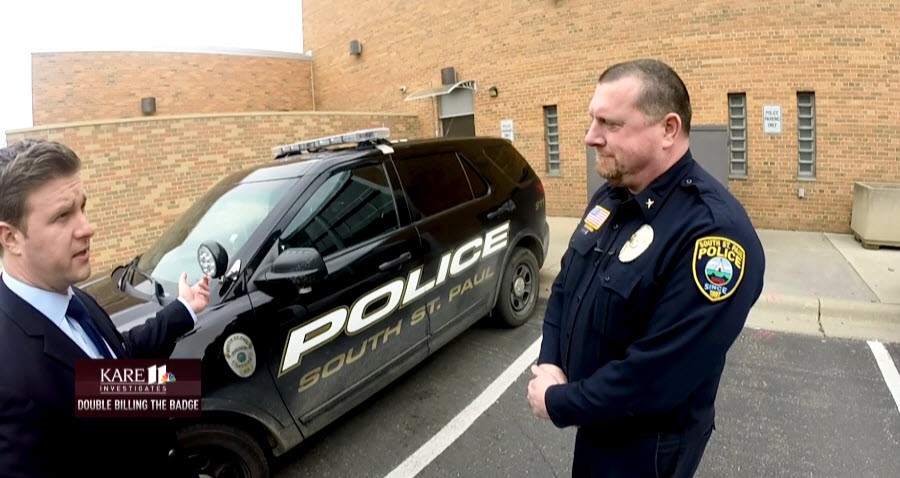 But when KARE 11's A. J. Lagoe reviewed the purchasing records, he found Chief Messerich's department also paid $200 for the standard halogen spotlights already included in the base price on the state contract.
Those spotlights were not on the car – and Messerich's department had not received a credit.
Lagoe: "Clearly you don't have two spotlights here?"
Messerich: "No. Just one spotlight."
Lagoe: "So, you didn't know when you upgraded for these that you should have been getting a credit for the one that was already coming standard?"
Messerich: "No, we weren't aware of that."
Records also show South St. Paul paid double for heated mirrors, engine block heaters, and for those back window switches not to work.
"It was probably a couple hundred dollars a car that we're paying too much for," Messerich said.
Little charges add up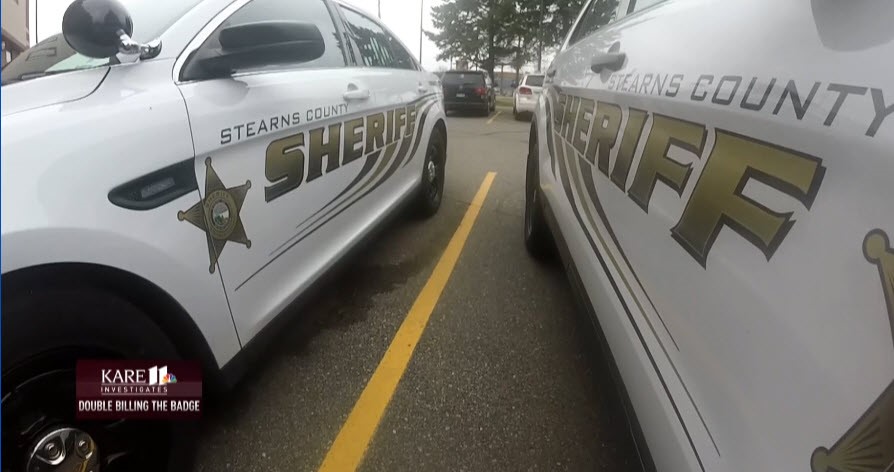 At first, a couple hundred dollars per car may not sound significant. But consider the dealership that had the state contract sold 558 of the Ford police interceptor SUV's last fiscal year alone – worth roughly $15-million dollars.
That could add up to real money.
"I can't imagine what the dollars could add up to. I can't imagine," Maplewood Chief Paul Schnell said.
KARE 11 discovered overcharging at smaller agencies, including Rosemount, Apple Valley and Brooklyn Center.
We found it happened at midsize departments including the Stearns County Sheriff's Office.
"I was paying for two, but only getting one," said Stearns County Lt. Robert Dickhaus.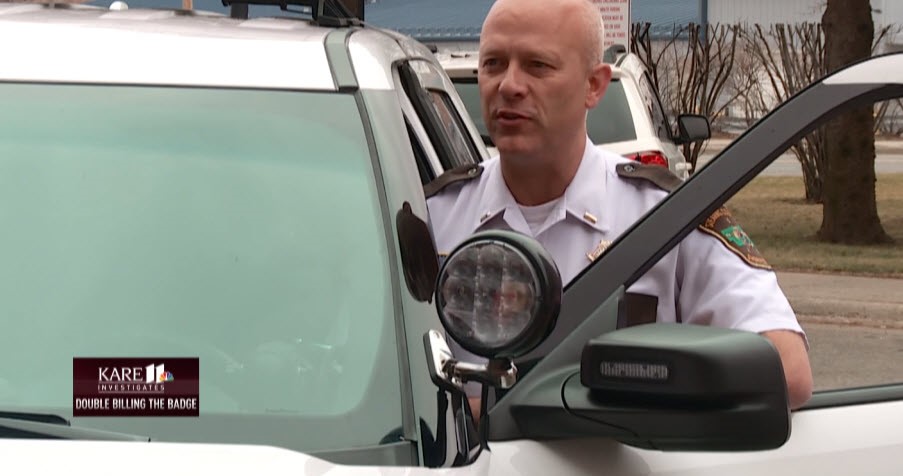 We even documented overcharges at major metro agencies like St. Paul and Hennepin County.
"Across the state of Minnesota the taxpayers are paying for things that they aren't getting," said Curtis Haats, the finance director in charge of purchasing vehicles for the Hennepin County Sheriff.
Who is responsible?
We wanted to know who was responsible for the overcharges.
And who is pocketing hundreds of thousands of taxpayer dollars because of double billing on Minnesota police vehicles?"
Our search for answers took us to Fergus Falls in northern Minnesota. A car dealership there, Nelson Auto Center, had the master contract to sell Ford police SUV's statewide.
Records show the point man was Fleet Manager Gerry Worner.
Worner's name is on the double billed invoices we discovered. That's why KARE 11's A. J. Lagoe paid a visit to his 5,696-square foot riverfront home.
Lagoe: "Mr. Worner, A.J. Lagoe. I'm from KARE 11 News. I wanted to talk with you about the double billing issue going on with the police vehicles."
Lagoe: "Well, this was going on a long time. Were you intentionally trying to rip off police departments?"
We wanted answers from Gerry Worner. What we got was a closed door.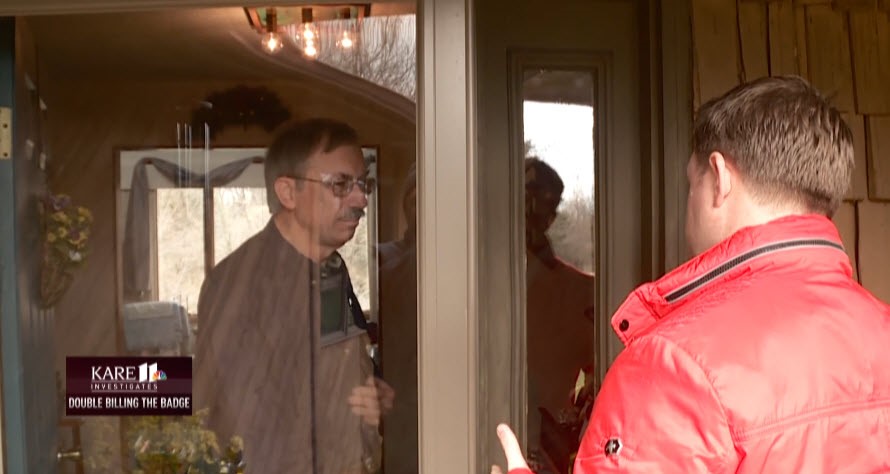 So, we wondered: Is this just a case of bad book keeping? Or did Gerry Worner and Nelson Auto know about the double billing and continue to do it?
Searching for answers
In the wake of KARE 11's investigation, law enforcement agencies all across Minnesota were checking their fleets of patrol vehicles.
They were looking to see if they got what they paid for. Or if they were charged twice for the features – like spotlights, engine heaters and heated mirrors – the master state contract says must be included in the base price of the vehicle.
As our investigation continued, we found the double billing had been going on for years. In fact, records showed some departments were double billed on cars dating back to model year 2012.
What's more, we found evidence that Nelson Auto's Fleet Manager at the time was aware of the double billing issues - and was being asked about it directly.
"I began questioning that," recalled Lt. Robert Dickhaus of the Stearns County Sheriff's Department.
Tracking the emails
In 2015, Dickhaus says Stearns County noticed it was being double billed on engine block heaters and spotlights.
Lt. Dickhaus showed us a copy of an email he sent to Nelson's Fleet Manager Gerry Worner. In it, he asked Worner a simple question.
"Do I need to pay for this spotlight or is this something that's included?" Dickhaus recalled. "And the response I got was, 'Oh, that's included.' ''
From then on, Stearns County was charged properly on those items.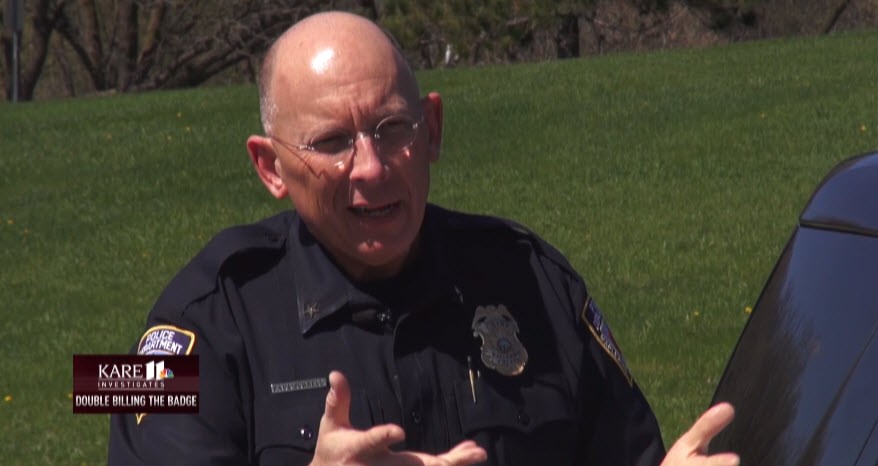 But records reviewed by KARE 11 show that other departments – including Maplewood - continued to be double billed for features Worner had already acknowledged should have been included in the base price.
"It then begs the question, why are we - did we continue to get charged?" asked Maplewood Chief Paul Schnell.
After KARE 11 shared our findings with him, Schnell contacted the Minnesota Bureau of Criminal Apprehension. That's when the BCA launched its own criminal investigation.

When KARE 11 tried to question Gerry Worner, he declined comment.
"Were you incompetent sir, or are you a crook?" reporter A. J. Lagoe asked.
Worner wouldn't speak to us, but through his attorney denied any wrong-doing.
Nelson Auto launches internal review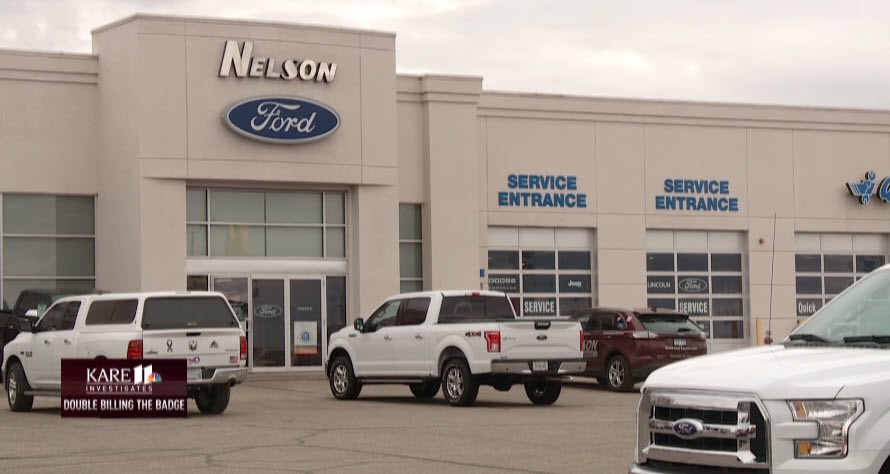 Nelson Auto's owners -- Brent and Laurel Nelson – told authorities they first heard about the billing problems this Spring when two of the law enforcement agencies KARE had been questioning contacted the dealership.
The Nelsons say they immediately began an internal review.
Brent Nelson told KARE 11 that the dealership's initial review identified about $700,000 in improper billing.
As a result, Nelson Auto Center says it fired Fleet Manager Gerry Worner. The dealership claims he took 100% responsibility.
The BCA investigation would eventually result in criminal charges against Worner. We'll have details about that later.
But criminal or not, the examples of double billing KARE 11 discovered raise the questions:
Who's watching out for your tax dollars?
And why were a whistleblower's warnings about a possible crime ignored?
Warning bells ignored
KARE 11's investigation found examples of double billing dating back years for equipment on police cars all across the state.
"It adds up into real money and it's all taxpayer money," said Hennepin County's Curtis Haats
In the wake of KARE 11's investigation, the Minnesota Legislative Auditor's office announced it would be examining other state contracts.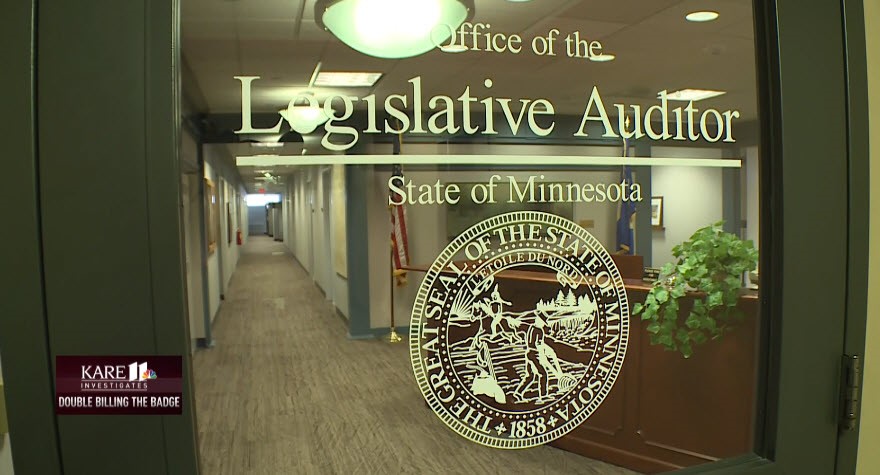 "To see whether or not these kinds of purchasing flaws are occurring in other types of purchases, too," Deputy Legislative Auditor Cecile Ferkul explained.
As KARE 11 continued to dig, we found the double billing was not isolated to Nelson Auto Center's contract for Ford police SUVs.
Records show Nelson Auto also had the state contract to sell Dodge Chargers like ones owned by the St. Paul Police Department. We found examples of overcharging on the Dodge contract, too.
What's more, we discovered Nelson Auto was not the only state vendor overcharging law enforcement.
Other overcharges discovered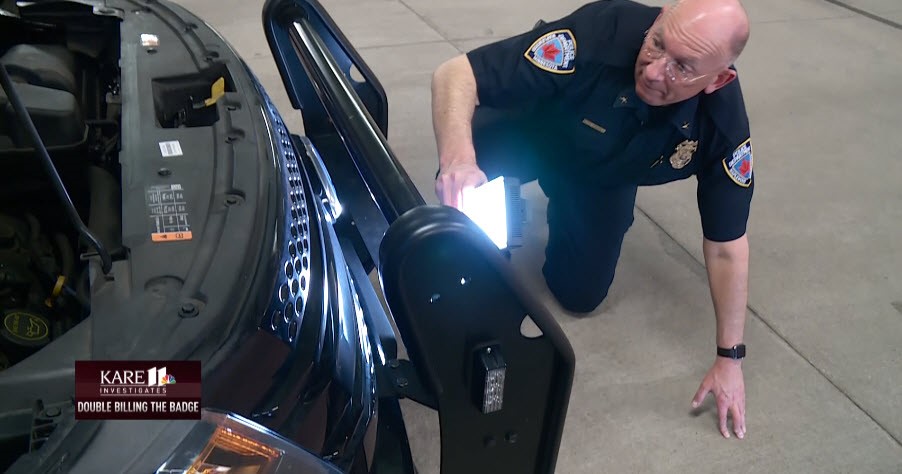 Ford of Hibbing has the state contract to sell sedan police interceptors. That contract also spells out what must be included in the standard base package - including incandescent bulb spotlights and carpeting.
But we found examples of overcharges on that contract, too. Hennepin County was charged an extra $112 for carpeting on a squad car. And when they upgraded to an LED spotlight, they did not receive a $187 credit for the incandescent light that comes standard.
"There are a lot of questions that need to be answered," said Haats.
Ford of Hibbing told us what we found represented isolated mistakes totaling about $10,000 over three years. The dealership wrote: "We have taken corrective action by adding another step in the review process so this does not happen in the future."
State officials who have reviewed the records agree the Ford of Hibbing examples appear to be simple mistakes.
"There was certainly no indication of a systematic effort to defraud the state," said Matt Massman, the Commissioner of the Minnesota Department of Administration.
However, the overcharges at Nelson Auto totaled nearly three-quarters of a million dollars by the dealership's own estimate.
So, KARE 11 wanted to know how they could have gone unnoticed for so long? We discovered that the state was tipped off about it years ago.
"If somebody found out about it, I expect that they would have told us," said South St. Paul Police Chief William Messerich.
Blowing the whistle
Remember, there's a man who says he did try to blow the whistle.
Steve Kleiber stumbled on the double billing back in 2015 and took his findings to the St. Paul Police Department. Thanks to his tip, St. Paul demanded a refund from Nelson Auto and got a check for more than $13,000.
But the warnings didn't stop there.
KARE 11 obtained records showing that St Paul officials also alerted the Department of Administration, the state agency responsible for the master police vehicle contract.
A St. Paul city employee wrote an email to the state in April, 2015: "It has been brought to our attention that the pricing that has been charged by Nelson Auto may have been incorrect … for years 2013, 2014, and 2015."
What's more, Steve Kleiber says he met personally with the Department of Administration to share his suspicion that the overbilling could be widespread.
"What was done?" KARE 11 asked.
"Nothing." Kleiber replied. "Nothing was done to make sure the cities and counties that were overcharged got their money back."
We asked Department of Administration Commissioner Matt Massman what happened.
"What happened is, we misdiagnosed the warning bells if you will," he said.
The department did do one thing. Buried in the contract, they added a small warning to buyers to double check about double billing.
But there were no audits, no accountability, and no further refunds to tax payers.
"If the state knew about it, they certainly should have relayed that information on to the agencies purchasing off those contracts," Chief Messerich said.
In the wake of KARE 11's investigation, Commissioner Massman admits mistakes were made.
Massman: "We concluded at that time, with the information that we had, that it was an isolated incident. Almost errors on the part of the ordering agencies, rather than overcharging on the part of the vendor.
Lagoe: "Your opinion has changed on that now?"
More missed warnings

What's not so clear is why State Patrol's Vehicle Crimes Taskforce also failed to investigate. KARE 11 obtained records showing the State Patrol had early warnings, too.
In 2013 the State Patrol discovered it had been double billed on about 200 of its squad cars. Nelson Auto cut them a refund check for about $35,000.
Then, two years later, the cop car rip-off landed on their radar again. That's because Steve Kleiber brought his concerns to State Patrol investigators, too.
"Did you meet with State Patrol?" KARE 11 asked Kleiber during an interview.
Leading up to that meeting, we discovered there were a slew of internal state patrol emails.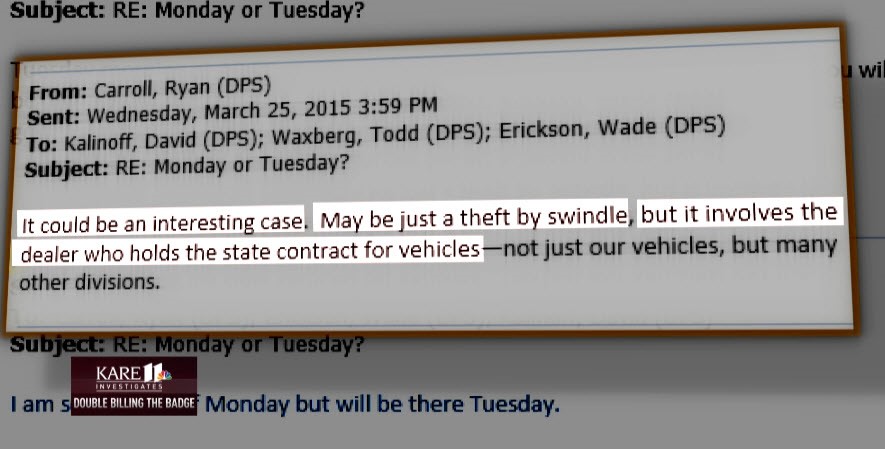 One officer wrote: "It could be an interesting case. May be just a theft by swindle, but it involves the dealer who holds the state contract for vehicles—not just our vehicles, but many other divisions."
Another officer seems dubious, writing: "My guess is it will be like finding a needle in a haystack, but hopefully he can tell us who to look at and where it is documented in the paperwork."
Steve Kleiber says that's exactly what he did:
"Brought them about 100, 125 pages of stuff. They made copies of it," Kleiber recalled. "Explained to them, showed them what was going on. And never really heard back from them."
State Patrol tells a different story. Although they confirm meeting with Kleiber, they say he only told them about overbilling on their own patrol vehicles which they had already discovered two years earlier. They claim he never brought up that other agencies, like St Paul, had been double billed.
When KARE 11 asked the State Patrol for their records proving that claim, officials told us they could find nothing showing that anyone at the meeting with Kleiber took any notes, filed any reports or afterward sent any emails.
"They just basically took what I gave them and threw it away and chose not to even look at it," Kleiber believes.
They're looking now. So is the Office of the Minnesota Legislative Auditor.
"Our understanding of the concerns raised by you and by what the department told us, we decided that we would take a look at this," Cecile Ferkul told us.
Meanwhile, a criminal prosecution was already underway.
Theft by swindle
"This was going on a long time. Were you intentionally trying to rip off police departments?"
That was just one of the questions KARE 11 had back in April for Gerry Worner, the longtime Fleet Manager for Nelson Auto Center of Fergus Falls.
"Were you incompetent, sir, or are you a crook?" A. J. Lagoe asked. Worner closed the door without commenting.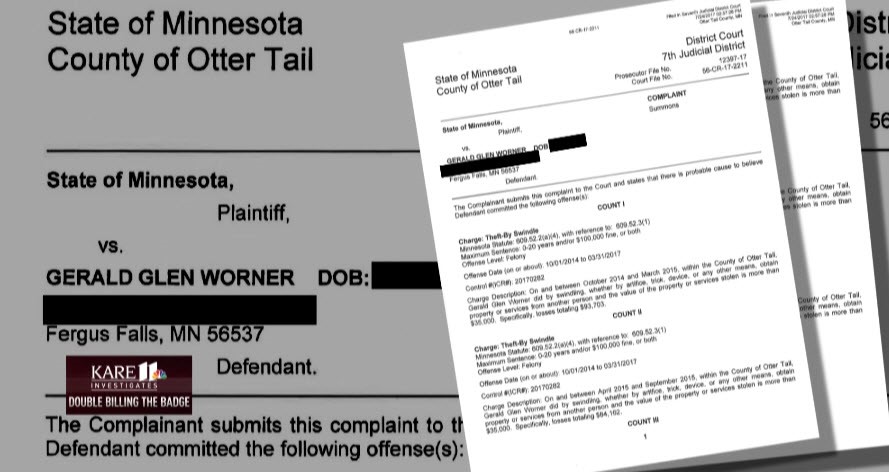 KARE 11's investigation uncovered a massive taxpayer rip-off on vehicles purchased from Nelson Auto, the state vendor with the multimillion-dollar contract to sell Ford SUV's to police agencies across Minnesota. Records show Gerry Worner was the dealership's point man for the sales.
"The county paid money that it shouldn't have," said Lt. Robert Dickhaus of the Stearns County Sheriff's Department.
Stearns County is not alone.
"Certainly some of the things you've uncovered, this is widespread!" Maplewood Police Chief Paul Schnell said after reviewing KARE 11's findings earlier this year.
Schnell contacted the BCA, prompting the agency to launch its own investigation.
In July, prosecutors filed criminal charges – five counts of "Theft by Swindle" – against Nelson Auto's former Fleet Manager Gerry Worner.
More than 200 agencies overcharged
Court records say Worner made a 40 percent commission on all profits. So, every overcharge put money in his pocket.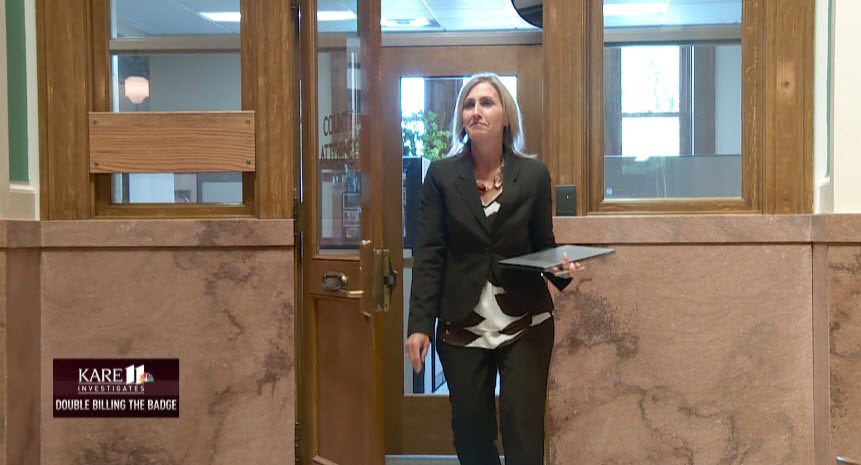 "Unfortunately, it went on for quite some time," said Michelle Eldien, Otter Tail County's Chief Deputy prosecutor. She's handling the case against Worner.
"You're charging this as a scheme to defraud taxpayers?" KARE 11 asked.
"Correct, correct," she said. "And it really is."
According to the criminal complaint, at least 205 police and government agencies across the state were overcharged. They either did not get what they paid for or were charged twice for equipment such as spotlights and heated mirrors.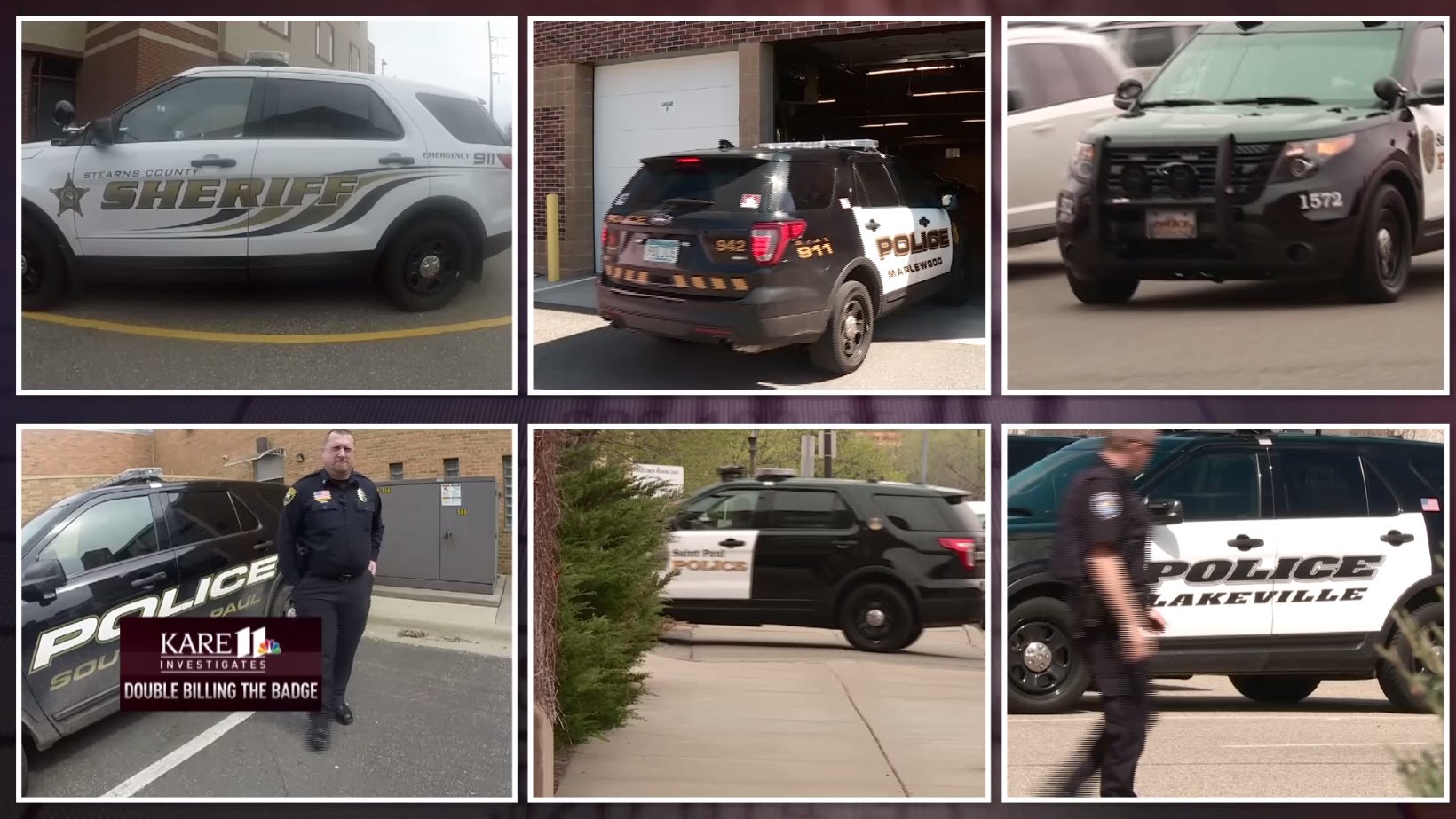 Gerry Worner denies the charges. Kent Marshall is his attorney. "I don't think that he did anything sneaky or tricky," Marshall said in an interview.
Marshall contends the state contracts are confusing and that any double billing was accidental. "There were mistakes made, but they were honest mistakes," he said.
Were they just honest mistakes?
Court records detail how two other employees in the Fleet Department at Nelson Auto told investigators they were aware of the overcharges and warned Gerry Worner that what they were doing "was morally wrong."
But according to the criminal charges, the double billing continued. The complaint lists overcharges spanning from 2014 through 2017.
According to prosecutor Eldien, it's an example of misplaced trust in a state vendor. "I would say a huge misplaced trust, unfortunately,"
Investigation prompts reforms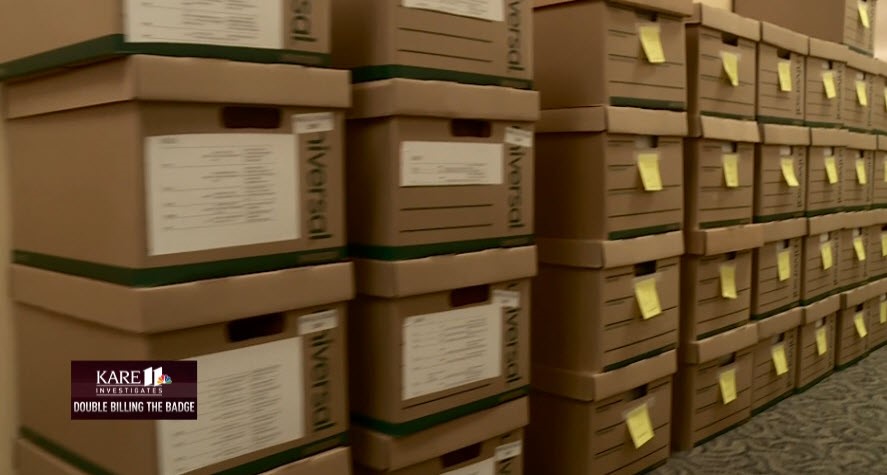 While Worner is awaiting trial, the state has instituted reforms.
"I'm angry," said Commissioner of Administration Matt Massman. "This is a very frustrating experience to have had a state contract taken advantage of like this."
Massman contends KARE's findings underscore his warning that Minnesota has an antiquated, paper-based procurement system that makes checks and balances nearly impossible.
An audio recording captured Massman sounding the alarm during the last legislative session.
"We essentially we are not able to verify that we're are always getting the low price," he told lawmakers.
Massman says the Department of Administration needs a massive upgrade into the 21st Century with a $10-million "e-Procurment" system to provide better oversight.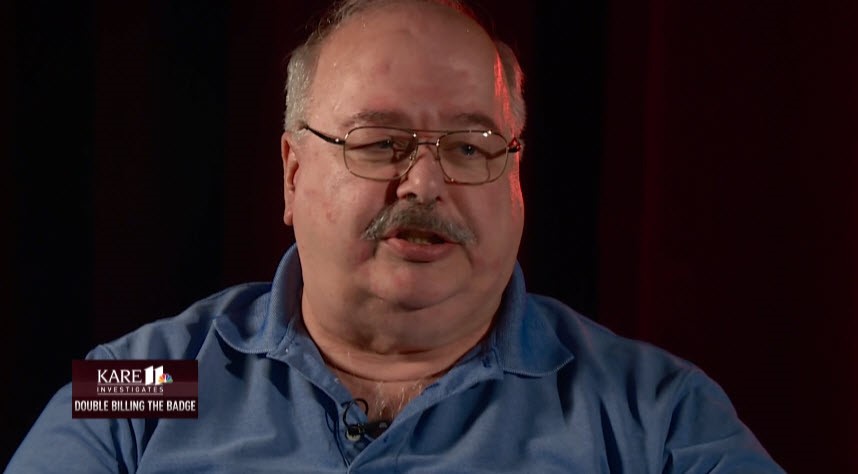 "Minnesotans, I would say, expect us to have the Amazon experience. Our service is more in line with the Montgomery Ward's mail order catalogue," he testified.
But that does not explain why the state did little to nothing – despite warnings -- to protect taxpayers from double billing on the police car contract.
Remember, whistleblower Steve Kleiber says he alerted officials about overcharges by Nelson Auto back in 2015.
"Nothing was done," Kleiber says.
During last year's legislative session, GOP lawmakers pointed to KARE 11's investigation – and the department's failure to act on Kleiber's warning – as a reason to deny the requested $10-million "e-Procurement" upgrade.
Despite that setback, Commissioner Massman has instituted a new fraud policy requiring "immediate steps to conduct an internal review" whenever there's an allegation of financial irregularity to "ensure the proper expenditure of public dollars." The department also hired a compliance expert just to review state contracts for abuses.
"We want to make sure we're putting the resources on it to get this right," Massman said. "And, frankly, to deter any potential vendor from, you know, doing something similar on another state contract."
Dealership owners not charged
Although Gerry Worner is facing criminal charges, the owners of the dealership he worked for are not.
Brent and Laurel Nelson told KARE 11 they had no knowledge of – and didn't approve – the overcharges.
Even so, Commissioner Massman told KARE 11 the state has pulled its multimillion-dollar contract with Nelson for the Ford SUV police vehicles.
Lagoe: "You've stripped the state vendor of the contract to sell police vehicles?"
Massman: "Yeah, we did that in April as we became aware of the breadth and scope of the fraudulent activity that was going on here."
Officials say after the final audit is finished they expect that roughly $700,000 will be refunded to police and sheriff's departments across Minnesota.
Refunds set in motion after KARE 11 followed up on a warning from a whistleblower who state officials had ignored.
"I just want to thank KARE 11 for bringing this to our attention," South St. Paul Chief William Messerich said. "And looks like we're going to get a refund at some point from the dealership.
Our investigation started with a tip.