CHANHASSSEN - Prince's death highlights a fatal flaw in the nation's antiquated 911 emergency system. When you call from cell phone, 911 doesn't automatically know where you are. KARE 11 first exposed the problem last year in a joint TEGNA Media-USA Today investigation.
911 often can't determine the location of an emergency, even when the call for help comes from a GPS equipped smart phone.
A transcript of the 911 call from Prince's Paisley Park complex illustrates the problem.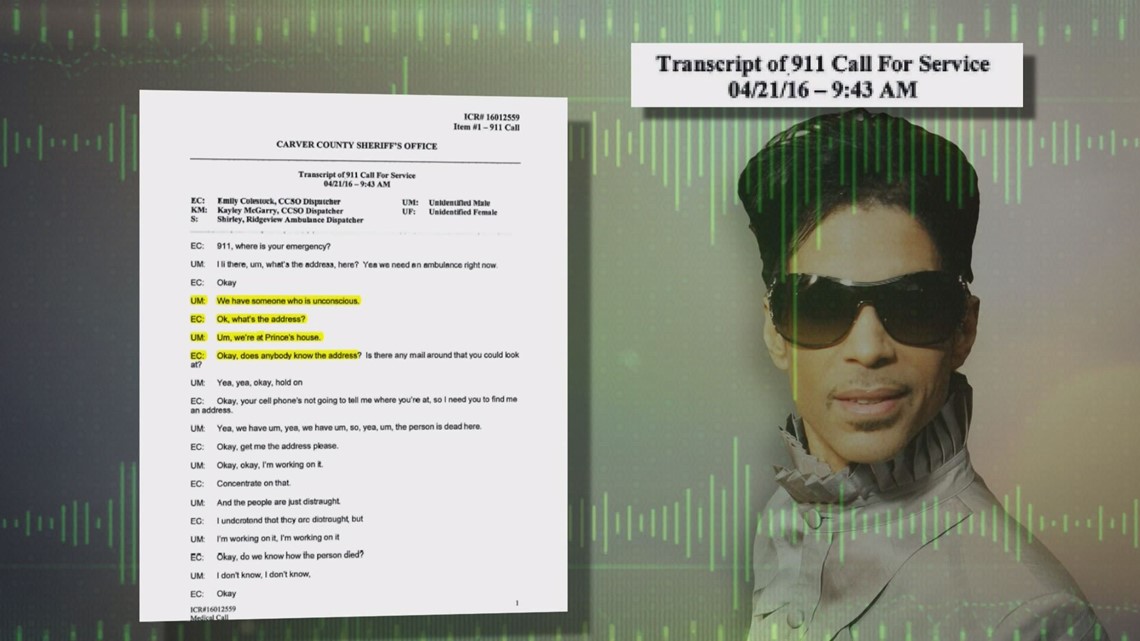 The first call for help came from a cell phone. But the transcript reveals the 911 response was delayed as the dispatcher struggled to find out where to send paramedics.
"Ok, what's the address?" she asks. "We're at Prince's house," the caller replies.
"Okay, does anybody know the address?" the 911 operator asks.
The 911 operator explains the problem. "Okay, your cell phone's not going to tell me where you're at, so I need you to find me an address."
"Okay, okay, I'm working on it," the caller replies.
Officials say that if the 911 call had come from a traditional land line, the address associated with the phone would have appeared instantly at the 911 call center.
"Okay, have you found an address yet?" the 911 operator asks.
"Yea, um, I'm so sorry, I'm so sorry," says the caller, asking others on the scene if they know the exact address.
At one point, the 911 dispatcher even asks, "Is there any mail around that you could look at?"
"It is a huge problem and it's everywhere in this country," says Fred White, the CEO of a technology company called LaaSer. "911 is not utilizing any of the smarts of their smart phone."
But White thinks his company has a solution.
To demonstrate the problem and the proposed fix, this week we took White to Paisley Park. In cooperation with local 911 officials, White made two test calls as KARE 11 watched.
First, he called from a standard smart phone.
"Can you please tell me the address that popped up on your screen?" he asked the 911 dispatcher.
"Phase one is 6431 Hazeltine Boulevard," he was told.
That's not where Paisley Park is located. It's the address of the cell phone tower two miles away.
A few seconds later, 911 got an updated location as the system tries to zero in on our location. It showed us at Hazeltine Boulevard and Ches Mar Drive.
That's closer, but still more than a mile away. Paisley Park is located at 7801 Audubon Road.
White made his second test call from the same smart phone while still standing at the same spot. But this time he activated his company's special location software.
"Can you please tell me the address that just popped up on your screen?" he asked.
"Yes, sir. I'm showing Paisley Park, 7801 Audubon Road," the 911 dispatcher answered.
The software gave 911 the correct address within seconds.
White says his company is one of several private firms developing ways to fix 911.
The Federal Communications Commission has established a task force to study them, but no one knows when the agency will approve a plan.
White says he hopes publicity about the delayed 911 response to the call from Paisley Park puts more pressure on federal authorities to upgrade the system nationwide.
"If there's something good that can come out of this, because it's associated with someone as famous and as inspiring as Prince, then that's a good thing," White said.
White says his company's software is designed to be part of an upgrade to the operating systems of every smart phone, so if it's approved people would get it automatically.
You can't currently purchase it as a stand-alone application.