MONTICELLO, Minn. — She only had a few drinks over several hours, yet as the 35-year-old mother of two danced at a wedding reception in 2011 she suddenly felt as if the room was going dark.
"I have never had a feeling like that before," she said.
What would happen next would prompt legal battles over the next several years that would change the way sexual assault cases are handled in Minnesota.
The woman, who spoke to KARE 11 but asked not to be identified, only has a handful of memory fragments from the rest of that night.
She remembered kissing the wedding photographer, Tane Finley, even though she had never met him before; lying next to him on the grass; a security guard trying to help her; being helped into a motel room because she couldn't walk by herself.
She went to a hospital the next day fearing she had been drugged and raped.
Although no drugs were found in her system and the photographer said everything that happened was consensual, a jury convicted him of felony sexual assault and a gross misdemeanor sex crime.
The key evidence: surveillance video captured the woman stumbling and falling to the ground before and after she was in a car with him.
The below surveillance video, showing a woman who believed she had been drugged falling and needing help before being assaulted, changed how sexual assault cases are prosecuted in Minnesota.
Mark Erickson, the assistant Wright County attorney who prosecuted the case, argued the video showed the man had assaulted a woman who was clearly impaired.
Two years later, however, the Minnesota Court of Appeals overturned the felony verdict in State vs. Finley, a decision that has had a profound impact on sexual assault cases across the state ever since.
Sex crimes prosecutors tell KARE 11 the ruling essentially told them that to get a conviction in most rape cases involving alcohol or drugging, the victim needs to be unable to move, all but unconscious or asleep.
A KARE 11 investigation has documented that Minnesota prosecutors almost never file charges in one of the most typical types of sexual assault, when a victim is heavily and clearly drunk, but can still move and speak. That finding is based on interviews with attorneys and an analysis of thousands of sexual assault cases.
Minnesota law says, "A person who is mentally incapacitated or physically helpless … cannot consent to a sexual act."
But Minnesota's definition of "mentally incapacitated" includes the requirement that the drug, medication or alcohol involved was administered "without the person's agreement."
So, without proof that someone's drink was spiked without their knowledge, prosecutors say convictions in sex assault cases often hinge on whether they can prove the suspect knew the victim was "physically helpless" – a tough standard to meet.
The Appeals Court ruling in the Monticello wedding reception case cited a Minnesota law, largely unchanged since the early 1980s, that says "physically helpless" usually means "asleep or not conscious."
If a person is heavily intoxicated – or even drugged – but can still move, "that means they are not going to meet the definition of physically helpless," said Kaarin Long, a former Ramsey County sex crimes prosecutor.
Adding to that challenge: to get a conviction, prosecutors have to prove that the suspect knew the victim was physically helpless.
The ruling from the Finley case – and a handful of similar appellate decisions – have sent a message to prosecutors across the state, said Hennepin County Attorney Mike Freeman.
To get a conviction, you need to prove that a victim was "passed out" and you need solid evidence to prove it, he said. Typically, that means more than just the victim's account.
"We have to turn a bunch of these cases down presently, because we don't have someone who in essence was passed out," Freeman said.
"It's making it near impossible to successfully prosecute cases," Freeman added.
He alluded to problems in Minnesota's law in December, when he announced no charges would be filed in the case of University of Minnesota wrestlers who had been accused of sexual assault.
"Given Minnesota's current laws regarding intoxication, and the victim's ability to give consent, we were working under some significant constraints," Freeman said at a news conference.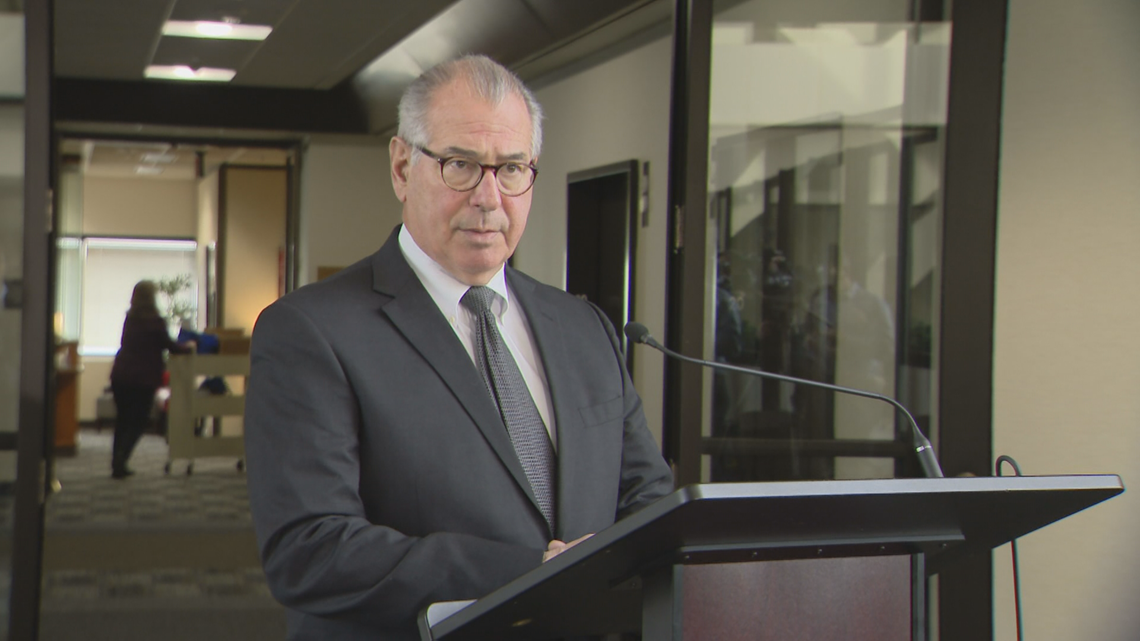 In the Monticello wedding reception case, the victim testified she knew what it felt like to be drunk. But that night was different, she said.
"I just felt like a total loss of coordination," she told the court. "I have never had a feeling like that before, where I just absolutely could not make myself do what my brain wanted me to do."
She suspected she'd been drugged, but lab tests couldn't prove it.
Commonly used date-rape drugs like GHB and Rohypnol metabolize out of a victim's system in hours, typically well before that person realizes what happened and can get a rape kit done.
They are rarely, if ever, detected.
"I am personally not aware of any investigation that has led to showing that GHB or one of the other common drugs was actually found in a toxicology investigation," said Kaarin Long, the former sex crimes prosecutor.
KARE 11 asked the Minnesota Bureau of Criminal Apprehension, which does the testing in suspected drugging cases, for data going back 20 years.
The agency says it has never had a positive hit on Rohypnol, and only six cases where they identified GHB.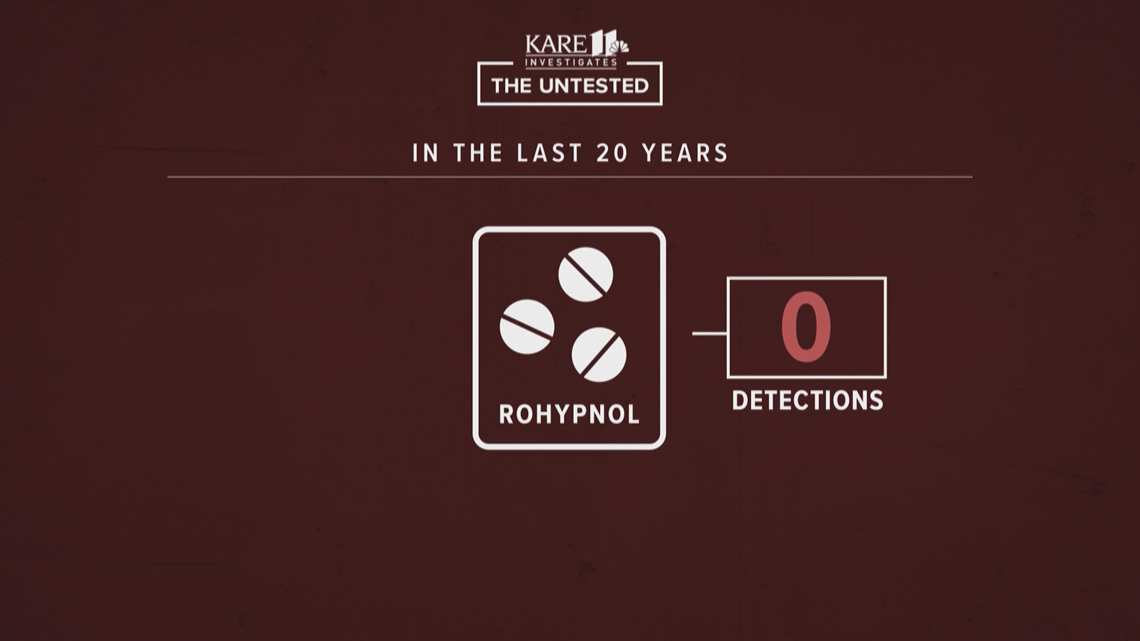 And yet, the use of those drugs and similar ones to sedate victims are likely common. According to a CDC study in 2010, about one in 10 women reported being the victim of a drug or alcohol facilitated rape.
At the Sexual Violence Center in Minneapolis, which covers three of the largest counties in the state, director Kenosha Davenport said about a third of the cases they see involve victims who believe they were drugged.
But she's never seen one of those cases result in a conviction.
That's because there hardly are any.
A KARE 11 review of 2,918 sexual assault cases over the last five years could find only one case where a rapist had been convicted under Minnesota's intentional drugging law.
Without a positive test result, prosecutors can still try to bring charges under the physically helpless standard – which is what happened in the Monticello wedding reception case. Yet only a handful of those cases have resulted in a conviction, the KARE 11 review found, and only when the victim was asleep or unconscious.
The woman who thought she was drugged and raped in Monticello said the court's decision to overturn the conviction erased the validation she felt when the jury first returned its verdict.
Now that she knows the wider impact of her case, she said she wants the law to change. It should not take a victim like her being completely passed out for a rapist to be convicted, she said.
"It makes us more vulnerable to being victims, because it could empower predators," she said.
Mark Erickson, the Wright County prosecutor who took on the Monticello case, says getting convictions in alcohol and drug-related assaults was unusual even before that case.
Now he says it's nearly impossible.
He's among a group of prosecutors across the state calling for the law to be re-written.
"The law needs to be applied to real facts and real situations," he said.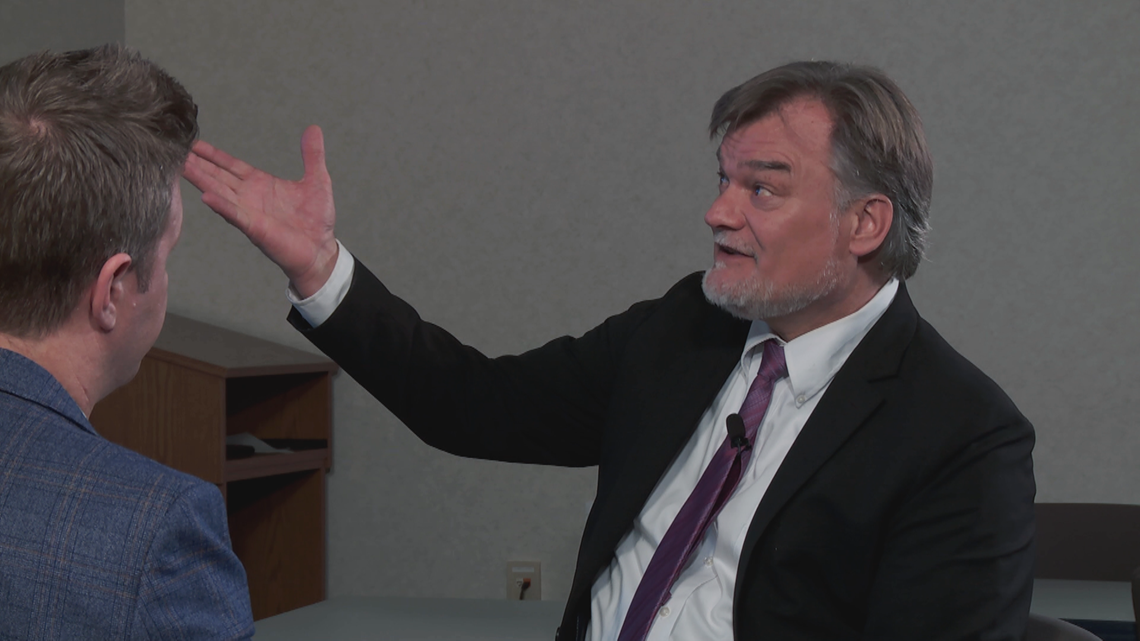 There is an effort to do just that. Following a series of Star Tribune stories in 2018 highlighting the failures of police and prosecutors to adequately investigate crimes, the Minnesota legislature formed a working group with the purpose of reviewing the state's sexual assault statutes and recommending changes where needed.
Prosecutors and sexual assault victim advocates on that group now tell KARE 11 they want to change the law that applies to drug cases, seeking to remove the language that says alcohol or drugs "must be administered without that person's agreement."
Getting rid of that language would then apply to any person who is too intoxicated to consent – whether they can move or not – and instead criminalize sex with someone who was too mentally incapacitated to give consent.
"We should be able to address victimization of people who drank alcohol on purpose and became intoxicated and basically should be put to bed alone rather than having anyone doing things with them they didn't agree to," said Long, the former Ramsey County prosecutor, who now works as an attorney at the Minneapolis-based Advocates for Human Rights.
However, defense attorneys on the group are pushing back, saying making that change could have significant unintended consequences.
What would happen, for example, if two people are drunk and have sex but then don't remember what happened the next morning. Even if one person believes the sex was non-consensual, should that be criminal?
No, said Jim Fleming, the head public defender in Ramsey County, who is also on the working group.
"Aren't we supposed to present cases that have proof beyond a reasonable doubt?" he said. "Those cases should not be in the courthouse."
"Innocent people are going to get convicted," he added.
Hennepin County Attorney Freeman specifically pointed to Wisconsin's law when discussing his decision not to prosecute the University of Minnesota wrestlers.
"Wisconsin law gives prosecutors broader discretion to charge when a suspect knew or should have known that the victim's intoxication affects their ability to give a reasoned consent," he said.
Iowa criminalizes sex with someone who is incapable of "apprising or controlling" their conduct due to drugs or alcohol.
Erickson, the prosecutor in Wright County, acknowledges that in any new law it will be difficult to balance between cases where two people are drunk and have consensual sex, and cases where both are drunk, but one person takes advantage of the other.
On the wedding case he prosecuted, he has no doubts.
"That was rape," he said.
The irony is that the same evidence he used to convict the photographer on felony sexual assault was the same evidence the appellate court used to reverse that verdict.
Even though the video seems to show she was impaired, the court ruled it did not prove the photographer knew she was "physically helpless."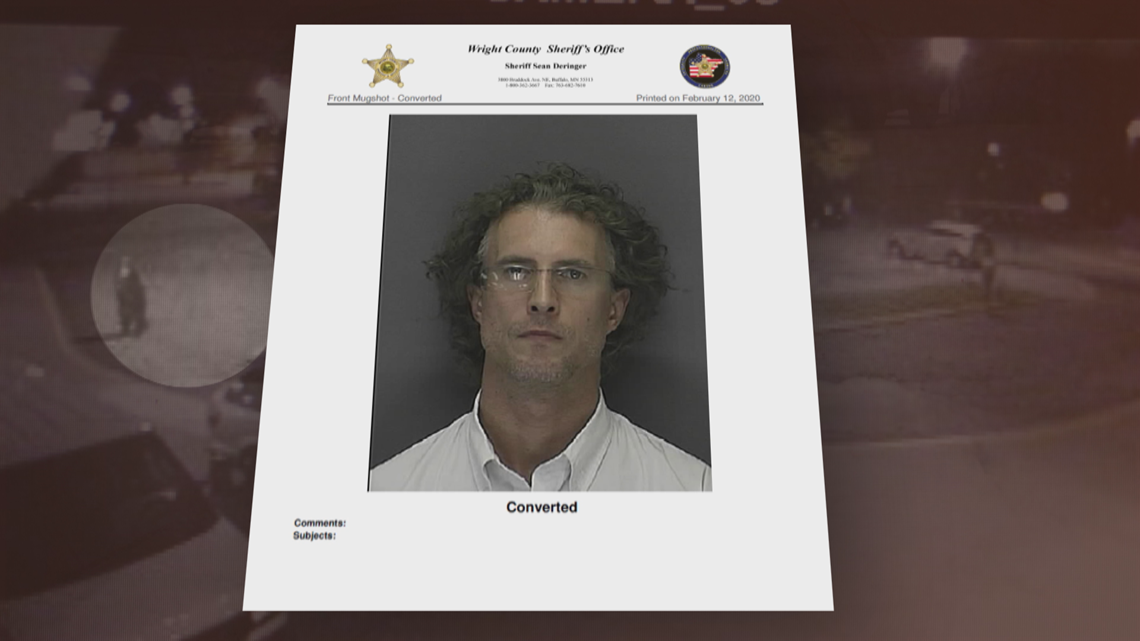 The woman at the wedding reception testified that she had a beer, three glasses of wine and full plate of dinner stretched over several hours.
She was out on the dance floor doing the electric slide. It was a dance she knew, but suddenly she couldn't do it. As she described it, her body just stopped cooperating with her.
Feeling feverishly hot and fearing she would pass out, she stumbled back to her table when she said she noticed the photographer, 40-year-old Tane Finley. Her memories after that are just blips. She remembers talking with Finley, then somehow they were walking down a hallway, but she doesn't remember why. For some reason he asked her to kiss him on the cheek, she said.
She says the next thing she remembers is waking up on the grass – and a security guard trying to help her.
The security guard would later tell police he thought something was wrong when he came outside and saw the woman lying face down on the ground with Finley standing behind her.
The guard testified that Finley told him: "I have everything under control."
"I knew something was obviously wrong," the security guard said, testifying the woman "could barely speak."
Finley helped the guard get the woman back on her feet, then left.
The groom's brother drove the woman and her aunt back to their motel room and helped the woman inside.
The next day she started putting the pieces together – the pain in her vaginal area, the flashes of Finley, waking up on the grass, the security guard trying to help her.
She went to a hospital where she got a rape exam done. But nearly 24 hours had passed since the wedding – enough time for many commonly used drugs to clear her system.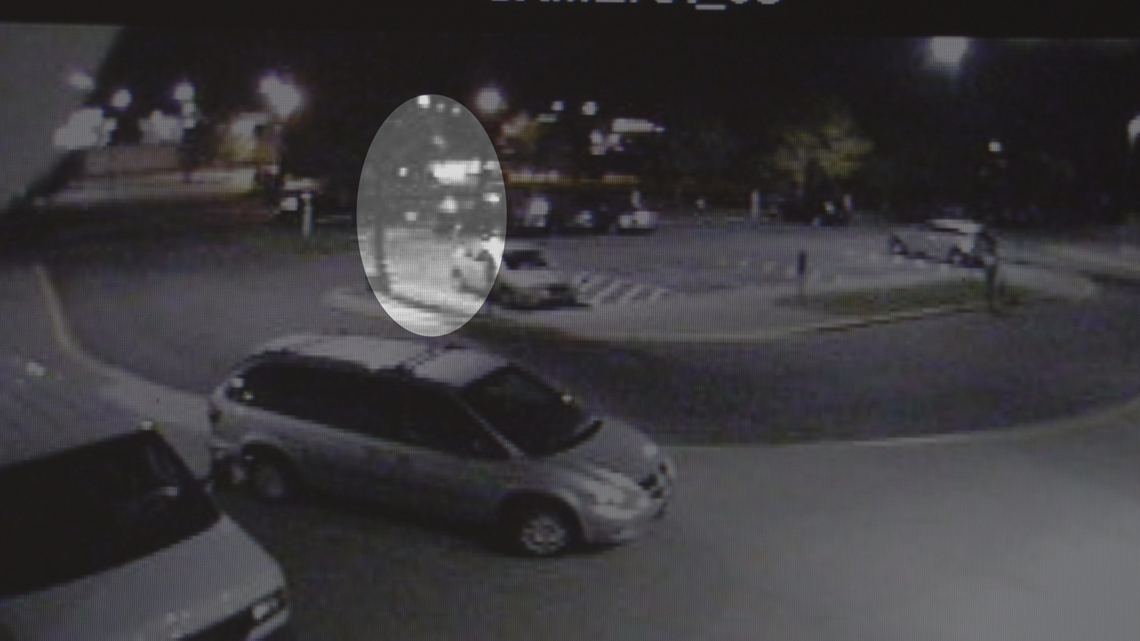 Although the sexual assault nurse testified that it appeared the woman had been drugged, ultimately, no drugs were found.
Finley declined to testify. But when he spoke with the police investigator, he denied giving her anything or doing anything non-consensual. He said she only seemed like she was having problems after they got out of his car and that he tried to help her.
Reached by KARE 11, Finley, now 48, again said he was innocent and that the sexual contact that night was "100 percent consensual."
He said he was sorry for what happened that night. "I shouldn't have been smitten with her," he said.
He said his mistake was to leave that night without making sure the woman was all right, but that when he did leave "I thought she was going to be fine."
The case likely would never have been charged, said Erickson, if not for a blurry surveillance video that captured Finley and the woman walking out of the community center.
Erickson remembered the jurors trying to lean in close as possible to watch during the trial, trying to catch every detail possible. On the video, the woman and Finley look like pixels, identifiable only by the color of their clothes.
What can be seen: when the two get close to Finley's car, she seems to fall on the ground, and Finley picks her up. They stay inside the car for 40 minutes. When they get out, she again falls down, and Finley goes to meet the security guard.
"She was physically helpless going to the car, and physically helpless leaving the car," Erickson said. "Circumstantial evidence would say, she was physically helpless in the car."
For example, in describing what happened the court's majority stopped short of concluding the woman fell. They wrote she "fell or sat on the ground" as she was going to the car.
Finley's lawyers argued that she was not "physically helpless" because she was able to walk to the car, and the evidence didn't show what her condition was like when she was in the car.
Because of that, and because there was no evidence that Finley had drugged her, it was possible, the court wrote, that when she was in the car she could have been able to withhold consent. If so, she would not have been "physically helpless."
"The circumstantial evidence supports an alternative rational hypothesis other than guilt," wrote Judge Natalie Hudson, who now sits on the state Supreme Court.
The court upheld the gross misdemeanor sex assault conviction, which did not require the physically helpless standard, but instead allowed the jury to convict based on believing the victim's testimony that she did not consent over Finley.
The Wright County Attorney and the Minnesota Attorney General asked the state Supreme Court to review the decision, but they declined – leaving in place a decision that has had a profound impact on sexual assault prosecutions statewide.
As a result, Mark Erickson doubts he would charge a similar case again.
"If this same case landed on your desk today would you bring charges?" KARE 11 asked.
"Very likely not," Erickson replied.
"We have to follow what the higher courts tell us how to look at evidence," he said. "And right or wrong, that's our guideposts."
If you have a story suggestion, or want to blow the whistle on government fraud, waste, or corruption, email us at:
investigations@kare11.com