Mentally ill suspects charged with crimes go untreated; the public goes unprotected
Read KARE 11's investigation so far, which has already prompted lawmakers to call for reform.
KARE 11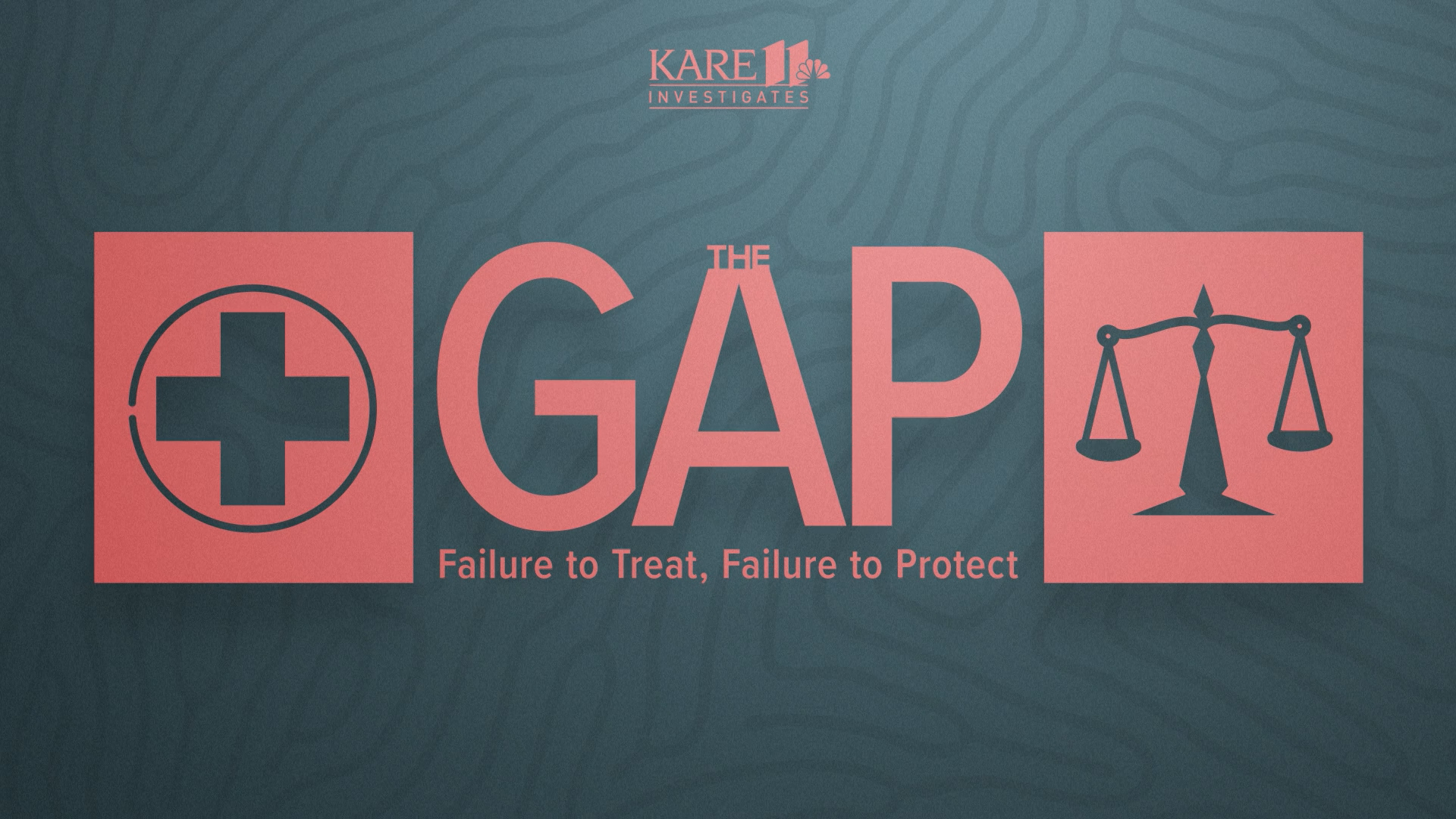 KARE 11 has spent months investigating what happens to people charged with crimes, but who are so severely mentally ill that their cases cannot go to trial. Are they given the necessary treatment and supervision? We found too often that the answer is no, leading to tragic consequence, from brutal assaults and rapes to murders.
Part one
:
A mass shooting, statewide failures
Earlier this year, Gregory Ulrich walked into a Buffalo medical clinic and opened fire according to criminal charges, carrying out on threats he made two years earlier.
After facing charges in connection to those threats, Ulrich was found incompetent to stand trial, prompting the prosecutor to drop the earlier case. But Ulrich never got treatment.
In February, he shot five people at the clinic, killing a mother of two young children.
Ulrich is known as a gap case, where defendants found mentally incompetent fail to get the necessary mental health care needed before being released back to the community.
Part two
:
Known to be dangerous, discharged anyway
Charged with crimes and severely mentally ill, a judge ordered the Department of Human Services to treat Terrion Sherman. But citing a lack of bed space, DHS released Sherman before he was competent to stand trial.
That decision would cost a young woman her life.
Part three
:
Ordered held for treatment; he went home instead
Tommie McCoy was simply an innocent man riding a metro transit bus when he was shot in the head and killed last year. Months earlier, a judge ordered the accused shooter, Malcolm Lessley, to be held for treatment. Lessley went home instead.
Part Four
:
'Safely' released; terrible crimes say otherwise
When criminally charged suspects are found so mentally ill that they cannot stand trial, they are often committed to the Department of Human Services for treatment.
But three years ago, citing a shortage of hospital beds, DHS started releasing those patients even if they were still too mentally ill to stand trial.
DHS says such releases – called provisional discharges – are done safely.
"If a person is not able to go back to jail and they're not able to be maintained safely in the community then we don't provisionally discharge them," said DHS Chief Medical Director Dr. Kylee Stevens. "It's as simple as that."
But KARE 11 found dozens of cases where suspects who had been provisionally discharged went on to be charged with crimes, including assaults, rapes and murders.
Part Five
:
A decade of safety net failures
A close look at the history of Omar Isse reveals how a severely mentally ill man can spend years going in and out of the criminal justice and mental health systems, all of which failed to adequately treat his mental illness and protect the public.
Despite nearly two dozen charges in the last ten years, there's only one gross misdemeanor conviction on his criminal record. The rest have either been dismissed or put on hold due to his mental illness.
Even after he was twice charged with sexual assaults, he went missing until KARE 11 found him, leading to his arrest.
If his decade-long pattern continues, he'll go through the same cycle of failed treatment and group homes which he'll walk away from, leading to arrests, jail and criminal charges accusing him of terrible crimes.
"It's like a ticking time bomb," said his longtime attorney, Mark Gray. "We're just kind of waiting to see what happens."
The GAP Hour Long Special
:
Watch KARE 11's half-hour special on Gap cases, revealing how the state courts and mental health systems have failed to treat and support mentally ill suspects found incompetent to stand trial for crimes, while also failing to protect the public.
Part Six
:
One tragedy, two victims
Christopher Rice was found incompetent after he was charged with assaulting his neighbor during an apparent psychotic episode.
Then he was sent home without the necessary help and treatment.
Part Seven
:
First vote toward historic reforms
With bipartisan support, the Minnesota House has passed a major bill aimed at closing loopholes that allow accused criminals found mentally incompetent to stand trial to be released into the community without adequate treatment or supervision.
Part Eight
:
Legislature passes historic reforms
With the clock fast approaching midnight on Sunday, the Minnesota Legislature passed bipartisan, historic reforms to close the gap between the state's mental health and criminal justice systems for mentally ill defendants.
After its expected signature by Gov. Tim Walz, more than $30 million will be spent to supervise and treat people charged with crimes who are too mentally ill to stand trial – and create more than 120 new jobs to do it.