MINNEAPOLIS – Thousands of veterans every year are saddled with medical debt they shouldn't owe -- some of it even turned over to collection agencies -- after trips to the emergency room.
A continuing KARE 11 Investigation discovered it's happening even when veterans seek emergency care the Department of Veterans Affairs instructed them to get.
That's what Bob Ramsey of Ramsey, Minnesota says happened to him.
After serving more than twenty years as an Army tank mechanic, Bob knees are shot. He's had arthroscopic surgery on both of them.
Bob usually receives all of his medical care through the Minneapolis VA hospital, and speaks glowingly of the treatment he's received from doctors and nurses there. "It's a great place to go get care," Bob said. "I have no complaints at all."
However, he does have a big complaint with the VA bureaucracy that has refused to pay the bill for a 2015 emergency room visit at a private hospital, even though he says a VA employee told him to go there.
"It doesn't make any sense!" Bob exclaimed.
The story of Bob's disputed ER bill actually began in 2015 when Bob's knee pain was so severe he says he struggled to walk. He needed surgery, but the wait time at the Minneapolis VA was several months. So he was approved for the Veterans Choice program that allows veterans facing lengthy VA delays to get care at private hospitals.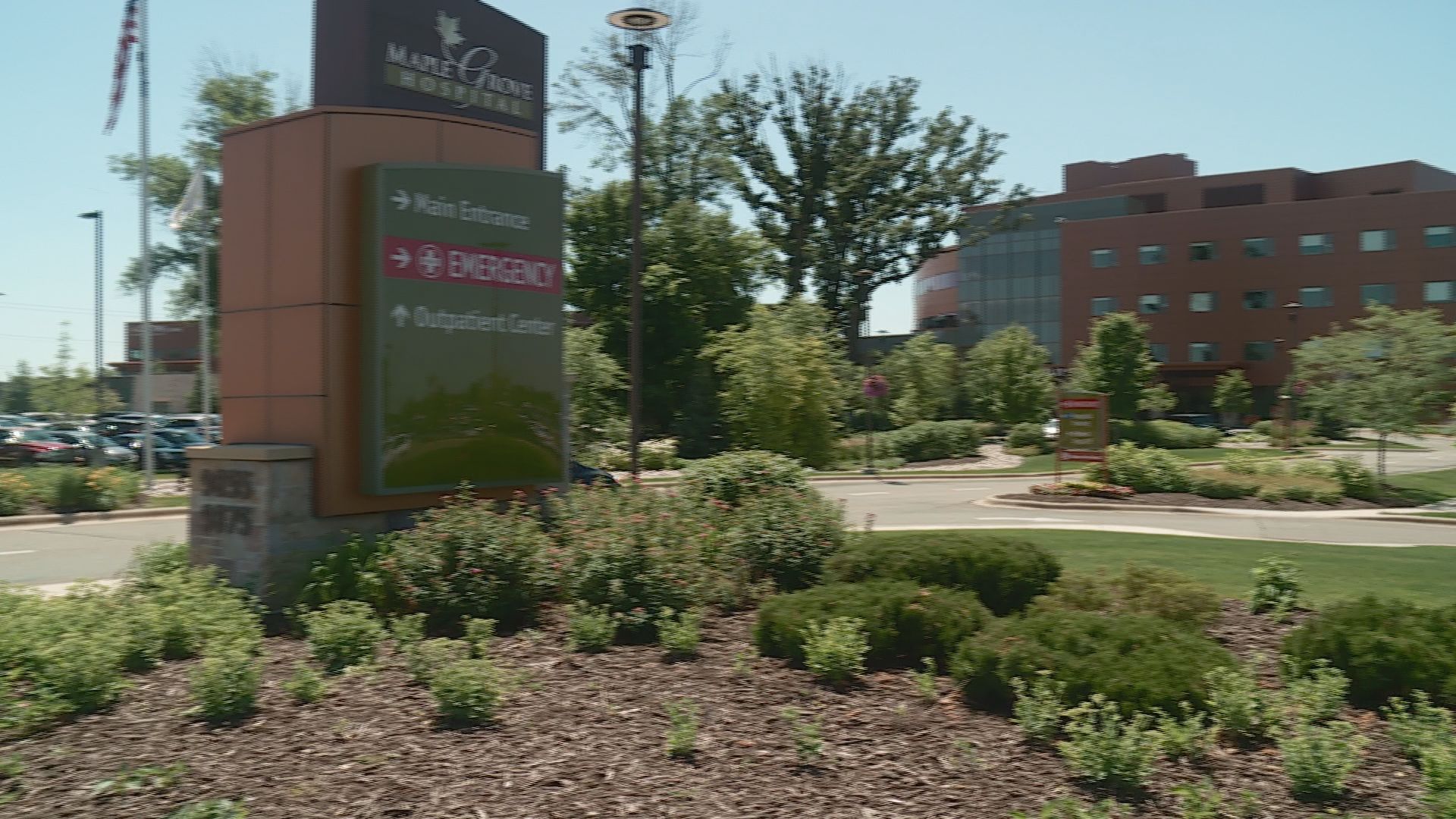 Bob's surgery was done at Maple Grove Hospital. Since Bob has a blood disorder, he was warned not to ignore any unusual pain in his leg after surgery. "I was always warned if I had any issues with my leg, pain, things like that that I should be seen immediately because I could have a blood clot," Bob said.
About a week after his surgery at Maple Grove, Bob experienced growing pain in his calf. "I thought, well, I better call the VA and see what they want me to do," said Bob. "And so I called the VA and the help line."
He says he spoke with the triage nurse on duty.
"She said, well you should go in and be seen right away, but you should go back to where you had the surgery.
And so that's what I did," Bob recalled.
At the Maple Grove Hospital emergency room an ultrasound of his leg was done. Thankfully, Bob says no clot was found.
Bob says since he'd called the VA to ask what he should do and then followed the instructions he was given to seek private emergency care, he expected no problems with his bill. He was wrong. The Minneapolis Non-VA Care Department sent him a letter denying his claim.
Under the law the VA is required to cover private-sector emergency care for any VA-enrolled veteran. There are only a handful of exceptions. Critics say the VA repeatedly has misused those exemptions to deny legitimate claims.
For example, KARE 11 previously exposed how the VA misused an exception allowing the VA to reject claims for emergency room visits that are not "prudent" to deny a Minnesota veteran's E-R bill.
Bob's case raises questions about a different exemption. The VA refused to pay his ER bill, writing that he could have gotten care at the Minneapolis VA's own emergency room.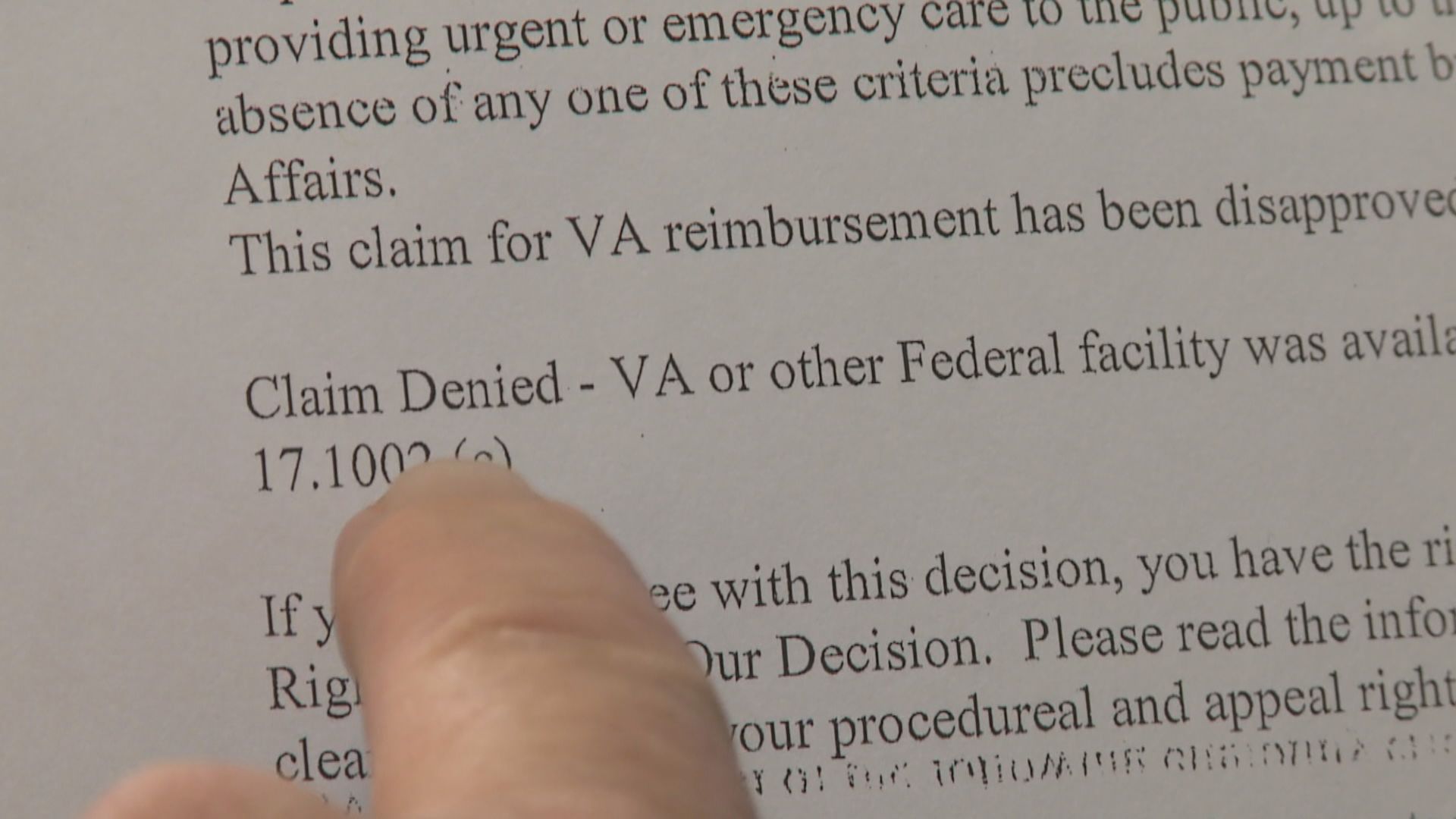 "I was certainly willing to go down to the VA emergency room," said Bob. "I called for advice, called to ask what they wanted me to do, they told me what to do, I did what they told me to do, and then they refused to pay."
Turned over to collections
Bob says he tried reasoning with the VA for nearly a year. Meanwhile his unpaid bill from Maple Grove Hospital was turned over to a collection agency. "Those people are hounds!" he vented. "They'll continue to call and harass you."
"This is your bill you should pay for it. You're a bad person because you didn't pay your bills," Bob recalls being told.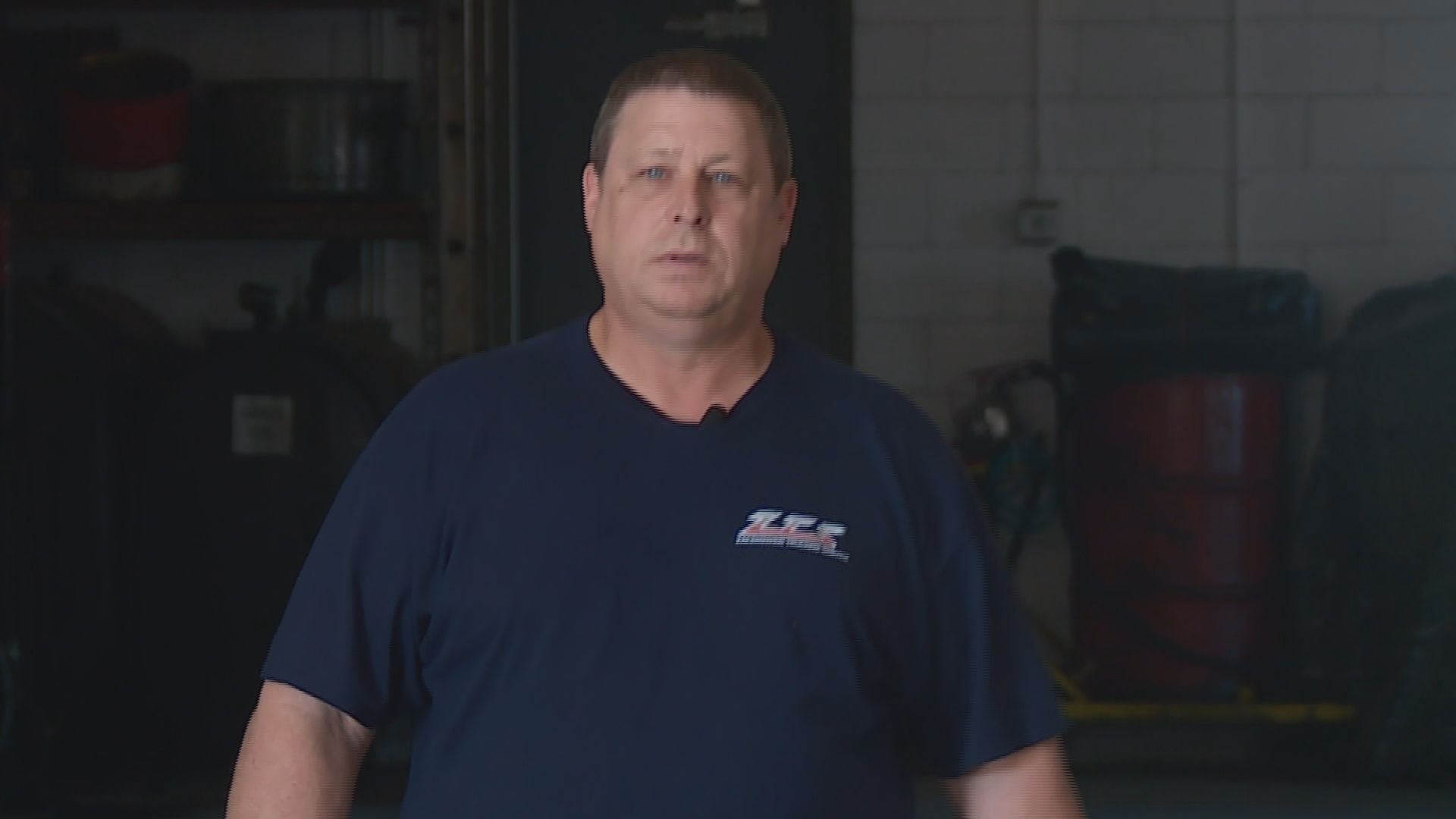 Tired of fighting with the VA, and afraid the unpaid bill would hurt his credit, Bob says he paid the bill.
"I paid the bill because it was already in collections. I didn't want that hurting my credit any more than it already had," he said.
Congress has been looking into the issue of VA denials. VA Assistant Deputy Undersecretary for Health for Community Care, Dr. Baligh Yehia submitted written testimony about veterans being denied payment for emergency room visits during a Congressional hearing last year. According to his testimony, in fiscal year 2014 "approximately 30 percent of the 2.9 million emergency treatment claims filed with VA were denied, amounting to $2.6 billion in billed charges that reverted to Veterans."
In just one fiscal year, the VA denied 140,000 claims from veterans across the nation because it determined a VA facility was available – just like in Bob Ramsey's case. But Bob's story raises serious questions about the fairness and validity of some of those denials.
"I thought I might as well speak up because if we don't speak up no one is going to listen," Bob said. So, he decided to contact KARE 11 Investigates with his story.
The day after KARE 11 emailed the Minneapolis VA asking questions about Bob's case, the VA did a sudden about-face. Bob received a voicemail from an official who identified himself as Minneapolis VA Patient Advocate Michael Rosecrans. "Hey I just want you to know that the claims – the ER emergent care claims – will be processed today for payment," the caller said.
In an emailed statement to KARE 11, Minneapolis VA spokesperson Ralph Heussner wrote, "Thanks for bringing this issue to our attention. The veteran was incorrectly billed because we didn't match his authorization with his claim. This was an error on our part. The business office is processing his claim for payment and we have contacted him to apologize."
Bob wonders why it took an email from a reporter for the VA to do right by a veteran. He also points out that while his bill was only a few hundred dollars, it very easily could have been for thousands and forced his family into bankruptcy. "There's people out there that are in financial hardship, their credit is wrecked because they can't afford to pay," he said. "It's not putting us in a good situation as veterans."
Our investigation started after a tip from a viewer. If you have a suggestion, or want to share records of your VA Emergency Room Claim, email us at investigations@kare11.com