BARRON, Wis. - The family of Jayme Closs is pleading for information leading to her return, as the FBI announces a $25,000 reward in the case of the missing 13-year-old.
The reward was announced at a press conference on Wednesday in Barron, Wisconsin. Jayme's aunt, Jennifer Smith, took a moment to give an emotional appeal for help in the search for her niece.
"Jayme, not a moment goes by when we aren't thinking of you and praying for you," she said. "Your family and friends miss you so much. Your sparkling eyes, your bright smile, your soft giggles."
Smith pleaded with anyone who has information to contact Barron County.
"Jayme, we need you here with us to fill that hole we have in our hearts," she said. "We all love you to the moon and back and we will never stop looking for you."
Justin Tolomeo, Special Agent in Charge of the FBI Milwaukee division said a $25,000 reward is being offered for information related to Jayme's location.
"The FBI wasn't a large part of the Barron County community prior to Jayme's disappearance, but we truly feel like we are now," he said. "Like everyone here, we want to bring Jayme home."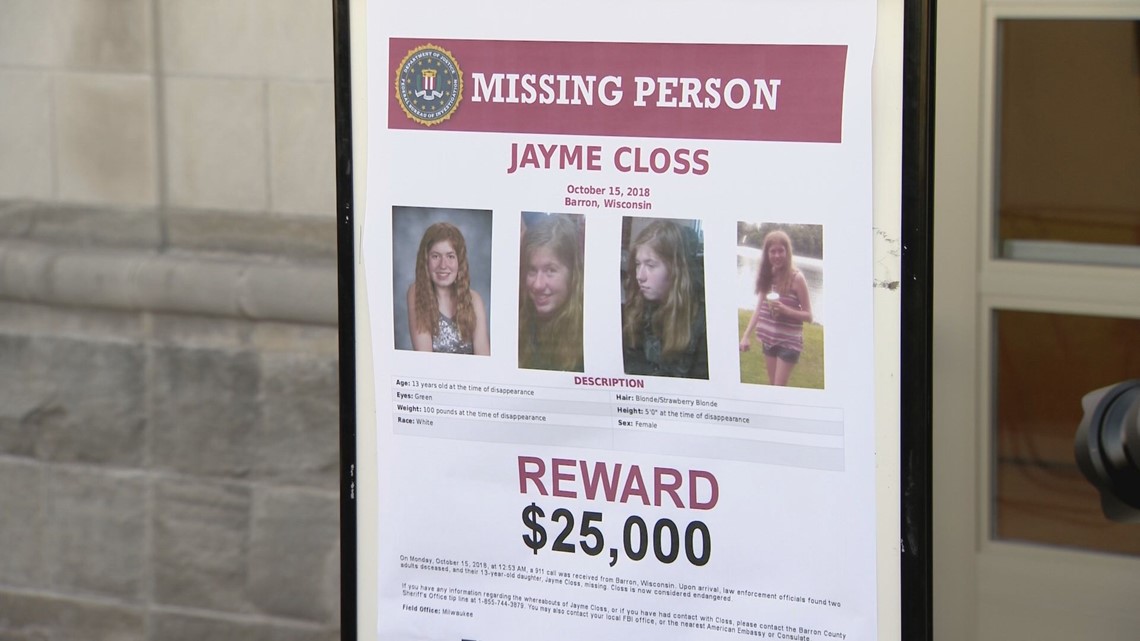 Barron County Sheriff Chris Fitzgerald says investigators have received more than 1,550 tips in the case and have closed 1,250 of them. They are now asking anyone who was on Highway 8 in Barron between 12:30 and 1:30 a.m. on Monday, Oct. 15, to call them. That's when the 911 call came in before Jayme's parents were found murdered and Jayme was discovered to be missing.
The sheriff stressed that people who were on the highway are not suspects, but may have seen something useful. They can call the tip line at 1-855-744-3879.
Sightings of Jayme should still be called in directly to 911.
More than 2,000 people came out Tuesday to help search the city of Barron for evidence. Fitzgerald said none of the items recovered have proven to be connected to the case yet, but teams are still examining some of them. They will decide whether more areas need to be searched, but as of now no further search is planned.
Fitzgerald said an evidence team also went back to the scene of the murders on Wednesday to make sure they didn't miss anything. They removed some additional items that are being processed.
No suspects have been publicly identified in the case.
LIVE: The Barron County Sheriff's Department gives an update on the search for 13-year-old Jayme Closs.

Posted by KARE 11 on Wednesday, October 24, 2018