The images of school shootings are seared in our memories. They shattered lives and sparked calls for change.
Experts say school counselors can play a critical role in identifying troubled students and intervening before there's a crisis.
But a KARE 11 investigation reveals a serious shortage of counselors in many Twin Cities area schools. In some local districts there are nearly twice as many students per counselor than experts recommend.
Records show it is part of a national pattern.
Data reviewed by KARE 11 – and by a team of reporters from TEGNA stations across the country – show the vast majority of schools nationwide fail to meet national recommendations for the number of counselors.
Local teachers speak out
"How many of you think mental health of students is a big problem in schools?" KARE 11's Lauren Leamanczyk asked a group of Twin Cities area educators.
"How many of you have ever had a situation or student where you feared there could be violence in your school?" she asked.
"Almost all of you," Leamanczyk said as five of the six educators raised their hands.
They say there's a mental health crisis in our schools. One after another, four teachers, a behavioral specialist and a school social worker described the students they see in pain. They even hear some students making threats.
"I hear: 'I'm gonna shoot up the school,'" the behavioral specialist told us.
"One of my kids would come in every day, put his head down, put his hood over his head and just immediately withdraw before anything would even happen," a teacher said.
"I can't even just think of one," said another. "I have hundreds of faces coming across."
Watch more with the panel here:
'I had a plan to get a gun.'
Why does it matter? Just listen to someone who admits he was nearly responsible for another national tragedy.
"Every day that we don't offer these kids someone to talk to is another day that they are wallowing in their pain and possibly reaching that edge of violence," said Aaron Stark.
A self-described social outcast when he was a teenager, Stark says bullying at his Colorado high school left him feeling hopeless and worthless.
"And when someone feels like they're worthless, they can do anything," he said. "If you have nothing to live for – and nothing to lose – you can do anything. And that is terrifying."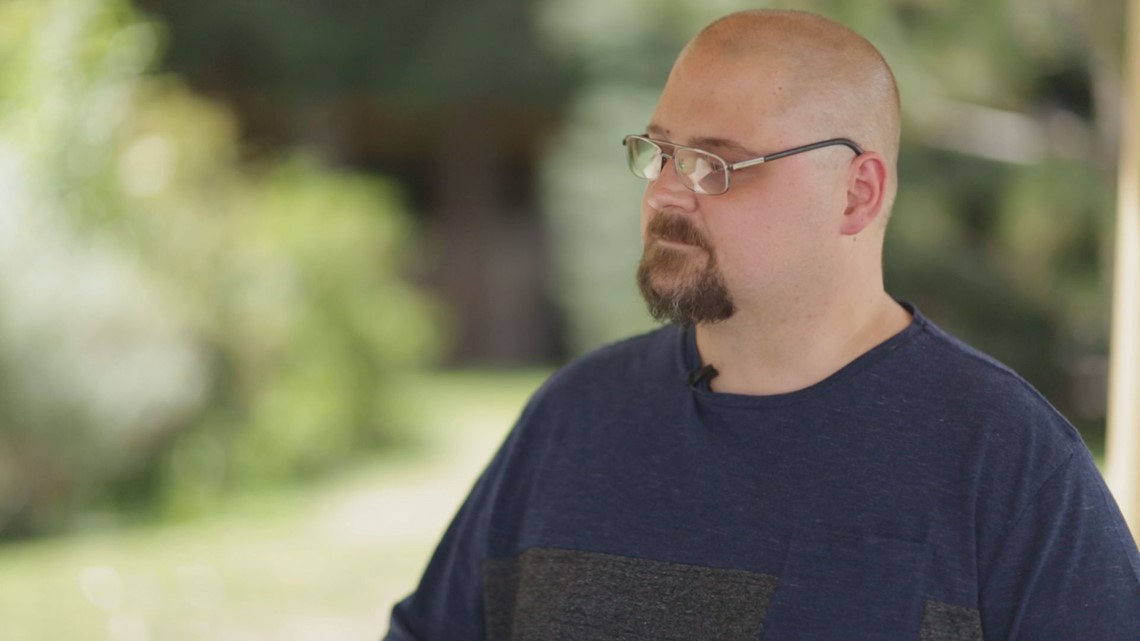 That loneliness and darkness prompted Stark to concoct a plan to turn his anger on his classmates.
"I was planning the most terrible thing in the world," he said. "I had a plan to get a gun."
"I had a plan go to in through the big glass doors of the school in the food court area and shoot as many people as I could right away."
Aaron Stark believes a school counselor might have made difference. He decided to speak out about his experience after other school tragedies, hoping to encourage help for other troubled kids.
"If I would've had someone who would've listened to me, I would've ran in there and told them everything," he said. "I never felt like I could be heard."
Fortunately, a friend's kindness stopped him before he could find a gun.
A lot has changed since he was in school 25 years ago, but the lack of school counseling he experienced is still widespread.
National recommendation: No more than 250:1
The American School Counselor Association recommends no more than 250 students to one counselor.
Nearly 85 percent of schools nationwide failed to meet that standard in the 2015-16 school year, according to an analysis of the most recent federal data available. The information comes from the U.S. Department of Education's Civil Rights Data Collection.
Minnesota teachers told KARE 11 they see the shortage.
"Do you have enough school counselors, social workers, psychologists to help all the kids who need it?" KARE 11 asked a group of Twin Cities educators.
"No, no, not even close," they answered. "Not even remotely close."
Cathy Daines, the school social worker in our group, says it's impossible to give every troubled student proper attention.
"So much of my time or our staff time is spent on those acute things, the kid who had a neighborhood shooting or the kid who was put into foster care last night," she said. "We are putting out fires."
Since the most recent federal date is several years old, KARE 11 asked 20 large Twin Cities area districts for their latest information.
More than half of the districts we surveyed failed to meet the national 250-to-1 recommendation for counselors – even when you expand the total to include all school counselors, psychologists and social workers.
Mounds View District 621 told us it had 21.5 total counselors and mental health professionals for its 11,190 students. That's a ratio of 520 students per counselor – twice as high as the national recommendation.
Overall, 14 of the 20 Metro area districts KARE 11 surveyed failed to meet the national 250-to-1 recommendation.
Focusing on test scores
To help understand the reasons behind the counselor shortage, KARE 11 spoke to Gary Amoroso, Executive Director of the Minnesota Association of School Administrators.
"I think the concept of safety of our students is the number one priority and the mental health piece now is a very prominent part of that conversation," Amoroso said.
So why are so many Minnesota schools failing to meet the national recommendation? Amoroso thinks it's a matter of money and a culture that prioritizes the results of standardized test scores.
"When the focus is on reading, writing and arithmetic," he said, "that is where the resources go most of the time. And the support services don't get the resources they probably need."
In communities where other mental health services are scarce, that often leaves teachers to cope with their students' depression, anxiety and trauma as they try to keep their classrooms healthy and safe.
Minnesota does have a program that puts some private mental health professionals in schools. Education advocates would like to see it expanded.
"Right now, we're very much reactionary," one teacher told us. "It's putting out those fires, and that's not a really healthy state of being for the children or for educators for that matter."
"We need to get these students the help they need," said another. "And we need to act. We can't wait two and three and four and five months."
An earlier version of this report misstated the total number of counselors, school psychologists and social workers in the Rosemount-Apple Valley-Eagan district. The correct ratio is 381 students per counselor, psychologist and social worker.
If you have a suggestion for an investigation, or want to blow the whistle on fraud or government waste, email us at: investigations@kare11.com.