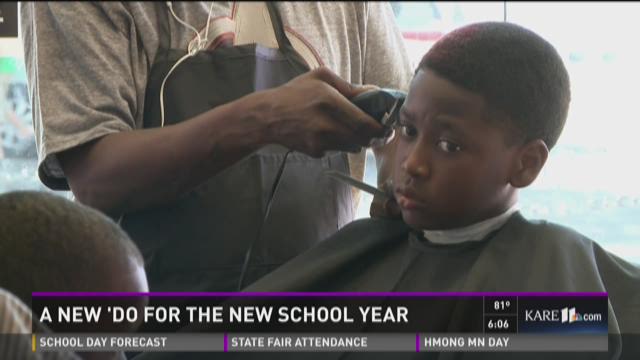 ST. PAUL, Minn. -- Goodness reigns inside King Milan's barbershop in St. Paul, where the shop's owner catered to a line of students stretching out the front doors.
Owner Milan Dennie is giving free back to school haircuts to a neighborhood in need, bringing his noble philosophy to Frogtown after expanding his Gary, Indiana barbershop.
"I call it ethical marketing in what you give back to the community," Dennie said. "We need to get back to work and become a part of our community instead of tearing it down."
Dennie began cutting hair at age 11 in Gary, Indiana and says the skill gave him an outlet in a troubled childhood. He enrolled in barbershop school at age 20, and he owned his own barbershop in Gary by age 22. A decade later, he now runs a second shop at 511 University Avenue West in St. Paul.
"I'm a young African American male and we need to set an image other than what's being set nowadays in our community," Dennie said.
Dennie opened at 7 a.m. and with several employees, vowed to cut hair until 8 p.m. With a line out of the door all day, his goal was to give a total of 300 young men a fresh outlook.
"Feeling new, brand new. If we can make them feel that way, that'll be a good start going to school, making good grades. I look forward to a lot of them, like every year, telling me they graduated," Dennie said.
Dennie hopes his message will last far beyond a good cut, and will instead leave young men with the opportunity to leave transformed.
"It could help you make tons of new friends, learn more in school, feel better about yourself," said Xavion Scott, a student at Ramsey Middle School, who received a free cut.
At noon, 50 students also received free backpacks and lunch.
"Some parents can't afford to get haircuts for their kids to go to school, so it's a blessing for me," said Nadine Reid, who took her son to get a free haircut.
Follow King Milan's Barbershop on Facebook here.