ROGERS, Minn — Multiple bear sightings have already been reported around the metro this spring, with the latest coming out of Rogers.
On Friday, May 19, Rogers Police tweeted that a bear was seen in the city's Mallard Estates neighborhood, located off 141st Avenue North, just east of Highway 101.
The department said Saturday that the bear eventually left the area, but not before he was seen poking around a nearby Denny's parking lot.
Chrissy Johnson snapped several photos and videos of the bear walking through the lot Friday night before she said it crossed the street, climbed a nearby chainlink fence and crossed Hwy. 101 toward Target.
Johnson said when she called the police to share an update on the bear's location, the dispatcher told her they had some calls about bear sightings already.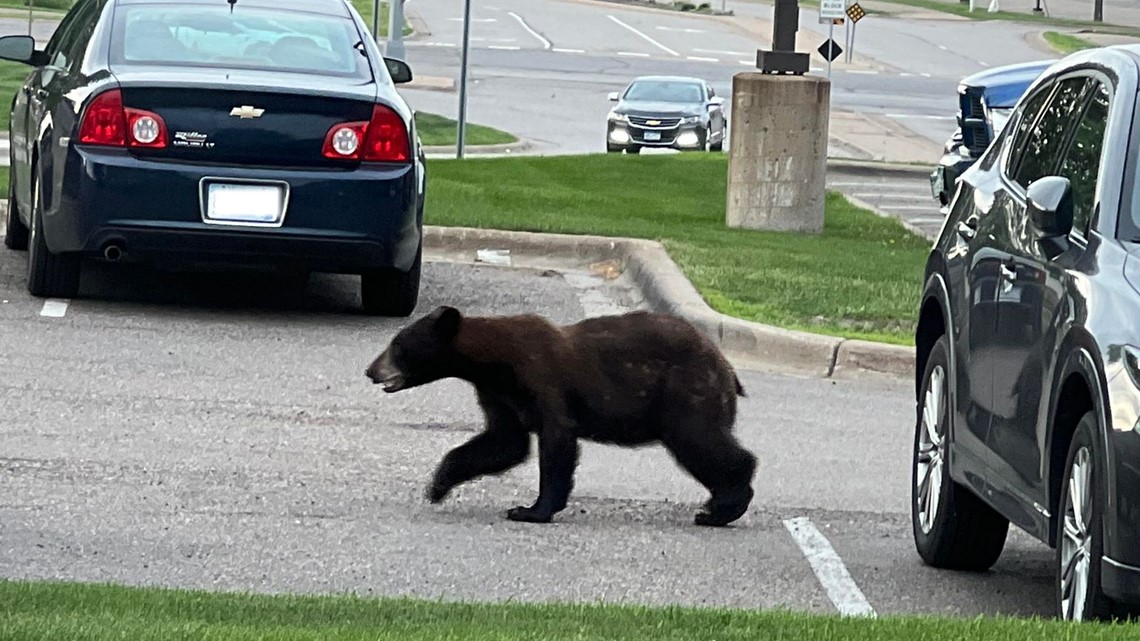 DNR Bear Project leader Andrew Tri says based on the video and pictures he saw the bear is likely 3 to 4 years old, considering the body size and shape of the head. He says the end of the sighting, with the bear leaving the scene on his or her own, is promising.
"This situation seemed to end how almost all bear encounters do, with the bear running off without any intervention needed," Tri told KARE 11. "I'm glad to hear it ran off."
Tri says the bear sighting is not that unusual, as Rogers is an area with lots of green space (farms, park reserves, wetlands and creeks) aside from the major highways and retail spaces.
"It's probable that was meandering along one of the rivers or and wandered up into town," Tri explained. "Likely scenario would be a solo male, dispersing from the place it was born and looking for its own home range. Another possible scenario would be looking for a mate (breeding season is starting up soon).
The DNR has a special bear sighting map on its website, where residents can enter locations where they've spotted a bear. Tri says based on a recent handful of sightings near Rogers it may be the same creature spotted heading southwest along the Crow River, along the Wright/Hennepin County border and toward Rockford and Delano.
More common in the forested northern and central parts of Minnesota, black bears have been known to wander into cities and towns closer to the Twin Cities metro.
Never feed or approach bears: Intentionally feeding bears or allowing them to find anything that smells or tastes like food teaches bears to approach homes and people looking for more
Secure food, garbage and recycling: Food and food odors attract bears, so don't reward them with easily available food, liquids or garbage.
Remove bird feeders when bears are active: Birdseed and grains have lots of calories, so they're very attractive to bears. Removing feeders is the best way to avoid creating conflicts with bears.
Never leave pet food outdoors: Feed pets indoors when possible. If you must feed pets outside, feed in single portions and remove bowls afterward. Store pet food where bears can't see or smell it.
Clean and store grills: Clean grills after each use and make sure that all grease, fat and food particles are removed. Store clean grills and smokers in a secure area that keeps bears out.
Alert neighbors to bear activity: See bears in the area or evidence of bear activity? Tell your neighbors and share info on how to avoid bear conflicts
Watch the latest local news from the Twin Cities and across Minnesota in our YouTube playlist:
WATCH MORE ON KARE 11+
Download the free KARE 11+ app for Roku, Fire TV, Apple TV and other smart TV platforms to watch more from KARE 11 anytime! The KARE 11+ app includes live streams of all of KARE 11's newscasts. You'll also find on-demand replays of newscasts; the latest from KARE 11 Investigates, Breaking the News and the Land of 10,000 Stories; exclusive programs like Verify and HeartThreads; and Minnesota sports talk from our partners at Locked On Minnesota.