BECKER, Minn. — Air quality testing has begun following a volatile and stubborn fire at Northern Metal, a Becker recycling plant, earlier this week.
The Minnesota Pollution Control Agency says they're anticipating the first round of data from air testing sometime Friday.
Although air quality testing just started this afternoon, crews were on the scene monitoring for immediately dangerous chemicals on Tuesday.
MPCA spokesperson Stephen Mikkelson said the first concern is to get the fire out, and then to deal with any "ramifications" to the environment. The MPCA's position is that the testing is the responsibility of the facility owner - Northern Metal, but Mikkelson did acknowledge testing would have "ideally" started earlier.
"The fact that it hasn't until today, really nothing we can do about it now, but make sure that we get everything in place as soon as possible and get some results in," he said.
Police said Thursday morning that the fire is "under control." In a release posted to the department's Facebook page, Becker Police Chief Brent Baloun said major progress was made by firefighters at the Northern Metal recycling yard overnight. He explained that a fire break installed to help separate burning debris piles and allow a certain area to burn out has been successful.
Assistant Fire Chief Tom Wark says the area is marked as safe, and they've asked the fire marshal to start investigating the cause on scene at 7 a.m. Friday.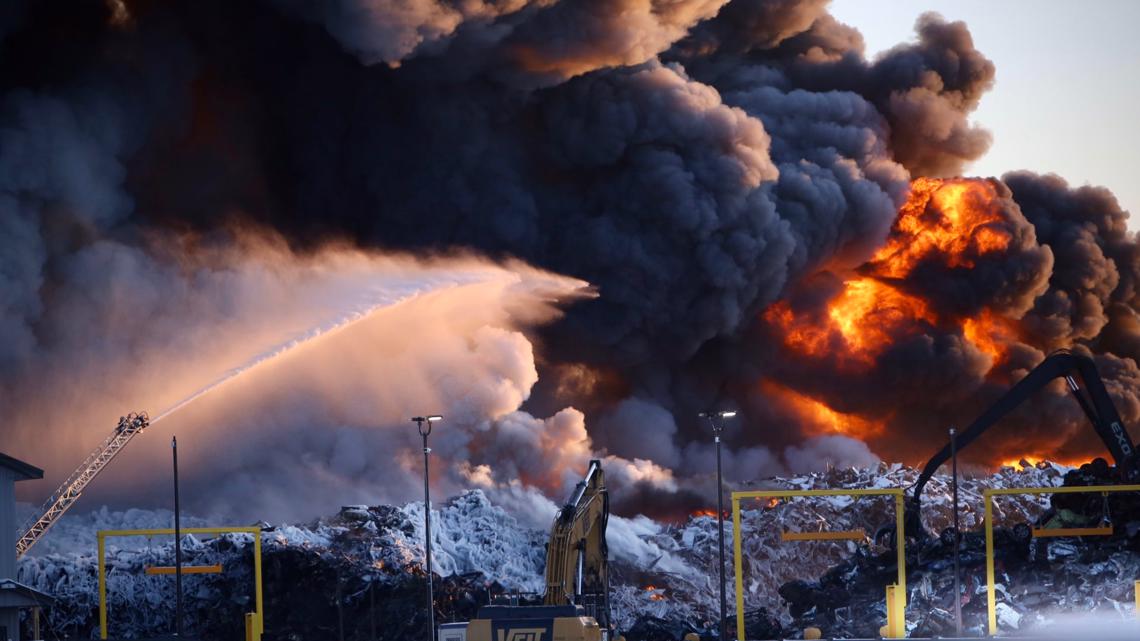 The major concern being voiced by residents of Becker and surrounding communities is the impact burning materials are having on air quality. Administrators of the local school district made the decision to have children stay home Thursday due to the risk of exposure and potential health complications.
The Minnesota Department of Health says they have not received any reports of people seeking medical attention for respiratory issues related to the fire.
Becker Mayor Tracy Bertram attempted to address concerns and frustrations on Facebook. "This morning, a third-party consultant hired by NMR (Northern Metal Recycling) tested air from the smoke plume. The Minnesota Pollution Control Agency and Federal Environmental Protection Agency are also sending staff to conduct testing. We will release those results as soon as we are able through the Police Department releases."
"As a community we are deeply grateful for all the first responders and emergency management personnel who have come here from across the state," the mayor continued. "As things return to some state of normal, my focus will shift to learning what caused this fire and doing everything I can to make sure it won't ever happen again."
Mikkelson said in addition to the air quality, there are concerns about water runoff from the firefighting. He said the water and foam is being contained and guided to stormwater holding ponds.
"If any one pond is starting to get too full they've got equipment out here to drain that down, bring it to another pond, so none of them will overflow and everything can be contained here on the site," he said.
Baloun says school is up in the air for Friday but "things are favorable at this point" and it will be the superintendent's call.