BURNSVILLE, Minn. — On a quiet street in Burnsville, a house lights up every year on the day after Thanksgiving.
"It brings joy to others and that's what I want it to do," said Adam "Also, it makes me happy, lifts my spirits, especially when it snows."
For Adam, making the display lifts his spirits because he remembers the times when his spirit did anything but lift during the holidays.
"It's definitely a huge part of how I have gotten sober is knowing that I can do something with my hands or my time, especially when a lot of those times I wouldn't do anything," he said. "I would just be like, 'Bah humbug. I'm just gonna go drain my sorrows in a drink or something.'"
And for his partner, Brandi, when the lights come on at their home, she's taken back to the person who brought so much light every Christmas.
"It was a big thing in our house and my mom has since passed, so I feel like that's my connection to her during holidays," Brandi said.
Recovery and memory are the reason why this house begins to glow every night between 4 and 9 for the holiday season. And five days ago, they got a message about it.
"On Friday, I went out to check the mail as I was putting up more lights and inflatables," Adam said, "and I go to the mailbox and see a cool red letter that said 'happy holidays' on it."
But when Adam opened it, his excitement quickly turned to hurt.
It was an anonymous letter from a neighbor, calling his decorations an "eyesore" — and then some.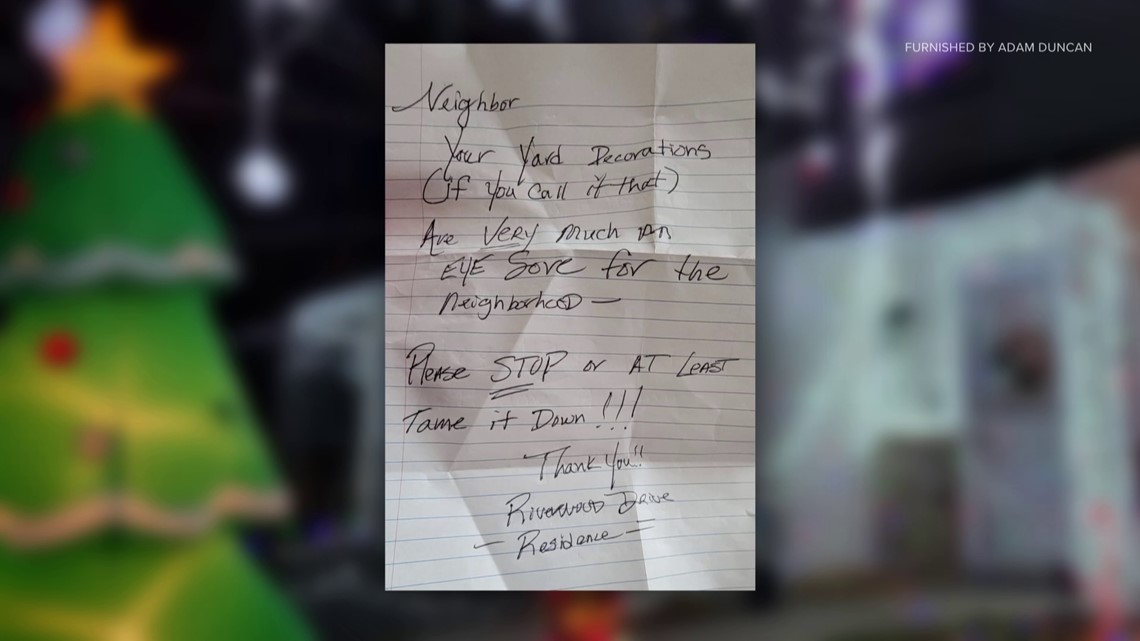 "This is not what I was expecting. I went out to show Brandi, I'm like, 'Can you believe this?'" Adam said. "I was starting to get teary-eyed because it's something I look forward to every year, and for those in recovery or going through hard times this season, it's huge for someone to find an outlet."
"That was like, 'What?' Doesn't make any sense to me," Brandi said. "I was hurt, too."
She shared her hurt online and thousands of people wrote letters or came by with gifts in support, but what neither of them could shake, was the hurt — but not theirs. They imagined the letter writer might be hurting, too.
So, to that writer, they want to say something:
"Do you need us to bring you a meal once in a while? Sometimes we have a little bit of extra. Is it plain-old hurt from when you were younger? I'm here to help," Adam said.
"I also want to get to know your story," Brandi said. "See if there is something we can do to accommodate or compromise, you know something like that. Just talk — be a neighbor; be a friend. The world is so unfriendly at times and it takes nothing to be nice and kind."
They want to be your light, letter writer in the night. If it's dark — for whatever reason — on your side of Riverwood Drive.
Brandi and Adam also want to say "thanks" to all who have reached out with gifts, but ask please, instead of doing that, help out a neighbor as thanks.