ST PAUL, Minn. — City leaders in Minneapolis and St. Paul are all asking for help and patience from residents ahead of this week's snowfall that could make a mess of neighborhood streets for several days.
"We need people to do pre-planning so that they are prepared to stay in place for maybe a couple of days, even though the weekend is a possibility here," said Margaret Anderson Kelliher, director of Minneapolis Public Works. "There's the possibility — and we've occasionally done this in the past — that we have to do back-to-back snow emergencies."
Farmer's Market Lot (225 East Lyndale Avenue) — 309 spaces
Basilica Lot (13 North 17th Street) — 183 spaces
Vineland Ramp (727 Vineland Place) — 671 spaces
Salvation Army Lot (601 North 4th Street) — 332 spaces
Lyn-Lake Lot (2940 Garfield Avenue) — 118 spaces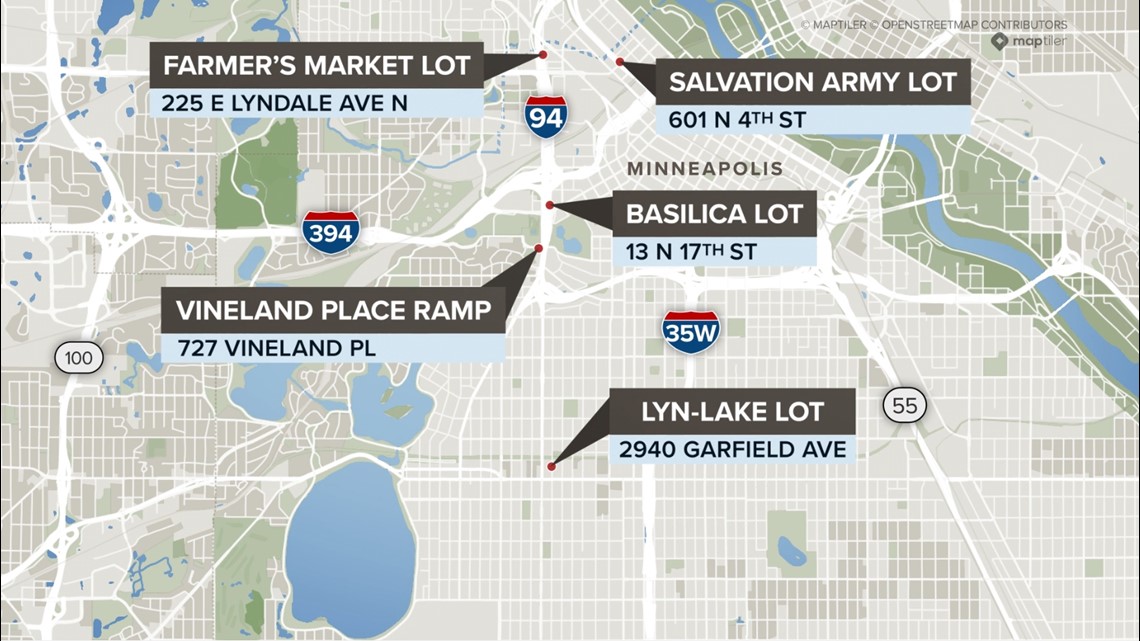 Starting Wednesday at 5 p.m., residents can enter and park their vehicles until Saturday morning at no cost at these city-owned ramps:
Smith Ramp (145 Smith Street)
Kellogg Underground Ramp (129 Kellogg Boulevard)
Lawson Ramp (10 West 6th Street)
Lowertown Ramp (316 Jackson Street)
7A Ramp (13 West Exchange Street)
Robert Street Ramp (95 East 7th Street)
Block 19 Ramp (145 East 7th Street)
World Trade Center Ramp (477 Cedar Street)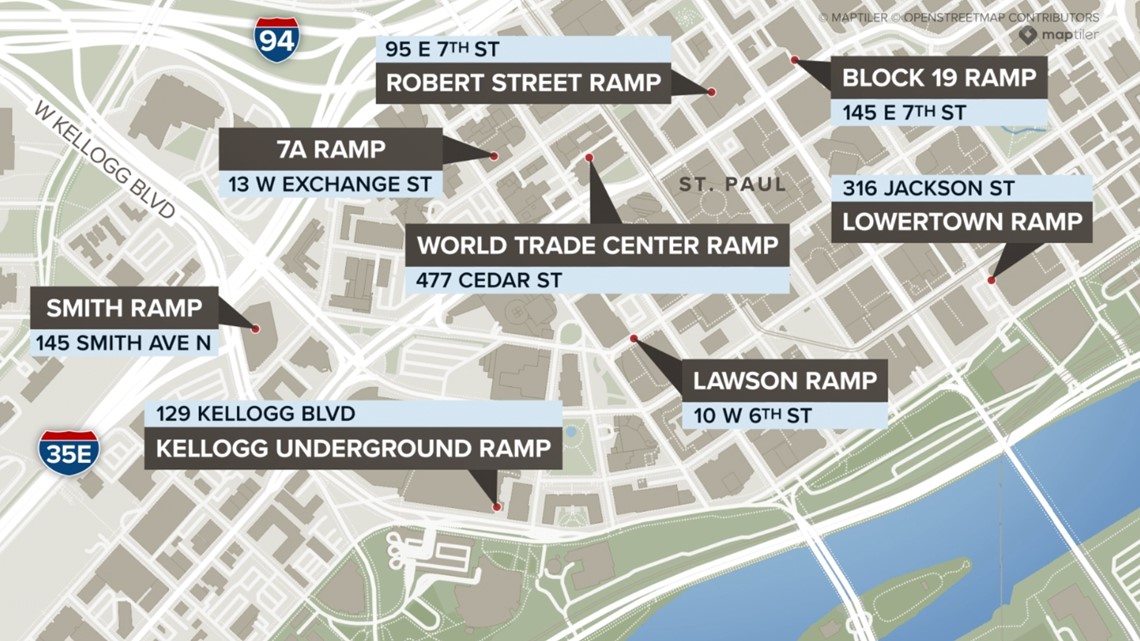 "The most important thing that people should prepare for is a place to move their car from Wednesday afternoon to Friday evening," said St. Paul Public Works director, Sean Kershaw.
Though Kershaw issued a public apology after widespread complaints about the mess left on residential streets following the last snow, he says the city has made progress during a recent warm-up. Crews used large street graders to widen 100 stretches of neighborhood streets that were identified by St. Paul Public Schools and the St. Paul Fire Department as critical to buses and emergency vehicles.
"We did finish that, so that will help us get ready for what's coming this week," he said. "I just left a meeting that the mayor had called, and all department directors are working together to make sure every available driver, whether that's a driver for a heavy plow truck like behind us, or a pickup truck is available for when we need them. We're going to be plowing over probably 72 to 96 hours, and so we want to make sure that staff are rested and able to do their jobs."
In Minneapolis, Kelliher said they're pulling out all the stops for this storm, including daily alley plowing to try to make sure residents and trash routes can keep moving. Though, as long as the snow is falling, both cities will prioritize Snow Emergency Routes and other arterial roads.
"The last time it snowed, we had all of our trucks constantly plowing the main streets just to keep them clear," Kelliher said. "We couldn't endanger the safety by moving those trucks into residential areas. Emergency vehicles have radios to contact our plow trucks and so one of the things that we've done in the past is clear the way for emergency vehicles to get to where they need to be. If the arterials and collectors are not clear, there are no options."
Though, they'll still need streets clear of cars before they can clear all that snow.
"I recognize that, in saying that, some people don't have options, and so in a snow emergency, that's where the coordination becomes really important," Kelliher said. "But as people have driveways if a neighbor has a driveway and you can double up. If you've got options, look at those."