HOPKINS, Minn. — Tom Donnellan never considered himself an artist until his sessions at Augustana Open Circle Adult Day Center in Hopkins.
"It relieves tension and gives you a sense of achievement," Donnellan said.
Donnellan, an Open Circle member, is one of more than 15 people who are working on a new process painting project. Thursday morning, eight members were adding to the one canvas. It's their third session working on this piece, adding to other members' work. There are no paint brushes; instead, members are working with cotton balls, feathers, fake flowers and other nontraditional materials.
While each person has a different level of artistic ability, they all share one thing in common: A dementia diagnosis. At Augustana Open Circle Adult Day Center in Hopkins, about 80 percent of the members have a dementia diagnosis.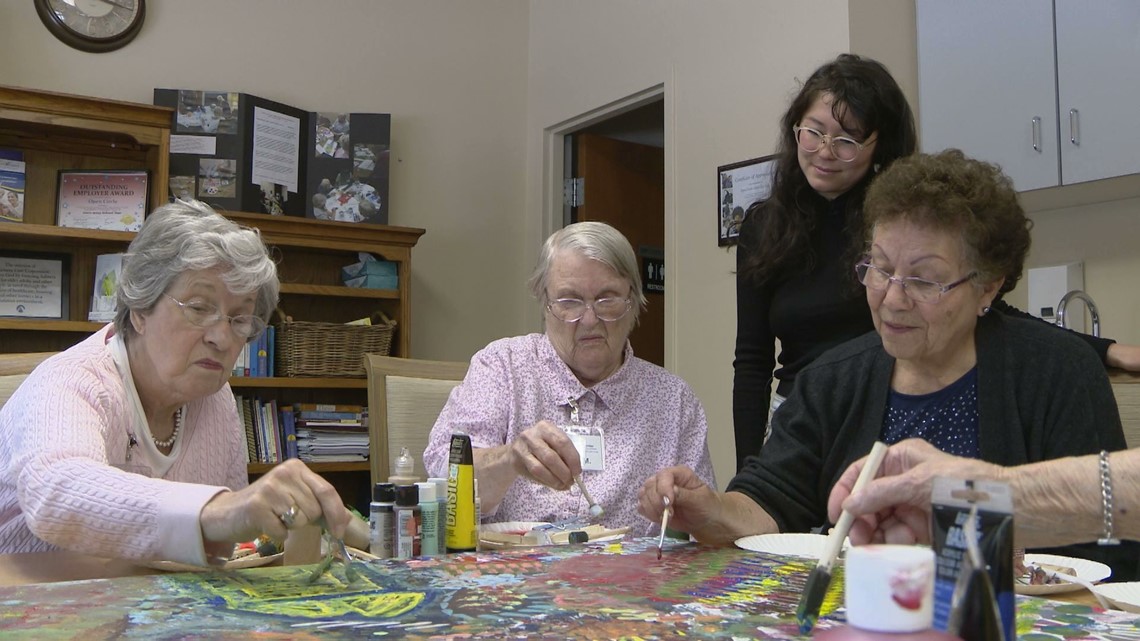 "Art gives them a voice. For some of our members with dementia, for instance, finding that voice in a more typical fashion can be challenging. It can be frustrating for them to talk about their thoughts, their feelings, their life experiences. They can't always find the words," said Mark Rosen, director of therapeutic programming for Open Circle Adult Day Services.
This art therapy program is a partnership between Open Circle and Adler Graduate School.
"It's been amazing, actually, seeing people who have never been in art programming before come in and want to be in it and get excited about it has been really rewarding," said Caila Kritzeck, an art therapy intern.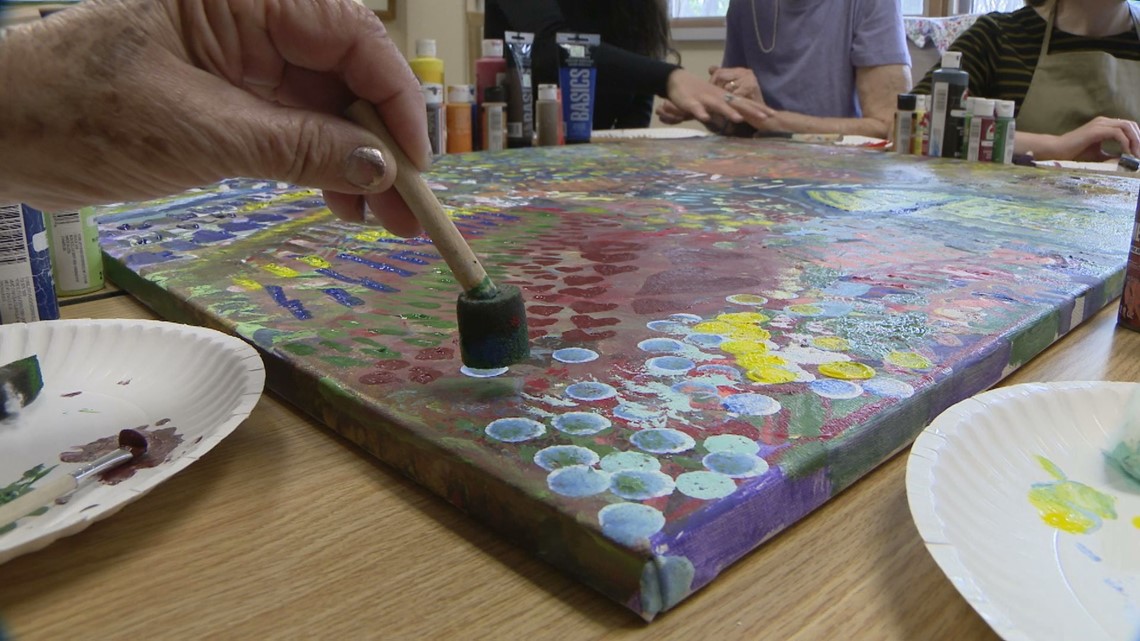 Open Circle members are currently working on a piece that will hang on the wall at ICA Food Shelf in Minnetonka. They also worked on a piece earlier this year that was donated to the annual Empty Bowls event and sold for $100, benefiting the ICA Food Shelf.
"Our members tend to have a sense of isolation when they're diagnosed with dementia. They're living in the community and slowly they're losing all of the things that connect them to the life that they recognized. So this type of purposeful programming, like the art programming that we're doing with Caila, brings back that purpose and meaning. It also, I think, challenges them," Rosen said.
Donnellan added, "I come here, there was nothing there and now this is there... so there's a sense, yes I've done something."
Open Circle members have one more session and then they'll give the art piece to ICA Food Shelf in Minnetonka. They're also helping out the community in other ways including working with the Hopkins Elks Lodge to make hygiene kits for homeless teens and blankets for veterans experiencing homelessness.