MINNEAPOLIS - On Aug. 1, 2007 the heavily-used Interstate 35W bridge collapsed, sending concrete and rebar, vehicles and the people inside them plunging into the Mississippi River. Thirteen people lost their lives and 145 were injured, some of them critically.
On the 10-year anniversary of this life-changing event, KARE 11 is checking in with some of those whose lives changed forever that day. We asked each of them three questions.
Here are the answers, in their own words.
Where were you when the bridge collapsed?
I was driving southbound, home to Minneapolis. My car was in the left lane and near the center of the bridge when it collapsed. My car nose-dived into the Mississippi River and I almost drowned in my car.
How did it impact your life?
There are innumerable ways the collapse impacted my life. In the immediate aftermath, I had physical injuries that affected my daily life on every level. My L1 vertebrae was crushed and to heal, it required 5 days in the hospital and 5 months in a hard TLSO brace. I still experience back pain that limits the types of activities I can participate in.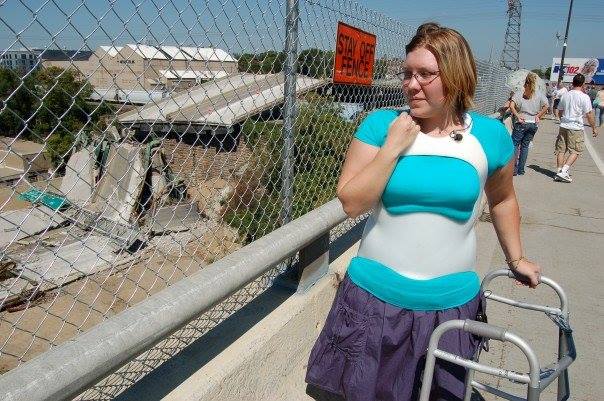 My most significant injury, however, was post-traumatic stress disorder. Shortly after returning to work from my medical leave, it became clear that my emotional wounds were too deep and raw to continue with the work I had been doing - supporting teenagers with emotional and behavioral concerns in a group home. After parting ways, I spent six months unemployed.
For a number of years after the collapse, I was so disconnected from the magnitude of my experience that I often referred to myself as a zombie or a robot. I did experience anger, shame and isolation, and those destructive feelings took a toll on my relationships - most significantly with my (now) husband. Despite many attempts to feel the full depths of the tragedy, it wasn't until the fifth anniversary of the collapse that I experienced the true beginning of grief and loss. Since then, I have experienced the full range of the emotional impact and learned how to live with the fears and sadness my body still holds from that day.
Despite the negative impacts the collapse had on my life, it has also led me to very important aspects of myself. In the months after returning from the hospital, I discovered my inner artist. Creativity has been a deeply significant part in my healing and growth. In 2013, I founded courageous heARTS, a nonprofit art studio in south Minneapolis designed with and for youth where they can discover their own artistry, heal their own wounds and build community.
Additionally, I've tried to turn my "hard into help" in the hope it may benefit others. I've learned a lot about trauma and its impact on the body, mind and spirit over the years. Now, I provide training and consultation to professionals and organizations about how to work with those who are impacted by traumatic experiences, as well as speak with groups of survivors and others who find hope, insight, or inspiration in my experiences.
Being the fortunate granddaughter of two grandmothers who are in their mid-nineties, I plan to live a long and purposeful life. A few years ago, I made this declaration to myself: I am awake to my aliveness. This continues to be my guiding intention and opens me up to whatever life has to offer -- the joy, the pain, the all of it.