ST PAUL, Minn. — The upcoming cold is proving too much even for a Twin Cities winter staple that centers around ice and snow.
The 133rd Saint Paul Winter Carnival kicks off on Thursday, January 24 and runs through Sunday, February 3.
But the St. Paul Winter Carnival has already decided to cancel the Moon Glow Parade scheduled for 6 p.m. on Thursday. In its place, the public is invited to a family fun event with the Royal Family and the Bounce Team inside the Landmark Center at 5 p.m.
The parade has been running since 2008 and has never been canceled.
The MN Lottery Happy Hour that was scheduled for 5-7 p.m. at Kellogg Mall Park on Thursday will also be rescheduled.
And the Vulcan Snow Park at the Minnesota State Fairgrounds will be closed Friday, due to the extremely cold forecast. The park will re-open Saturday, Jan. 26 at 9 a.m. The official Vulcan Krewe 2019 is scheduled to come out Saturday at 10:30 a.m.
As for the other activities, St. Paul Winter Carnival officials will be checking the forecast "on a day-to-day basis" and events will be postponed or rescheduled if necessary.
Deb Schaber, President and CEO of the Saint Paul Festival and Heritage Foundation, said in a statement on Wednesday that the safety of visitors, volunteers and staff is the most important thing.
St. Paul Winter Carnival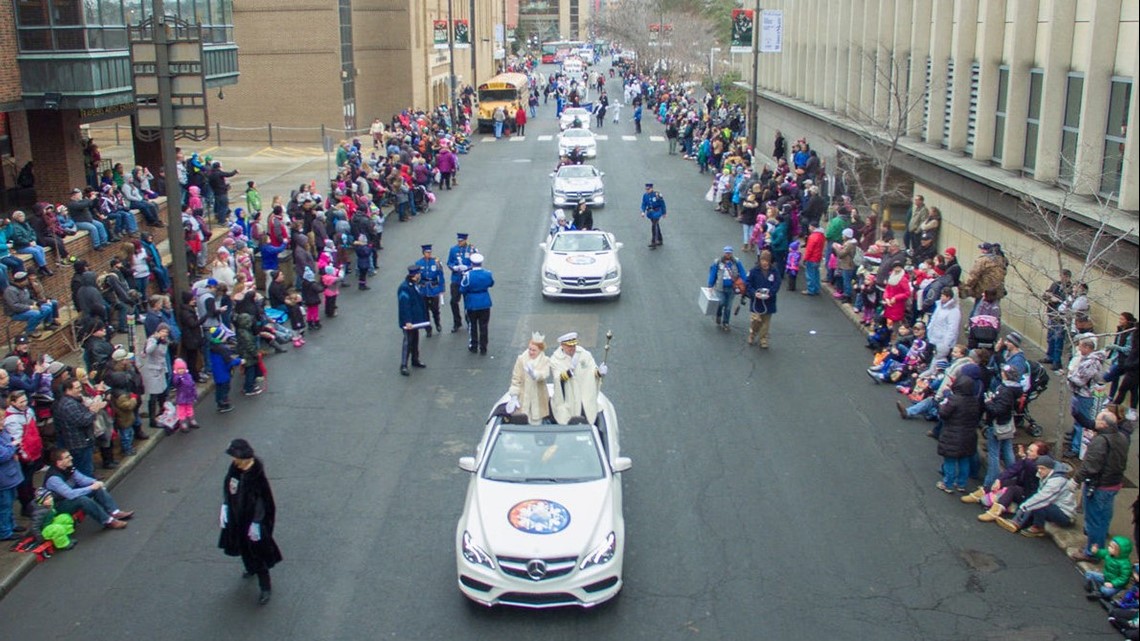 Events in St. Paul will be canceled if the temperature and winds combine for -24 degrees. The events at the fairgrounds are canceled if it goes below -10.
Updates will be posted on the St. Paul Winter Carnival Facebook page, Instagram and Twitter.
Below are a few highlights at the carnival.
Saturday, January 26
2 – 6 p.m. The Saint Paul YMCA is dedicating a full day to youth with Kids' Day Presented by Ecolab. Both Landmark Center and Kellogg Mall Park will be filled with fun, interactive activities and live entertainment for kids of all ages.
2 p.m. King Boreas Grand Day Parade presented by Arctic Apples
Sunday, January 27
8 a.m. – 9 p.m. Vulcan Fun Day at Vulcan Snow Park. In addition to the Minnesota State Snow Sculpting Competition, giant snow slide, fire castle, and snow golf, festivities will include celebrity visits, Vulcan fire truck rides, a kid's snow treasure hunt and two Polar Plunges for Special Olympics Minnesota. mnsnowpark.com
Monday, January 28
4 – 9 p.m. Vulcan Snow Park's Sensory Friendly Day for the Autism Society of Minnesota. Ten percent of all profits will be given to Autism Society of Minnesota. The lights will be lowered, no overhead sound, and a dedicated sledding lane for families with autism.
Tuesday, January 29
5 - 8 p.m. Frozen Family Fun Night presented by Storm Creek at Landmark Center – Bring the whole family to enjoy indoor and outdoor fun, including live entertainment with "Anna and Elsa," and ice skating acts by Iceformance at the Wells Fargo WinterSkate Rink
Saturday, February 2
11 a.m. – 5 p.m. Enjoy family –friendly activities, live ice carvings and live music throughout Kellogg Mall Park and Landmark Center on Family Day presented by Ecolab.
More from KARE 11:
Legal loophole shields light rail driver from prosecution in deadly crash
Trump postpones State of the Union after Pelosi block
Gold Medal flour recalled nationwide for possible salmonella contamination