MAIDEN ROCK, Wis. — The Goodhue County Sheriff's Office is reminding the public that ice conditions are "extremely dangerous" after nine people got stuck on a floating sheet of ice in the middle of Lake Pepin Sunday evening.
Rescue crews from the sheriff's office, DNR and Lake City Fire and Ambulance responded shortly after 6:30 p.m. to a call of six adults and three children stranded on an "ice island" on Lake Pepin, a lake that is actually part of the Mississippi River in southeast Minnesota.
The nine people had walked out onto the ice from the Maiden Rock landing and were ice fishing when the ice separated, according to a news release.
Officials with the Lake City Fire Department said the group should have never been out there because the ice had melted so much "there are even boats in the water because there's so much melt."
Rescuers used airboats to reach the group and transported them safely to shore.
The group had to leave behind their snowmobile, ATV and fishing gear. At last check, deputies were working on getting that equipment off the ice on Monday.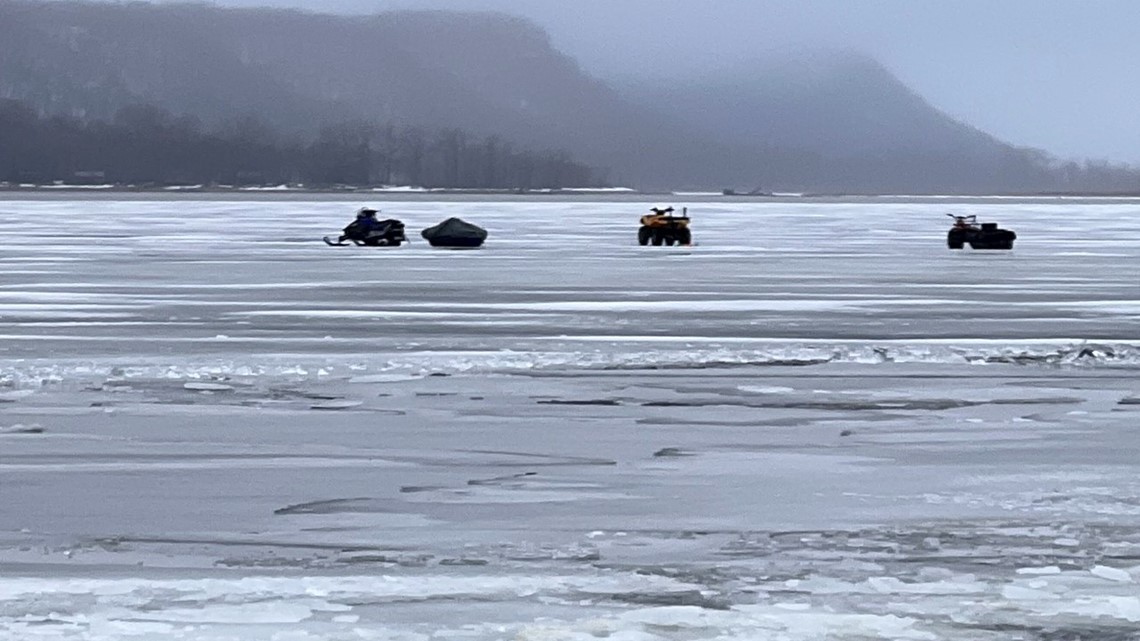 Officials say the nine people were from New Prague.
The DNR says it has been a challenging winter for anglers, citing roller coaster weather patterns and major events.
"This winter has been quite unusual with generally poor ice conditions throughout the state," the DNR said in a statement to KARE 11. "We began the winter with very heavy snowfall in December which set us on a bad start for the ice season. Snow acts as an insulating blanket, slowing the rate of new ice formation. With above-average snowfall in December, we started off with slower ice formation than typical years. In addition to the snowfall, we have had fluctuating warmer temperatures which caused the snow to melt and become slush on top of the ice on multiple occasions. The slush further deteriorates the ice, and when it refreezes, it creates white ice."
White ice is said to be only half as strong as new, clear ice that forms early in the year.
Monday night marked the DNR deadline for ice anglers to remove ice shelters for the southern two-thirds of the state. Further north, the ice house deadline is March 20.
The DNR says despite ice conditions being less than optimal, there is still time to fish Minnesota's lakes and rivers. Anyone who is going to do so is urged to measure ice thickness frequently, wear a float coat or life jacket and carry ice picks.