MINNEAPOLIS — More than 600 demonstrators were cited and released after marching onto I-94 in Minneapolis for a post-election protest Wednesday night.
The Minnesota Department of Public Safety (DPS) says 646 people were ticketed for being a pedestrian on a freeway and public nuisance after the march, which began on the city streets of Minneapolis, spilled out onto the freeway from the Cedar-Riverside neighborhood.
A DPS news release says State Troopers closed I-94 between Highway 280 and I-35W when the demonstrators walked on to the interstate. The department says no force or chemicals were used, and no protesters or officers were injured during the encounter.
State troopers and Minneapolis police were assisted by officers from the Hennepin County Sheriff's Office, University of Minnesota police and Metro Transit police.
Six vehicles were also towed off the roadway. Interstate 94 reopened to traffic shortly before 1:30 a.m. Thursday.
DPS says under Minnesota law it is illegal for pedestrians, bicyclists or non-motorized traffic to be on the freeway. The department maintains that walking on the freeway is very dangerous for pedestrians and drivers, especially after dark.
The rally and march began in the Cedar-Riverside neighborhood. Organizers said they planned to hold the rally regardless of the election's results, looking to draw attention to issues of racism, use of force by police, the COVID-19 pandemic and the effect of the economic downturn on low-income Minnesotans and people of color.
"Regardless of who wins, candidates from both parties actively participate in the suppression of the people's voice and have done nothing to limit the power of the police to harass and brutalize us on the streets that we pay for," organizers said in a statement.
Minneapolis police said the march briefly blocked eastbound lanes of I-35W at one point, and later near 3rd and Cedar.
About an hour later, the group, estimated in the hundreds, marched onto I-94 near Cedar, blocking traffic in both directions on the freeway.
Members of the Twin Cities Coalition for Justice for Jamar were the among the main organizers, joined by a number of other groups and movements.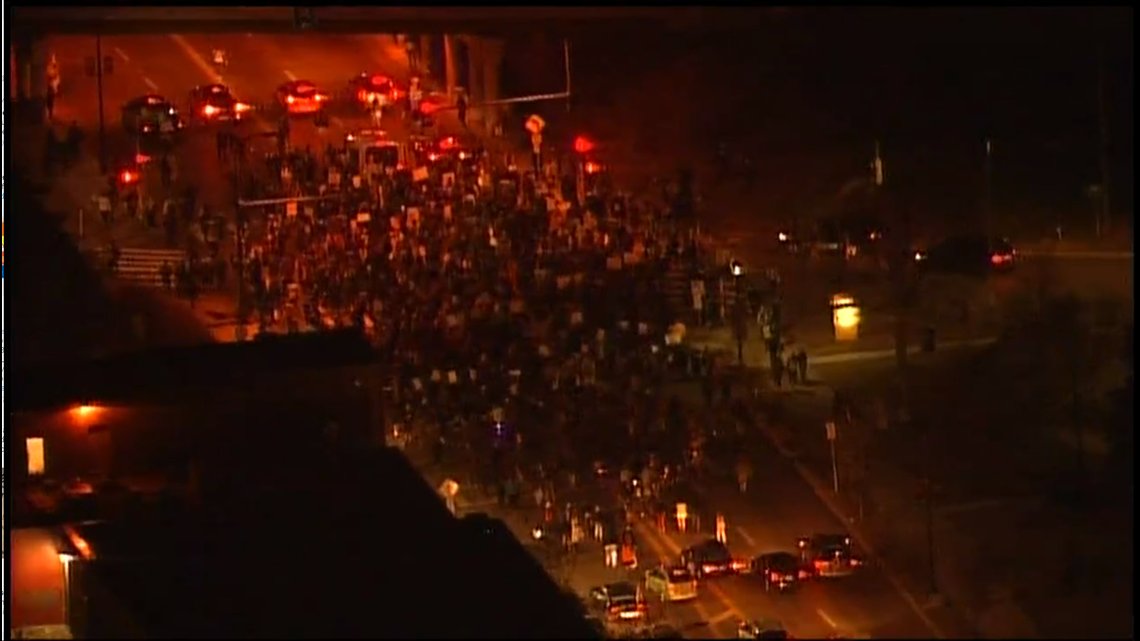 The Minnesota State Patrol assisted the Minneapolis Police Department in arresting the people who marched onto the highway. According to State Patrol, about 200 people were on I-94 in the Riverside Avenue area.