EAGAN, Minn. — Well over a thousand people packed St. Thomas Becket church in Eagan Friday, attending the funeral for 13-year-old Patric Vitek.
The 1,100 seats in the church were full and many more people lined the walls, a snapshot of Patric's community. Teammates in hockey jerseys lined the pews. Some wore stickers that showed a blue and green ribbon with the letter "V." The Eagan 12U AAA baseball team helped with communion.
"There are so many questions that we have and we may receive some of those answers but we may never know why, why Patrick was taken at such a young age," said Chris Vitek, Patric's uncle, delivering the remembrance.
"He was fearless and determined," said Joe Lynch, another of Patric's uncles, in a remembrance at the memorial service. "Despite feelings of heartbreak, anguish, anger and profound sadness and soul-crushing loss, I am grateful for the time I had with Patric. Even though this is a time of great sadness and grief we should focus on the great goodness and joy that he brought to our lives. His grace touched many lives, evidenced by such a huge outpouring of love from the community."
Patric Vitek was killed Nov. 1 around 7:20 a.m. when a 33-year-old driver was headed east on Diffley Road in Eagan. Investigators said the driver was in the center lane when he struck the rear tire of the boy's bike.
Among the traditional prayers offered at the Catholic funeral, this one stood out: "That our community may work to ensure the safely of all children."
Handouts on helping teens grieve were available in the back of the church, next to the guest book. And when Father Tim Wozniak stepped up to deliver the message, he spoke to the kids first.
"You may be mad, very sad, angry, bitter, hurting, and you are not sure what to do or feel," he said. "You do not understand why this has happened to Patric. I want to share something about myself and all the adults here: We don't understand this either."
Wozniak spoke to Patric's young teammates, family and friends, saying, "God did not cause Patric to die or want Patric to die. It was an accident. And sadly, accidents happen."
He compared the grieving process to a hockey or baseball team, just like the ones present.
"There is no letter 'i' in team. We don't do it alone," he said. "When we win we're excited, we hug, we laugh, all is well. When we lose, we do the same. We support each other, we hug, we cry. This loss of Patric is the most painful loss to experience."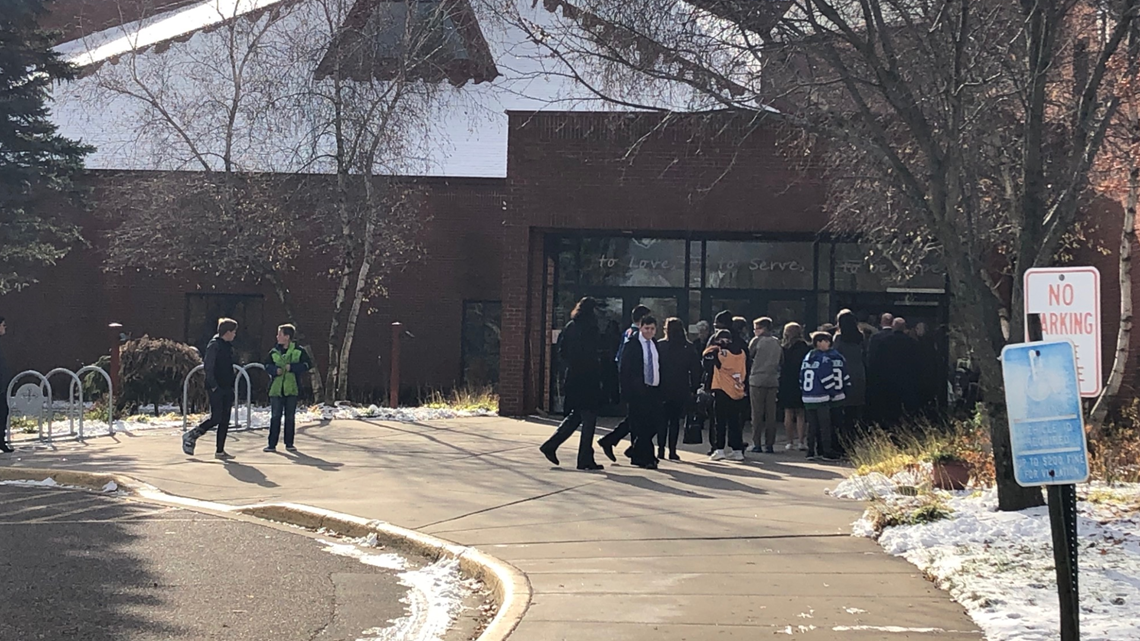 "When a person you love becomes a memory that memory becomes a treasure. Patric will always be a treasure in my heart," Chris Vitek said.
"In the shortness of his life, he had a message to deliver and he delivered it," Wozniak said. "Patric delivered a message. Be a true friend. Include others who may not be a part of your group. Stay connected to your friends however you can. Be willing to listen to others, to learn from others so as to get better. Be a bright light, a bright candle in the life of others. Smile often. Patric brought love into our world."
On Friday night, Patric's Eagan Wildcats PWA team played the Burnsville/Apple Valley Firehawks. The two teams raised their sticks together in a moment of silence.
A GoFundMe campaign remains active in Patric's name. A St. Paul athletic clothing company, UNRL, is making tribute T-shirts for Patric. They say 100% of the proceeds will go to support the Vitek family, with a goal of $5,000.