MINNEAPOLIS — On May 25, 2020, George Floyd died after a Minneapolis police officer held his knee on Floyd's neck for more than nine minutes. Floyd's death, which was caught on camera and shared widely on social media, sparked renewed calls for social justice around the globe.
In the Twin Cities, a summer already marred by COVID-19 saw both peaceful protests and destructive riots in response to Floyd's death. Businesses on Minneapolis' Lake Street were looted and destroyed. A Minneapolis police precinct burned. The Minnesota National Guard patrolled the streets. But 38th and Chicago, the spot where George Floyd died, was transformed into a peaceful memorial. Artists transformed plywood-covered store fronts into beautiful works of art. And communities came together to take care of their own.
"Tipping Point: Minnesota Voices of Change," introduces some of the people who decided to make positive change in the wake of Floyd's death.
Episode 1: Lake Street on Fire
Rob Steib is originally from New Orleans, but was raised in south Minneapolis. His grandparents owned a house on 34th and Portland. His mom went to Holy Angels. Rob rode the #5 bus to school and his bike throughout the neighborhood, visiting the candy store and ice cream shop.
Rachel Nelson grew up in the country, but has been living in the Twin Cities for the last 10 years. She's been on the Prodeo Academy school board for the last five, working with students and their families who live on the south side. "They're in my heart," she said.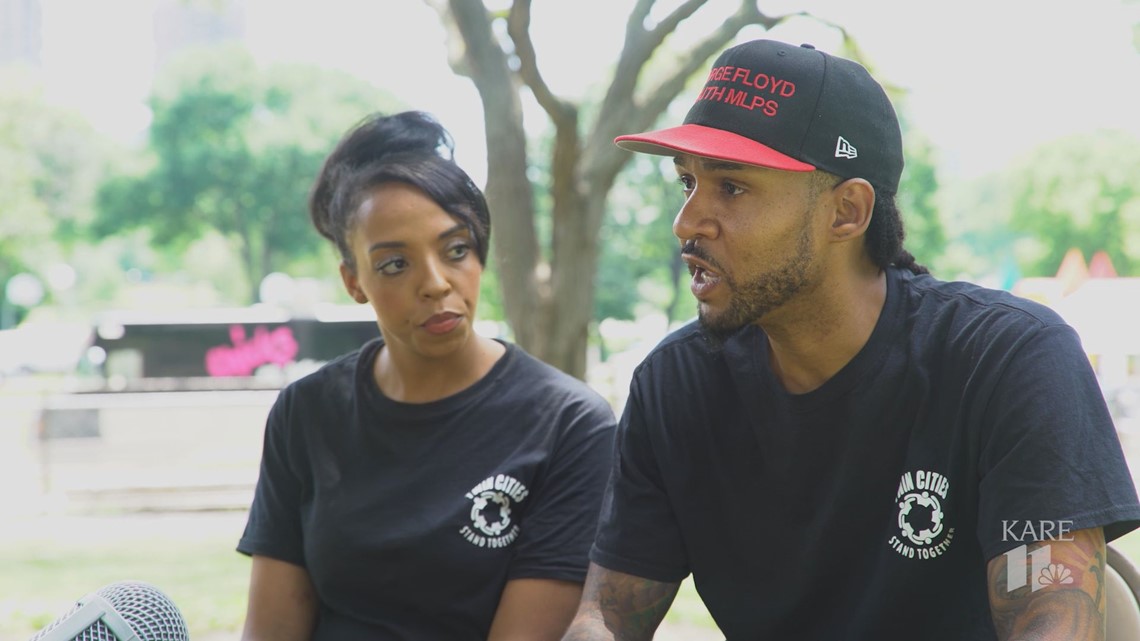 After George Floyd's death, Rob, Rachel and a group of volunteers spent weeks at 38th and Chicago, handing out waters, collecting and donating essential supplies, grilling and serving up platters of food for protesters. It was at that corner, near Cup Foods, where Twin Cities Stand Together was born.
"I'm tired of seeing our communities as separate people, as separate individuals. We need to be one community. We need to stand together as one Twin Cities, one state of Minnesota, one united nation," Rob said.
For three and a half weeks after Floyd's death, TCST served up hot, free food to peaceful protesters and the local community at 38th and Chicago in south Minneapolis. According to Nelson, it started out as a bunch of friends volunteering to help, going into their own pockets to buy snacks and water. Then, people started dropping off donations. Strangers asked, "What do you need?" Their network of volunteers continued to grow. "It was divine," said Rachel.
"We were trying, attempting to show people that there's a way to affect the community without violence, without arguing, without all the negativity," Rob said. "There's a positive way you can help people and make people feel safe and feel like they can feel comfortable enough to ask for help."
After several weeks at 38th and Chicago, TCST branched out and started holding events in other neighborhoods across the Twin Cities. On June 27, the group set up a barbecue and free food event at Loring Park to support the Black Womxn March.
Throughout the summer, the mission and focus for TCST evolved. Today, the nonprofit is rehabbing the Gethsemane Episcopal Church in downtown Minneapolis to use as their headquarters and concentrating on developing sustainable outreach programs for at-risk youth and disenfranchised communities. The building will house TCST and host community events and group meetings, offer classes and provide space for other community organizations to work out of. The revitalized space is expected to open in Spring 2021.

Meanwhile, Rachel Nelson and some original group leaders involved in TCST, including Tim Fisher, Bryant Jones, Ronnie Guy, Megan Nelson, and other volunteers, moved in a separate direction. They organized a new and separate group with more than 130 volunteers called Twin Cities Relief Initiative. Their mission is to be on the ground in local communities to provide free food and free essentials. Learn more about Twin Cities Relief Initiative in Episode 3 of Tipping Point: Minnesota Voices of Change.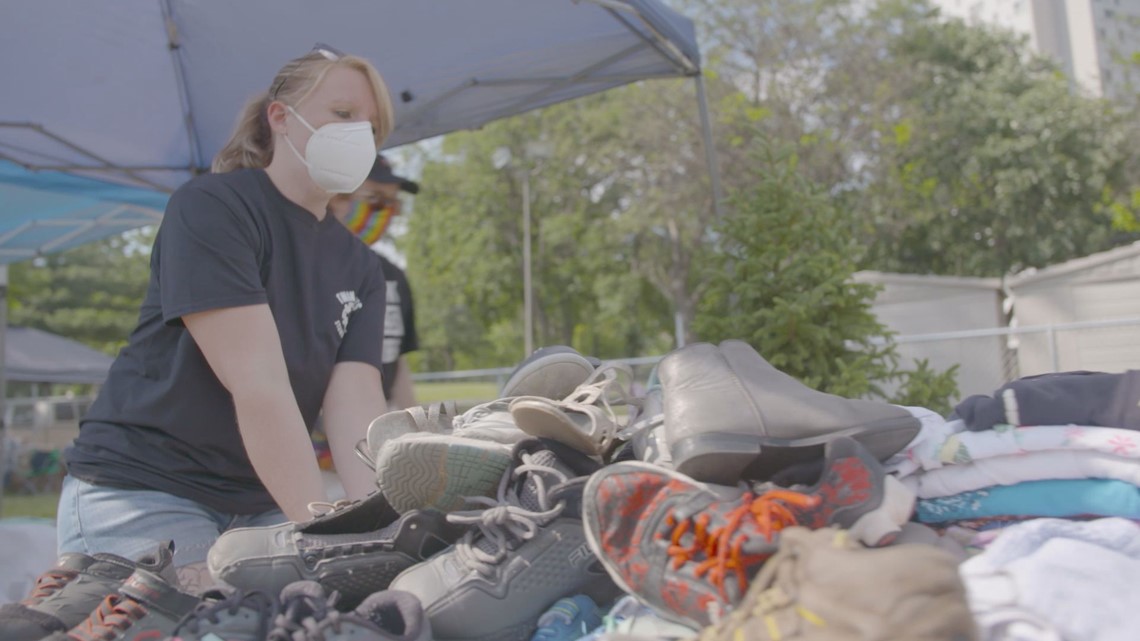 Twin Cities Relief Initiative is about the people it serves as much as it's about the volunteers who work tirelessly at their events.
"The first volunteers are the ones who have nothing," said Rachel. "They give everything back. And so it's, it's turned into a family."
For Rachel Nelson and the leaders and volunteers involved in Twin Cities Relief Initiative, the mission is clear: get into neighborhoods in Minneapolis and St. Paul to give families hot food, fresh produce and essential supplies. All of it for free.
"It's about the community being able to come in and take care of your own. And it needs to be free, you know. It needs to be free," said Rachel.
On Sept. 19, TCRI hosted a farmer's market at the corner of Payne Avenue and Maryland Avenue in St. Paul. They gave away 400 boxes of fresh, donated fruits and vegetables. More than 100 baby items were picked up before the market was even in full swing. And of course, everyone who came by got a plate of hot food cooked up by the volunteers.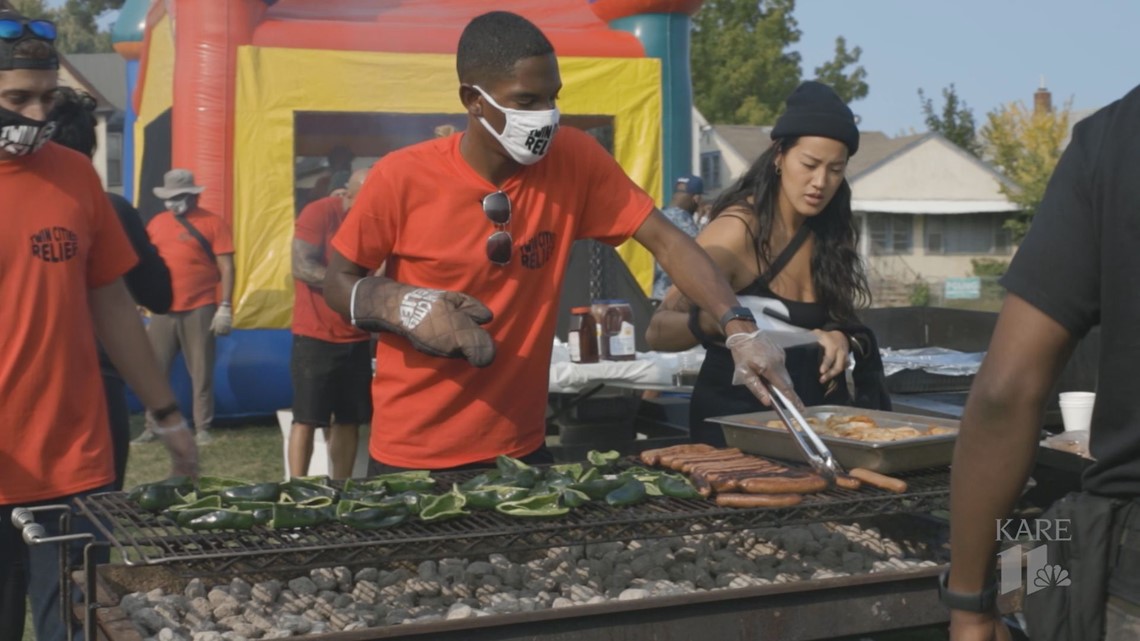 Creating a different experience for the people they serve is another hallmark of TCRI's mission. "It's not like going to a food bank. It's not like going to a Salvation Army. And it's not like getting secondhand, hand me down stuff. It's like going to your friend's hang out, going to a barbecue, getting everything you need," said Rachel.
There are long withstanding problems facing minority communities in the Twin Cities. Issues like access to affordable housing and equal educational opportunities. Problems that have impacted families for generations.
But for Acooa Ellis, Senior Vice President of Community Impact at the Greater Twin Cities United Way, the biggest systemic issues facing communities of color in the Twin Cities boil down to two things: racism and denial.
"Everything else is a manifestation," she says. Examples of that look like disproportionate discipline for Black and brown children that act out in an educational setting. She says racism in housing looks like different mortgage rates for people of color who have the same credentials as a white borrower. It's job centers being located in areas that don't have consistent access to transit.

At 90 years old, Dr. Josie Johnson has lived through a lot of ups and downs throughout the history of civil rights in America. She's played a role in much of it, too. Forever an activist, Dr. Johnson started campaigning against poll taxes with her father when she was a teenager in Texas. She's an author and educator, and the first African American to serve on the University of Minnesota's Board of Regents. She also helped create the school's Office of the Associate Vice President for Academic Affairs, focusing on minority affairs and diversity.
Needless to say, she's been a witness to some of the biggest moments in recent history. In May 2020, that included the death of George Floyd.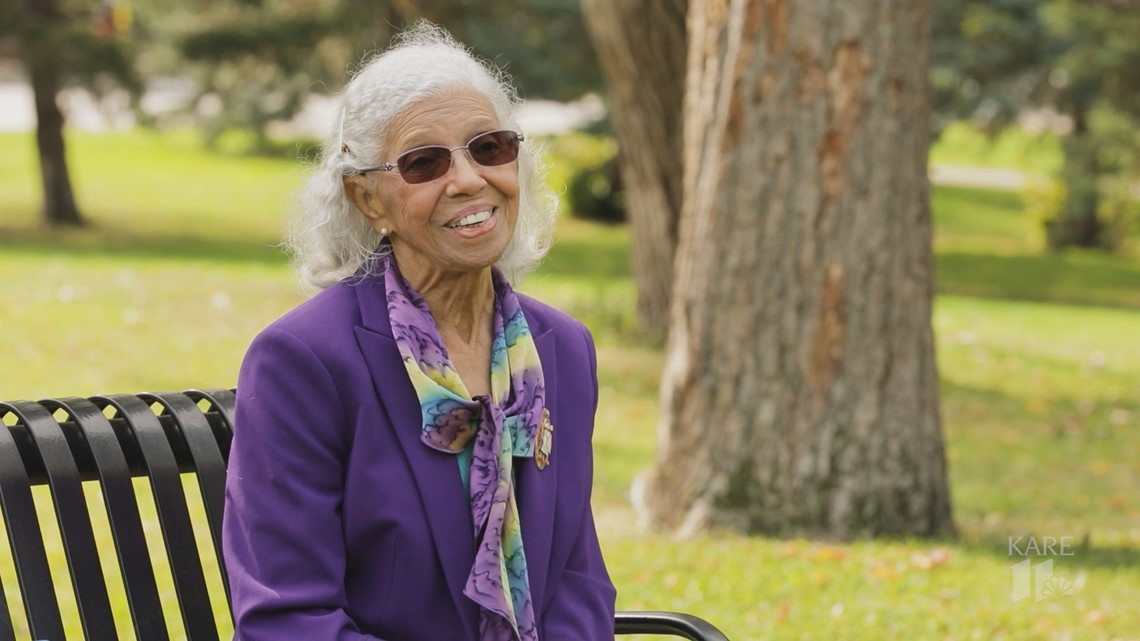 "Right now, Black people are what I call 'It.' Stories are told about us. Reports are made about us. The books that Black people wrote eons ago are finally surfacing and people are reading them," she says. "But my observation and experience also knows that that's temporary. It's temporary. We will be it, and then not."
To both Acooa Ellis and Dr. Johnson, allyship is a lot more than saying you support Black Lives Matter, or engaging in performative activism. It's real, challenging work.
PHOTOS: Minneapolis citizens react to the death of George Floyd