HASTINGS, Minn. — Gov. Tim Walz toured Minnesota Hemp Farms Friday and invited the media along to put the spotlight on an age-old crop that's legal to grow again in Minnesota, thanks to a pilot program run by the Minn. Dept. of Agriculture.
At a time when cash crop growers are dealing with the setbacks related to tariffs, weather and refineries being excused from ethanol mandates many are starting to take a serious look at industrial hemp.
"It's important to see all the new innovative ways we can use this product going forward, creating jobs and opportunities," Gov. Walz told reporters who gathered at the farm in rural Hastings.
"And it lets us know we can do in the legislature to make some of those changes possible."
The host of the tour, John Strohfus, was the first farmer in Minnesota to grow industrial hemp, when the state's pilot program launched in 2016. Since then, more than 350 other growers have taken on hemp.
Strohfus said many hemp farmers are chasing the CDB health product market because it's expanding quickly. But he remains committed to his original core product of plant-based protein food additives under the brand name Field Theory.
"We sell semi loads of processed hemp good all across the country to food manufacturers; we're in conversations with big companies here locally," Strohfus explained.
He said hemp protein is quickly gaining status in the food industry as a product on par with pea protein, which opens the possibility of products that use a mix of the two plants.
Minnesota's regulatory framework includes inspections and plant testing to make sure growers aren't intentionally or inadvertently growing a variety that is too potent.
While on the farm Gov. Walz used some hedge clippers to cut the top two inches off a hemp plant so it can be tested for THC, the psychoactive ingredient in marijuana. Industrial hemp plants can't exceed 0.3 percent THC content in Minnesota's program.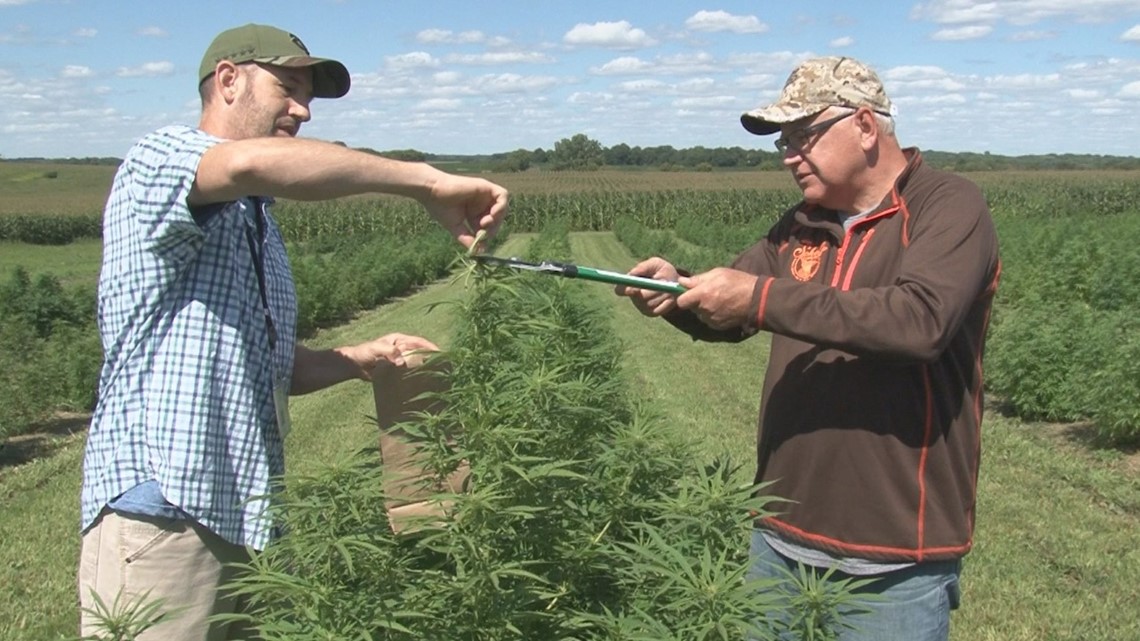 State lawmakers who joined the governor on the tour pledged to keep working on removing hurdles for hemp growers. That includes creating incentives for processing plants, so that producers don't have to ship so much out of state.
"I want Minnesota to be the number one producer of hemp and exporter of hemp," Sen. Karla Bigham remarked.
"It is a good, durable product that is sustainable."
Rep. Tony Jurgens said his home state of South Dakota is quickly falling behind Minnesota.
"South Dakota is lagging behind in this market, and I think we can prove we're a leader in Minnesota."
One of the issues hemp growers have faced traditionally is financing, because interstate banks are wary of violating federal laws regarding hemp and related plants.
"With credit card processing, we were hanging on a thread of that everyday about whether we'll get shutdown because we don't have federal direction to a lot of these banking institutions, or the regulators have not caught up with the statutes," Strohfus explained.
The USDA is set to release new guidelines for hemp farming as soon as October, which should give banks and other lenders more of a free hand to finance growers.