MINNEAPOLIS, Minnesota — James Hong is coming off a whirlwind couple of weeks. From his speech at the Screen Actors Guild Awards to "Everything Everywhere All At Once" winning best picture at the Oscars, the 94-year-old has been on the go.
Hong attended his first Academy Awards alongside the cast of EEAAO, wearing a googly-eyed bowtie in tribute to the film.
Before he was EEAAO's Gong Gong, Hong carved out a prolific career in film and television, with acting credits dating back to the 1950s.
And before that, Hong attended high school in Minneapolis.
A 1947 graduate of Minneapolis Central High School, Hong started studying civil engineering at the University of Minnesota before eventually graduating from the University of Southern California.
Not long after he made the switch to acting and eventually would become known for memorable roles in Big Trouble in Little China, Blade Runner, Mulan, and Kung Fu Panda, just to name a few.
In May 2022, Hong become the oldest actor to be awarded a star on the Hollywood Walk of Fame at the age of 93.
KARE 11's Heidi Wigdahl sat down with Hong over Zoom to talk about everything from the Oscars and Asian representation in Hollywood to the Minnesota State Fair.
On the Oscars
"It was too much work in a way," said Hong, laughing. Well worth it though. The final ending of stepping on the stage and accepting that award."
Hong says he wanted to wait until he might receive an award to attend the ceremony.
"You know, that's a great question. I just hesitated and just procrastinated and I knew there would be a lot of walking and so I said to myself, 'I'm going to wait until I get an award and then I'll make myself available' and that's what happened."
The film's overall message of kindness drew audiences into the movie says Hong.
"I think it's the love and forgiveness ... Jamie Lee Curtis, even before the award ... she gave me a plaque or some kind of frame and it says three things: "Be kind, be kind, be kind." So I guess that resonates. The theme of the movie is that you somehow have to be kind before things come to you in life."
On Asian representation in Hollywood
The SAG awards also provided a big moment for the actor.
"I really didn't intend to say anything outstanding. In fact, I was going to say something totally different. But once I got in there and faced the audience ... I thought, 'What have I experienced in my whole career?'"
Hong went on to say about those early days, "I and other Asian actors never got any roles because they took white actors and put the eyepieces and funny mustaches and goatees to make them look like what they thought was Chinese or Asian. That did not resonate well with me because I am what I am."
"They just use white actors because they didn't trust our box office value. But as I said on stage, look at all these people ... Michelle Yeoh and Ke and all these people. They're wonderful at what they're doing and now the film has grossed way over $100 million."
On growing up in Minneapolis
"I was born near 713 3rd Avenue South. That street we called it Chinatown because there were two Chinese stores there and that was it," Hong recalled.
Hong went to Washington Elementary, Bryant Junior High, and the now-demolished Central High School. He graduated from CHS in 1947.
"By the time I graduated from Central, I was the treasurer of the class. So you can see how I went from nothing as far as an American culture person to the treasurer of the class. So I was accepted in that sense but I was not accepted as a real one of them in the sense of dating. I couldn't date girls because they wouldn't accept me or the parents didn't accept me."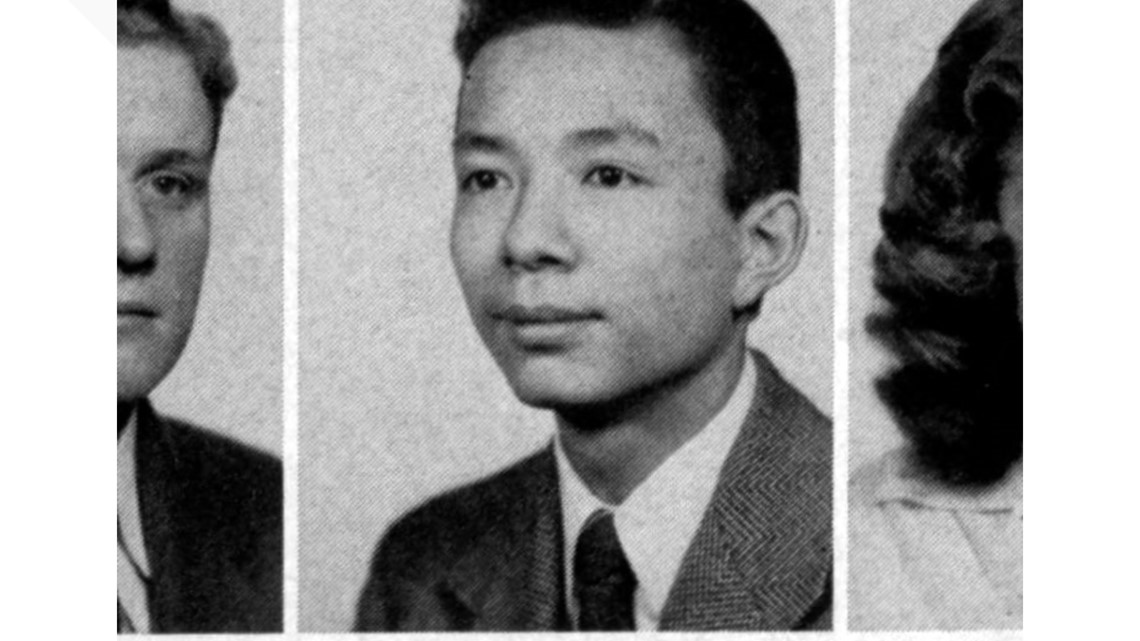 Hong recalled his class play, saying, "It's a British play so she [drama teacher] said, 'Well now where would I put James?' So she just did not even use me in the class play. She just substituted a white actor to play the doctor. So I experienced that so-called hidden prejudice all through my whole life and came to Hollywood and still, the problem persists. I tried my best to get out of that rut and form the East West Players in Los Angeles and that became a big theatrical group performing plays and now it's probably the biggest and even beyond that for Asian actors. They're expanding into another huge building so my efforts of trying to equalize the situation, in a sense, worked. Starting with East-West players until now. The Asians are winning awards all over the place."
But Hong also has fond memories of Minnesota. He has returned once for a high school reunion. He recalled how he loved to go to the local five-and-dime store near Dayton's in downtown Minneapolis to get a whole bag of fresh potato chips for a nickel.
Hong also recalled going to the Minnesota State Fair with his uncle, saying, "My memories of the fair are very vivid because there was no other entertainment for little James Hong. So thank you, uncle ... thank him for his kindness. So in a sense, we all should be kind to other people wherever they are. If it touches your heart in some way, please do something for people all over the world."
WATCH MORE ON KARE 11+
Download the free KARE 11+ app for Roku, Fire TV, and other smart TV platforms to watch more from KARE 11 anytime! The KARE 11+ app includes live streams of all of KARE 11's newscasts. You'll also find on-demand replays of newscasts; the latest from KARE 11 Investigates, Breaking the News and the Land of 10,000 Stories; exclusive programs like Verify and HeartThreads; and Minnesota sports talk from our partners at Locked On Minnesota.