BLOOMINGTON, Minn. — Colleen Ronnei of Chanhassen said her son Luke had a magnetic personality.
"Luke was a really gregarious, charming guy," Ronnei said. "He was handsome and funny and he had a beautiful soul."
Unfortunately, underneath his shining personality, Luke struggled with anxiety and depression. At age 17, he was prescribed painkillers when he had his wisdom teeth removed. Eventually, he became addicted.
"I still remember Luke saying to me, 'Mom, you have no idea. You have no idea how many young people are struggling with this. If you knew… you would be absolutely blown away,'" Ronnei recalled.
In 2016, Luke died of an accidental overdose at home. Looking back at the painful loss of her son, Ronnei wonders if the outcome would have been different if she had known about Narcan, the opioid-reversal drug that can save a life during an overdose.
"When Luke died, we didn't know what Narcan was. We had no information that it even existed. I think that was true and remains true for a lot of people."
Now, through her nonprofit Change the Outcome, Ronnei visits Minnesota schools to educate students and staff about the opioid epidemic as well as preventative measures, sharing her personal story. Since 2018, she also has been working with Minnesota Sen. Kelly Morrison (DFL-Deephaven) on legislation that would require naloxone to be stored in Minnesota schools.
"Honestly, Colleen Ronnei was the first to bring this to my attention," Sen. Morrison said.
Morrison said so far, there have been several iterations of the legislation. It was introduced and included in the education omnibus bill last session but stalled when negotiations broke down between the Republican-controlled Senate and Democrat-controlled House. Now that both chambers are controlled by one party, Morrison said she doesn't anticipate partisan politics getting in the way.
"This really isn't a partisan issue, but it got caught up in partisan politics," she said. "Addiction and opioids... does not discriminate by party affiliation. This is something that impacts all Minnesotans, and so we're actually feeling really optimistic that this is the year we can get this done."
Meanwhile, Ronnei and Morrison say school districts like Bloomington are leading the way. Since 2016, the Bloomington school district has kept naloxone in its buildings. Now, there are two doses of Narcan in each AED box at the secondary and high schools and vials of intramuscular naloxone stored in health offices that nurses are trained to administer.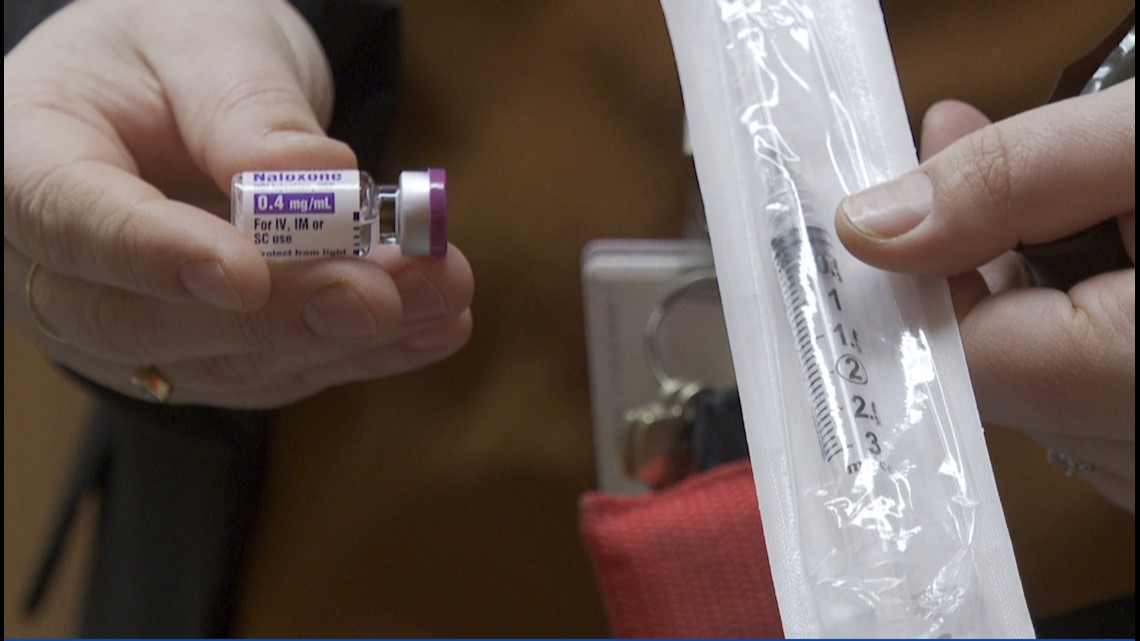 The district's director of health services, Hannah Hatch, said Bloomington schools began storing naloxone not as a result of a problem within the district, but more as a preventative measure.
"For us, it was kind of a no-brainer," Hatch said. "Because there was no harm by stocking it. We felt like it was something we could manage internally. We have registered nurses that would be able to administer, we have people who could train."
While they've never had to use any of their doses, Hatch says their district has had some "close calls."
"We've had a student that received it by emergency personnel," she said, adding, "I think it gives our nurses ease knowing that there is something if an emergency like that arises. Every minute counts."