The show is produced by Delina White, fashion designer and founder of IamAnishinaabe. She threads her ancestral pride into each design.
"[Traditional clothing] is something that's considered part of our culture," White said. "It's a way we show our pride and our heritage."
Her heritage is part of a tribal nation present in the Great Lakes region of the U.S. and Canada, known as Anishinaabe. It's also in the name of the brand that she and her daughters co-founded.
"My brand is in the foundation of woodland culture," she said.
While White lives on the Leech Lake Reservation, she loves sharing her people's way of life to those outside it through her brand's online presence. She also features her designs in fashion shows.
"Businesses for natives on the reservation is very limited... Living on the reservation is just like living in a small city," White said. "It's very limited for selling, so thank goodness for social media, for the website that connects us to the larger world, from being so rural and isolated."
Her designs range from purely traditional to streetwear.
"There is a large range of types of clothing. We've got the streetwear clothing, we've got things that are mass produced like the joggers, the t-shirts, the sweatshirts," she said.
Behind every fashion designer is a model who has to breathe life into each design, and there's no one more proud to take on that duty than Delina White's granddaughter, Snowy White, a senior in high school.
"My grandmother – when she first started, she asked me to model for her and eventually, I got involved in bigger shows," Snowy said. "I'm really proud of my grandma. I love seeing everything that she does, and everything that she makes. It really brings our family together."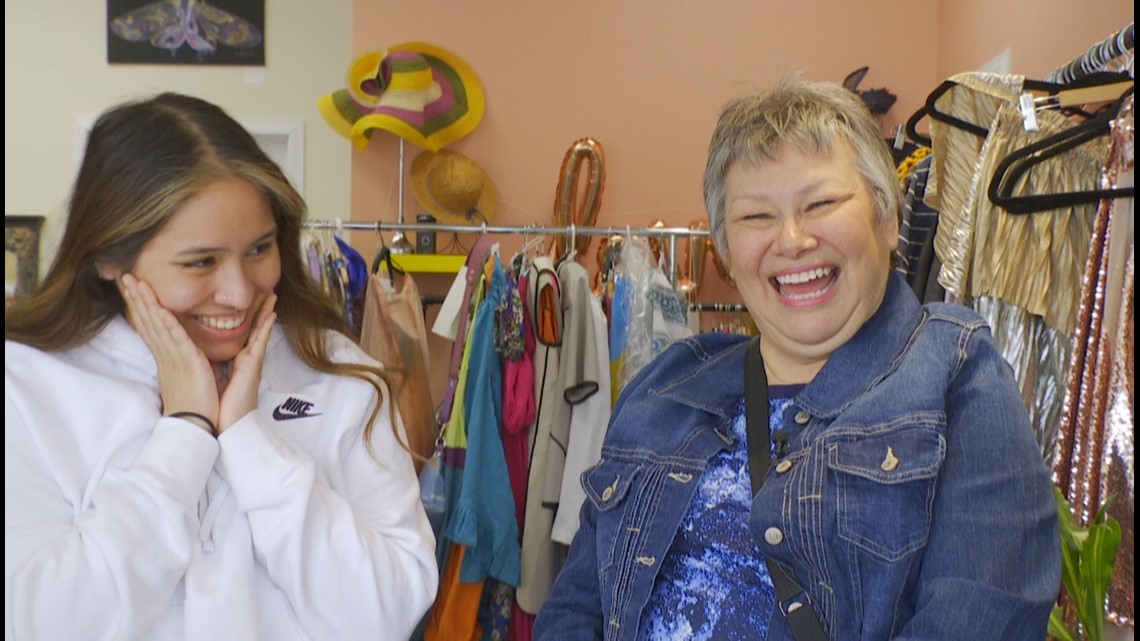 In Tuesday's show, Snowy will have a chance to share some of her own beadwork. It's a skill she learned from her mother – Delina's daughter – Lavender Kingbird. Kingbird will also be a featured designer.
"What [my mom] is putting together and looking at it, I'm really excited to wear it," Snowy said.
As a true family affair, Sage Davis, another of Delina's daughters, currently pursuing her doctorate in fashion at the University of Minnesota, will be working at the event.
Alaskan Native culture will also be present on Tuesday's runway. Contemporary designer Golga Oscar is traveling from Kasigluk, Alaska to share his designs.
"I'm so excited for him to be here because it is going to be a rare and unique opportunity for people in Minneapolis to experience Alaskan life," Delina White said.
For general admission, doors to Northern Lights open at 6 p.m. Tickets can be purchased here.