MINNEAPOLIS — It's the time of year when a simple scroll through your email reveals endless suggestions on what to buy for mom. But for those who have lost their mothers, like Christine Meyer, each notification can come with pain.
"It's that constant reminder; it's such a tug at your heart. Really missing your mom," Meyer said.
It's why, as Mother's Day approaches, several U.S. companies are offering consumers who subscribe to brand emails and notifications the option to "opt out" of Mother's Day marketing.
From M.A.C. Cosmetics, to DoorDash, to Etsy, various companies have sent out emails allowing the consumer to unsubscribe from such notifications by clicking a button.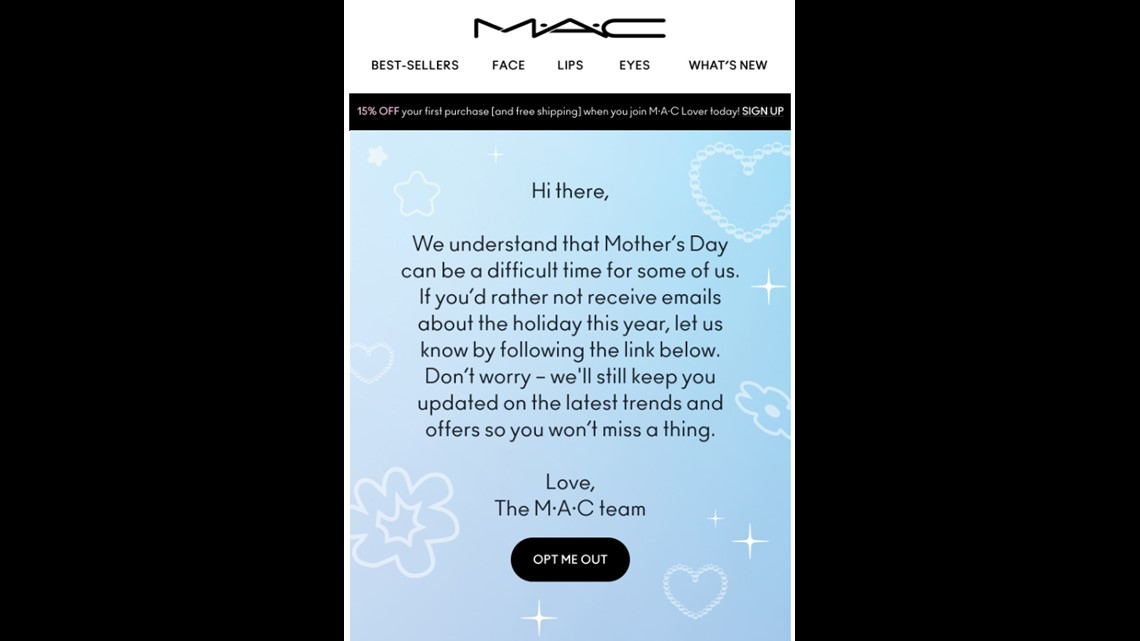 Dr. Anupama Bharadwaj, an assistant professor of marketing at the University of St. Thomas with expertise in consumer behavior and emotion, sees it as a move companies are making to grow their relationships with consumers.
"I think there's been a trend that companies are looking at consumers as people... realizing that it's beyond just the interaction the individual has with the brand, products, services," Dr. Bharadwaj said. "Trying to be sensitive to many different dimensions that are in our lives… many different aspects of our lives."
She adds that customers attach "personalities" to brands.
"There's a lot of research in consumer psychology that shows that consumers interact with brands like they do with other people," she said. "So when a brand comes forward and says, look, we realize that this could be a difficult time for you, and we want to be there to the extent that we can. ... If we're able to gauge that it's coming from a genuine place, the customer appreciates that, presumably."
Meyer, who founded and serves as the president of a nonprofit that supports women and girls who have experienced mother loss, says she has never opted out of these types of notifications. However, she views it as a good move.
"I think it's a good move on the part of companies to make that decision, and it shows some respect for people who are grieving the loss of their moms," she said.
Meyer founded She Climbs Mountains and Girls Rise Up in honor of her mother, Loralee, who passed when Meyer was just 15. The organization hosts events during Mother's Day for both women and girls who want to create community with those who have shared similar experiences.
"Community matters so much when we are on our journey of grief," Meyer said. "It's so lonely and so isolating to grieve, and so when we can gather with other people who really get that loss, it changes our lives. It really does."
To get involved in the various events with She Climbs Mountains or to learn more, visit their website.