MINNEAPOLIS, Minn — It's the video Minnesota Twins fans can't forget, even if they want to: The moment Twins shortstop Kyle Farmer was hit in the face with a 92 mile-per-hour Lucas Giolito fastball during an April 12 game against the Chicago White Sox.
Farmer was on the ground for a number of minutes before leaving the field for emergency surgery, and we haven't seen him return to the batter's box since. The utility infielder and Twins newcomer tells KARE 11's Alicia Lewis he remembers everything about that day.
"Right when I went down, I remember just feeling my teeth covering my tongue in the back of my mouth," Kyle said. "It's kind of gruesome. I thought I was swallowing my four bottom teeth."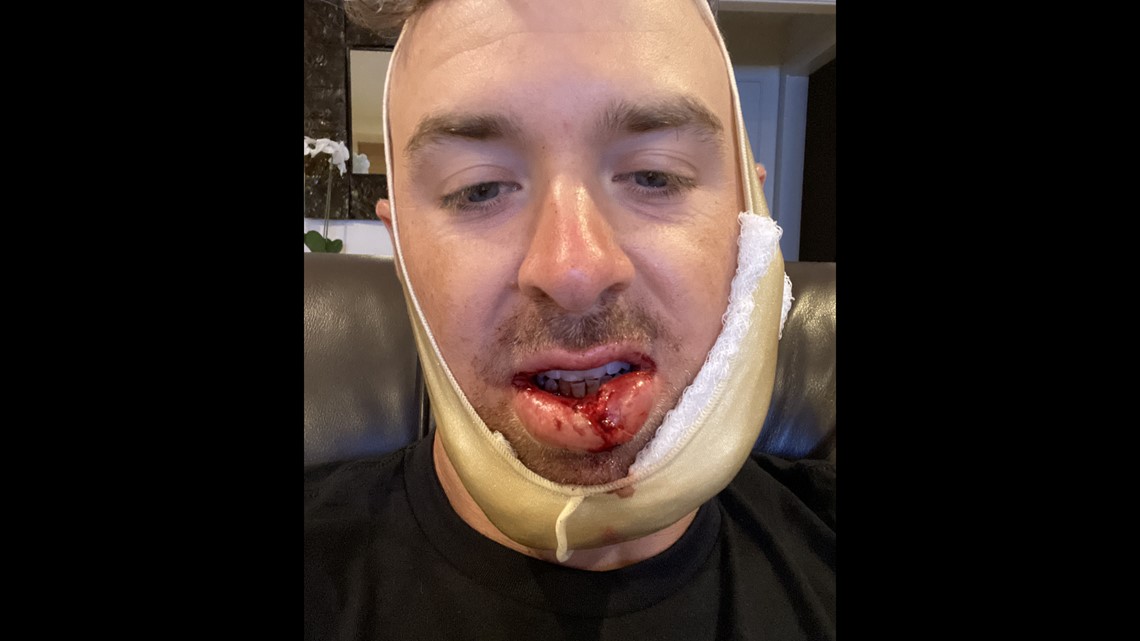 Kyle remembers there being a runner on third and one out in the 4th inning against the White Sox. The first ball thrown by Giolito was a strike. Farmer recalls leaning out over the plate for the second pitch, expecting a slider but instead being struck by a fastball that hit him square in the mouth.
"I felt the trainers come out, and they took me under and the first thing I said to them was that you have to get me to the hospital," Kyle said. "So they did and got me there. Waited for 2 hours and put me through surgery and I was in a lot of pain after that."
A photo of Kyle's mouth moments after the hit is too graphic to share, but about a month since being beaned he's looking much better yet still healing.
"I didn't want to see my face either," Kyle recalled. "As they were wheeling me into the hospital, I could feel all of the eyes on me … and you know that look when they look at you and look down… I was like … I must look pretty bad."
Kyle's wife Courtney Farmer says she wasn't at Target Field to see it in person.
"We were on a plane heading to New York and so I was keeping up with the game on my phone and I was reading and see "Hit by Pitch" and in parenthesis… "Injury delay" so I go back and watch to see what happened because he gets hit all the time, and I was hoping it wasn't anything bad but when I see the delay on there, I knew it had to be bad," said Courtney.
Like many watching from home, Courtney watched the replay in horror, unaware of the extent of Kyle's injuries.
"I was able to keep pretty calm," Courtney remembered. "I saw the video after the fact, so I was able to see him get up and walk off the field which helped me."
Thirty-five stitches, wires to put his teeth back into place and 4 root canals later, Farmer told Alicia he's eager to get back out on the diamond.
"I just know that is very rare for that to happen and knowing that it's rare... it's in the back of my mind, that keeps me safe." Farmer said. "There is always that little bit in the back of your head that says it could happen again, but it's not going to change my approach to the game or my approach to hitting at all."
Courtney says they'll both battle some nerves when Kyle walks up to the plate for the first time since being hit.
"I know he's nervous about it," Courtney said. "I'm just nervous about his mental aspect of it. It's scary getting back out there."
For his part, Kyle says injuries are part of any sport and it comes with the territory.
"She worries about me but she knows I'll be okay and we are raising our son to be like that too," Farmer said. "So tough it out and get back out there."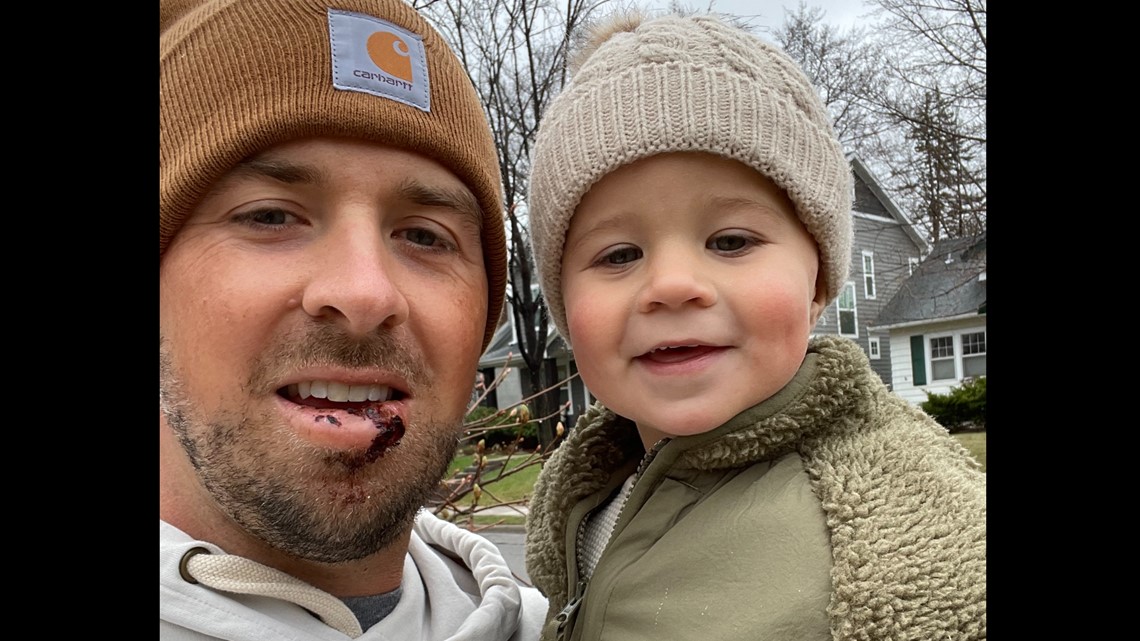 For added protection, Kyle will now be wearing a face guard on his helmet, something a few of his teammates started doing after they witnessed his beaning.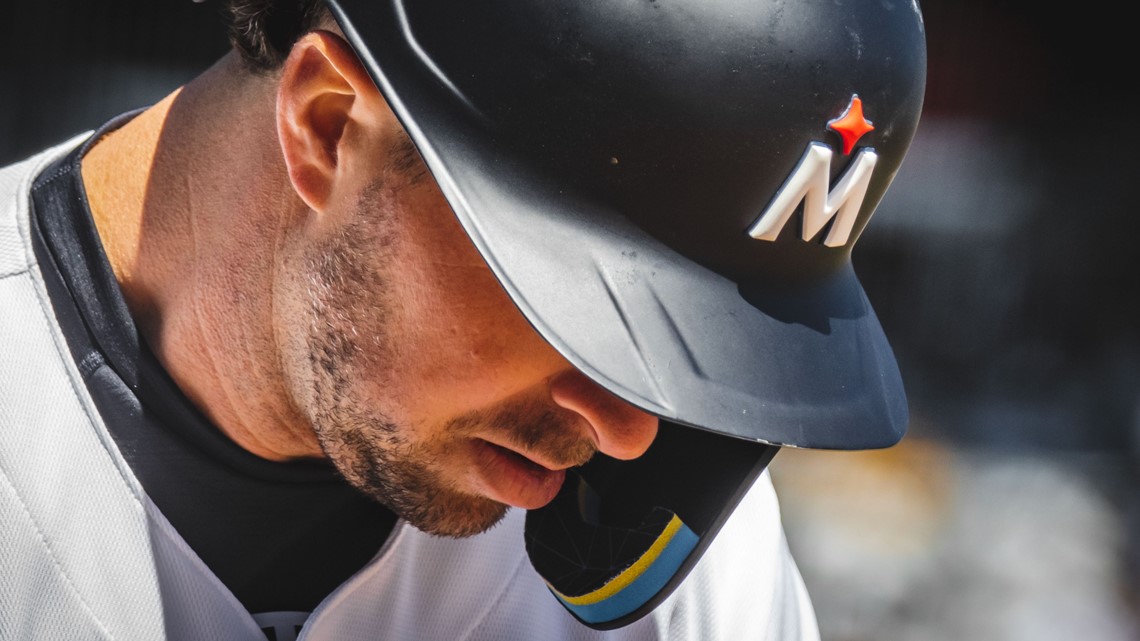 "That's a new thing to get used to as well," Kyle said. "I wasn't wearing one before and now it's in your visual a little bit, but you see a lot of guys wearing it now so it's not that big of a deal. I like to tough it out or grind it out. You're going to get hit but you just have to get back up and face the fear of not getting hit again."
Kyle had another surgery Monday, and he is hoping to play with the Twins Tuesday or later this week against the Padres. He's been rehabbing with the Triple-A St. Paul Saints, so it will require a roster move to slide back up with the big club.
WATCH MORE ON KARE 11+
Download the free KARE 11+ app for Roku, Fire TV, Apple TV and other smart TV platforms to watch more from KARE 11 anytime! The KARE 11+ app includes live streams of all of KARE 11's newscasts. You'll also find on-demand replays of newscasts; the latest from KARE 11 Investigates, Breaking the News and the Land of 10,000 Stories; exclusive programs like Verify and HeartThreads; and Minnesota sports talk from our partners at Locked On Minnesota.