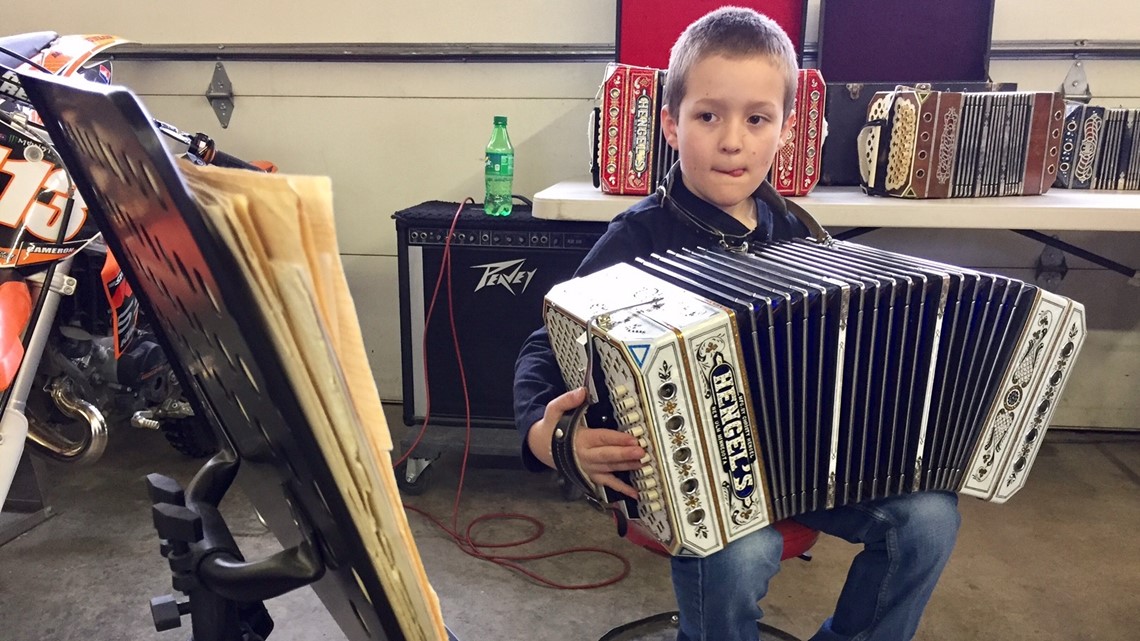 NEW ULM, Minn. – Chad and Angie Mack knew their son was in deep, when just before Christmas last year, he made his gift request.
Third-graders don't generally ask for lederhosen.
"Every 8-year-old's dream," Cameron's father jokes.
Cameron got his wish. And those lederhosen have turned out to be the perfect accessory for his musical instrument of choice: a pearl white concertina.

Every evening, and multiple times on weekends, Cameron can be found in his family's heated garage, squeezing the concertina's bellows, while his fingers dance across the instrument's 104 button keys.
Told that it seems like a lot for an 8-year-old to handle, Cameron responds confidently. "Not for me," he says.
To Cameron's right are his two dirt bikes - to his left, a shelf full of trophies he's won riding them.
Asked which activity he prefers, Cameron answers without pause. "Concertina," he says.

Yep, Chad and Angie's son is into the concertina, deep.
Cameron was a mere second-grader when he discovered, by accident, his passion for the instrument more often played by aging men at polka dances.
Cameron's art teacher was preparing for retirement, when he invited each child to take home an item from his classroom. Cameron nabbed a purple toy accordion.
Playing the pint-sized instrument proved challenging. But it was all the spark Cameron's father – himself a fan of polka music - needed to see.

"He said, 'Is that something you would be interested in?'" Cameron recalls.
Before he knew it, Cameron's father had landed his son a used concertina on Craigslist. Several others followed – including the concertina Chad Mack is now learning to play. It wouldn't be right for his son to have all the fun.
In one year, Cameron has transitioned his concertina from ear-offending squeaks to joyful riffs.
He's had help. The Mack family's garbage man, Steve Rewitzer, is a concertina whiz with his own band.
Last summer Steve took Cameron on as student.

"He's coming along real good," Steve says. "I know he practices a lot, I can tell every time I come here."
Steve plays a 1936 concertina his parents helped him purchase when he was 10 years old. He can't help but see a little of his young self in Cameron.
"I was excited," Steve says, "because somebody younger than when I started wants to play concertina."

At 52, Steve is still among the younger concertina players. As long as drum kits and electric guitars are a thing, concertinas aren't likely to re-emerge as a favorite of teenage garage bands.
"From all the kids I went to school with, there was not one that would have ever thought of picking up a concertina," Chad Mack says.
Cameron can't understand it. "They probably think 'not cool,'" he says. "I would say the opposite."
Cool or not, Cameron isn't about to give up his concertina, especially since he's tasted the sweet sound of applause.
Steve has started bringing Cameron on stage during performances by the Misfits, his band.

Cameron is also a favorite at the New Ulm assisted living facility where both his great-grandmothers live.
"Wait till the proms come in a couple of years and you're gonna be able to play at the prom," Cameron's great-grandfather Laddie tells him.
Playing side by side in the garage, Steve looks at Cameron and sees the future.
"I'll keep playing until I can't," he says. "Then he can take over."
PHOTOS: Land of 10,000 Stories: Concertina