KASSON, Minn. – With its century-old school building, art deco movie theater and historic water tower, Kasson didn't need another icon.
Yet it wasn't need, but desire that brought a 37,000-pound boulder to Kasson's downtown.
"The payloader barely got it down the road to get it here," laughs Kasson resident Dave Wilcox.
Kasson's boulder – nearly 10 feet tall and planted along Kasson's main street – has been transformed by an Iowa artist into a tribute to Minnesota's veterans.
"I just want to make sure that they're treated right," Ray "Bubba" Sorensen said.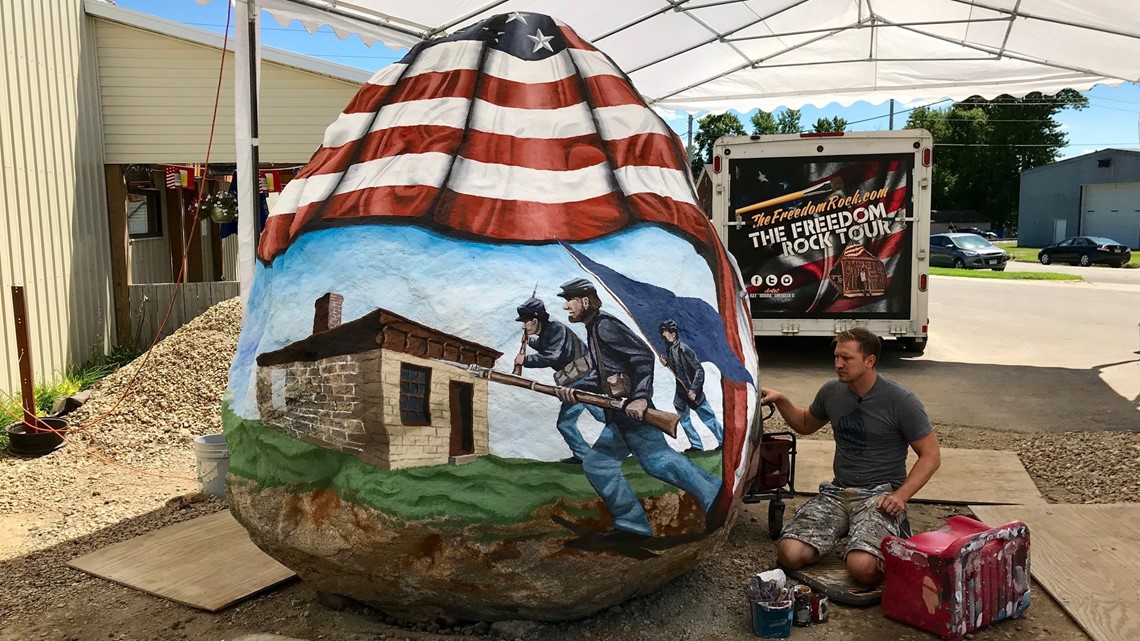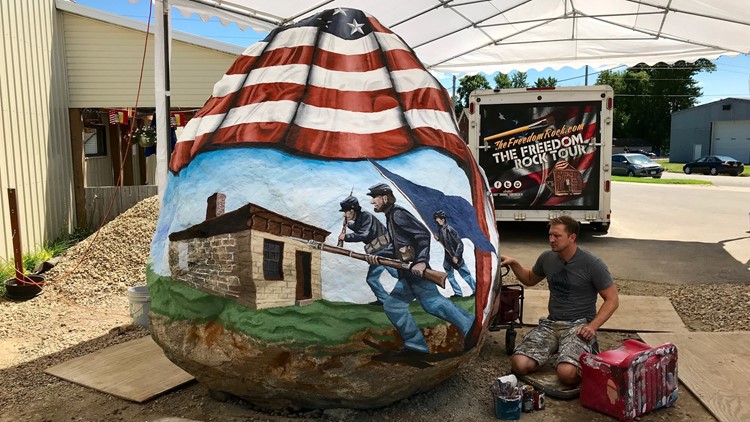 Sorensen's trip to Kasson has been two decades in the making. Already, he's painted similarly-themed boulders in 74 Iowa counties, three Missouri communities and another in Wisconsin.
He calls them Freedom Rocks.
"It's something I love to do," Sorensen said. "I love to be able to say thank you to our veterans and show them we appreciate them."
It all started when Sorensen, at age 19, attended the film "Saving Private Ryan."
"Not being in the service, that's the closest I've been to war, you know, sitting in the theater watching that. And, so I was like, I'm going to say thank you to these guys somehow," Sorensen said.
Soon after, the budding artist took his paint brushes to a known graffiti rock at the edge of his Iowa hometown. By the end of the day, Sorensen had finished his first Freedom Rock.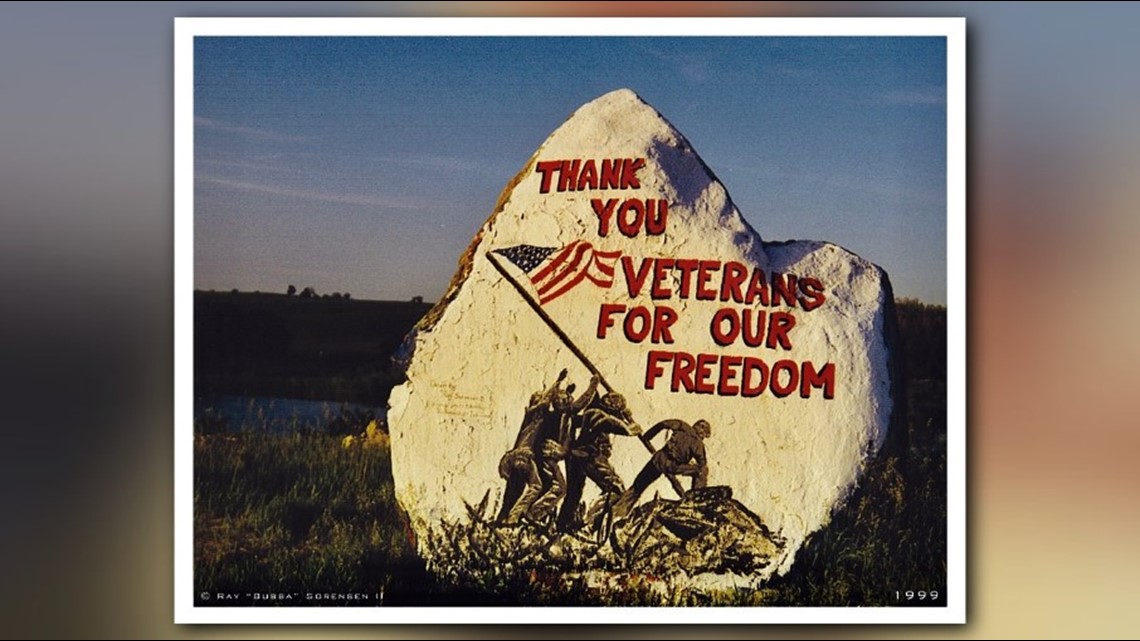 Sorensen has repainted the original boulder with a new theme honoring veterans every Memorial Day since.
"Well, this was the 20th year," he said proudly. "Yep, 20th year in a row."
But the Greenfield, Iowa artist wanted more. So, Sorensen created The Freedom
Rock Tour with a goal of painting a boulder in each of Iowa's 99 counties – and, eventually, all 50 states.
PHOTOS: Land of 10,000 Stories: Freedom Rock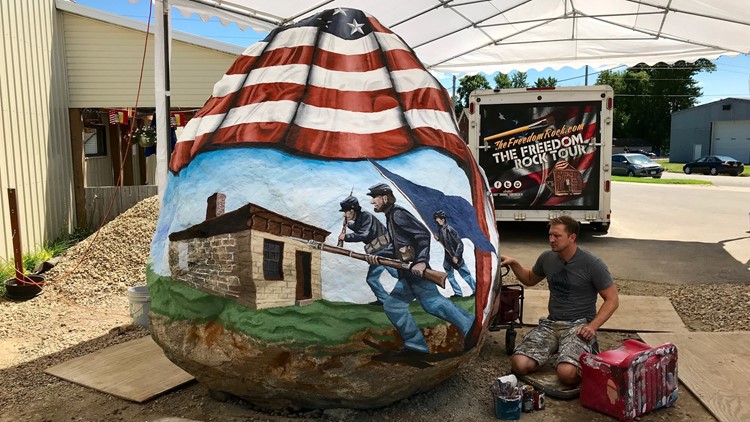 Minnesota joined the list after Wilcox – who owns a business in Iowa – passed Sorensen's work along a highway. He decided Kasson should have one too and led the effort to make it so.
"Every day the same cars drive by slow to see how the progress is coming," Wilcox said, watching the artist at work. "It's going to be a great addition to our community."
Sorensen chose four primary images for Kasson's Freedom Rock, among them the 1st Minnesota Volunteer Infantry, which had a recruiting station in nearby Wasioja.
Opposite the 1st Minnesota, is Air Force chaplain Russell Blaisdell of Hayfield, Minnesota who organized the "Kiddy Car" airlift of nearly 1000 Korean War orphans.
Sorensen also painted on Kasson's Freedom Rock, a soldier eating Minnesota-made SPAM, and artist LeRoy Neiman, a St. Paul native who served as an army cook during WWII.
"With the Freedom Rocks I like to incorporate local history," Sorensen said.
As he painted, Sorensen paused to answer questions, including those from students at a local childcare center who stopped to see him work.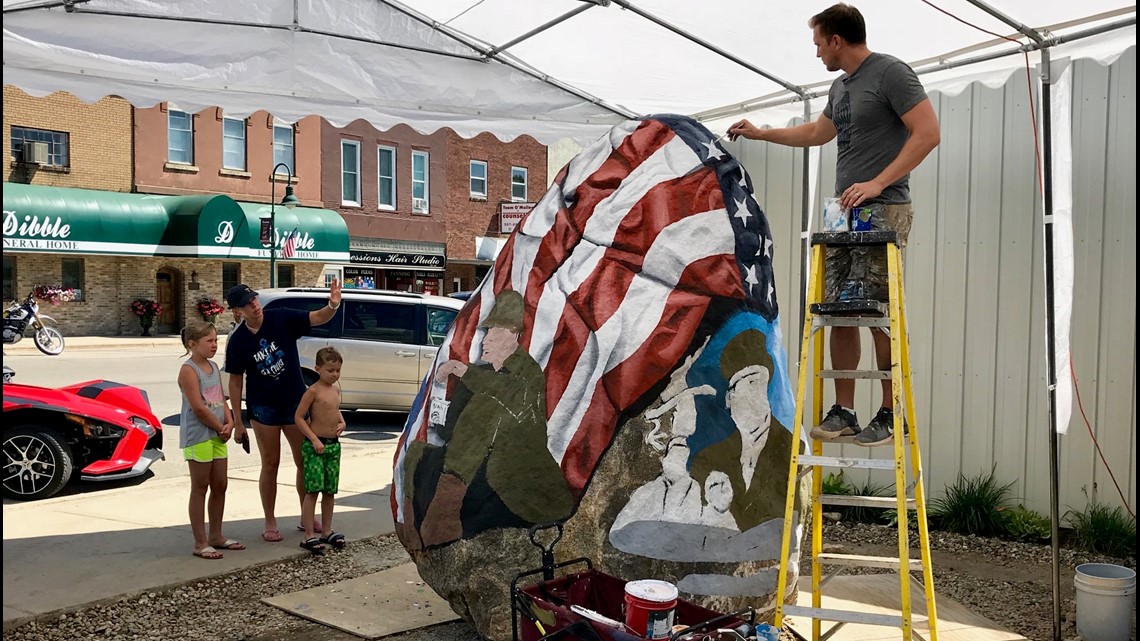 Brian Nelson stopped to watch Sorensen too. The Vietnam War veteran lived through a period when returning soldiers were not treated to such honors.
"I still remember the commanding officer telling us to switch into civilian clothes, 'you're state side.' That was probably the worst memory of my whole time," Nelson said.
Sorensen has seen veterans tear up as they survey the brush strokes of his painted boulders.
That's when Bubba Sorensen finds himself between a rock and heart place.