FARIBAULT, Minn. — In the early days of COVID, the Faribault Ice Arena sat empty. Lights off. Doors locked.
But alone in the pin-drop-quiet arena, Rick Christianson climbed aboard the ice resurfacing machine and fired it up.
"We needed it," Rick says, looking back. "We needed to do it, really."
Such is the special place a 20-foot snowman named Faribo Frosty occupies in the hearts of the residents of this community of 23,000.
"Brings a lot of joy to a lot of people," Andy Hoisington says, "Including me."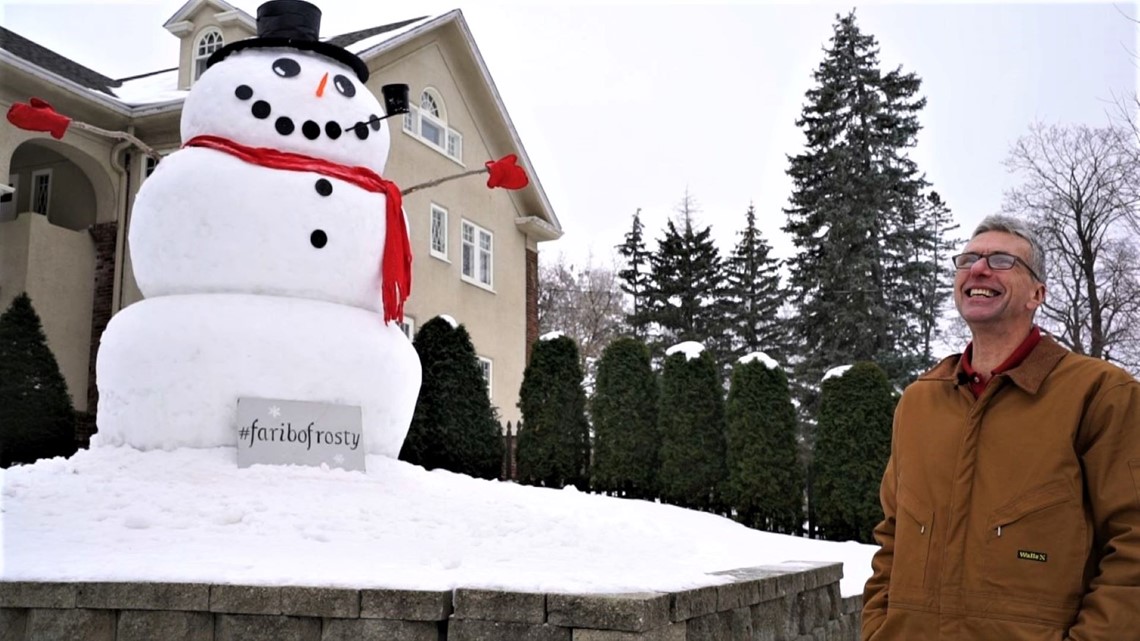 Andy should know. He's the man responsible for the massive snowman that rises each year in front of his home on a corner lot near Faribault's downtown.
"You can never be in a bad mood when you're building a snowman," Andy says.
To see the way people are drawn to Andy's corner, Frosty's mood-brightening skills do not just apply to the builder.
"We do this every year. This is like a highlight every year to bring the kids," Rose Holz says as she photographs her three children in front of Frosty.
Andy's yard is well-traveled.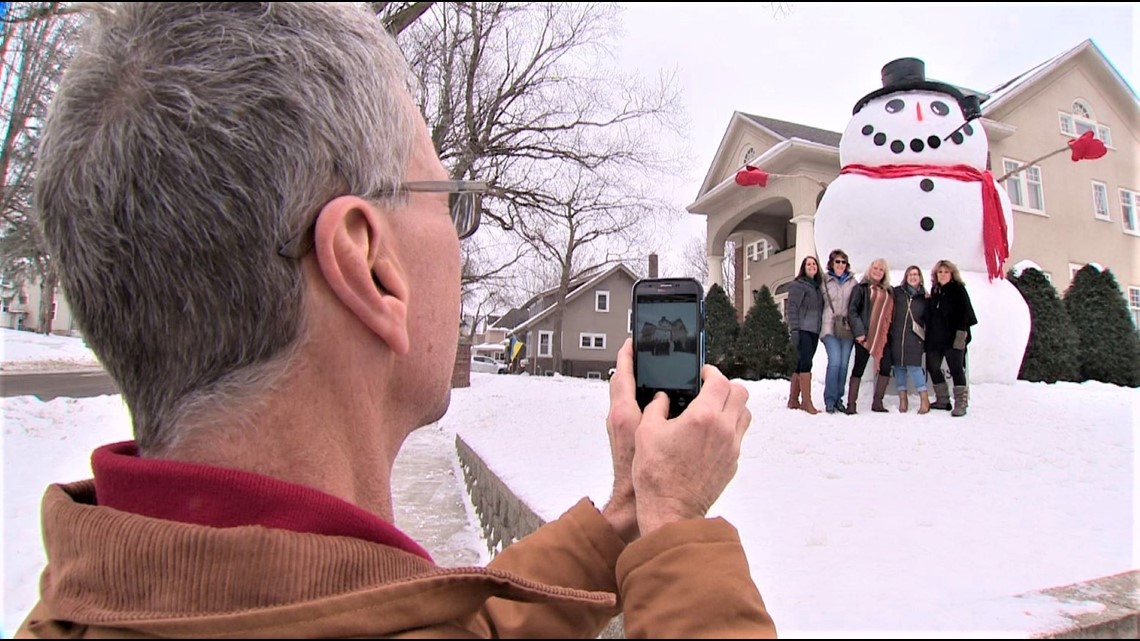 "I sit and watch out my window and three generations will go take their Christmas pictures – people all dressed up in matching sweatshirts and stuff," Steve Franck, Andy's next-door neighbor says.
Owning hundreds of posts, Frosty is easily Faribault's most Instagrammed celebrity.

The paparazzi duties often fall to Andy.
"Over a little bit this way," he instructs the members of a family as he snaps their photo. "Perfect," he tells them. "You guys are looking good."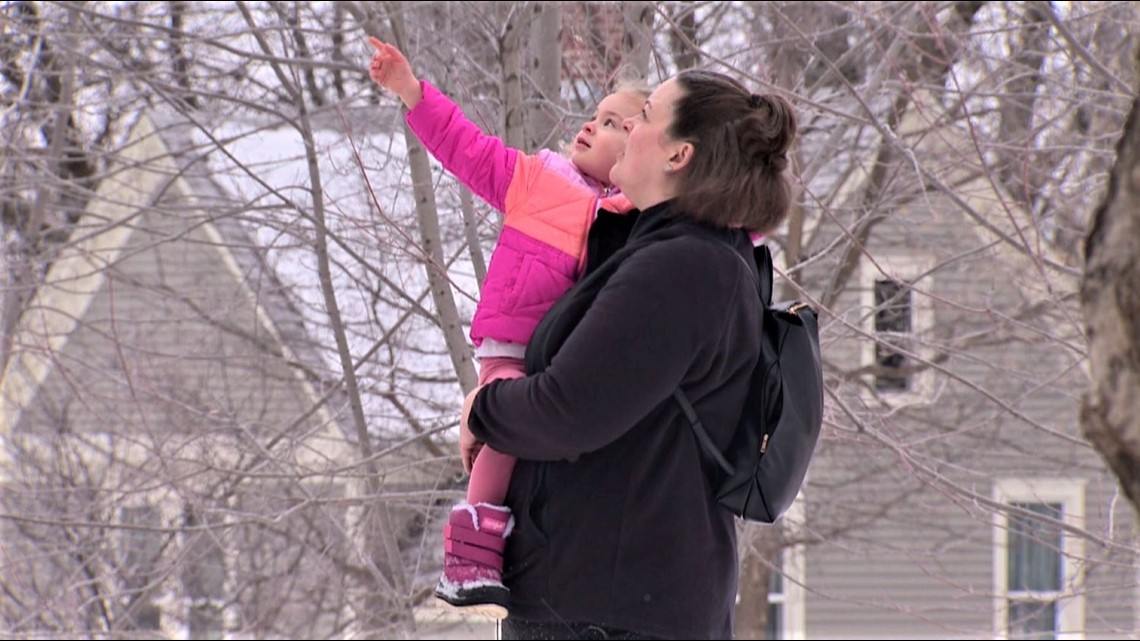 If Andy's the photographer, Deb Hoisington is the archivist.
"Let me see," Andy's wife says as she sorts through stacks of photos taken over the past 18 years.
"That's the first one," she says.
The couple's oldest son is shown, while home from college, building an early version of Frosty for his younger siblings.

The tradition Jacob Hoisington started was fully embraced in subsequent years by his father.
"There's been engagements, and people take their pregnancy pictures," Deb says. "Miss Minnesota, she stopped by."
Andy prefers the ice arena's Zamboni shavings to natural show. They are whiter, cleaner and, when mixed with water, more easily packed.
Yet, even Andy was taken aback when the arena agreed to run its Zamboni during the COVID shutdown solely for the benefit of Frosty.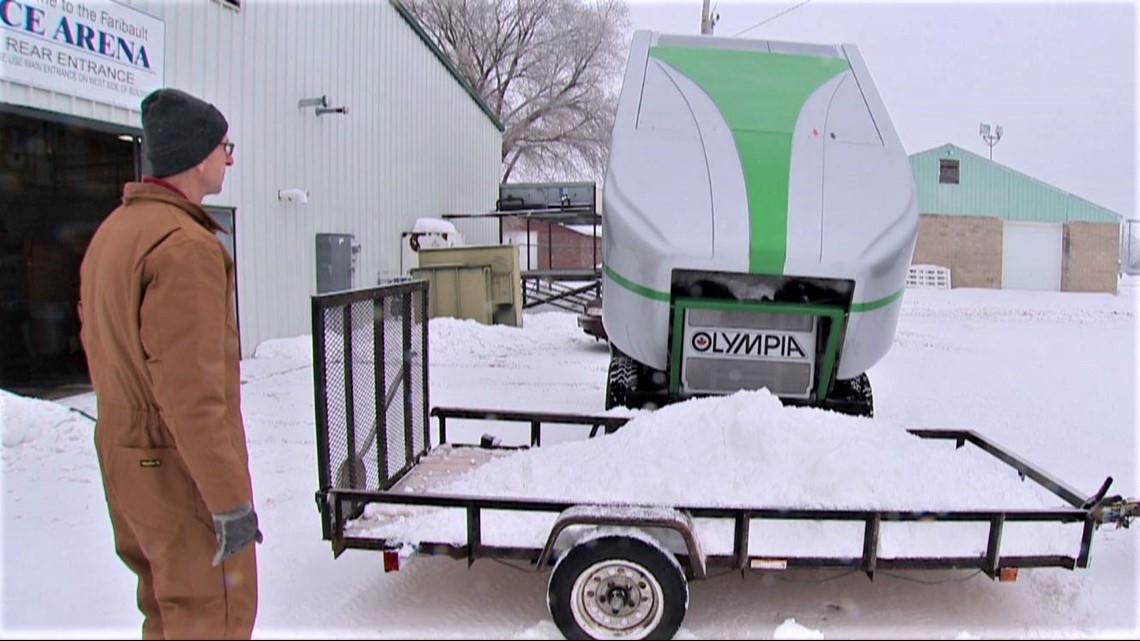 Deb says Frosty took on greater importance to Faribault residents during those dark days.
"It was their only outing; we had several people tell us that. Especially older people, that was the only thing that they could do," Deb recalls.
Andy estimates he spends 60 hours each year building Frosty, making dozens of trips to the arena towing his trailer behind his SUV.
As the winter months unfold, Andy makes more arena runs for Frosty touch-ups.
During a December rain, Andy protected Frosty by wrapping him up in blue tarps.
"It'll be freezing out - like the kind you don't want to go to the grocery store cold - he'll be out there working on that thing," Steve says as he looks on from next door.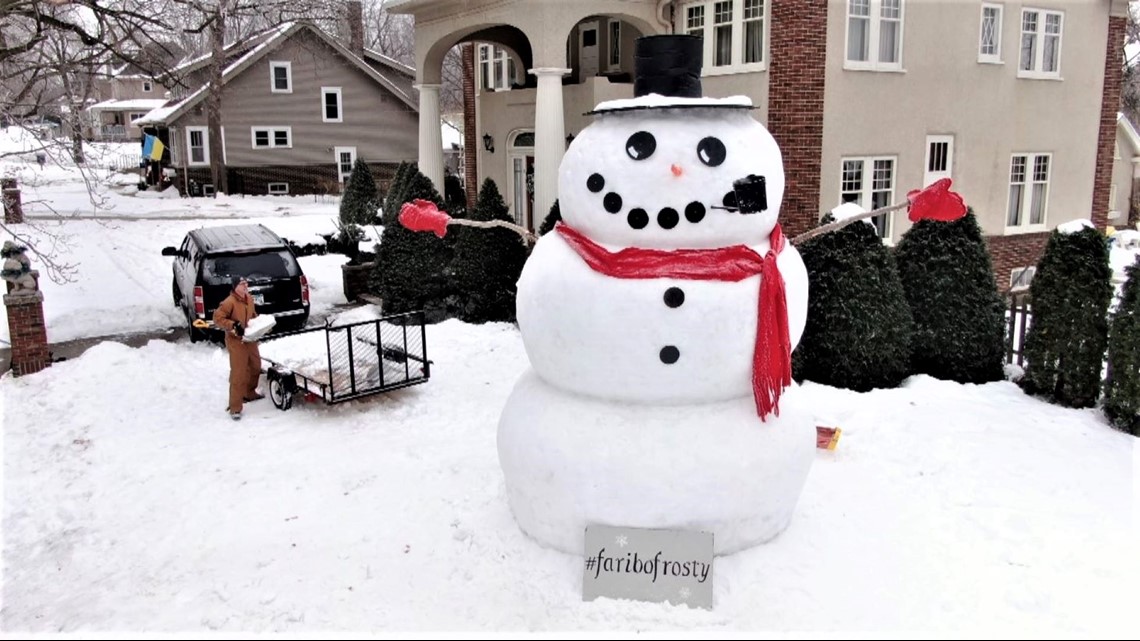 "You see him interacting with the little kids and stuff," Steve continues. "That's him. He loves that."
A group of friends from the Faribault class of 1983 stop by for a picture with Frosty. Andy smiles as broadly as the classmates as he snaps their photo.
"Andy's got a big heart," Steve says from next door. "He's got a big heart."

Boyd Huppert is always looking for great stories to share in the Land of 10,000 Stories! Send us your suggestions by filling out this form.