ROCHESTER, Minn. — It's hard to pay attention to something you're not seeing.
Yet over the past six decades, Lee Herold has become adept at it.
"I would wager money, actually, that there's more people in Minnesota that know what the Texas flag looks like than what the Minnesota flag looks like," Herold says.
As owner of Herold Flags in Rochester, Lee is more than aware of how few people fly the Minnesota state flag.
But Herold's disdain for the flag originated with the flag's design in 1958, while Herold was still in high school.
"At that time, I thought, well, they did such a poor job someone will come along and they'll fix that. But no one did," Herold says with a laugh.
Even as a young boy, Herold was fascinated with flags. He remembers using crayons to create flags on his mother's dish towels.
But the principles of flag design Herold learned as a lad, have little resemblance to the folded flag Herold pulls from a box on a shelf near his cash register.
"It doesn't stick with you. It doesn't stick in your memory," he says of the Minnesota state flag draped from his hands.

Good flags, Herold says, are simple, while Minnesota's flag is a sardine can's worth of symbols, words, and dates crammed in a circular seal on a blue background.
The state flower, the state motto, the state tree, St. Anthony Falls, a stump, a rifle, and a hatchet all occupy the circle.
Also sharing that space is a barefooted farmer plowing a field as a Native American man rides away on horseback. A 1983 tweak adjusted the rider's position in relation to the farmer, but it's still hard to miss the implication of an Indian being driven off the land.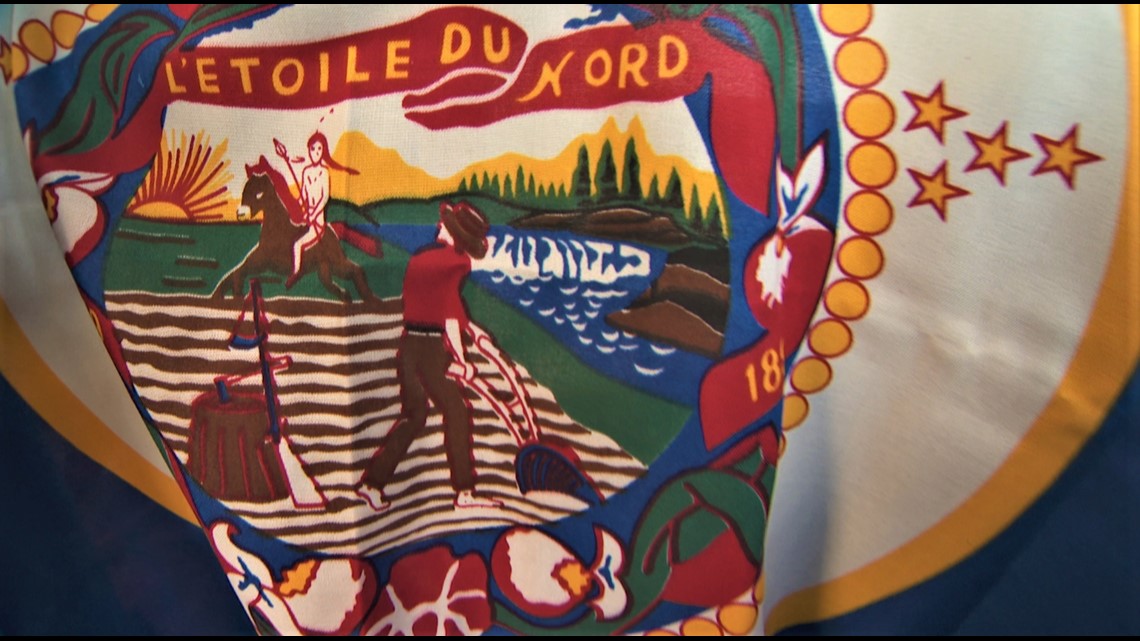 Since high school, Herold has been imagining what might have been.
"This is Texas," he says, holding up the Lone Star flag. "It's not just popular in Texas, it's wildly popular."
From a display rack, Herold grabs other state flags widely flied in their home states: Arizona, New Mexico, and Maryland. All are bold, yet remarkably simple.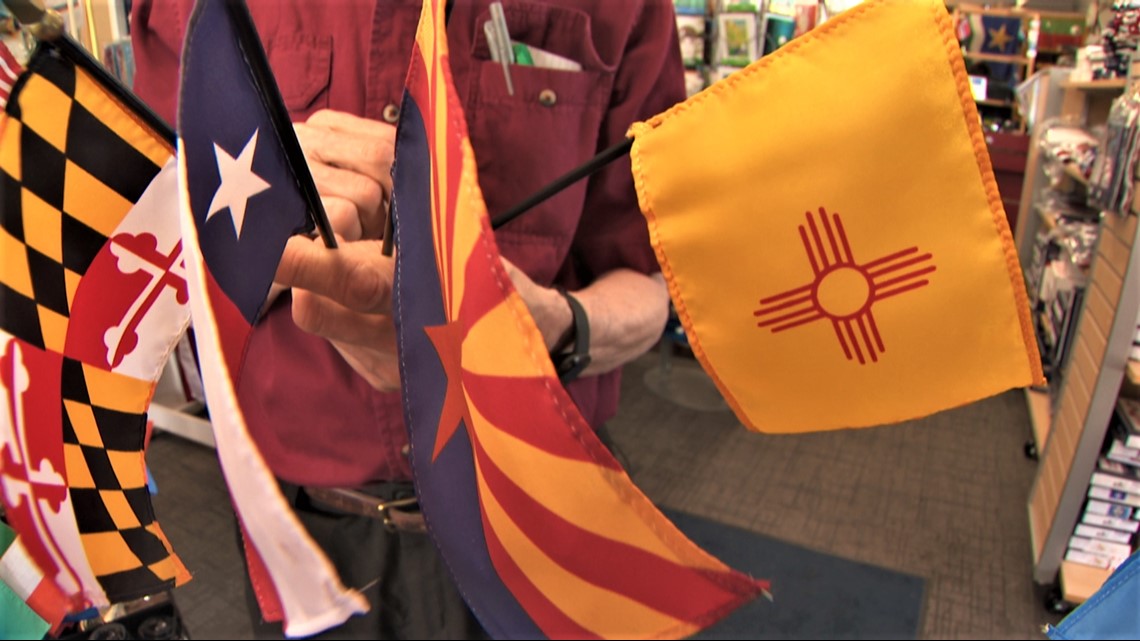 "If you look at popular events in Maryland, you'll see this everywhere," Herold says of the Maryland flag adopted in 1904.
In contrast, one can drive across broad swaths of Minnesota and, aside from the occasional government building, never see a state flag flying.
The absence continued to bother Herold. "Your state flag is your brand, it's a selling point for your state,"
Someone, Herold thought, needed to so do something.
Herold teamed with Bill Becker, a Catholic priest and fellow flag enthusiast, to create the North Star flag.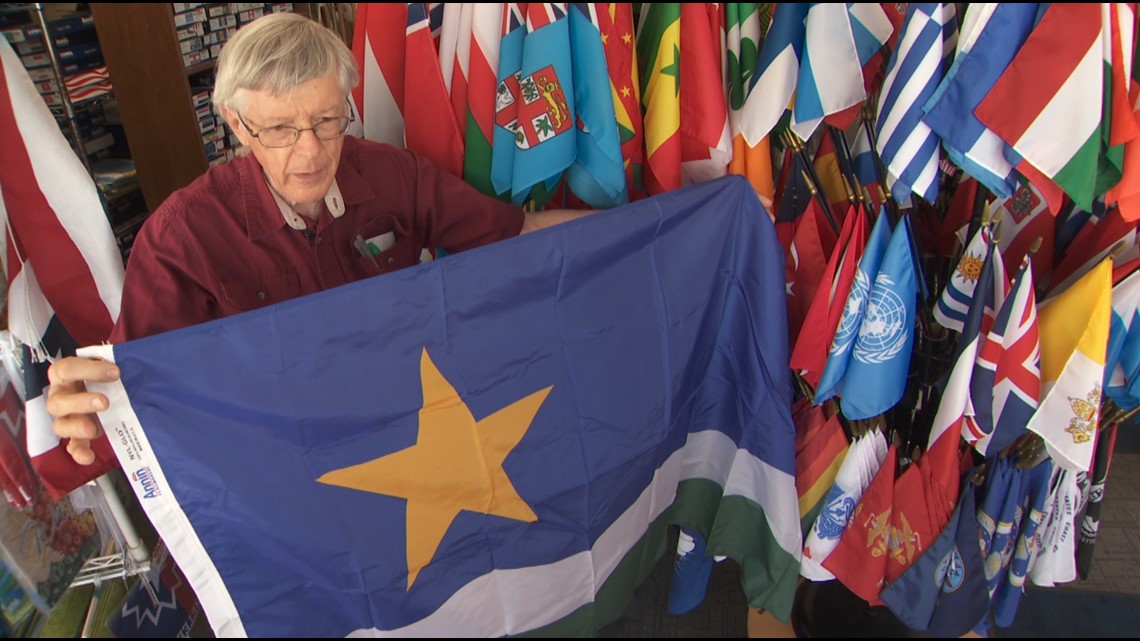 In contrast to the current flag, Becker and Herold's flag is simple: a gold star to represent the North Star, placed on a field of blue to represent the Land of 10,000 Lakes.
The blue transitions to a wavy white swath that could, Herold says, be snow.
The base of the flag transitions a final time to green to represent Minnesota's forests and farms.
Harold holds up a 1989 Rochester Post Bulletin article detailing the flag's unveiling.
That same year, legislation was introduced to replace Minnesota's current state flag. The Republican-sponsored bill went nowhere. Nor did a series of other bills introduced over the ensuing years.
Along the way, a funny thing happened.
With so much of his focus on flags, in 1995 Herold closed his accounting office and opened a flag store.
"It got away from me," Herold says with a laugh. "It may surprise you, but selling flags is more fun."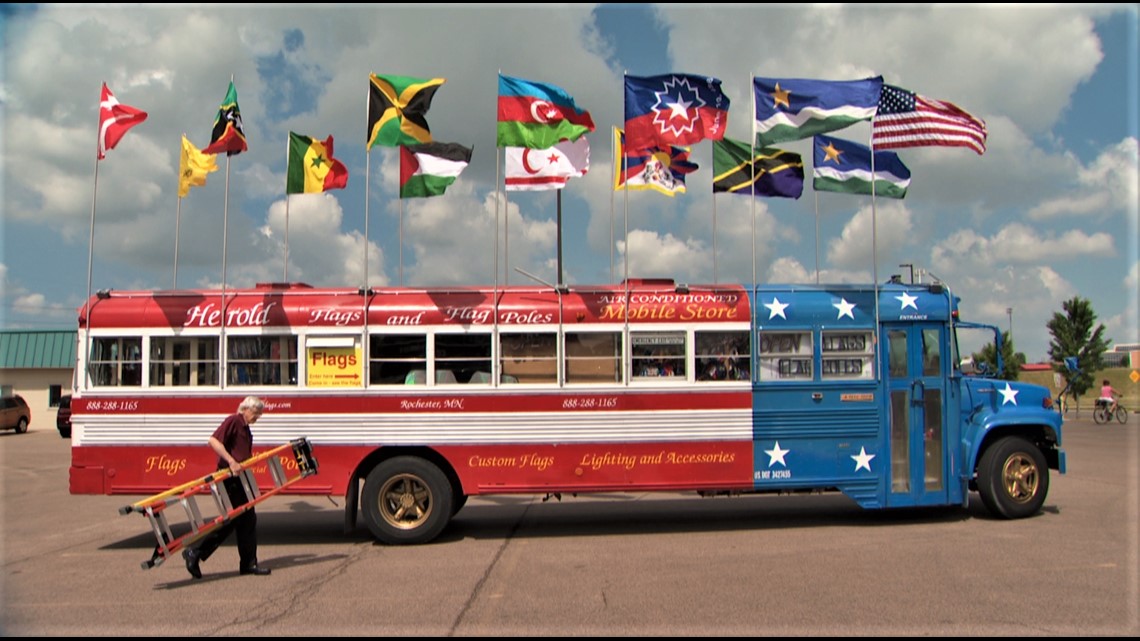 It was also pretty fun for Lee this spring when the state legislature voted to replace Minnesota's state flag.
"Finally," Herold says. "I knew it was just game of persistence."
The legislation leaves the design of the new flag to a 13-member commission made up of various interest groups appointed by the governor.
Herold has applied for one of three at-large positions.
He says the final design doesn't have to be his, but after all these years he'd at least like a seat at the table.
"Some states have looked at it and made their flags worse," he says. "If that happens, I will be unhappy."
By law, the commission must present its design recommendations to the state legislature by next January 1st.
Sponsors hope a new state flag will be flying over the capitol by statehood day on May 11th.
Herold hopes to see fewer of them sitting in unopened boxes on his shelves.
There's no happiness in a flag not flying.
WATCH MORE ON KARE 11+
Download the free KARE 11+ app for Roku, Fire TV, Apple TV and other smart TV platforms to watch more from KARE 11 anytime! The KARE 11+ app includes live streams of all of KARE 11's newscasts. You'll also find on-demand replays of newscasts; the latest from KARE 11 Investigates, Breaking the News and the Land of 10,000 Stories; exclusive programs like Verify and HeartThreads; and Minnesota sports talk from our partners at Locked On Minnesota.