DULUTH, Minn. – The man approached the bicycle ice cream cart with money in his hand – and a strange request.
He didn't want ice cream for himself.
He wanted to buy it for others.
That simple gesture along Lake Superior has triggered a wave of giving.
"It's overwhelming," says Stacey Achterhoff, the Duluth bike cart proprietor who goes by the name Mrs. Delicious.
Today, the bulk of Stacey's business is paid forward.
Customers get free ice cream. Then, many of them immediately reach into their pockets to pay for ice cream Stacey will later give to others.
"People want to know that goodness is prevailing over evil, and they want to be a part of that," Stacey says.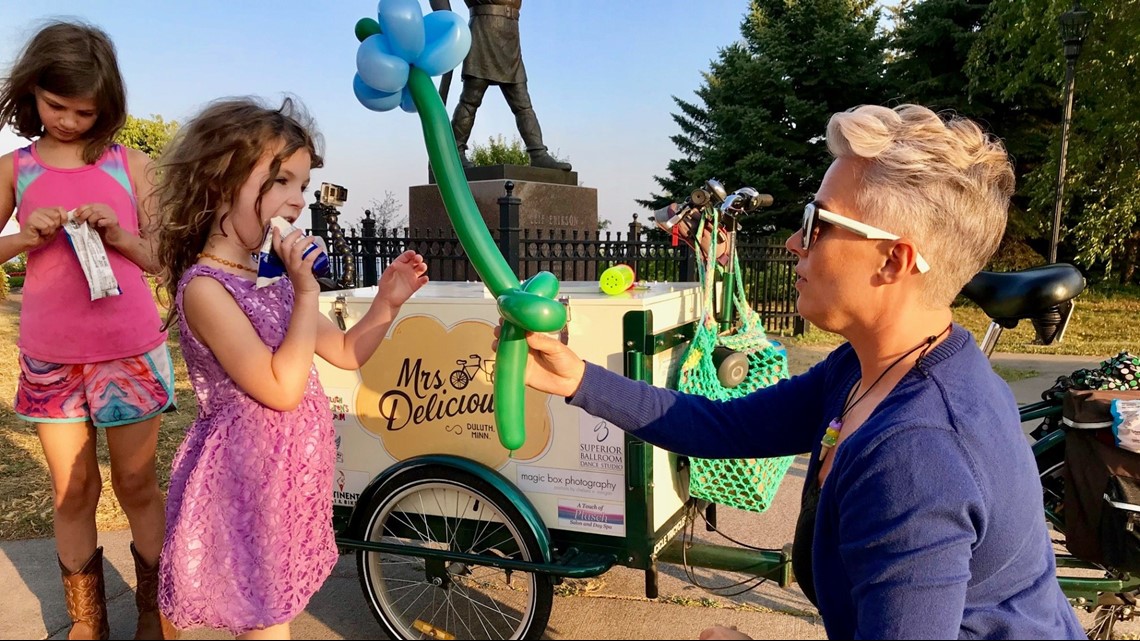 Steve Peterson gets the credit for starting the giving. Three years ago, he saw Stacey dispensing ice cream and had a sudden urge to do something nice.
He told Stacey, "When you find somebody that may not be able to afford a piece of ice cream or something, why don't you go ahead and give them one on me."
Stacey wrote about the encounter on her Mrs. Delicious Facebook page. "And then person after person after person said to me, 'That's such a great idea,'" Stacey says.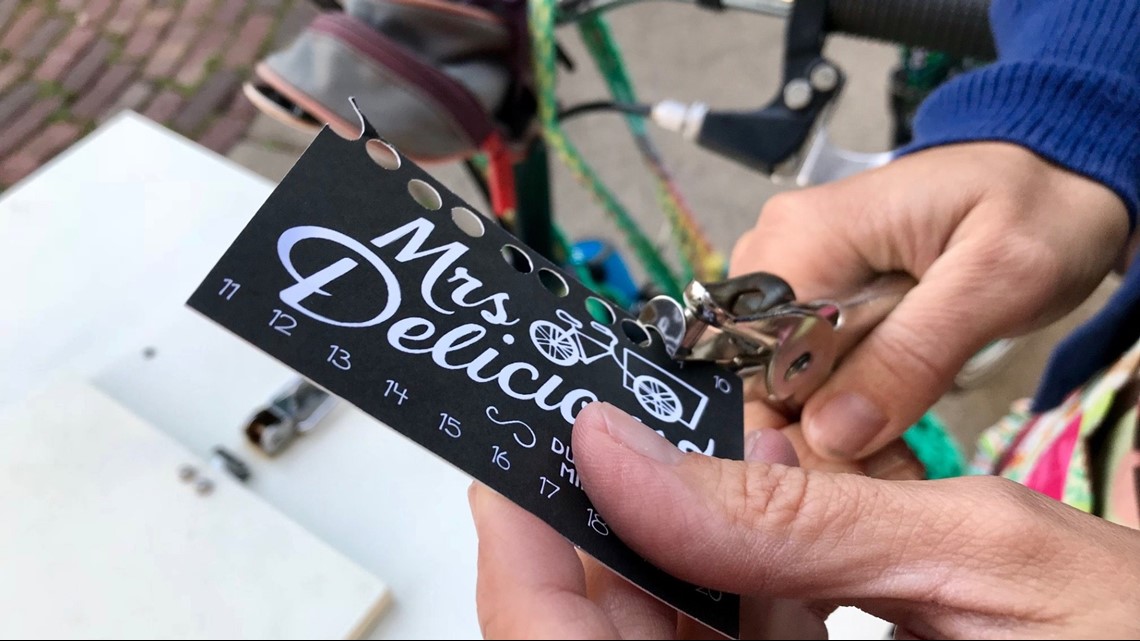 Stacey keeps track of the pre-paid purchases on $10 punch cards she carries in her apron.
Binner Rahn walked away with a free ice cream bar, only to leave behind in Stacey's apron, two pre-paid cards.
When asked about the $20 she had just spent – while netting only an ice cream sandwich – Rahn responded, "It doesn't matter. It's a great deal. It makes me feel I can be a part of it."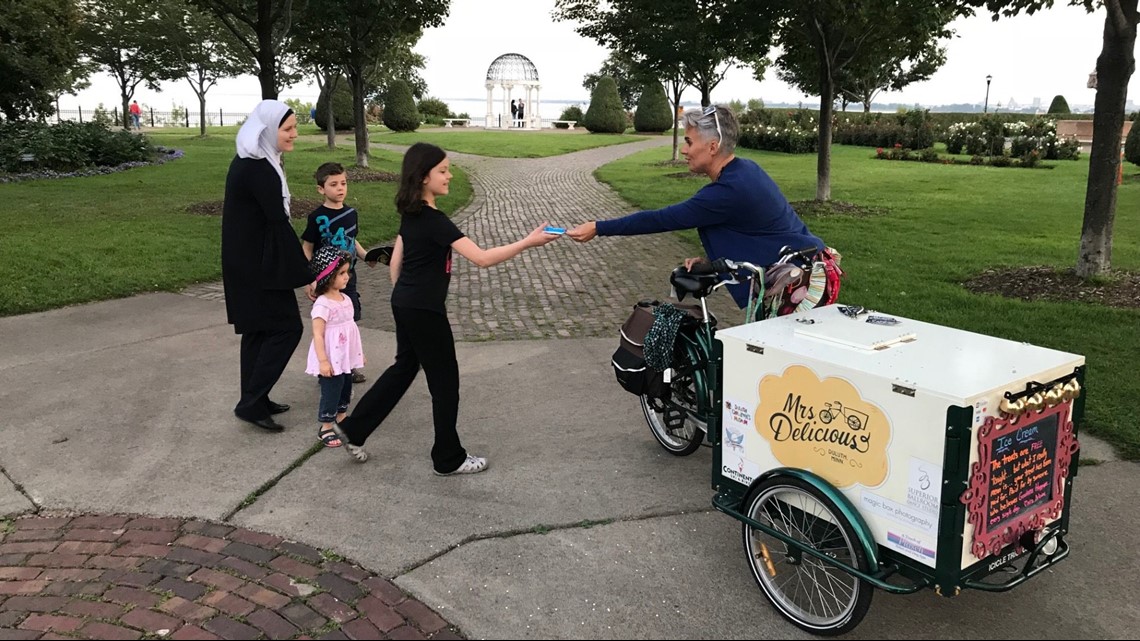 During the school year, Stacey works for Duluth Public Schools, teaching homeless children and others from families in transition.
While Stacey hadn't envisioned a pay-it-forward model for her side business, she purchased her bike cart with goodness as her motivator.
In 2009, Stacey's 91-year-old great aunt, Maxine Ballew, was murdered by an intruder who broke into her Missouri home and left with stolen jewelry.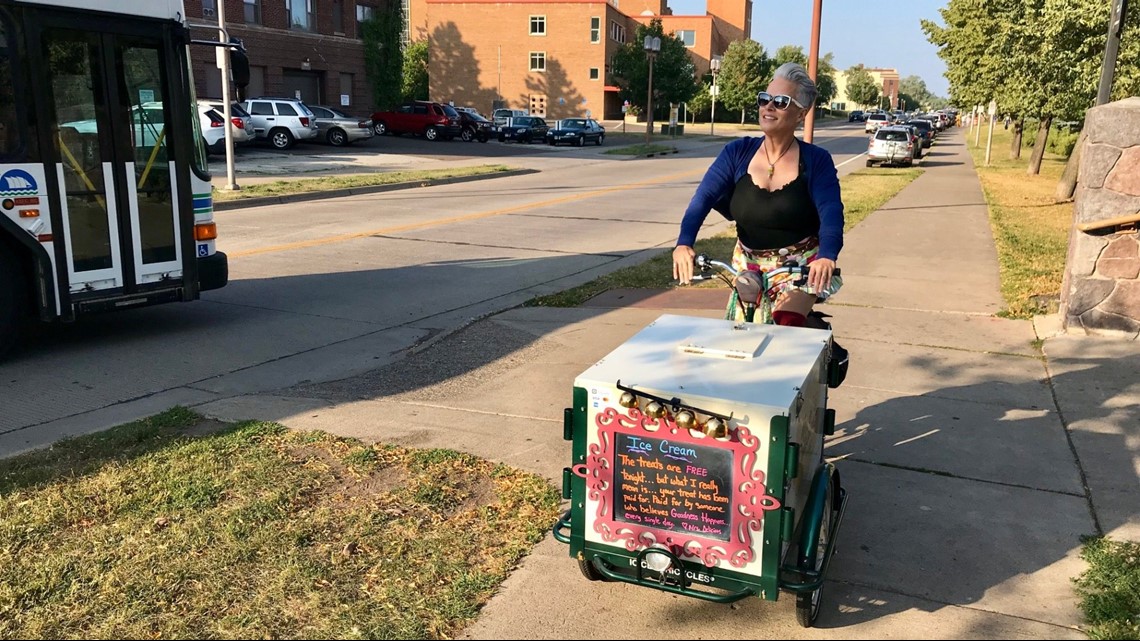 The 33-year-old killer was sentenced to life in prison. Stacey read her family's victim impact statement in the courtroom.
Not long after, she began shopping for a bike cart.
"I'm a person of faith, and what do you do when terrible things happen? You have to figure out where the light is," Stacey says.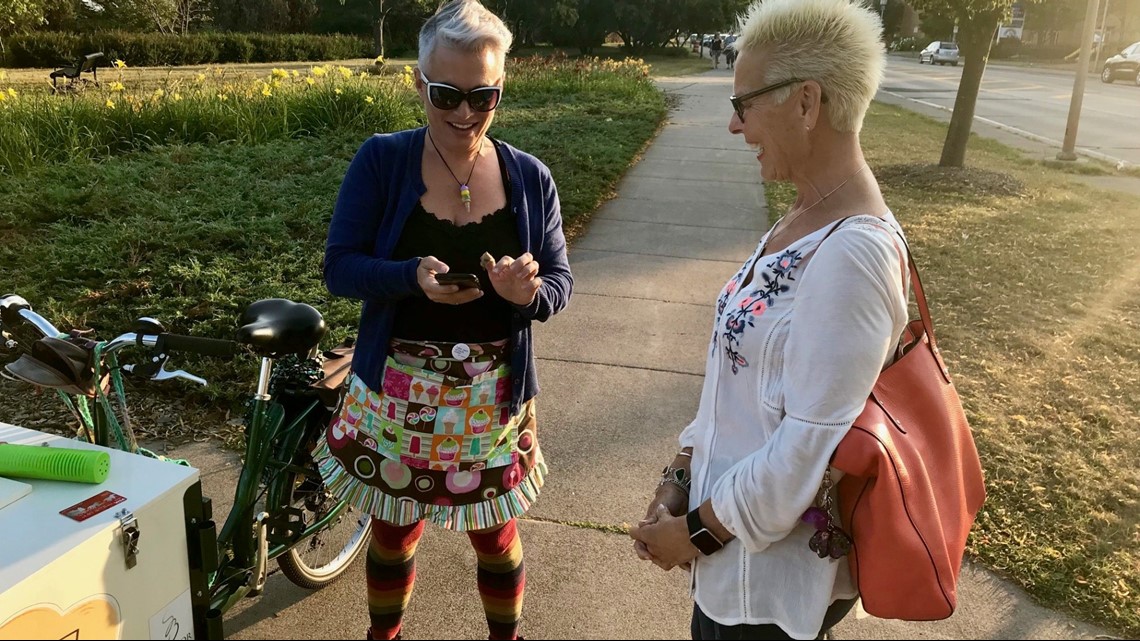 Finding light is exactly what brought Lee Bujold to the bike cart on a recent evening.
Lee handed over to Stacey her credit card to give $50 worth of ice cream to others, in honor of Lee's stepson, who had passed away a few days earlier.
"He was a middle school teacher, Lee said. Gifted ice cream, she decided, would be a perfect memorial. "What better way: ice cream, warm summer night and kids."
PHOTOS: Land of 10,000 Stories: Mrs. Delicious