RICHFIELD, Minn. — The Facebook messages started arriving about two years ago.
"Congratulations on your award, Boyd," one of them read.
"Love your stories," said another.
Kind and consistent, the notes kept coming.
But who was the young man, smiling widely in his Facebook profile picture, who'd been sending the messages?
Curiosity finally got to me.
It's how I ended up in Joe Carr's bedroom, with a lift in the ceiling and open space on the floor for Joe to navigate his wheelchair.
The bedroom that serves as a shrine to Minnesota sports is also the place of origin for most of the notes that Joe's been sending me.
It's where I begin to understand the effort those notes had to have taken the 20-year-old quadriplegic.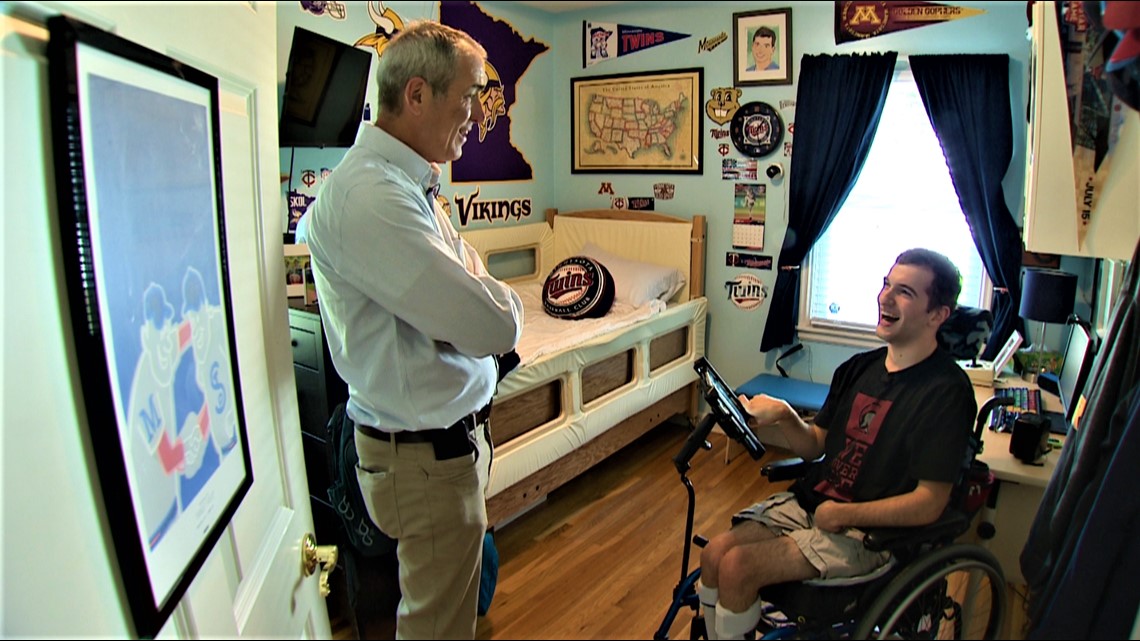 "Joe," I ask, "why did you start sending me notes?"
Tapping intently on an electronic tablet, with a bent wrist and a single finger, Joe enters his response into the program that provides his voice.
"I just want to say what a great reporter you are," the computer responds for Joe.
Kindness comes as naturally for Joe as his smile.
It's the sort of smile that eluded Joe's parents after his birth.
Joe was born with his umbilical cord knotted tightly around his neck, cutting off oxygen.
"Something called a true knot," Kristi Carr, Joe's mom, says. "They had said, 'spastic quadriplegia cerebral palsy.' And that means all four limbs are involved for Joe."
But it turns out, the only one who didn't worry about Joe was Joe.
"Just stayed happy," Joe's dad, Mike Carr, says.
"You'll go in his room in the morning, and he'll have a smile on his face," Joe's mom adds.
Joe's ready smile served him well in school.
"He loved high school," Joe's mom says. "And everybody loved him."

Joe was a regular at Richfield High School sporting events, which earned him a spot on the varsity basketball team at the position of "SF."
"Superfan," Joe says through his translator as his face lights up.
In his notes to me, Joe had never mentioned that his high school classmates voted him king of their winter festival.
Nor had Joe mentioned the jubilant squeals he emits when he rides his adaptive bike on the street in front of his house.
It's a sound of which Joe's dad never tires.
"He just does it when he's excited. I think it's just kind of letting go," Mike says as he smiles almost as broadly as his son.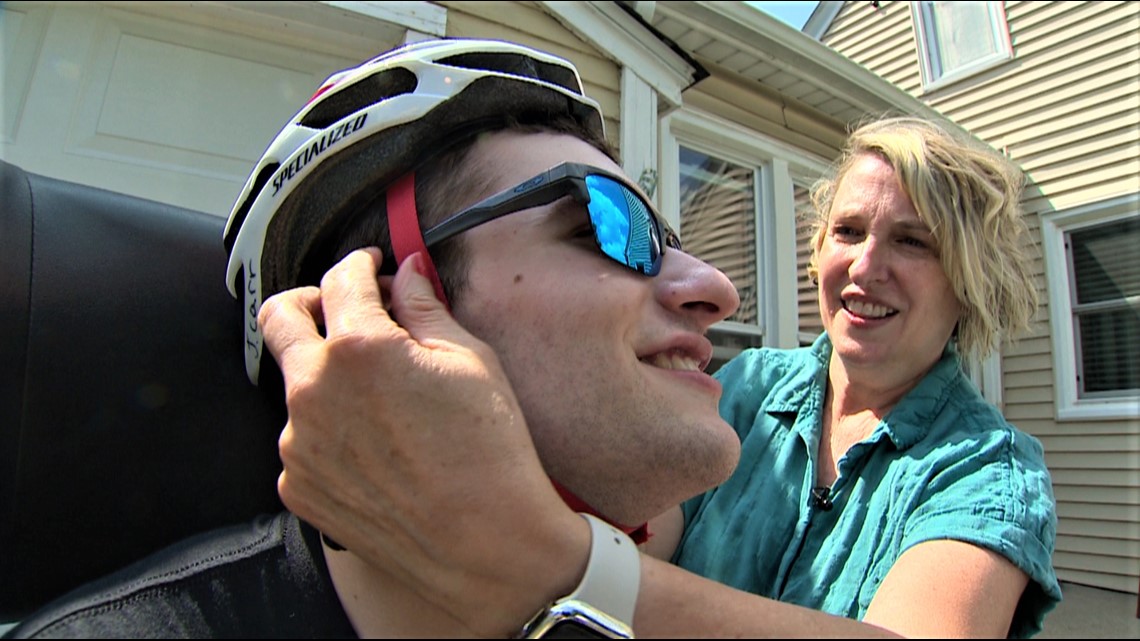 There's one thing Joe did mention to me, several times, in his notes.
Each year he hosts a lemonade stand in partnership with his longtime paraprofessional Bill Aberg.
Bill is first to admit the partnership has been one-sided.
Not only did Joe come up with the idea, on social media, he is a publicity machine.
"Look at him, he just attracts people to him," Bill says as a stream of cars pull up in front of the Carr home, their occupants instantly drawn to Joe.
Over the past eight years, Joe has raised through his lemonade stand, $55,000 for Gillette Children's Specialty Healthcare.
"It's hard to not feel joy when you have an interaction with Joe," Carmen Christian says as she sips lemonade.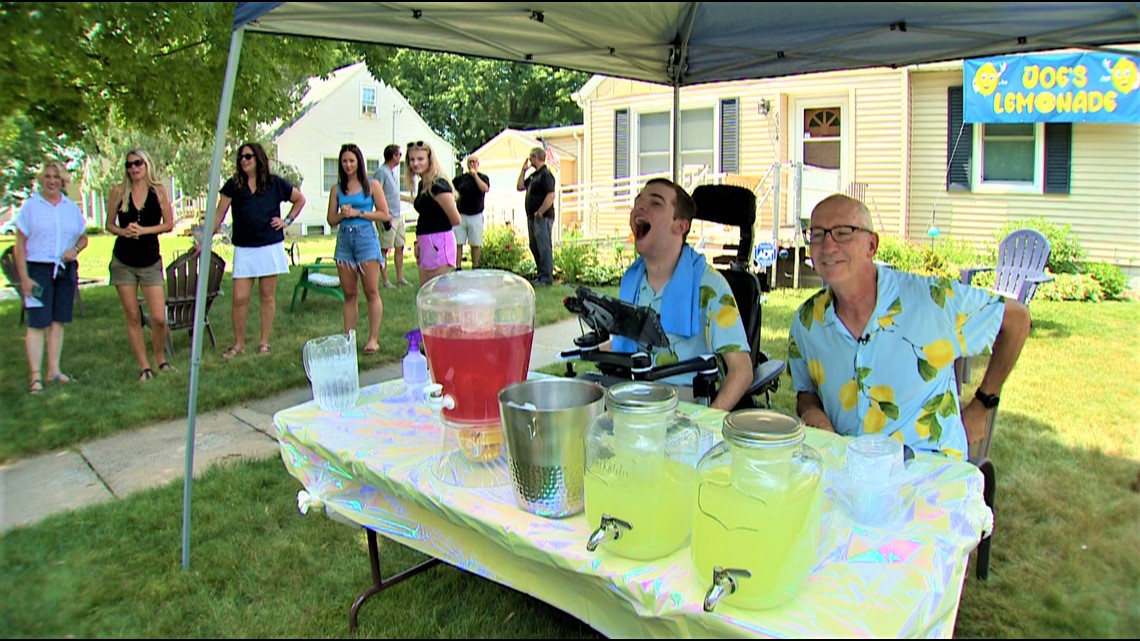 I arrived at the lemonade stand thinking I had a special connection with Joe.
I left shortly after the fire department pulled up - sirens blaring - as I began to realize Joe has a special connection with everyone.
"No fire," a Richfield firefighter informs me. "We just came to see Joe."
Which helps explain what happened a few evenings later at Richfield City Hall.
"We have the presentation of the Gene and Mary Jacobsen Citizen of the Year award," City Councilor Simon Trautmann announces to the fans of Joe packing the council chambers.
Applause transitions to a lengthy standing ovation as Joe is presented with the award.
It is here that I further learn my connection with Joe is not even unique among Twin Cities television news reporters.
"Congratulations," Susan-Elizabeth Littlefield from Channel 4 tells Joe as she delivers a warm hug. "I'm so proud of you," she tells him.
Not five minutes later, Ellen Galles from Channel 5 is offering her own hug and congratulations.
"You look so handsome," she tells a beaming Joe.
They'd learned what I learned, only sooner.
The citizen of the year is just a good Joe.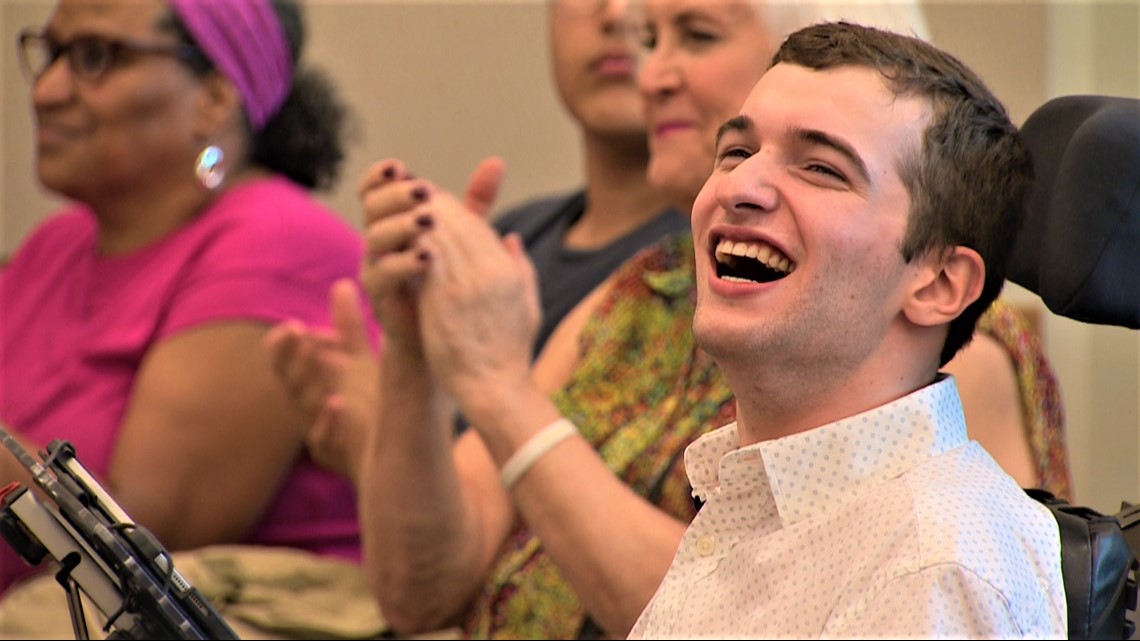 Boyd Huppert is always looking for great stories to share in the Land of 10,000 Stories! Send us your suggestions by filling out this form.
WATCH MORE ON KARE 11+
Download the free KARE 11+ app for Roku, Fire TV, Apple TV and other smart TV platforms to watch more from KARE 11 anytime! The KARE 11+ app includes live streams of all of KARE 11's newscasts. You'll also find on-demand replays of newscasts; the latest from KARE 11 Investigates, Breaking the News and the Land of 10,000 Stories; exclusive programs like Verify and HeartThreads; and Minnesota sports talk from our partners at Locked On Minnesota.