DARWIN, Minn. – That Tom Geislinger is alive today can be traced back 11 years, to a 6-year-old boy in a police uniform.
Ryley Pollock was dreaming, even then, of saving lives.
"He was ready," says Lorri Pollock, Ryley's mom. "When he had to do a school project, it was always about first aid or police officers."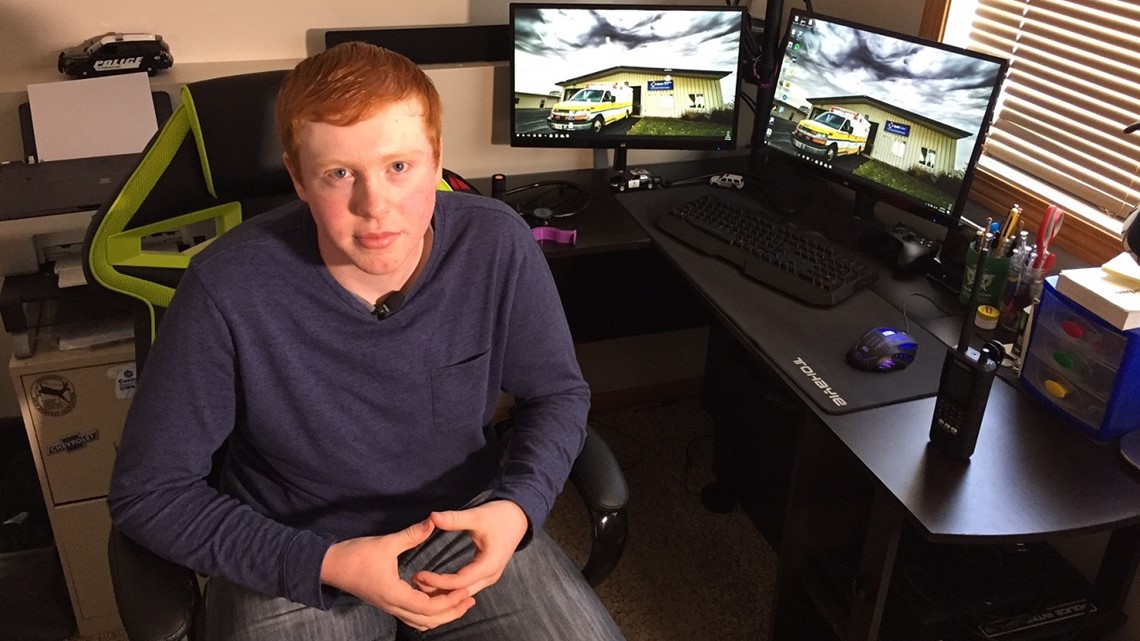 Now it's officers who are honoring Ryley, after the Darwin, Minnesota teen drew on his CPR skills save Geislinger's life.
"I'm here, I get to be a father, get to be a dad," the father of two young children says. "It's all because of that one kid."
Geslinger, 40, was at an auction last fall in rural Eden Valley, when his heart went into cardiac arrest. He collapsed on the ground.

Ryley and his mom were at the same auction when someone called out for a nurse or doctor.
Lorri Pollock says Ryley uttered an expletive, "and my son took off - just booked."
Without pause, Ryley threw his keys to a stranger and pointed to his truck. Inside was the EMT first aid kit he'd ordered on Amazon.
Months earlier Ryley's mom had questioned the purchase. "I saw it, and it was this massive thing, I'm like, 'What the world do you need all that for?'" Lorri Pollock says.

But now Ryley and his first aid kit were being called upon to save Geislinger's life.
"When we got him on his back, I said, 'We need to start CPR,'" say Ryley. He was calling upon skills he learned online, at school, and in his part-time job at a nursing home.
The teen gives credit to others who stepped in to help him, including two men who took turns doing chest compressions.
An ambulance was dispatched, but took more than 10 minutes to reach the rural location.
Ryley and the others kept blood pumping to Geislinger's brain and organs until help arrived. Geislinger spent 11 days in the hospital, then fully recovered.
"According to all odds, he should have been dead," says Geislinger's wife Deb, tears streaming down her cheeks. To which her husband adds, "He did everything right. Complete hero."

In March, Ryley was among those honored at a courthouse ceremony hosted by Meeker County Sheriff Brian Cruze.
Ryley received hugs from Tom and Deb Geislinger, and Tom's parents, Diane and Birdie Geislinger.
After a long embrace, Diane called her son's rescuer "a very special young man."
"Thanks isn't enough for what you do," Birdie told Ryley, after wrapping his arms around the teen.
Ryley's mom laughs when she thinks about her initial skepticism about his first aid kit. "You know, I think he had a mission or intuition or something," she says now.

For Riley, it just came naturally. He is, after all, the boy who trick-or-treated as cops and FBI agents – and runs mental scenarios while shopping at Walmart about what he might do if someone collapses.
"That's what I think about pretty much all the time," Ryley says with a laugh.
"God placed him there that day," Lorri Pollock says. "I firmly believe that."
Post ceremony, Sheriff Cruze reminded Ryley, "We've got a reserve program when you turn 18."
Ryley beamed. "Definitely going to go for it," he told Cruze.
The sheriff made clear, "You definitely have that drive that we're looking for."
PHOTOS: Land of 10,000 Stories Ryley's Rescue