SOMERSET, Wis. – Time has not dimmed her parents' pride.
"So that's her nose and her mouth," says JoAnn Hardegger, pointing to the ultrasound photo in the baby book propped on the lap of her husband, Darrin Swanson.
The book's pages are neatly organized. One holds a tiny diaper, others a knit cap and birth records. Scattered throughout are JoAnn's handwritten notes to a baby girl.
JoAnn treasures the book like she did when she created it. "Because it's the only thing I have," she says, wiping away a tear.
The baby book documents Brighid May Swanson's gift to the world.
PHOTOS: Land of 10,000 Stories CaringBridge
CaringBridge did not exist 20 years ago. No one had conceived of a website to keep people with serious illnesses and injuries connected to their families, miles or even an ocean away.
Meaning there was no CaringBridge when, 24 weeks into her pregnancy and undergoing horrendous complications, JoAnn heard these words from her doctor: "We have to deliver the baby."
JoAnn resisted. "I said, 'Well, what if we don't because it's not time for the baby?' And he just said, 'You will die.'"
Brighid was delivered three months early, weighing one pound. Her mother not out of the woods herself.
"We were in survival mode, both of us," says Darrin, glancing toward his wife.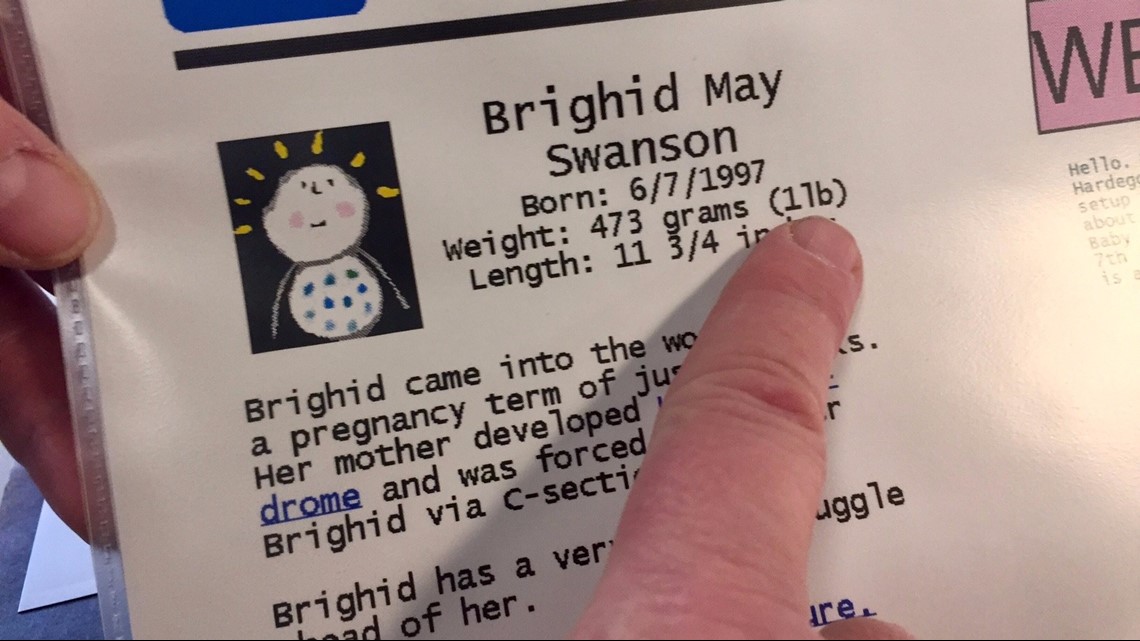 When a family friend asked Darrin if she could help in any way, he didn't think twice. Darrin had been so consumed with the fragile state of his wife and daughter he had been unable to keep the updates flowing to concerned family and friends.
"I said, 'Well, it's so hard to get back to everybody,' and she said, 'How about if I find a way to do that for you?'"
That friend, Sona Mehring, was uniquely qualified to make good on her offer. A year before Google and seven years before Facebook, the computer programmer hastily designed a website on which she could provide updates about JoAnn and her baby while, in turn, deliver supportive messages from family and friends.
Brighid and CaringBridge were born on the same day. Almost as quickly, Sona realized she was onto something.
"It helped everyone really come together in almost a healing environment, even from that very first CaringBridge post," she says. "I became very obsessed with this idea of being able to use a website, use technology, during a health journey."
Today, a new CaringBridge site is created every six minutes. More than 700,000 sites in all with more than 2 billion visitors.
Michael Bischoff's site is among them. "I think it was the same day I found out I had a brain tumor I started a CaringBridge page," Michael says from his Minneapolis home.
As Michael posts written updates and reflections about his cancer battle, his wife Jenny Larson, a photographer, fills her husband's CaringBridge gallery with photos.
"I read the comments and I get that support and community feeling too," Jenny says.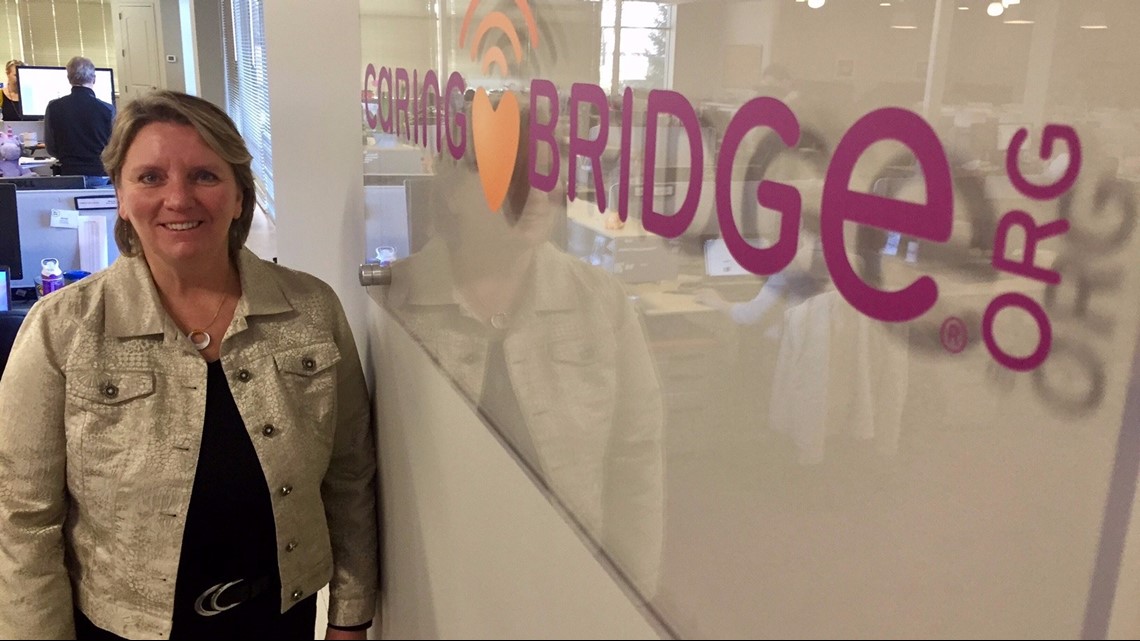 In a similar way, JoAnn and Darrin felt the love when their daughter's page announced nine days after her birth that Brighid had died.
"I don't think we could have ever gotten through that crisis without that community of support and every day CaringBridge does that for another family or another child," JoAnn says. "Brighid's the angel in heaven and Sona's the angel on earth."
Brighid's name is in CaringBridge's name. Her birthday is celebrated each year by the three dozen employees at the organization's Eagan headquarters.
"CaringBridge is Brighid's legacy," says Sona. The very thought brings comfort to Brighid's parents.
"I think she left a bigger legacy in nine days than a lot of us are ever going to leave in a lifetime," says JoAnn.
JoAnn and Darrin now have the family they dreamed of. A son, Sepp, is 18. Their daughter Anya is 16.
In June, the 20th Anniversary of CaringBridge, Sona will retire. The non-profit she founded will move forward.
Meantime, the girl who made a name for CaringBridge will go on making her parents proud.
"That's our daughter," smiles JoAnn.