WILLMAR, Minn. — The uniformed police officer at the high school entrance stands 6-foot-4 and weighs 265 pounds.
His hair is cut close to his scalp.
His badge glistens in the morning sun.
James Venenga strikes an imposing figure.
Imposing to everyone but his students.
"We call him Officer Kupcake," ninth-grader Emma Fuentes says.
Students deliver the soft and sweet moniker without a hint of derision.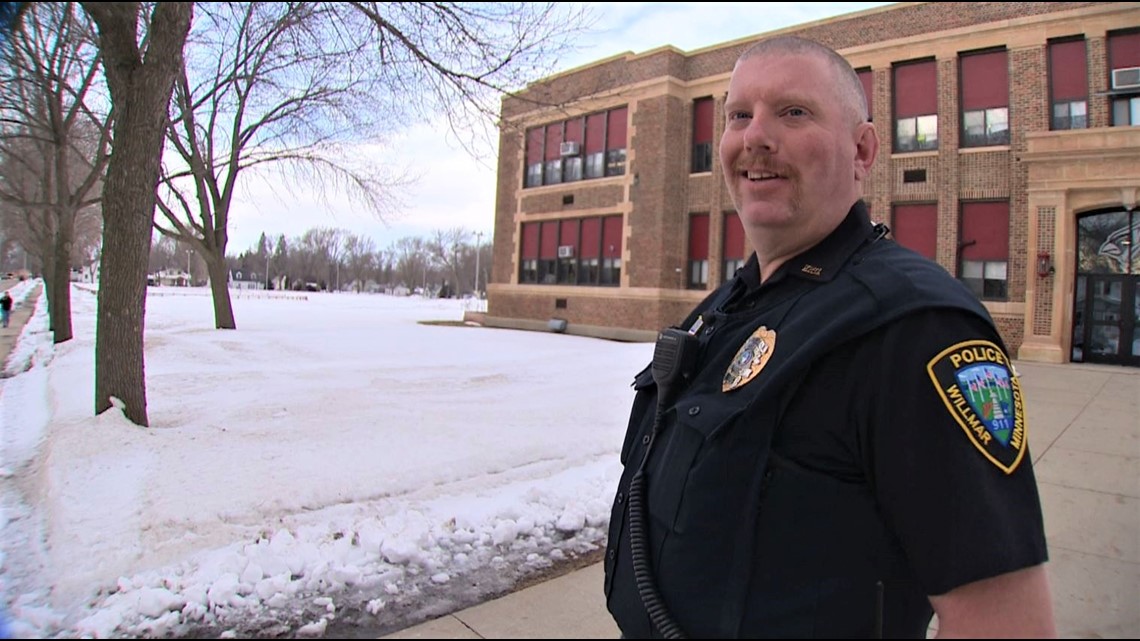 "You've got to embrace it," the 48-year-old officer said. "I'm not going to lie, most of them don't know my real name."
What they do know is his penchant for oversized glasses, feather boas, and ballet tutus worn just below his gun and taser.
"Am I different?" Venenga — adorned in a rainbow mohawk — asks student Yasmi Dillard-Ramirez.
She nods and smiles knowingly.

"It's comfortable," Dillard-Ramirez says of her relationship with her school's resource officer. "He's just so crazy and out there. He's an easy person to open up to."
Willmar's Alternative Learning Center, where Venenga works, is the educational home, primarily, for students who've struggled in a traditional high school setting.
The school's principal, Andy Gregory, says Venenga's non-traditional approach to policing is a perfect fit. "His ability to grow relationships with kids that struggle, it's phenomenal, it's amazing."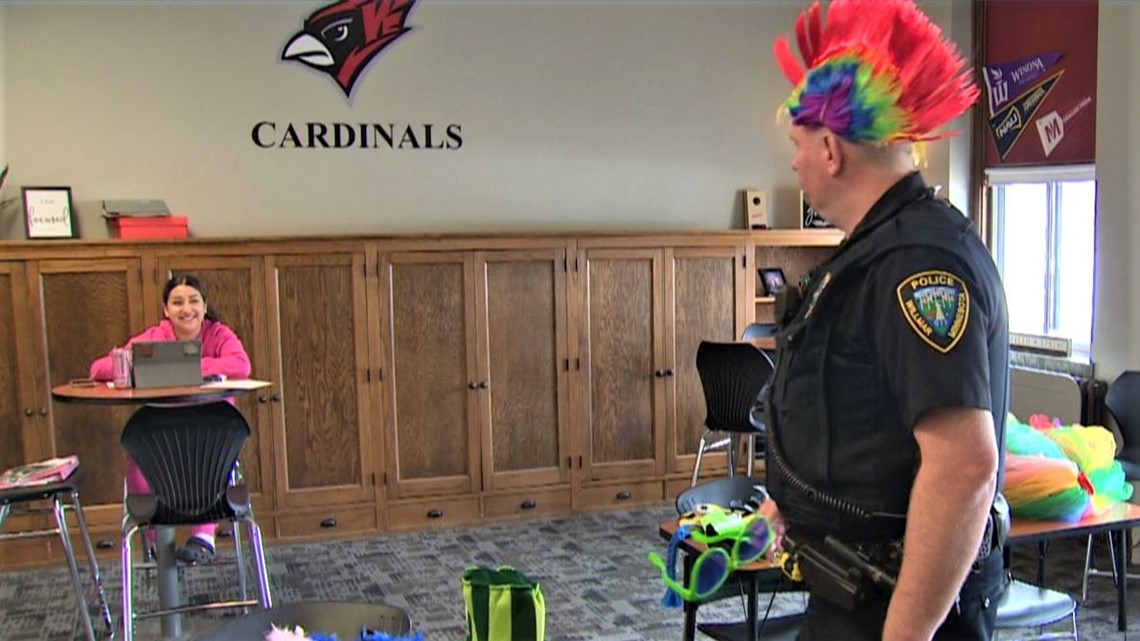 Venenga says his first duty is keeping students and school staff safe, but the fart gun on his office shelf suggests he's armed for any eventuality.
"There's times to be serious," Venenga says. "The other 95 percent, I can be me."
Being him means Venenga has cited students for traffic and other offenses who've then stopped at this office a week later looking for advice as they navigate the legal system.
"You don't have to be one of the people that's in your face. That's not how I roll. I'm the opposite of that," Venenga says.
On a recent Monday morning, Venenga spread ice melt on a slippery sidewalk before helping a student cross a wide puddle in her path on the way to school.
One day, Venenga might make and serve students a pancake breakfast as a reward for showing up to school on time.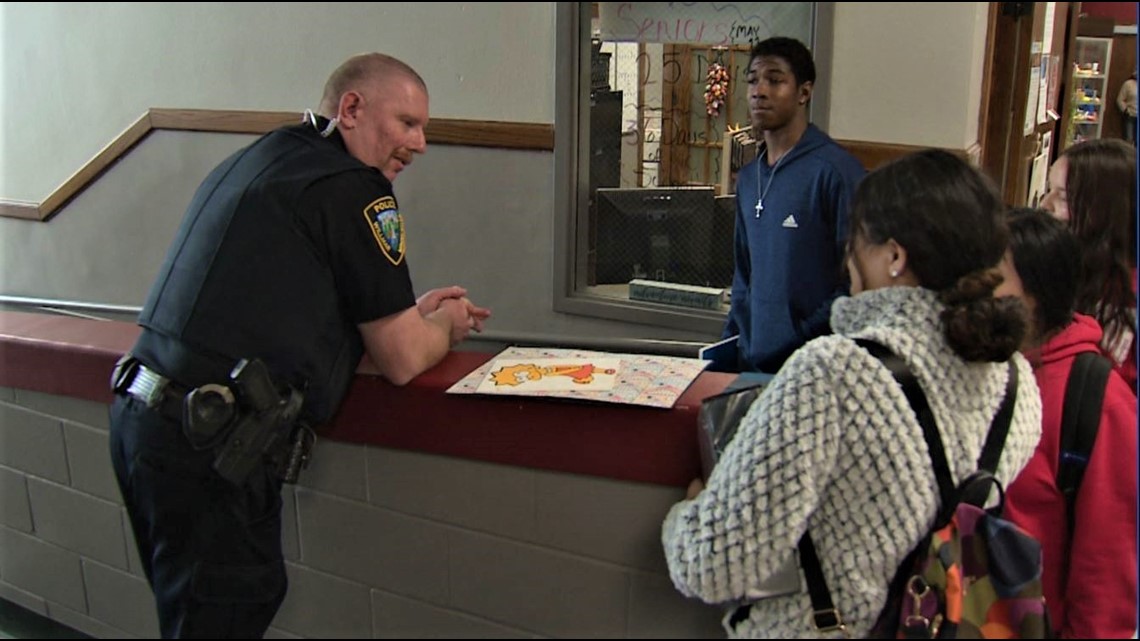 On another, he'll allow students to style his hair in exchange for good school performance.
"He's built different," student Jacob Reyes says after catching a glimpse of Venenga in his tutu and a blonde wig.
"Cops have, like, a reputation," Reyes says. "But then there's Kupcake."
Paraprofessional Sharon Rambow simply mentioned to Venenga her desire to cover a doorless closet in her classroom. "And he said, 'I'll sew you a curtain.'"
Rambow snapped a photo of the officer sitting at a table with fabric, a needle and thread in her room.
"There's kids that come in here with broken backpacks and he will sew them up. He'll sew buttons on for kids," Rambo says.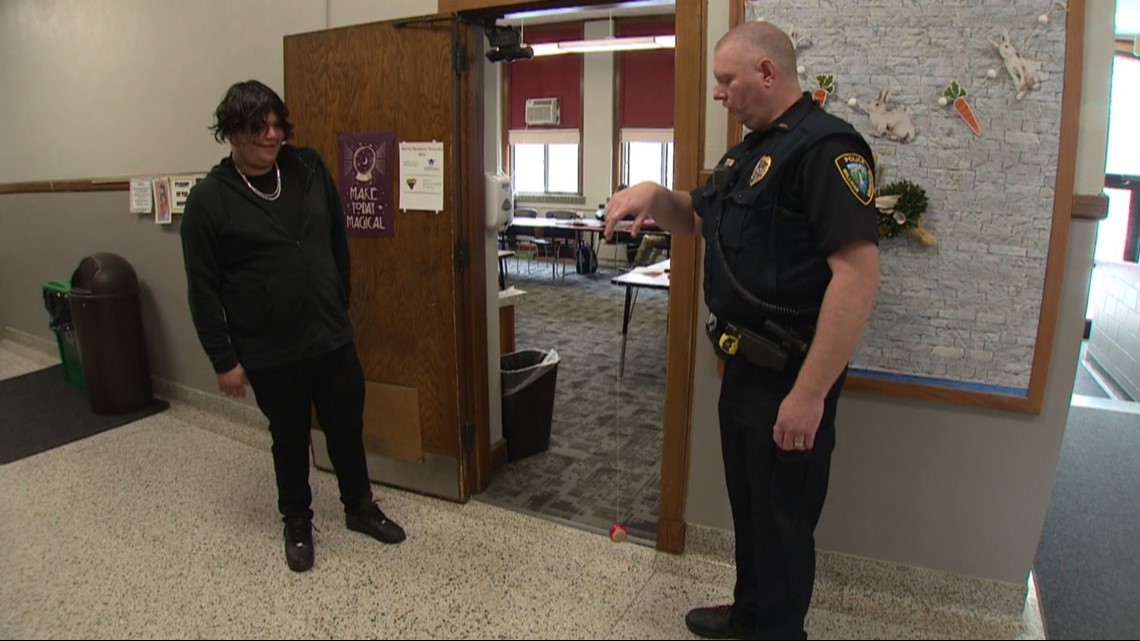 But can a soft-centered officer known as Kupcake still be an effective disciplinarian?
"I've seen very few kids test the boundaries," Principal Gregory says, "and the ones that do test the boundaries, he's able to let them know where the line is without letting them know where the line is authoritatively, which is a skill in itself."
At lunchtime, Venenga can be found playing ping pong with students in the cafeteria. At one point, he slips into the hall with a student whose behavior has crossed a line.
"Hey!" Venenga says to the student firmly enough to get his attention. "You can't be talking that way."
Gregory says Venenga's silly side doesn't impede his ability to rein in bad behavior. In fact, he says, it enhances it.
"He's a master at de-escalating situations. I don't even know if I could use intimidation in the same sentence with him," Gregory says.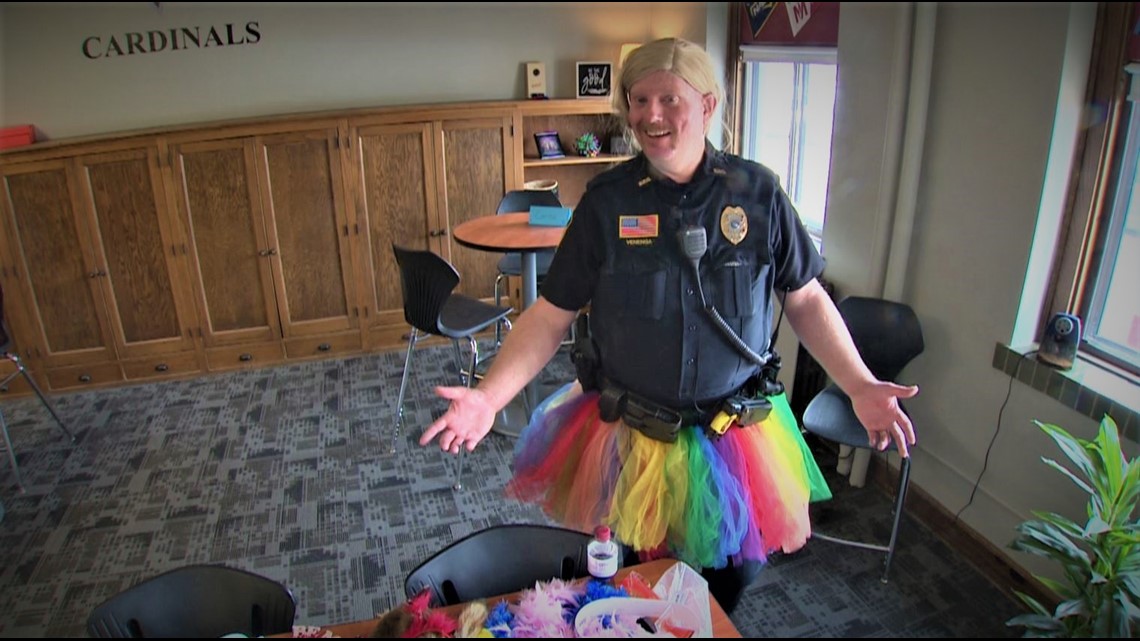 Venenga spends each Friday at Willmar's Kennedy Elementary School, the source of a series of drawings he's hung on his office wall.
In bright colors, a third grader has drawn pictures of the policeman she's labeled "Officer Cupcake" dressed in various costumes, including his signature tutu.
"When you look at that, does that say, 'I'm scared of the police?'" Venenge asks.
"No," he says, answering his own question. "So, am I doing my job? Yes. That's the whole goal."
Boyd Huppert is always looking for great stories to share in the Land of 10,000 Stories! Send us your suggestions by filling out this form.