MINNEAPOLIS — The City Council met briefly in closed-door executive session Friday, and then voted to approve a $200,000 lawsuit settlement with the family of Jamar Clark.
The 24-year-old Minneapolis man was shot to death in 2015 by one officer, at the insistence of a second officer who was scuffling on the ground with Clark. The officer said he thought Clark was gaining control of his weapon at the time he urged his partner to shoot him.
Clark's death sparked widespread protests and resulted in a virtual occupation of Plymouth Avenue in front of the Minneapolis Police Fourth Precinct headquarters.
The agreement releases the city and the officers who were involved in Clark's death of any further legal liability. The settlement money will be divided evenly among eight surviving relatives, after attorneys fees are deducted.
Dustin Schwarze, the officer who fired the fatal bullet, had already been removed as a defendant in the civil case. Mark Ringgenberg, the officer who took Clark to the ground initially and began wresting with him, was still a named defendant in the lawsuit at the time it was settled.
The Hennepin County Attorney's Office eventually decided against filing criminal charges against the officers, after the forensics lab found Clark's DNA on the Ringgenberg's service revolver.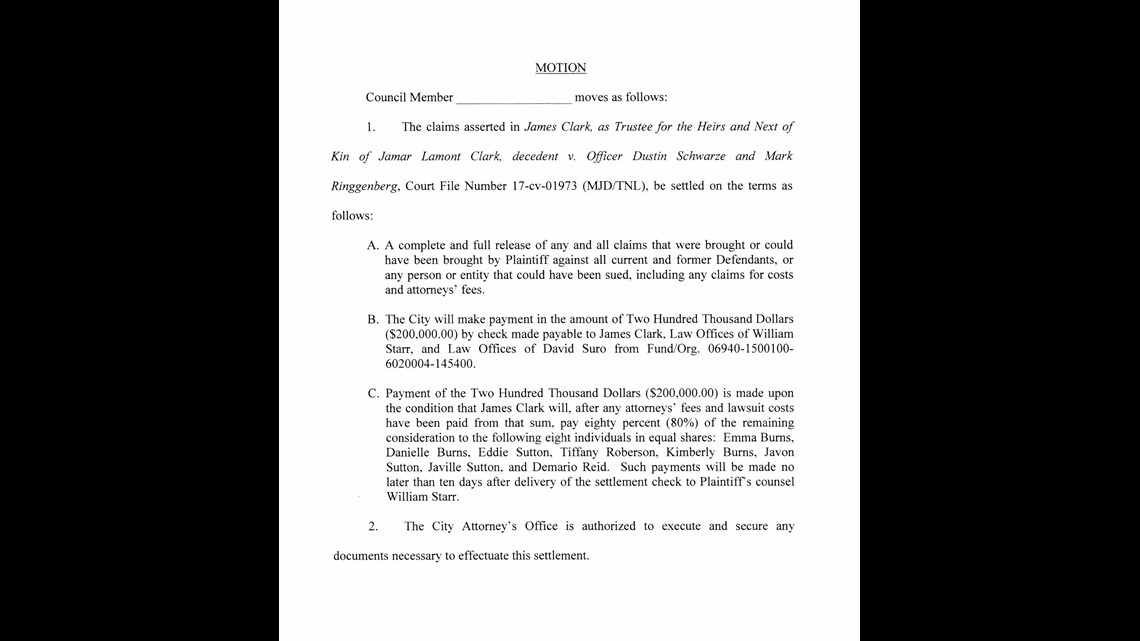 There were no protesters present at Minneapolis City Hall Friday, but in previous meetings demonstrators called attention to the fact the city reached a $20 million settlement with the family of Justine Ruszczyk Damon.
Ruszczyk was shot to death in 2017 by an officer who was responding to a 9-1-1 call from the victim herself. The officer, Mohamed Noor, said he was startled by her sudden appearance in the alley trying to flag down the squad car.
Noor was charged and later convicted of 3rd Degree Murder and Manslaughter. He is currently appealing that conviction.