ST PAUL, Minn. — According to the Department of Health, Minnesota has one of the highest rates of binge drinking in the nation.
Binge drinking is defined by the Centers for Disease Control and Prevention as having, for women, four or more drinks in about a two hour period. For men, it's five or more in that same time period.
Department of Health numbers show in 2018, 16 percent of adults nationwide reported having binge drank. Those numbers show in Minnesota 20 percent of adults reported having binge drank, with 25 percent of Minnesota men reporting they had binge drank.
"Minnesota has historically had one of the highest binge drinking rates in the nation. Often we are in the top four, five, six in the nation," said Dana Farley, Alcohol & Drug Prevention Policy Director with the Minnesota Department of Health. "Some people look at the Scandinavian culture ... the culture that settled here, that historically had some high rates of drinking and they brought that here."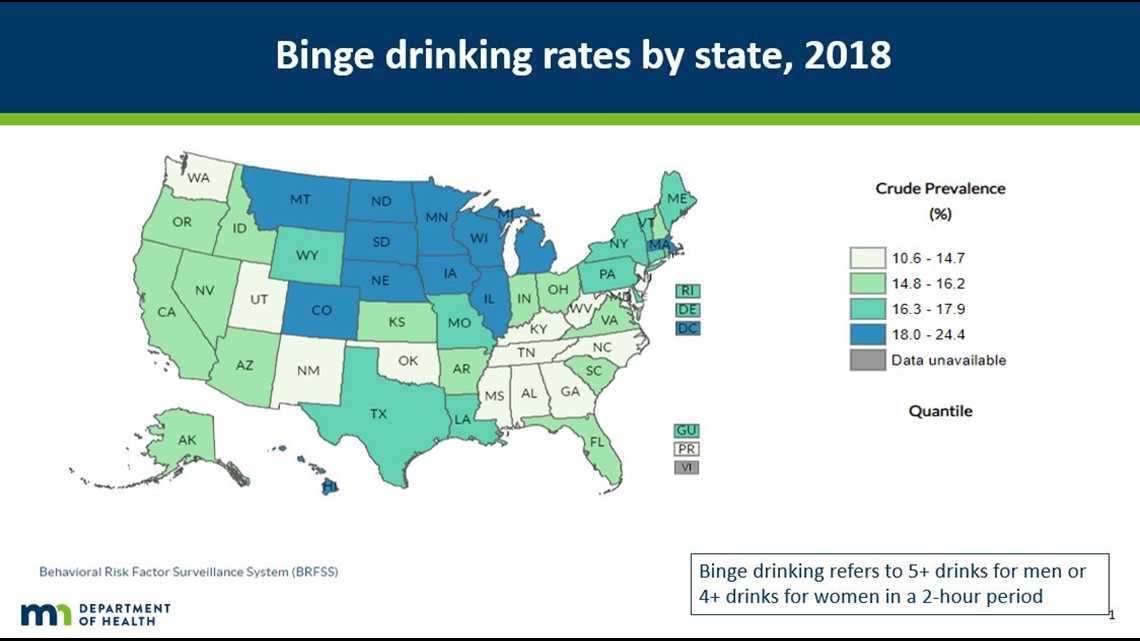 A map from the Department of Health shows Minnesota is one of just 12 states and the District of Columbia where 18 percent or more of the adult population binge drinks.
Farley says many factors are at play, but points to the culture in the region.
"Most people often do not realize how much they drink and how that compares to the rest of the nation, because we do have this culture of drinking here in Minnesota and the Upper Midwest," Farley said.