The 17-year-old was biking past the alley at the moment of the shooting and recorded 29 seconds of the aftermath on his cell phone.
The teen's video shows Noor's partner, Matthew Harrity, on the ground with Justine saying "Stay with me," and Noor is also crouched over.
The teen walks forward and says, "What's happening, sir?" and Noor approaches him and says, "just back up," you can record, but back up.
The teen admitted that he had smoked two joints, taken four shots of whiskey, and had headphones in at the moment of the shooting. He thought the officers were outside the squad when they shot.
But the teen thought prior to the shooting that he saw Justine Ruszczyk Damond with her phone to her ear and her other hand in the air, as if waving to the officers.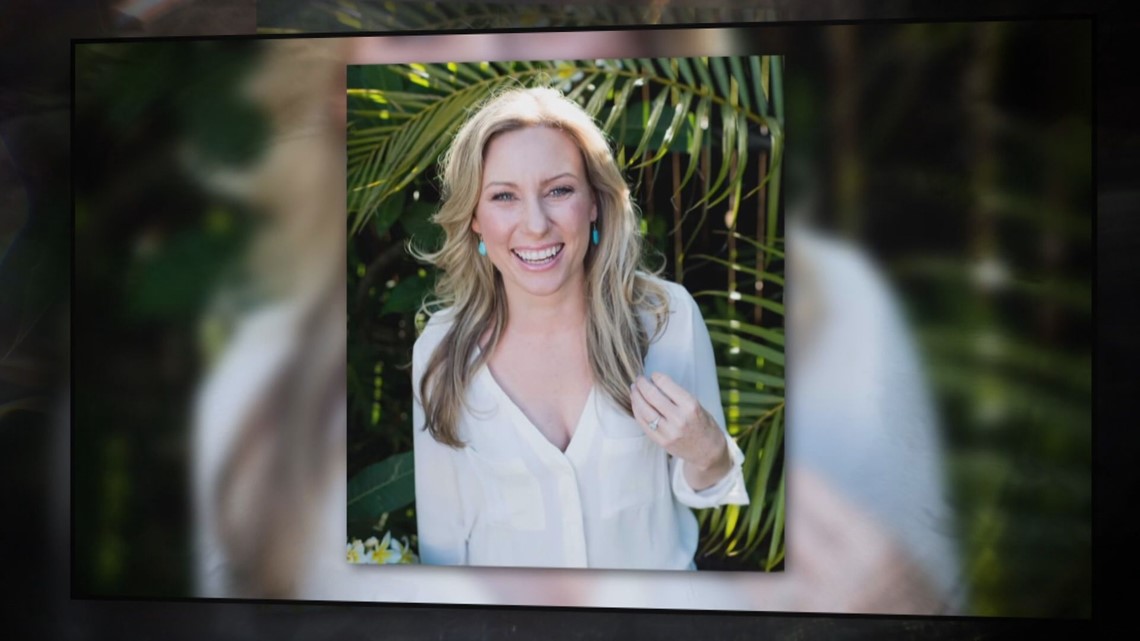 When asked why he recorded, he said, "In this day and age, everything is recorded. Cops were there. Cop Shooting. Got to record."
The teen described Harrity going right to Justine after the shooting, and Noor "pacing around, kind of seeing if anyone was there."
On cross examination, defense attorney Tom Plunkett pointed out how the teen currently doesn't remember much of anything. The teen said he "tried to get it out of my head as fast as possible" after his initial interview on it in 2017.
The teen shared the video on Snapchat with seven to 10 of his friends. Plunkett informed him it ended up on Facebook, which the teen was visibly surprised about, because he and his friends don't use Facebook.
Jurors laughed at this exchange: Plunkett said, "I gotta ask, were you selling the weed or not?" Prosecutor Patrick Lofton said, "Objection, relevance." The judge said, "Sustained, you don't have to answer." The teen: "Appreciate that."
Overall, it appears the teen is the closest thing to an eyewitness, but has serious memory credibility issues and could not provide any further details concerning whether Justine touched the car or not.
After the teen testified, the jury heard from three people who were attending a nearby party. The witnesses appeared to be used to nail down what time the shooting happened. Surveillance video shows a couple leaving, when they say they heard the gunshot, between 11:40:11 and 11:40:16 p.m.

They then drove past the alley, and the woman passenger said she could see a woman in pajamas on the ground with one officer attempting life-saving measures. She assumed they were responding to a shooting, not the actual shooter.
The woman said to her husband, "Wow, the cops got here fast. They never would have gotten here that fast in North," which is where the couple lives.
Before any of those people testified, the jury heard from Patricia McIlvenna, who lives nearby and was with her daughter walking a dog earlier in the evening of the shooting. She called 911 three times to report what she thought was a woman with dementia who might need help.
McIlvenna testified that after finding out details of the shooting and that Justine called 911 to report a woman screaming, McIlvenna told the BCA, "there certainly is a high probability that the woman I saw was the woman who Justine Ruszczyk heard."
However, both Justine's 911 calls and Don Damond's testimony make it clear Justine was hearing sex noises, possibly not consensual. McIlvenna testified that this woman in possible need of help was at most mumbling. She never heard her yelling.
It's worth noting that Noor and Harrity were the officers sent to look for her, and apparently couldn't find her. The woman in need was at a bus stop, so she very well could have gotten on that bus an hour and a half prior to the shooting.
The prosecution seems to be attempting to connect the dots that the woman in need might have been the one Justine heard, and showing the jury that the BCA was not interested in connecting the dots in their own investigation.
Investigator Nancy Dunlap also took the stand as a witness for the prosecution. It has already been established that MPD body cameras, when activated, include the 30 seconds prior to the button being pushed, because of a constant running buffer. This 30-second buffer does not include audio.
The only difference would be if an officer had their body camera powered down completely, sometimes we don't see the buffer at all if they need to power it on and activate it all at once.
Dunlap said that Harrity's body camera only has a 15-second buffer without sound, not the full 30 seconds. And Dunlap laid out a comprehensive timeline she created using evidence they've gathered:
11:40:15 p.m. Shot is fired
11:40:29 p.m. Harrity's body camera starts running
That is 14 seconds after the shot is fired, meaning if the full 30 second buffer was there, it would have included the shooting.
At the beginning of Dunlap's testimony, Prosecutor Patrick Lofton made it clear she was investigating things the BCA "was not willing to do," and that included investigating the woman possibly being raped whom Justine reported to 911.
Dunlap checked all other calls, checked into a sexual assault report center, and checked into local group homes. The closest thing to a possibility she could find was the woman in distress reported at 9:24 p.m. by Patricia McIlvenny. But Dunlap was never able to figure out who this woman was.
Here is the full timeline that was laid out leading up to the shooting:
11:27:01 Justine's first 911 call
11:27:42 Officers dispatched to call
11:35:22 Justine's second 911 call
11:36:04 Officers notified of second call
11:37:28 Officers announce arrival
11:37:40 Officers turn into alley
11:39:10 End of Justine's last call with fiance
11:39:34 Officers enter "code 4" (all safe) in alley
11:40:15 Shot fired
11:40:29 Harrity's body camera starts
11:40:42 Teen starts recording aftermath video
Dunlap testified that the day of the shooting, Harrity did not activate his body camera at all -- except for after the shooting. Noor activated his own six times.