EDEN PRAIRIE, Minn. — It's supposed to be the most wonderful time of the year, yet it can be the most challenging if you're dealing with loss.
"I think people get really surprised at this time of year, between Thanksgiving and then the other holidays, where they think, 'Oh good, I got through it; somehow I managed it.' And then once they get through it, it's that feeling of, 'Oh my gosh, I have to do this again," explained Carolyn Kinzel, Founder of Brighter Days Grief Center, a nonprofit with a unique operational model to help with all aspects of grief: logistical, psychosocial, and financial.
"We really want to make sure that these family members have access to support that they maybe wouldn't usually have just in getting grief counseling," said Kinzel.
Every family has a different story, but Kinzel founded Brighter Days in 2017 after experiencing her own hurdles.
"I was a single mom at the time when my son lost his father. And when he died, my child support went away, and his health insurance went away. And those were the things I never would have known," recalled Kinzel. "We experienced the whole process of what it was like to not only look for support but also run into the logistical pieces of 'How do you pay your mortgage?' Or 'What do you do with the car lease, the car in your garage?'"
There are other practicalities that Brighter Days helps families with, like canceling social media accounts and mail, as well as getting financial support to live. "Sometimes just getting them groceries because they're having a hard time just getting in their car to get out," said Kinzel. "Or it could mean they need access to a probate attorney because they've lost a spouse or a partner and no longer have an income."
The goal is to keep grieving people from feeling overwhelmed and to a place where they can process what happened. "If we can help with some of those logistics on the front side, then we can get them towards finding the grief support that they need," said Kinzel.
Grief does not know seasons, but the holidays can sometimes stunt the pace of processing death and loss. "We have to be very aware of the pressure we're putting on ourselves, the expectations we have for our families, our friends, group, whatever that may be, and really stay present in the moment," suggested Kelly Grosklags, a grief therapist who works with Brighter Days. "The problem is we're all walking around doing what we 'think' we should be doing and it's important for us to be authentic."
Grosklags also suggests simple pleasures to help you get through the day, like using your favorite mug and wrapping yourself up in comfort with items like blankets, which Brighter Days helps provide.
In five years, Brighter Days has served more than 6,000 grieving individuals and provided almost $60,000 in financial help.
Everything the nonprofit provides is at no cost to families due to grants and donations.
The Embrace-A-Family program allows the community to help in unique ways. People can drop off gift cards and cash donations or mail them to the center. They can also donate everything from concert tickets to plane vouchers. "These are immediate funds we can provide to families," said Kinzel. "One of the most beautiful stories we've had is we had a gal stuck in college, and her family couldn't bring her home, and her sister was dying. And we were able to use the funds from the Embrace-A-Family program and a plane ticket to bring her home and surprise her family."
Vikings Defensive Tackle Dalvin Tomlinson is one of the higher-profile supporters of Brighter Days. He recently chose the nonprofit as his cause for the My Cause My Cleats program through the NFL.
Tomlinson invited 30 children and parents to a Vikings game and provided a special meet and greet on the field.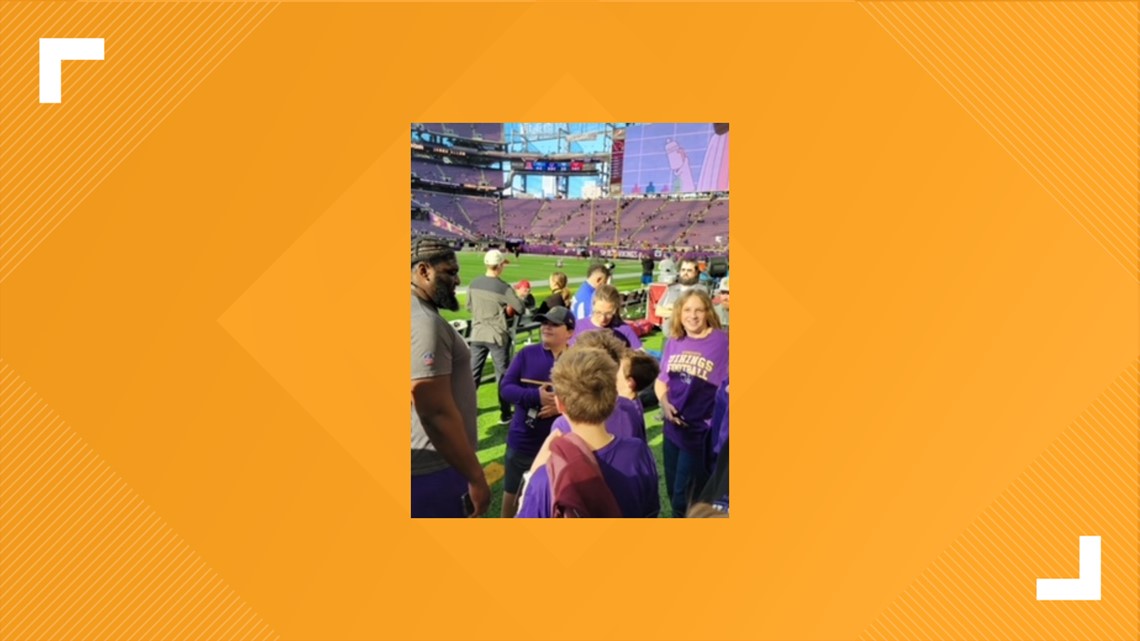 Tomlinson lost both of his parents when he was young, and he told the Brighter Days staff that he profoundly believes in providing hope to other grieving children and families.
On Friday, Dec. 9, Brighter Days is holding a fundraising gala with KARE 11's Karla Hult and former KARE 11 anchor Bryan Piatt emceeing.
Do you know someone who is making a difference, or is there a business or nonprofit going above and beyond to help others? Send us your ideas for stories of "Communities that KARE" in the form below: