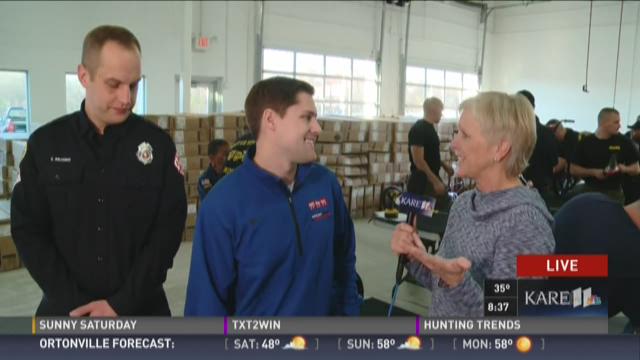 GOLDEN VALLEY, Minn. - The Twin Cities hosts one of the country's most successful Toys for Tots drives each year. This is because of the support from the generous community and the organization of the US Marines.
Here are answers to some of the frequently asked questions regarding the Twin Cities Toys for Tots program.
Where can I make my donation?
The tent at KARE 11 will be open Fri., Dec. 4 - Sat., Dec. 19 from 8:30 a.m. - 10:30 p.m. daily. KARE 11 is located at 8811 Olson Memorial Hwy. in Golden Valley.
In addition to KARE 11, there are hundreds of drop off locations around the Twin Cities. A list of locations will be available online November 15th.
How do I sign up to make a donation during at KARE 11 newscast?
The KARE 11 Toys for Tots Appearance Schedule is now full. 
What kinds of toys are needed/accepted?
Toys are distributed to kids from 0 - 15. Typically, there is a shortage of toys for infants and teenagers.
Gift cards are accepted, but are not distributed as gifts. The Marines take donated gift cards and purchase gifts for the program.
Typically, the average gifts are in the $30 range. However, toys in all price ranges are accepted.
Where do I sign up to receive toys?
The Marines work with several organizations around the Twin Cities to distribute toys.
The list of participating agencies will be available after November 20. Once the list is posted you can contact an agency in your area and register through that agency to receive a gift.
Only toy requests by family members with custodial responsibility are normally approved, other requestare considered on a case by case basis. The age limit is 15 years old.
A child may only be registered through one charity organization. Multiple registrations by different family members, at different locations, are not allowed.
How do I sign up to be an official collection site?
Visit the Toys for Tots website to sign up to be an official collection site.
Individual drop sites/collection sites will not be available for any home based business under any circumstances. The collection dates for drop off points are from December 1, 2015-December 21, 2015. To ensure timely distribution for this Christmas Holiday, the last day for individual drop-offs to the warehouse will be December 22.
You will need to pick up your promotional collection site box and supporting items directly from the Toys for Tots warehouse located at 985 Aldrin Drive Eagan, MN 55121. The dates the Marines will be distributing supplies for drop off points are November 16th-November 20th from 8 a.m.-4 p.m. If you are unable to come pick up your supplies during the above period, we will continue to issue supplies after the Thanksgiving Holiday.
Please understand that the Marines are supporting a very large geographical area with many locations and will be unable logistically to deliver any supplies. For questions not addressed here, please contact Sgt Tyler Weinstein at toysfortotstwincitiesdropoff@gmail.com.
How do I sign up to volunteer?
The volunteer shifts at the KARE 11 tent begin Friday December 4, 2015 and will run through Saturday December 19, 2015. The volunteer hours are from 8:30 am to 10:00 pm 7 days a week. Groups of 5 to 10 can reserve a block of time to volunteer. Individuals are also welcome. If you would like to volunteer, please e-mail Sgt Patrick Pugh at toysfortotstwincitiesvolunteer@gmail.com.
The volunteer shift hours for the warehouse are from 8:30 a.m. to 7:00 p.m., 7 days a week. We will begin scheduling volunteers October 1, 2015. The warehouse will be open for volunteering beginning December 1, 2015 and continue until December 21, 2015. Groups of 5 or more can reserve a block of time for their group. Individual volunteers are also welcome. It is requested that the minimum age of volunteers be 14 years old.
Everyone will receive a Gratuitous Service Agreement (GSA) form to fill out upon arrival. Volunteers under the age of 18 will need their parents or legal guardian to fill out their GSA form and sign it. If you would like to volunteer, please email toysfortotstwincitiesvolunteer@gmail.com.
How do I get a Marine to attend our Toys for Tots event?
The Marines are grateful for the many events that happen around the Twin Cities to support Toys for Tots and try to support as many of them as possible. In the past, Marines have attended toy drives, Breakfast with Santa, company parties, and more.
If you have a Toys for Tots event that you are interested in having a Marine please send inquiries for your events toysfortotstwincitiesevents@gmail.com. The Marines will begin accepting event requests on October 1, 2015. The cutoff date for registering for events will be November 16, 2015. No further events will be accepted after this date.
Please include all key details (date, time, location, etc.) in your request and include any special instructions or suggestions that might help with the planning process.
More information about Twin Cities Toys for Tots program can be found on the local Toys for Tots website