RAYMOND, Minnesota — Residents near Raymond, Minnesota were cleared to return to their homes just before noon following a train derailment early Thursday morning.
The Kandiyohi County Sheriff's Office said road detours will likely still be in place around the site of the derailment, which happened around 1 a.m. on the western edge of the city.
According to BNSF Railways, 22 total cars carrying ethanol and corn syrup derailed in the accident and four cars carrying ethanol caught on fire Thursday morning. No other hazardous materials were spilled and no one was injured.
Field personnel with the train company are responding to the site and "working closely with local first responders." Officials say the main track is blocked with no timetable of when it may reopen.
The Environmental Protection Agency said in a statement that crews were on the scene to monitor the air quality at and around the site, as well as in the community. "EPA's number one priority is – and will always be – the health and safety of communities," the agency told CNN. The sheriff's office added that there is no impact to the groundwater in the area as a result of the accident.
Raymond, located in western Minnesota, has about 800 residents. People living in the area were evacuated to nearby Prinsburg because of the burning ethanol Thursday morning.
BNSF officials said residents and businesses impacted by the incident should call 866-243-4784 for assistance.
WATCH BELOW: Aerials from the scene where a BNSF train derailed and several rail cars started on fire Thursday morning.
"We're working very hard to get you all back into your homes as quickly as possible. Our goal is 11 o'clock this morning," said Katie Farmer, President and Chief Executive Officer of BNSF Railway.
Gov. Walz also tweeted "The state stands ready to protect the health and safety of the community."
Walz said he's also been in contact with U.S. Secretary of Transportation Pete Buttigieg about the incident. Buttigieg tweeted that the Federal Railroad Administration (FRA) is monitoring the situation, adding that they will be involved in the investigation into the cause of the derailment.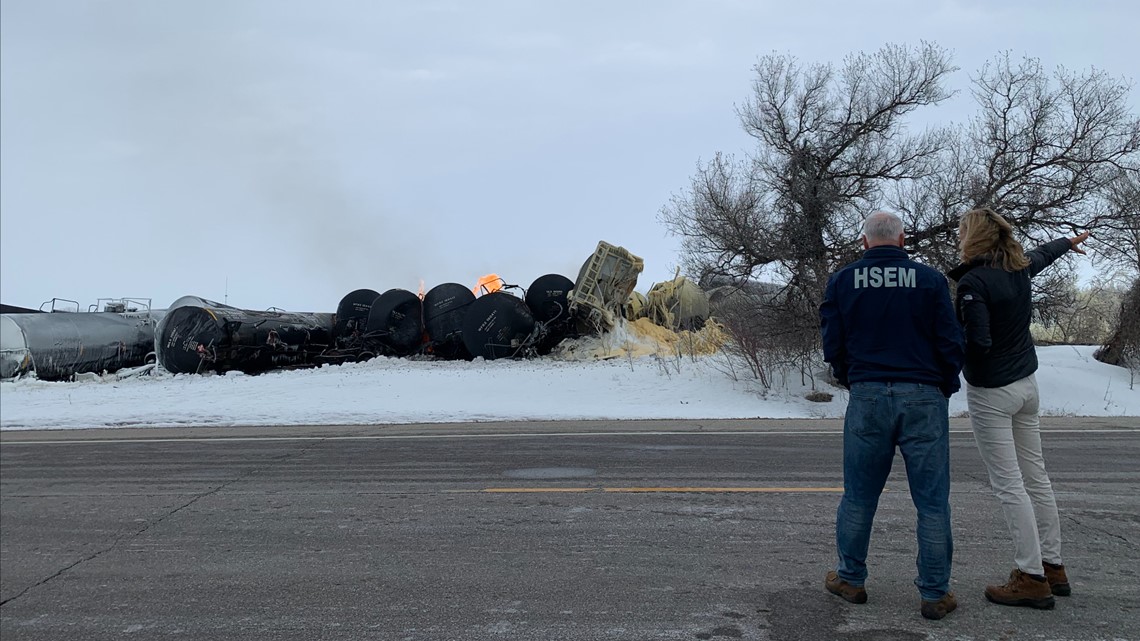 Rep. Dave Baker, who serves District 16B, which includes Raymond, released a statement Thursday morning praising the first responders and the Prinsburg residents.
"First of all, I am grateful that this tragic situation has not resulted in any injuries or fatalities," Baker's statement reads. "We all owe a debt of gratitude to our first responders who reacted quickly to evacuate the area and made sure residents could be moved to safety. I would also like to thank the generous residents of Prinsburg and the Central Minnesota Christian School for stepping up and making sure that the evacuated had a place to go. Moving forward, I remain in constant contact with city, county, state, and federal officials to make sure that the community has the support they need."
Congresswoman Michelle Fischbach, who represents Minnesota's 7th District, released a similar statement.
"Thanks to the quick work by first responders assisting the Raymond community, I am told the fire is under control and there have been no injuries. My team is on the ground with local officials and will work to assist in every way we can."
Senator Amy Klobuchar, a co-sponsor of the Railway Safety Act of 2023, said in a statement, in part, "...it is time to put in place higher rail safety standards, more accountability for violations, and better rail infrastructure."
Klobuchar's office says the legislation, introduced by Ohio Senators Sherrod Brown (D-OH) and JD Vance (R-OH) after the East Palestine train derailment in February, will "make key updates to improve rail safety protocols, including increasing inspections on trains that carry hazardous materials, requiring rail carriers to have emergency response plans, and increasing penalties for rail companies when crashes happen."
The Minnesota Department of Transportation said Highway 23 is closed from Kandiyohi County Road 1 to Chippewa County Road 2. Traffic is being detoured.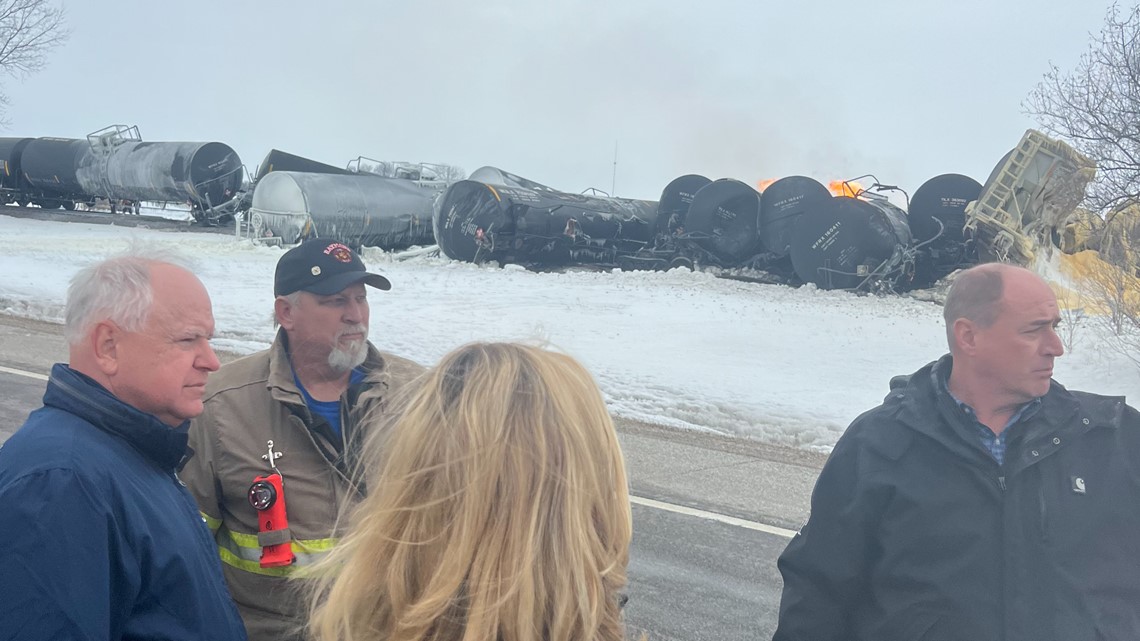 Watch the latest local news from the Twin Cities and across Minnesota in our YouTube playlist: