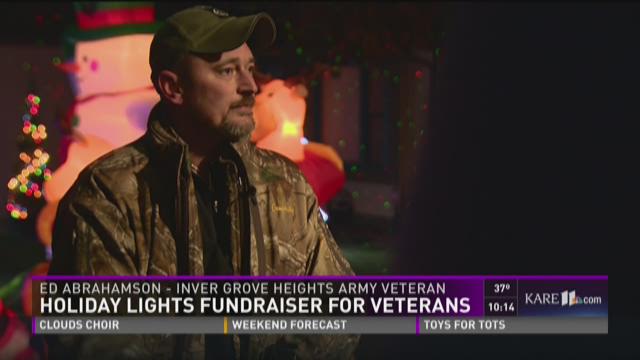 INVER GROVE HEIGHTS, Minn. – An Inver Grove Heights veteran and retired police officer is giving back to other struggling veterans through his extensive display of Christmas lights.
Ed Abrahamson's service, shining bright from his front lawn, continues after he received a life-changing gift last May, a Belgian Malinois service dog named Rex.
"Rex is a certified PTSD service dog, and he does what a dog does best
and that's just love," said Abrahamson. "He's absolutely by my side, doesn't let me out of his sight, just a wonderful dog."
Abrahamson suffered trauma as a Gulf War veteran when he served eight years with the 82nd Airborne Division.
"It's been a long road, it really has," said Abrahamson. "It is good to be here because it's not always been that great for me."
Abrahamson said last Christmas was a difficult and dark time, but those days are behind him since Rex has helped transform his life. He wants other veterans to receive the same comfort through the organization Rebuilding Warriors, where Rex came from, which has a mission of "saving warriors, one dog at a time."
"There's other people out there struggling, trying to live day-by-day, and they get forgotten about. If more people would take the time to reach out, it would be a better world," said Abrahamson.
His wife, Dana Abrahamson, came up with the idea to create a large Christmas display, and any visitors inclined to donate will directly help Rebuilding Warriors. Cash or check donations will go directly to the organization or non-perishable food donations will benefit their local food shelf.
Families and children can take photos with Santa Claus, or enjoy the array of large inflatables and holiday music. Already, buses and limos full of people have stopped by and the Abrahamsons' hope the interest continues to help another veteran receive a service dog. It takes approximately $8,000 to raise and train a service dog for a veteran in need.
"I don't want to go back to the days without Rex, I'm thankful we have him. It's not just the holiday, every day I'm thankful I wake up and my husband is here," said Dana Abrahamson. "If can bring another family hope, and a second chance of life for them."
The display can be found at 8238 Copeland Way East in Inver Grove Heights. Visitors are welcome Saturday, Dec. 12 and every night from Thursday, Dec. 17 to Tuesday, Dec. 22, from 6:30 p.m. - 8:30 p.m.