MINNEAPOLIS, Minnesota — From his hospital bed, Damar Hamlin watched his teammates win 35-23 over the New England Patriots on Sunday. Prior to the game, Hamlin tweeted "GameDay.. Nothing I Want More Than To Be Running Out That Tunnel With My Brothers. God Using Me In A Different Way Today. Tell Someone You Love Them Today!"
It's been nearly a week since the Buffalo Bills safety collapsed on the field from cardiac arrest following a hit during Monday night's game against the Cincinnati Bengals.
The 24-year-old is being treated at the University of Cincinnati Medical Center.
Saturday, Hamlin tweeted, "Putting love into the world comes back 3xs as much… thankful for everyone who has reached out and prayed. This will make me stronger on the road to recovery, keep praying for me!"
From players wearing "Love for Damar" shirts to #3 being highlighted on football fields, tributes poured in for Hamlin during Sunday's NFL games.
During the Vikings and Bears game, players from both teams warmed up with shirts showing Hamlin love. The NFL gave players from all 32 teams "Love for Damar 3" shirts to wear during pregame warmups to show league-wide support for Hamlin.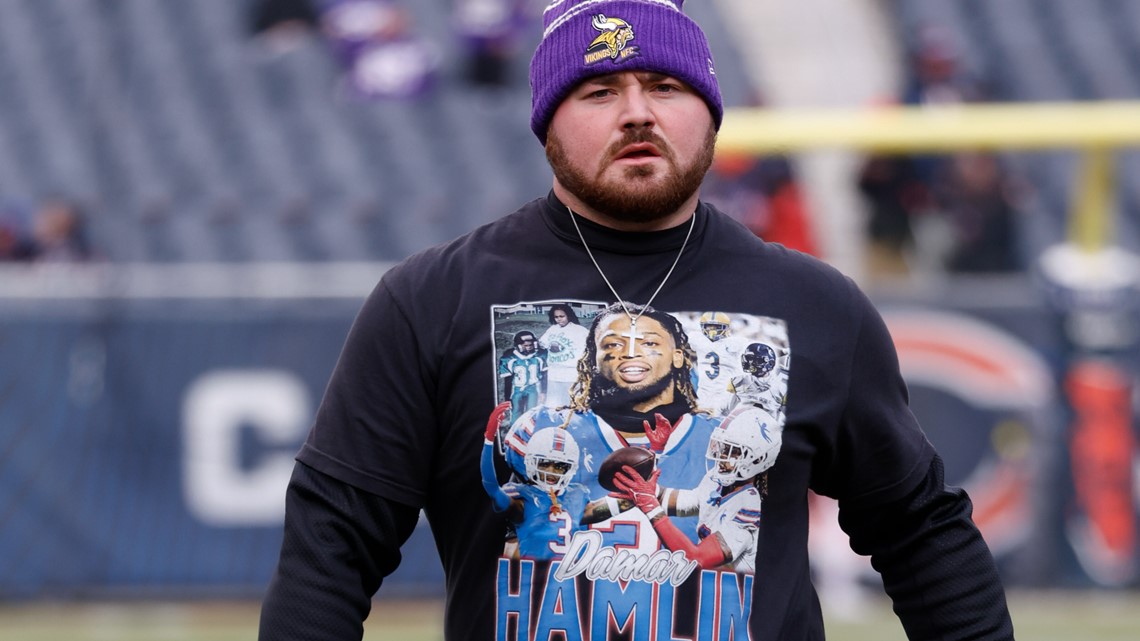 Earlier in the week, Vikings defensive tackle Harrison Phillips — a former teammate of Hamlin's — had dinner delivered to Hamlin's family, the Bills training staff and the medical team working on the ICU floor. Phillips also opened a branch of his foundation, Harrison's Playmakers, to raise money for a future event in Hamlin's honor.
Vikings outside linebacker Patrick Jones II used to play football at the University of Pittsburgh with Hamlin. During the first quarter of Sunday's game after Jones sacked the Bears' quarterback, he pointed to tape on his wrist with the #3 on it.
Vikings wide receiver K.J. Osborn said after the game, "That's my boy. I talked to him yesterday. I just told him I can't want to see him in the offseason and I was just praying for him so hard, that organization, his family. That whole situation, obviously, was unfortunate but it brought the whole world together."
Osborn went on to say, "Your next day's not promised... we sacrifice so much for this game and God is real."
Many football fields outlined the number 3 on the 30-yard lines for Hamlin, including at Lambeau Field for the Packers vs Lions game.
But out of all the tributes, the Bills found many ways to honor their teammate from flying a #3 flag onto the field to wearing #3 patches on their jerseys.
In the first play of the first game since Hamlin's injury, Buffalo Bills running back Nyheim Hines returned the opening kickoff against the Patriots with a 96-yard touchdown.
"You can't draw that one up, write that one up any better," said Buffalo Bills quarterback Josh Allen. "It's been three years and three months since the last kickoff return, so pretty cool."
Hines later returned another kickoff 101 yards and made history as the first Bills player to have two kickoff return touchdowns in a single game.
Hamlin reacted to all of it in real time on Twitter. He also announced Sunday that he's selling t-shirts with the message "Did we win?" on them — a reference to the first question he wrote to doctors after waking up in the hospital. Hamlin said proceeds will go to first responders and the UC Medical Center.