ST PAUL, Minn. — A 31-year-old suspect is back in jail — for the 35th time — after leading law enforcement on a wrong-way chase in the East Metro on Tuesday morning, according to the Ramsey County Sheriff's Office.
The suspect has not been formally charged yet, which is why KARE 11 has not named him. A Ramsey County Attorney's Office spokesperson said charges are expected at some point Thursday.
Ramsey County Undersheriff Mike Martin said his agency and Maplewood Police received several calls on Tuesday morning about an erratic driver in the Highway 61 corridor, whom they determined to be a suspect in a stolen red Chevy. Just before 8 a.m., traffic cameras showed the suspect speeding through intersections and driving the wrong way down busy Highway 61, leading to several near-misses with other drivers.
"And that truck was pulling a dump trailer, driving extremely dangerously," Martin said. "It was kind of looping around in certain areas, so officers were able to anticipate where it was going."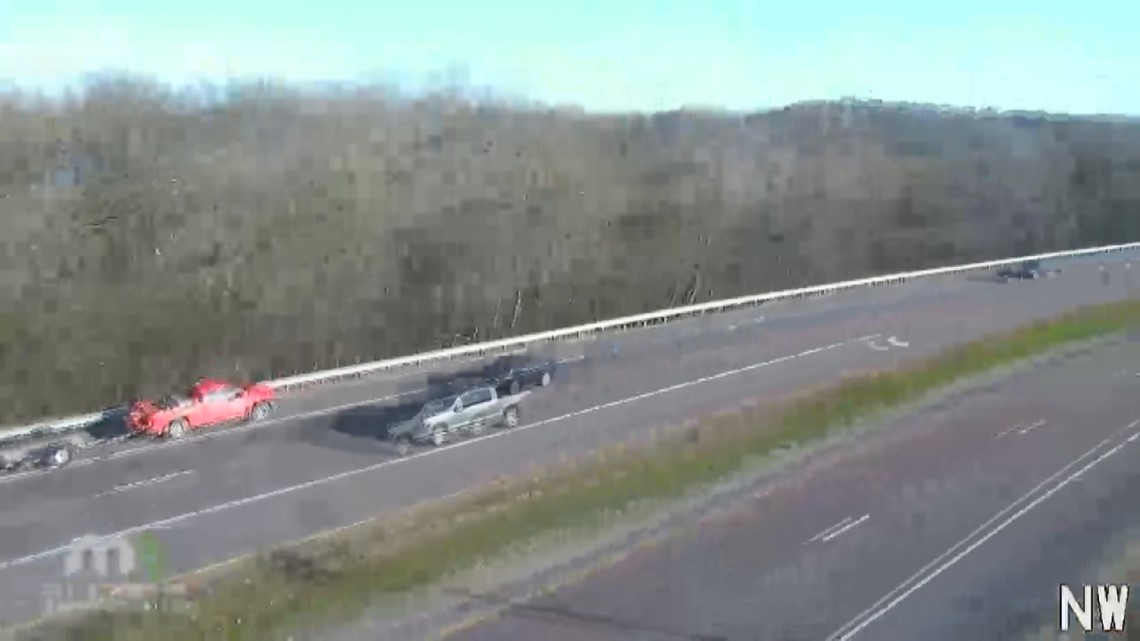 After using two rounds of "stop sticks" to deflate the driver's tires, police say the suspect left his car on County Road D in Vadnais Heights and tried to hide in nearby garages. Eventually, he was arrested and taken to the Ramsey County Jail.
Less than two hours before leading law enforcement on the wrong-way chase, court records show that the suspect had posted $5,000 worth of bond on DWI, drug, and stolen property charges. This suspect has a lengthy criminal history dating back at least a decade, including misdemeanor and felony drug charges.
"This is a suspect who had already been in our jail 34 times and had just been released earlier in the day. Now he's on his 35th time," Martin said. "I think that says something about our criminal justice system."
Joe Tamburino, a legal analyst and Minneapolis criminal defense attorney, reviewed the suspect's criminal history and noticed a pattern of "very low bails."
"His bails have been very low — something like $2,000, $1,000, or he's simply being released," Tamburino said. "When you keep getting these repeat offenders, unfortunately at some point they're going to hurt other individuals. Things could happen like this. When you see someone who is in and out of jail a dozen times within a year, you really need to concentrate on this person."
The issue of bail has been on the agenda at the Minnesota State Capitol this session. On the Republican side, some lawmakers have argued for a stronger bail system to keep repeat offenders in jail, including stronger tracking and oversight of offenders posting bail.
Meanwhile, on the other side of the spectrum, some members of the DFL have explored more limits on the bail system, aligning with national progressives who argue that bail keeps low-income offenders in jail much longer than needed. For example, one such proposal this session by DFL Rep. Cedrick Frazier would restrict the use of bail in some misdemeanors.
A spokesperson for the House DFL said that bail reform did not make it into the final public safety bill, which the chamber passed Wednesday. However, the bill does include a mechanism to study jails and the bail system.
Ramsey County Undersheriff Mike Martin takes a different view.
"When we have repeat offenders like this that put the public in danger," Martin said, "we have to hold them accountable."
WATCH MORE ON KARE 11+
Download the free KARE 11+ app for Roku, Fire TV, Apple TV and other smart TV platforms to watch more from KARE 11 anytime! The KARE 11+ app includes live streams of all of KARE 11's newscasts. You'll also find on-demand replays of newscasts; the latest from KARE 11 Investigates, Breaking the News and the Land of 10,000 Stories; exclusive programs like Verify and HeartThreads; and Minnesota sports talk from our partners at Locked On Minnesota.
Watch the latest local news from the Twin Cities and across Minnesota in our YouTube playlist: