MENDOTA HEIGHTS, Minn. – Imagine not having the ability to speak your thoughts, your joys, or your sorrows. You still feel all of life's emotions, you just can't say them.
And then, after a lifetime of struggle, and pity, and pain, you find something that makes your abilities sing so boldly and loudly that it forces others to pay attention.
That's what happened to James "Jimmy" Reagan, and this is his journey.
Born on July 6, 1993, Jimmy was the middle of five children, all one year apart.
At 2 years old, Jimmy was an independent, capable, and healthy child, but at 2-and-a-half, that changed.
"During that period of time he began to isolate himself," said Peg Reagan, Jimmy's mother. "He had like 16 to 20 words and they were gone. He could no longer say my name and that was a real pivotal moment for me to realize there was something really wrong."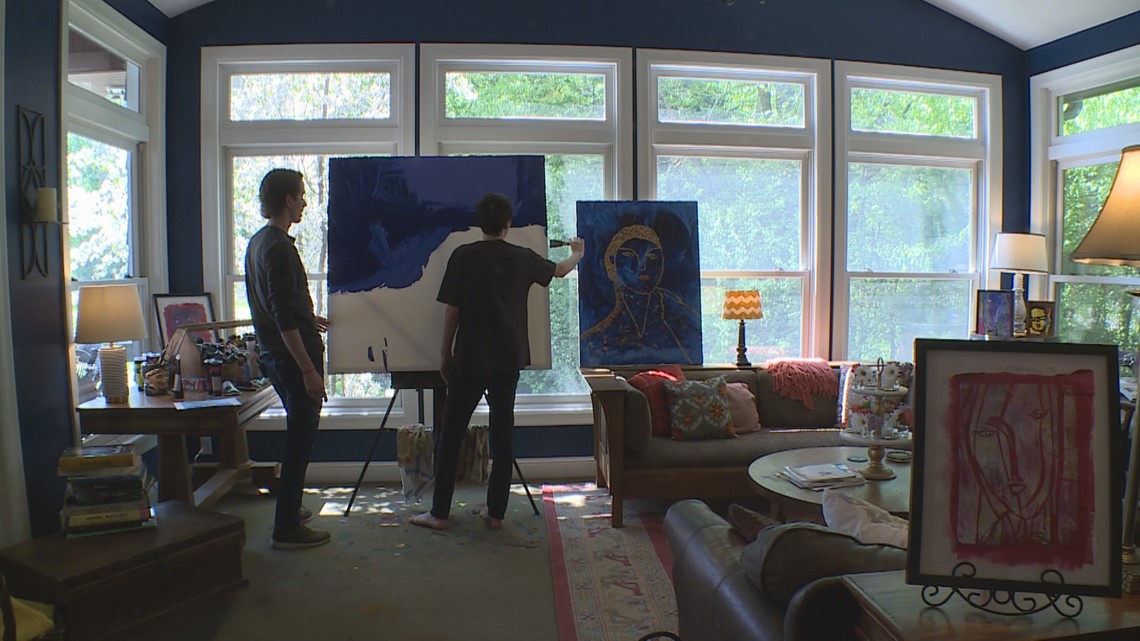 Jimmy was diagnosed with regressive onset complex autism, meaning as he got older, he started losing the communication skills he'd already learned.
On top of that, Jimmy was allergic to a number of foods and environments. He was sick, often, but could not communicate his pain.
By 14, the family decided to pull Jimmy from school.
"He was 62 pounds. Jimmy's older brother, Jack, said to me, 'You don't see it, he's dying,'" said Peg.
Doctors would later find Jimmy suffers from mast cell disease -- a painful and chronic autoimmune disorder.
Through surgery and diet they managed, but Jimmy still couldn't complete any tasks on his own.
One day, his therapist asked him to draw one page from a magazine.
"So he's drawing page 32, then he's drawing page 36, then he's going through National Geographic, and he's starting to draw all these pages," said Peg.
From pencil to crayon, crayon to oil pastels, Jimmy kept drawing.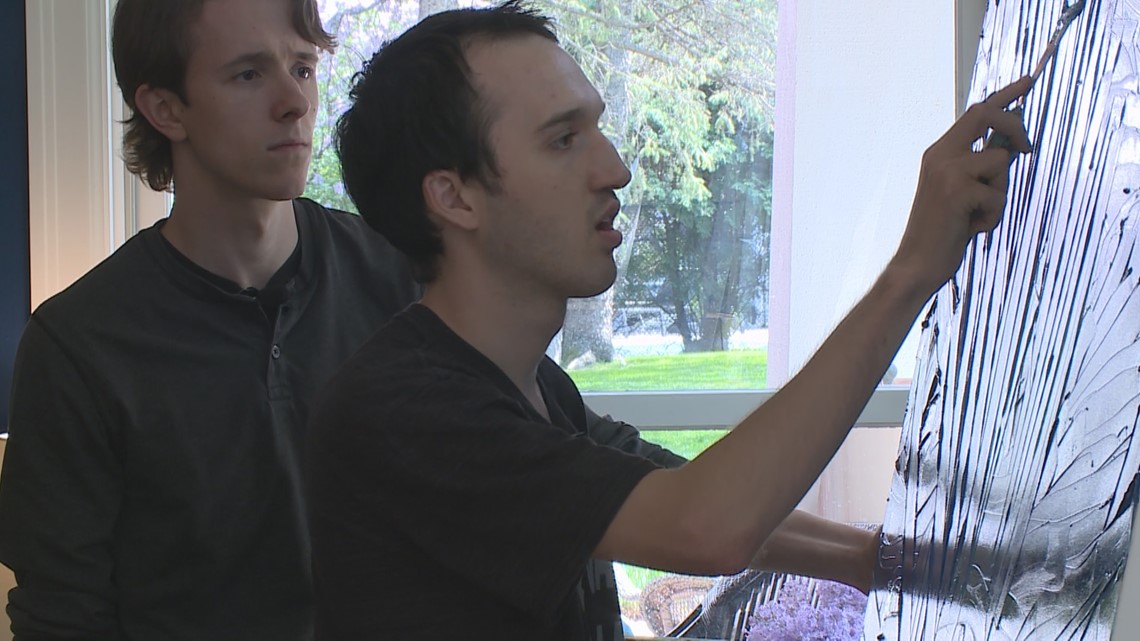 His mom says she would show him old art survey books with Picasso and van Gogh.
"The lights really went on," said Peg.
When Jimmy was 16, the Raegans threw a party for all his doctors and nurses at the U of M Autism Center.
They decorated it with Jimmy's art.
One of Jimmy's nurses asked Peg what child artist she was sponsoring? Peg said it was Jimmy's art.
"She said, 'You are kidding me?' And she went, 'We don't know anything about this kid,'" said Peg.
One party grew to one gallery.
"Peggy approached me about hanging some artwork," said Bill Miller, owner of Sunfish Cellars, a St. Paul wine shop. "I said sure, why not."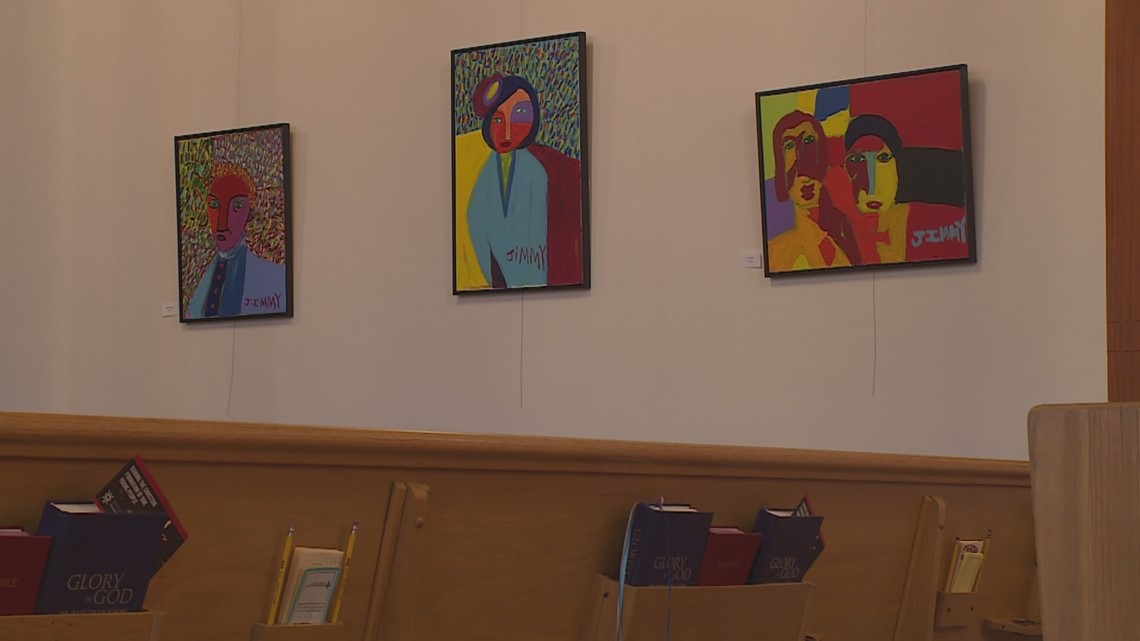 Peg says they sold all of Jimmy's pastels.
"I sat there and I thought this is like, crazy. Just crazy," said Peg.
Pastels then grew into paint.
Soon galleries in Germany, Italy, Chicago, and LA inquired about showing Jimmy's work.
"It was so compelling that I called Jimmy's mother," said Rochelle Letourneau, art director of First Presbyterian of South Saint Paul.
Letourneau received permission to hang more than a dozen Jimmys, some inside the sanctuary.
"Our goal is to enhance our worship and spirituality, but also to challenge us to see life and spirituality in a totally different way," said Letourneau.
But why stop at painting?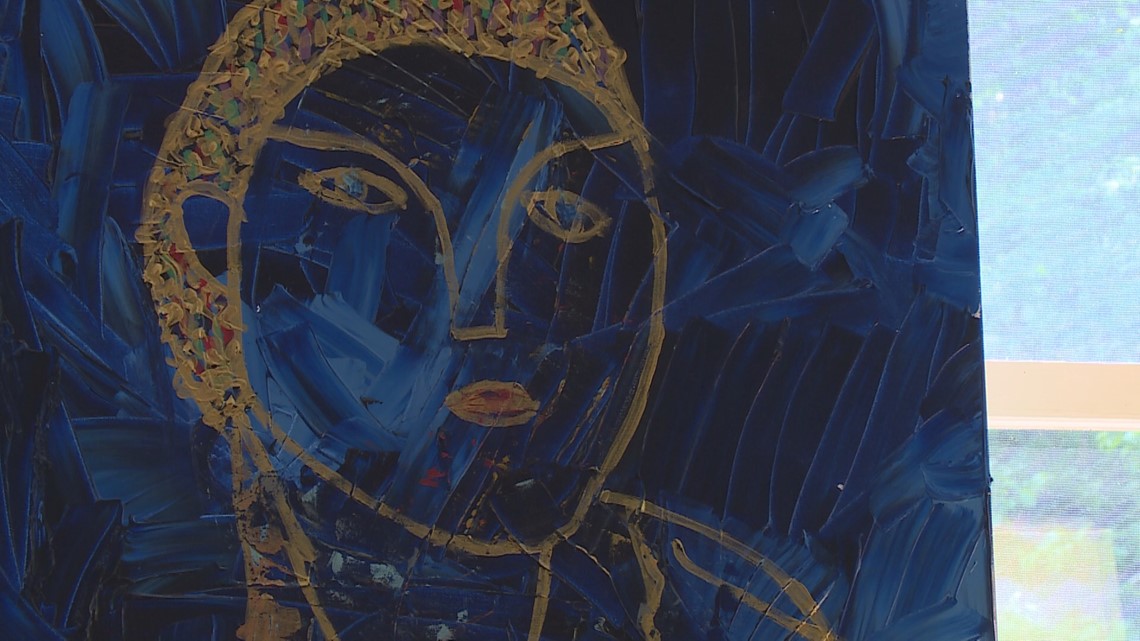 "I called him up and I said can you print on silk? And he said I think so," said Peg.
She selected some of Jimmy's signature strokes—little color-loaded squiggles that Jimmy calls "tick marks"—and put them on silk ties, pocket squares and scarves.
"We decided to bring it in," said Erick Deleon, brand manager and buyer for men's store Martin Patrick 3.
The store featured Jimmy's accessories and featured his artwork during a Christmas party.
"I think a huge part of fashion, especially now, is through the story. The artwork is one of a kind. It's super unique," said Deleon.
Jimmy is now 24 years old and doing commissioned work for special clients on request.
He remains verbal but non-conversational.
Jimmy uses his art as his voice, because talent speaks for itself.
"I always wish I knew what he was thinking … in his head," said Peg, pondering what Jimmy would tell her if he could. "Like 'Mom, it's always been there, you just didn't see it.'"
To date, Through Jimmy's Eyes has sold thousands of clothing accessories and about 500 paintings.
Peg says Jimmy has been able to raise more than $50,000 for local charities and organizations that have helped him along the way.
Learn more about Through Jimmy's Eyes, and purchase his paintings, on his website.