FALCON HEIGHTS, Minn. -- On Monday morning at the Minnesota State Fair, a group of people sat in Dan Patch Park using pastels to draw a picture of how mental illness has impacted their lives.
"Up here represents the storm and the chaos of my mental health and my anxiety and my panic," said Maria Davis of Columbia Heights, pointing to a picture with storm clouds on top and a rainbow and water on the bottom. "Down here is more the hope and my faith. Like the sun going through the clouds... that's very spiritual to me and water is so calming to me."
Davis has long struggled with PTSD, low-grade depression, anxiety and panic.
"I still have my difficult days but overall they're getting better," she said.
For the first time ever, a Mental Health Awareness Day was held at the Minnesota State Fair. About 40 local organizations filled Dan Patch Park. They also held live performances. The idea came from Dave Lee, who is on Governor Mark Dayton's State Advisory Council on Mental Health.
"It really is the entire community coming together to provide information and resources to the hundreds of thousands of people who attend the State Fair," said Sue Abderholden, executive director of the National Alliance on Mental Illness (NAMI) Minnesota.
Abderholden recalled the first time they had a booth in the Education Building at the State Fair, saying, "No one would come up to it. They would kind of stand across the aisle, kind of maybe look over to see if anyone was watching them and then maybe come over and talk to us. Now people flood our table."
Chad Bolstrom, program director for Vail Place Clubhouse in Uptown, agreed and said, "Just the fact that we're talking about mental illness at the State Fair is such a huge shift from even five years ago. One of the big things that we talk about is kind of reducing the stigma of mental illness and this is one of the ways that we do it."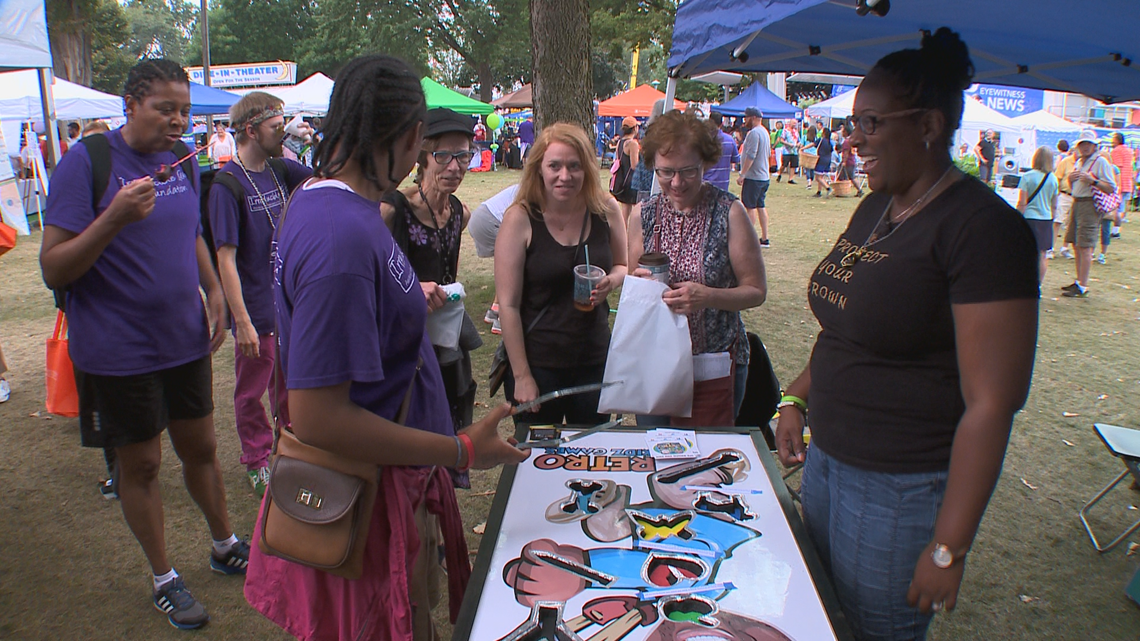 Essence Jones greeted fairgoers from her booth.
"Personally, I live with mental illness every day. I was diagnosed in 2014 with anxiety and depression. But it wasn't until I lost two cousins to suicide due to complications of mental illness that it was a wake up call for me. It was a wake up call for our community. Because in my community, specifically African-American community and Mexican-American community, we don't talk about mental illness. We don't talk about mental health awareness and how we should better take care of ourselves," Jones said.
"We don't think about our brain getting sick. If we get a cold, we get the flu, we'll go to the doctor. But when it comes to our mental health being affected, it tends to get untreated. So Protect Your Crown... originally when I thought about protecting my mental health, I've always thought about protecting my crown including the crown chakra."
Abderholden hopes to make Mental Health Awareness Day at the Minnesota State Fair an annual event.
"Someday it would be nice if we really didn't need a day at the fair because it's just a part of health care. But we're not there yet so we need to keep pushing and raising awareness," she said.
Davis, while putting the finishing touches on her drawing, said, "Never go through it alone. There is definitely hope and help out there."